WorkRite Sierra HX Rectangular Electric Height Adjustable Table
Standard lead time for our laminated worksurfaces is 20 business days for quantities of 10 or less.
Product ID 16556
HIGHLIGHTS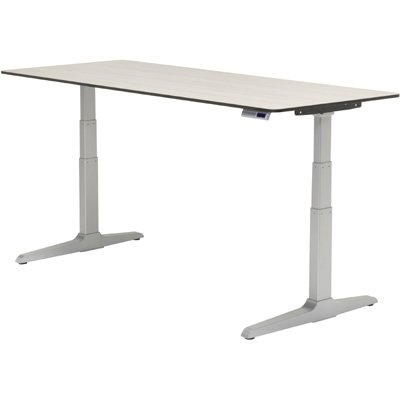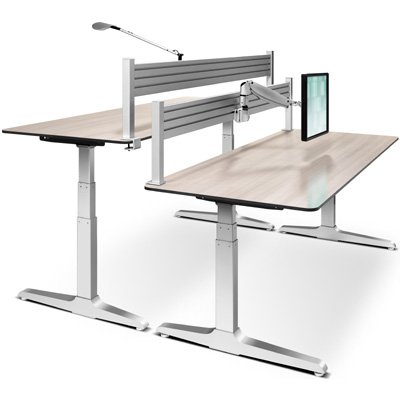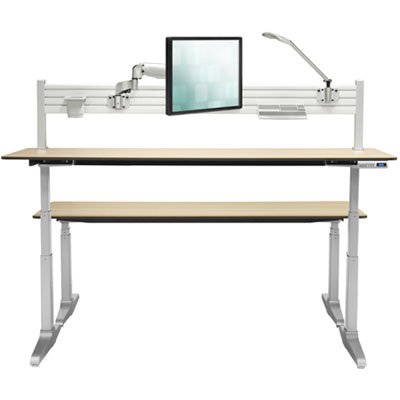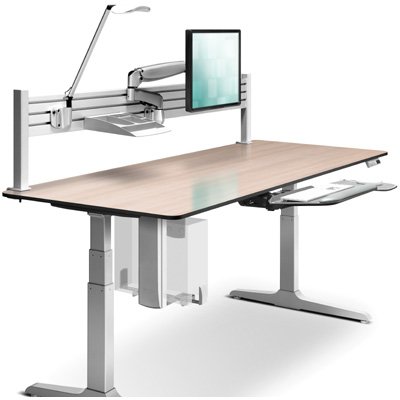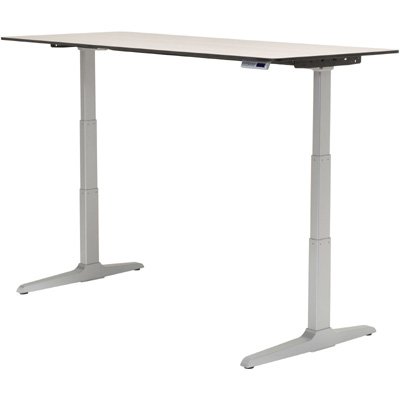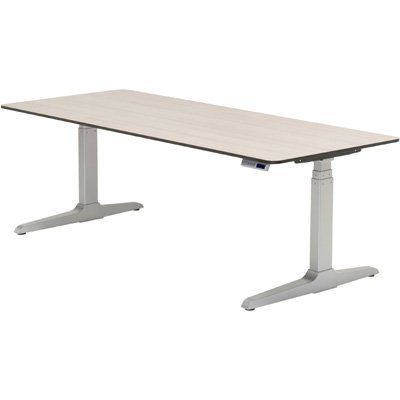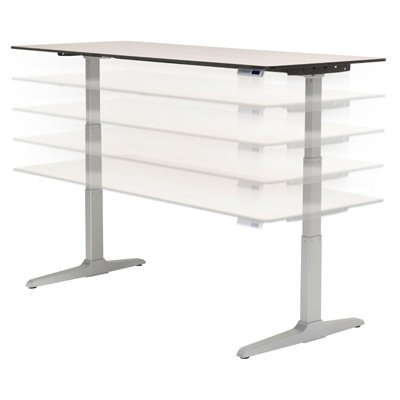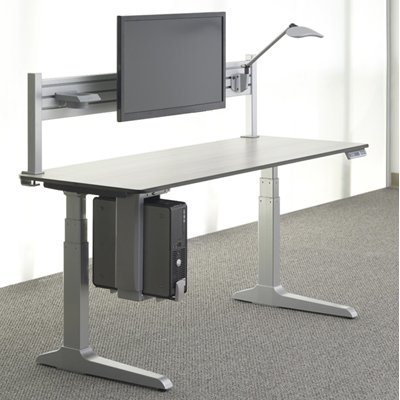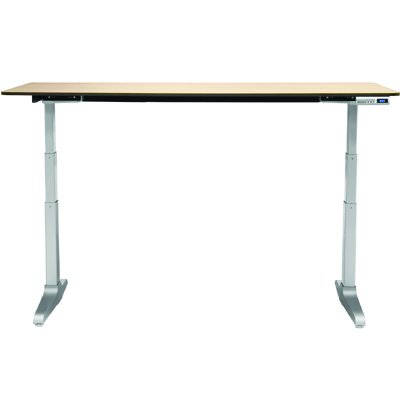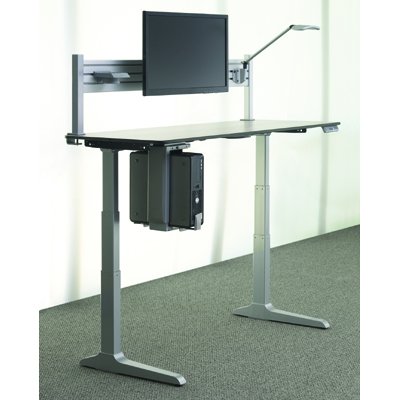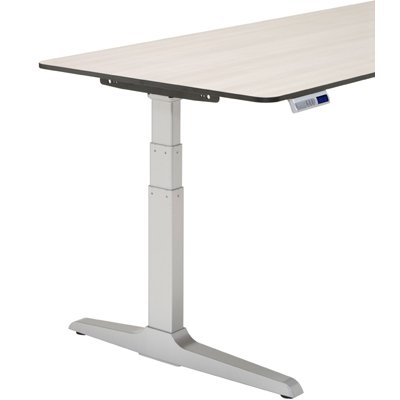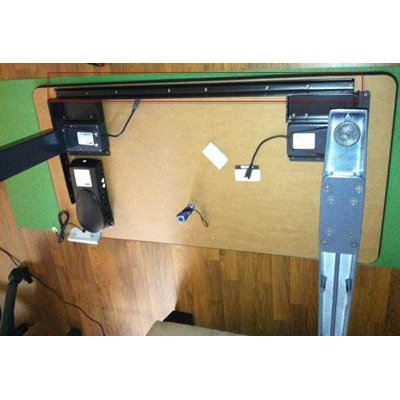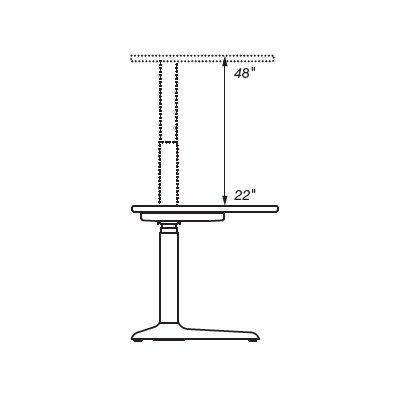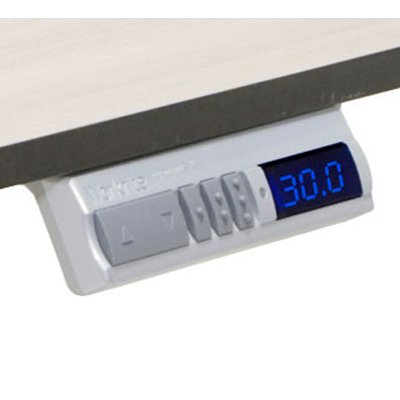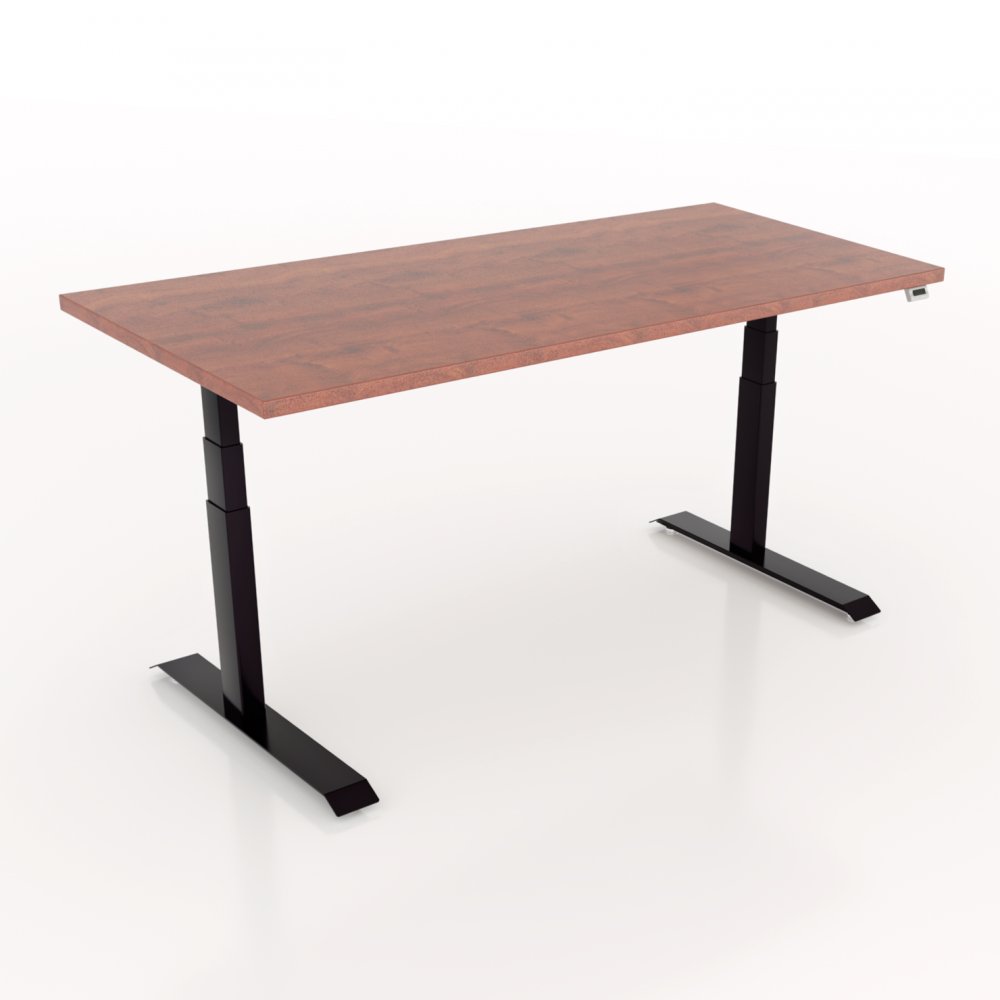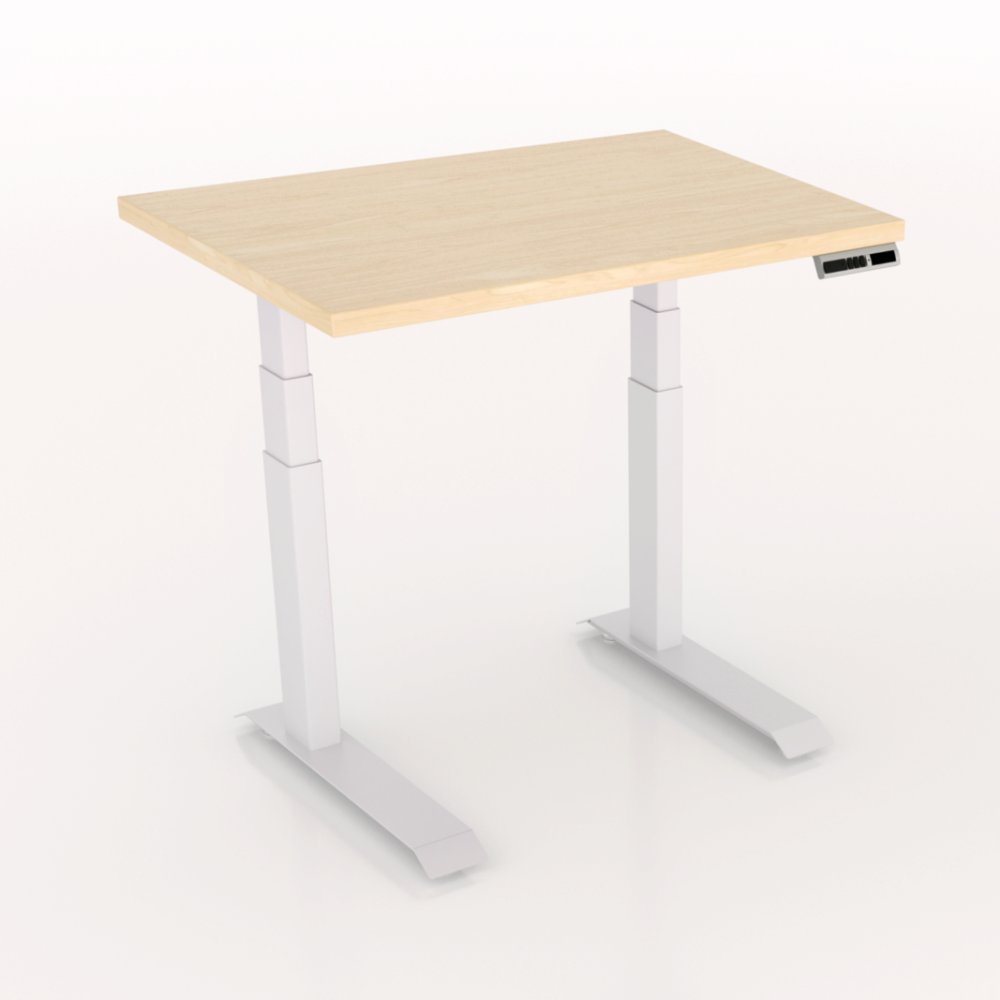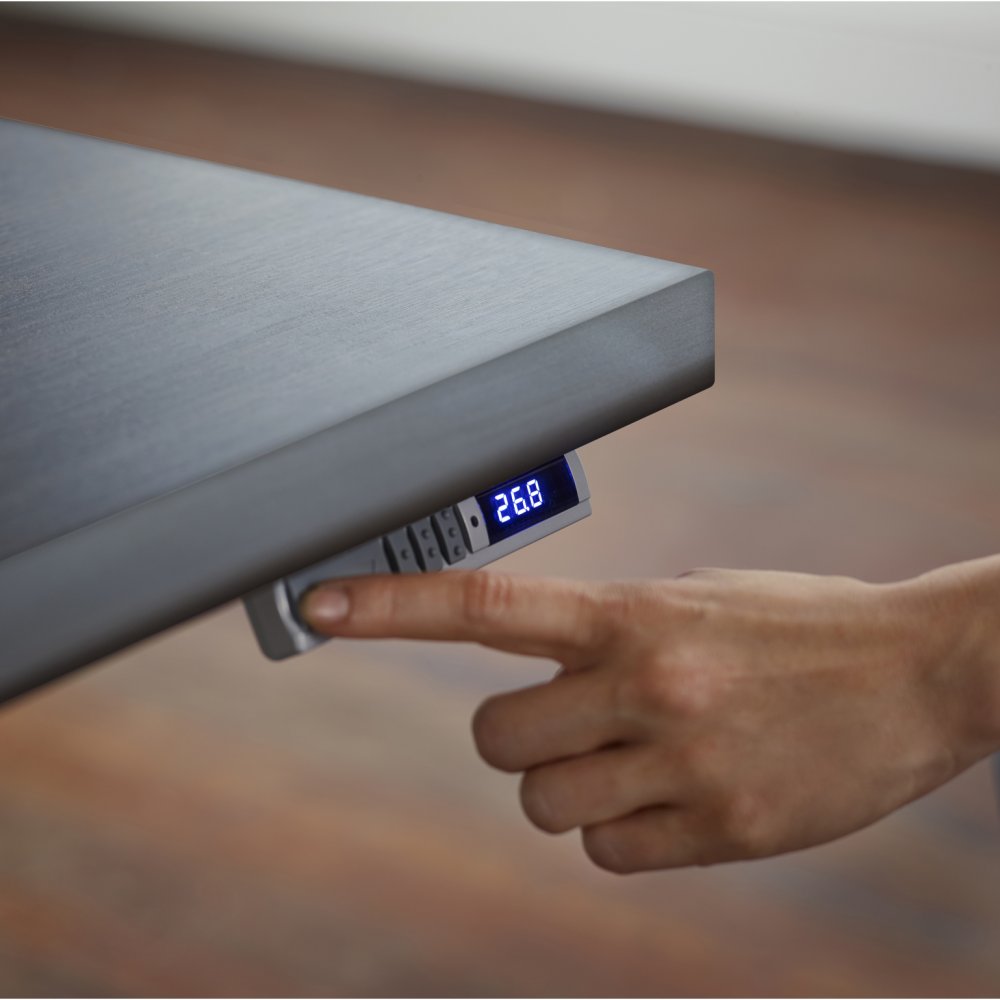 Description
Sierra HX Electric Base Set - All Sierra HX Electric Base Sets include a Frame Set (legs, brackets, motor(s) and cables) as well as your choice of Foot and Switch. Workrite Sierra HX is the foundation for the most innovative adjustable height workcenter for today's professional workplace. The Frame Sets feature high quality, European engineering and design and meet BIFMA G1-2013 height adjustability requirements. They can handle payloads of 225-300 pounds, and features hidden crossbar design that provides greater knee clearance for the user. Sierra HX Frame Sets are available in three finishes with the widest range of size configurations and feature options, making it the most versatile workcenter in the Workrite portfolio.
Lifetime Warranty - The Workrite Sierra series is our most durable, long-lasting product line that now carries a Lifetime Warranty. With exceptional versatility, range, load-capacity and new bluetooth switch options, Sierra HX offers something for everyone in the commercial office.
Dimensions

Frame Set Features
Frame options: 2-leg and 3-leg frames

Compatible with 24" or 30" deep worksurfaces

Widths from 34" to 84" depending on shape

Finish options: silver, black, and white

Height range: 22.5" to 48.7" for full BIFMA G1-2013 compliance

Payload capacity: 225 pounds for 2-leg models. 300 pounds for 3-leg models

Travel speed: 1.6 inches per second

Max power draw: 120 V, 60 Hz, 4.25 A (2-leg) 3.3 A (3-leg)

Standby power: 0.1 W

MEMS Anti-Collision technology

10′ power cord

Meets BIFMA X5.5 standards for performance and durability

Workrite Sierra HX Base Set has achieved GREENGUARD GOLD Certification

UL962 Certified when paired with Workrite worksurface

Sierra HX 2-Leg Frame Set Features - Widths range from 30" to 90" wide. Payload carry capacity: 225 lb (after top). Gross load capacity: 352 lb (not including top and safety factor).

Sierra HX 3-Leg Frame Set Features - Widths range from 42" to 90" wide. Payload carry capacity: 300 lb (after top). Gross load capacity: 528 lb (not including top and safety factor).
Workcenter Ordering Information
Determining the correct size and shape of your worksurface is extremely important. Combining a Workrite worksurface with any height adjustable base requires 1" of clearance at each side and in the back of the worksurface to avoid pinching or scraping. All Workrite worksurfaces are manufactured to the dimensions required to provide these clearances.
Worksurfaces are pre-drilled with mounting location for frame sets or bases.
Joining kits are provided with all two piece worksurfaces.
Standard lead time for our laminated worksurfaces is 20 business days for quantities of 10 or less. Lead times for larger product orders will be provided upon receipt of the order.
Important Notes:
Workcenters ship unassembled and require simple hand tools to install.

If using customer's own worksurfaces, pre-drill pilot holes for all screws to ensure the most secure attachment.

If installing a keyboard arm or track, the electric motor control box may need to be repositioned from its pre-drilled location.

All workcenters have adjustable glides providing 0.5" of adjustment.

Mobile pedestals may limit lower height range.
Product Options/Accessories
Frequently Asked Questions
q
How heavy are the shipping containers? I need this information to decide what level of delivery to get. If they can be handled by one person, I'd go for residential back of truck.
a
The shipping containers are over 100 lbs, the exact weight is determined by the specific size desktop and options selected. "Back of Truck" means the box is unloaded at the curb by the delivery driver. You would be responsible to move the box up your driveway or inside your residence.
q
What keyboard tray would you recommend with this table?
| | |
| --- | --- |
| Model | SEHX3624, SEHX4224, SEHX4824, SEHX5424, SEHX6024, SEHX6624, SEHX7224, SEHX3630, SEHX4230, SEHX4830, SEHX5430, SEHX6030, SEHX6630, SEHX7230 |
| Manufacturer | Workrite Ergonomics |
| | |
| --- | --- |
| Desk Type | Electric |
| Desktop Shape | Rectangular Top |
| Height Range | 22.5" - 48.7" |
| Travel Speed | 1.6" per second |
| Lifting Capacity | 225 lbs |
| Motor Manufactured in | Denmark |
| Base Frame Set Price | 722.40 |
| Warranty | Limited Lifetime |
| Width Range | 30" - 90" |
Customer reviews
1 stars

0

2 stars

0

3 stars

0

4 stars

0

5 stars

2
Far Exceeded Expectations
by Kristina, VILLA RICA, Georgia, Oct 11, 2022
Wow, this is a beautiful and functional desk. We chose the Phantom Charcoal laminate top and it is truly gorgeous. There were no issues putting the desk together and the simple standard switch works just fine for our needs. The table comes with a lifetime warranty and that's what really sold me. WorkRite is very confident in their product. Most companies offer a year or less. It's the motor in these types of desks that go out over time especially when the manufacturer uses inferior components. WorkRite uses nothing but the best and it shows. While the desk did cost more than those other subpar desks I'm positive that in the long run it will turn out to be the most cost effective. Not only did we purchase a great desk but ErgoDirect was an absolute pleasure to work with. Nazan was professional, knowledgeable, helpful and went out of her way to answer all of my questions and concerns. I wouldn't hesitate to buy from ErgoDirect again. The process was simple, everything was delivered timely and there were no parts missing. I'm just far beyond impressed with the entire transaction from the product and manufacturer to the sales team and the delivery. Thank you WorkRite and ErgoDirect!!!
Awesome Table
by Glenn D, Virginia, Feb 27, 2019
This Table took about 4 Weeks to arrive. I can say it was well worth the wait. I was setting at a fold up table everyday for years, working on my computer. I had no choice but to sit at the computer everyday, and was having back issues and was gaining weight. I had an opportunity to visit a customer who had one of these Tables. I worked on this table for about 3 days. Standing and Sitting.
After I returned home from my trip, I had to have one of these Tables. This Table Changed my Life. This is the Best Idea and Solution for my Situation. When I get tired of Standing, I just push the button to lower the Table to Sitting Position. Then when I get tired of Sitting, Push one of the 3 settings buttons and I'm Standing. This is the Best Table I've ever owned!! Thank you ERGODIRECT for this Outstanding Product. Thanks to the Engineering Department for this Table Design and the Capability of this Table.
Warranty
Workrite warrants to the original purchaser that the products it manufactures are free from defects in design, material and workmanship. Subject to the limitations below, Workrite warrants each product in this catalog to be free from defects in materials and workmanship for the life of the product in its original installation. With prompt written notice, Workrite will repair or replace, free of charge, any product, part or component which fails under normal use as a result of such defect.
Sierra HX Height Adjustable Workcenter components - Limited Lifetime
Electric components, motors, frames, brackets and feet.
All of the following exceptions to the limited lifetime warranty apply:
Fundamentals Electric Height Adjustable Workcenter components - 10 years
Electric components, motors, frames, brackets and feet

Essentia Height Adjustable Workcenter components - 5 years
Electric components, motors, frames, brackets and feet

Laminated worksurfaces and modesty panels - 5 years

Sierra HXL Crank Height Adjustable Workcenter components - 5 years
Including crank mechanisms

Cascade Height Adjustable Workcenter components - 5 years
Including counter-balance mechanisms

Line of Sight electrical components and manual lifts - 5 years

Line of Sight frames and metal desk parts - 5 years

Monitor supports and mounts - 10 years

Solace Clamp-on sit-stand products - 5 years

Solace Desktop sit-stand products - 2 years

LED and florescent lighting fixtures - 5 years

Lighting transformers and fluorescent ballasts - 1 year

Tranquility Wool & PET Felt panels and mounts - 5 years

Tranquility Poly Panels - 2 years

Fabrics, modesty panels, custom products and special order items - 2 years

Mousing surfaces and Slide Guide - 1 year
Comparison Chart for Workrite Ergonomics Electric Desks
| | This item: Workrite Sierra HX - Rectangular Electric Height Adjustable Table | | | | |
| --- | --- | --- | --- | --- | --- |
| Warranty | Limited Lifetime | 10 Years | 5 Years | 5 years | 10 Years |
| Height Range | 22.5" - 48.7" | 22.5" - 48.7" | 22.5" - 48.7" | 24" - 49.5" | 27.5" - 47" |
| Lifting Capacity | 225 lbs | 125 lbs | 225 lbs | 250 lbs | 125 lbs |
| Travel Speed | 1.6" per second | 1.6" per second | 1.6" per second | 1.4" | 1.6" per second |
| Motor Manufactured in | Denmark | Denmark | Poland | China | Denmark |
| Base Frame Set Price | 722.40 | 695.40 | 737.40 | 653.40 | 581.40 |
| | | Details | Details | Details | Details |