Have you recently bought a large TV for your entertainment area? Perhaps, you are concerned about the placement as it is occupying too much space. So, if your TV set has 42″ to 86″ display screen, Chief LTM1U is the best tilting wall mount for you. For the extra-large screens ranging between 55″ to 100″, Chief XTM1U X-Large Tilting Wall Mount is a great fit.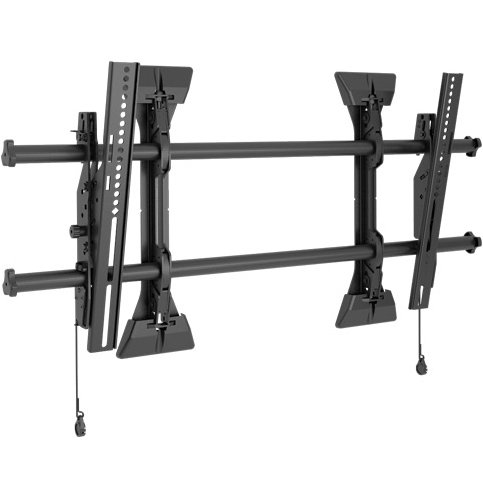 Benefits of Mounting Your TVs
It is nearly impossible to find the old CRT and vacuum tube operated TV sets in American households today. Perhaps, you remember moving the TV stands for making the room spacious. Now, flat screen TVs have made their place in our lounges and living rooms and they are usually mounted on the wall.
1. Add Space
The slimmer and lighter screens have replaced the bulky and massive TV sets that occupy a lot of space. Mounted TVs give a modern finish and can be used as your living room's focal point. Above all, installing a TV on a wall mount saves space in your room. The wires are also hidden, which reduces clutter.
2. Placement Options
Interestingly, flat screens give you the choice of placement. You will find many flat screens with legs, in case you want to put your screens on a flat surface. Besides, all flat screens have a standardized mounting feature, i.e., mounting holes. Even if you have a large television, mounting it on the wall using these holes, will help secure your screens for a long time.
3. Height Adjustment
Mounted TVs are adjustable so that you have the flexibility to place the screen at a suitable height. The adjusted screens help achieve optimal viewing distance, thereby reducing the risk of neck or eye strain. Wall-mounted screens, if successfully installed, have a low risk of tripping over too.
4. Ergonomic Benefits
You can adjust the position of the TV to create a perfect viewing angle. This ensures that you can watch TV for long hours without any pain.
In this post, we will discuss the features and specs of Chief LTM1U, and Chief XTM1U that make them the perfect wall mounts for your large TV sets.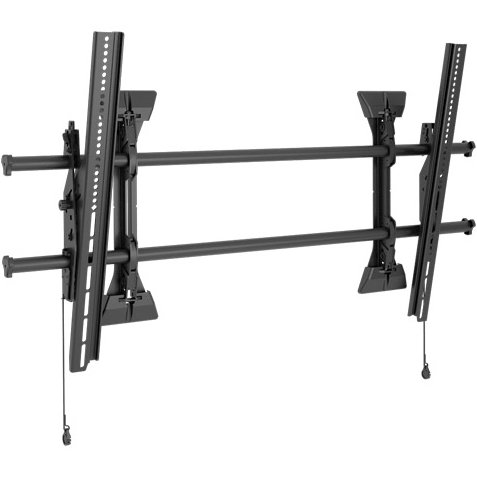 Chief LTM1U Wall Mount For 42″- 86″ TVs Fusion Series
Mounting your TV or monitor screens on the wall is a smart way to save space and keep the screens secure. The Chief LTM1U tilting wall mount can hold large TV screens and displays ranging between 42″- 86″. It can carry screens as heavy as 200 lbs, i.e., 91Kgs. Besides the standard features of the fixed and tilted wall mount Fusion series, these mounts have improved features.
Chief XTM1U X-Large Tilting Wall Mount For 55″ – 100″ TVs Fusion Series
Besides the landmark features of the Fusion tilt mounts, Chief XTM1U comes with some advancements. You can mount safely screens as large as 55″ to 100″ on the wall. Also, this Fusion tilt mount has a weight capacity of 250 lbs, i.e., 114Kgs.
Both Chief LTM1U and Chief XTM1U are the result of extensive research and feedback from the audiovisual (AV) installers.
Basic Features Of Fusion Tilting Wall Mounts
Chief LTM1U and Chief XTM1U boast the basic features of the Fusion series, including:
● Centris Low-Profile Tilt that helps screen adjustments without increasing the gap between the wall and TV.

● Click Connect is a smart feature, which tells that you have successfully installed the display on the mount. You will hear an audible click confirming the successful installation.
● Control Zone Leveling is a fantastic feature that allows you to change the level and height of the TV on a micro-level. ○ In Chief LTM1U, you can adjust the height up to 1″ whereas the minimum depth for leveling is 2″. ○ Chief XTM1U, on the other hand, offers the same height adjustment. However, you can achieve a minimum depth of 2.5″.
● Centerless Shift is a feature that allows shifting the displays left or right after installation. ○ Chief LTM1U provides a lateral shift of 17.5″-8.75." ○ With Chief XTM1U, you get the lateral shift up to 21.4″.
Advanced Features Of Fusion Tilting Wall Mounts
Chief LTM1U and Chief XTM1U, have several additional features. The tilt mounts come with a cable stand underneath the unit, nesting spacers, and a variety of options for installation for varying stud distances. They both have in-built cable stands that give you easy access to the cables behind the screen. The nesting spacers make any depth achievable, all you have to do is to stack the nesting spacers to the mount. Also, with Chief LTM1U and Chief XTM1U, you get kits with custom supplies for hanging the rails if you are having issues with installation. Thus, providing an effective solution for the problems, you may face with top panel installation. The easy-to-open packaging helps reduce wastage.
And finally
One of the common concerns people have about mounting screens and large TVs is the danger of dangling. They think it's dangerous as the grip may loosen, causing the TV to fall over. However, that's not the case with Chief LTM1U and Chief XTM1U. The pre-installation of bolts on the wall makes the mounting process safe and secure. You will hear an audible click ensuring the successful engagement of the screen and the mount. The height and level adjustment features ensure optimal viewing without causing neck or eye strain. You can balance the screen using gravity and keep the profile close to the wall. Further, Fusion Tilt Series offer post-installation lateral shift up to 17.5″ for screens with 42″-86″ display, and up to 21.4″ for 55″ to 100″ TVs.
Please call us at 888-456-ERGO or send us an email at [email protected] to find out if your TV can be mounted on these Chief TV Mounts.