We've been touting the benefits of multi-monitors for some time now. They increase productivity, reduce eye strain and decrease the need for clicks. With multi-monitor mounts , your monitors can be off your desktop, freeing valuable desk space in the process. Now monitors have gone ultrawide and here we are with our recommendations to mount them.
Ultrawide monitors have an aspect ratio of 21:9 as opposed to the traditional aspect ratio of 16:9, providing a much, much wider horizontal screen space. The idea is to create a movie theater experience. Generally available starting from 27″ screen size, the number of pixels in ultrawide monitors are at 2560 x 1080 or 3400 x 1440 pixels compared to the traditional 1920 x 1080. Most common screen size of ultrawide monitors is 34″ but 49″ monitors are becoming popular too.
Compared to multiple monitors, where the total screen space is broken and interrupted by bezels, an ultrawide monitor provides for a seamless and immersive visual experience. This experience is highly valued by gamers and movie enthusiasts. Users with desk jobs and those that work with numbers and plenty of data, may prefer multi-monitor set up due to the built-in dividers the bezels present. However the smooth gaming experience provided by the ultrawide cannot be replicated by the multi-monitors.
A typical 34" ultrawide monitor with its wide screen and corresponding stand tends to have a footprint of at least 30"-32" at its widest. Besides many of these monitors tend to have V-shaped stands like a prong, which are sprawling and occupy desk space. Here are some monitor arms that could potentially mount your ultrawide monitors. Please call us at 888-456-ERGO to check and confirm that the make and model of your ultrawide monitor is compatible with the arm that you are interested in.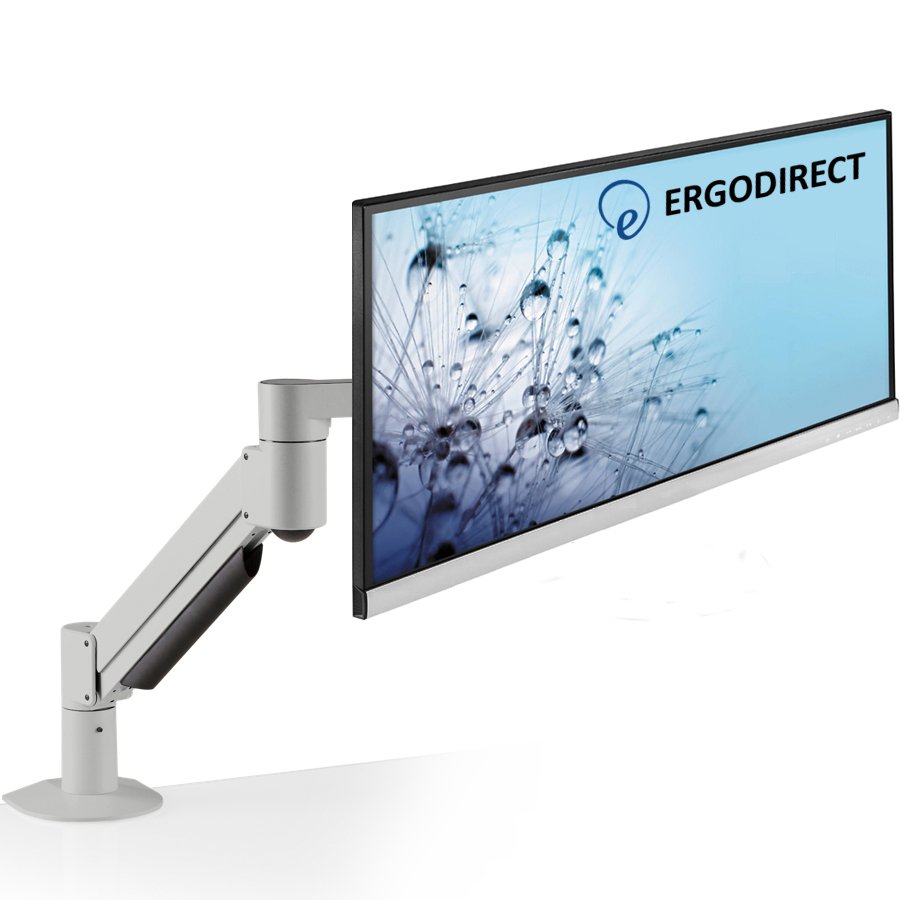 We are recently finding out that in case of mounting wide and ultrawide monitors, most arms with compatible specs and weight capacity are not enough. The width of these monitors puts extra pressure on the monitor arm tilter (where the monitor attaches to the arm) and if the tilter is not strong enough, the monitor can sag or droop. The edges of these monitors because of their shape are further away from the mounting point, which increases torque making the monitor feel heavier on the tilter. The Ultrawide Monitor Arm EDM-49UW is ErgoDirect's answer to this problem. Armed with four models, depending on the size of your ultrawide – from 32″ to 49″ – and a wide, heavy duty tilter for the model that is compatible with 49″ monitors, the EDM-49UW is specially designed for an ultrawide monitor and withstand the immense lateral force on the mounting parts.
Allowing for smooth positioning, the EDM-49UW extends your monitor horizontally from 19″ to 27″ and adjusts the height from 9″ to 18″ and folds back to 3″ when not in use. With a choice of mounting options, the EDM-49UW can be clamp, grommet mounted on a desk or wall mounted.
If you don't want any articulation for your ultrawide monitor, the Innovative STX-01S is the mount for you. Part of Innovative's modular display system, the STX-01S is a pole mounting system, that is compatible with monitors up to 50″ in screen size. It provides 200 degrees of monitor tilt and adjusts height of monitors on the pole in 1″ increments.
Please call us at 888-456-ERGO to check for compatibility of your monitor with any of the above mounts.