We know you love your laptop; you cannot do anything without it. You need it at home, at work, in front of TV, on the dining table, basically everywhere. Laptops are such an intrinsic part of our modern life that we no longer talk about associated pain and repetitive stress injuries (RSIs) caused by prolonged laptop usage. If you've had to slave away at your laptop for hours for a critical project, you know the painful, stiff neck, aching shoulders, tingling fingers and the sore wrists that you woke up to the next day. But would you trade your laptop and the resulting aches, pain and discomfort for the immobility of a desktop computer?
But wait, you don't have to! We have EXACTLY what you need? A product that can take care of your laptop woes.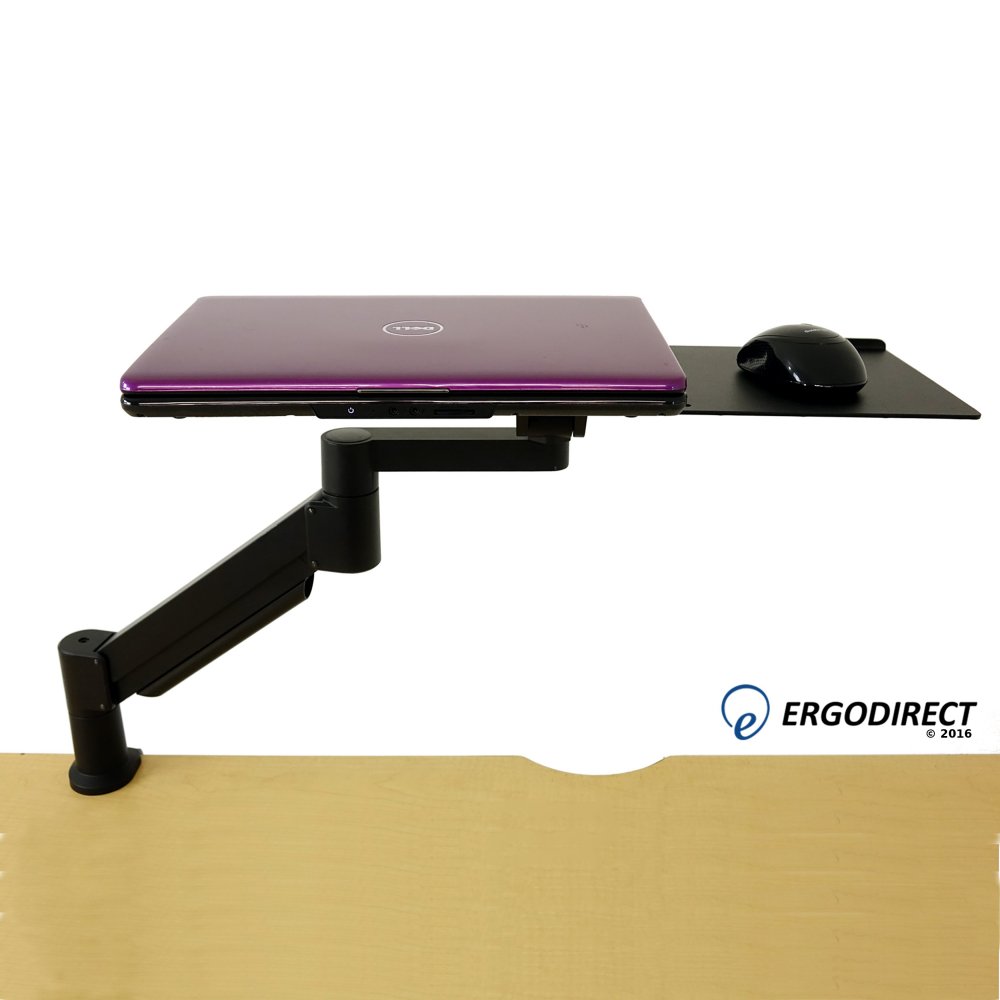 A wall or desk mountable, adjustable arm with a tray to place your laptop on. The tray is wide enough not only for your laptop but it has space for an external mouse.
Install the Wall Mounted Laptop Arm with Space for External Mouse EDL-2301WD on the wall or your desk. You have that flexibility. The arm has a horizontal reach of 24", so you can bring it closer to you or away from you for a better view. It has vertical adjustability too, 8" up and 8" down. So if your height is around 5'5"-5'6", and you install this product on your standard 28"-30" desk, you can even stand and work on your laptop. This adjustment avoids you staring down at the laptop leading to tension in the shoulders. Mounting a laptop on this arm on the desk arm suspends your laptop above the desktop, leaving valuable desk space for other tasks.
This product is also ideal for wall installation to be used in public areas like home kitchens or office lobbies.
The tray on top of which the laptop rests is 23" wide and 8" deep. That gives space to fit laptops 18" or smaller and an external mouse. No need to use the laptop touchpad that causes tingling fingers. This also avoids scrunching, tensing your shoulders to concentrate your entire body and focus onto the laptop touchpad as well as a bend in the elbows.
And because the laptop is just placed on the tray and not installed in any way, you can move it from the right to the left and switch from a right-hand mouse to a left-hand mouse or vice versa, depending on whichever is your dominant hand. Dual mousing gives your dominant hand a break and prevents typical problems like carpal tunnel syndrome.
Velcro straps are included with this product so laptop can be attached to the tray for safety purposes.
Please contact us at customerservice@ergodirect.com if you want to get rid of your laptop woes.