Dental offices are highly specialized professional workspaces that demand unique equipment. The heart of this workspace is a dental operatory, a room where the dentist examines and treats patients.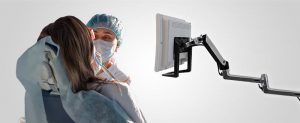 Here are certain typical features of dental operatories –
1) Limited space – In the limited space of an operatory, not only does all the equipment like dentist chair, dental delivery system with all the hand pieces, patient chair, cabinetry, X-ray machine, displays need to fit but they need to fit in such a way that the movement flow of all the agents starting from the dentist to the hygienist, technician and the patient is smooth and fluid.
2) Monitor mounted – A monitor must be mounted on a wall or desk. It must be appropriately mounted and adjustable in the line of sight of the patient, so that the dentist can pull the monitor close to the patient to share information and/or x-rays. Many operatories, especially the pediatric ones, have monitors installed on the ceiling for children and even adult patients, so that they get distracted from their treatment.
3) Dental chairs – Dental chairs need to be strong, sturdy and still possess a small enough footprint for the operatory. A dentist needs to lean in for long hours to work on the patient's mouth.
Here are our 7 ergonomic product offerings for dentists –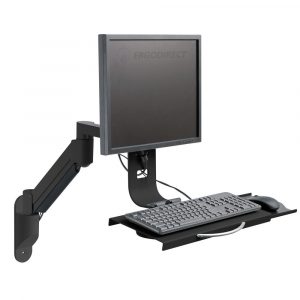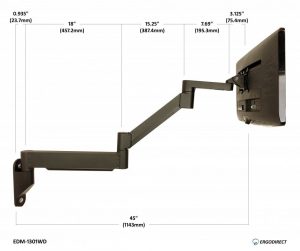 This one of a kind laptop arm is ideal for dental office administrative staff and technicians. With space for external mouse, the pain arising out of prolonged touchpad usage is prevented.
Please contact us at customerservice@ergodirect.com if you need more information about any of these products or if you are looking for volume discounts.