If you type for several hours a day you could be at risk for carpal tunnel syndrome, a repetitive-stress injury (RSI), or other ergonomic strains (forearm aches, numb or tingling fingers, and finger pain). Investing in a keyboard tray can help keep your forearms, wrists, hands, and fingers in a more ergonomic position to prevent injuries. Larger keyboard trays may even have enough room to accommodate 1-2 mice.
As we mentioned in our gaming posture blog, your elbows should rest at a 90 degree angle while typing. If you're sitting down, place your keyboard directly above your lap. This keeps your arms and hands in the most neutral posture possible, and prevents strain in your back, shoulders, and hands.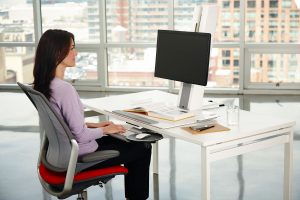 Keyboard trays with negative tilt  (tray tilted toward the floor so that the highest part of the tray is toward you) will help keep your wrist at a more ergonomic angle. Alternatively you could support your wrists with a wrist rest.
Keyboard tracks
Keyboard trays on tracks place your keyboard beneath your desktop, easily positioning the keyboard closer to you, like it's on your lap. They also free up desktop space for paperwork, books, or small devices like tablets and phones. Most keyboard tracks are partially or fully retractable so they can be moved in and out from beneath your desk as desired.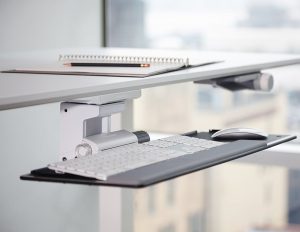 Keyboard tracks can have arms or mechanisms attached to offer even more pivot, vertical, and horizontal height adjustment.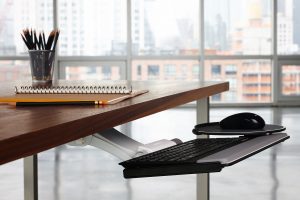 If your desk has a crossbar or other obstruction, you can still install a keyboard track with a spacer. Spacers are brackets or slabs of wood that lower the keyboard track in order to pass under an obstruction.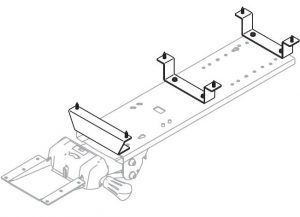 They are installed on the underside of the desktop, on either side of the crossbar, providing a flat, level surface for attaching the track. Brackets usually come in a set of three: one placed on the edge of the desk, one just before the crossbar, and one just after the crossbar.
Spacers come in a variety of clearances levels, usually between 1″-2.5″. If you need a larger sized spacer, it will decrease the total amount of space you have underneath your desk; the spacer will lower the underside of the desk by a few inches, and the track will sit even lower than the spacer.
If your desk does not have the space required underneath to install a keyboard track, we recommend installing a keyboard arm instead. They can be mounted on either your desk or a wall, and are easily adjustable to optimal ergonomic height, but do not get in the way underneath your desk.
Is your keyboard tray on a track? Let us know in the comments!