Gaming Chair ED-GM-5CH, Mid Back Office Master OM5 Small Chair
The ED-GM-5CH gaming chair by Office Master (OM5) offers the latest in ergonomic design and comfort. It functions both as an office chair and the most recommended gaming chair by PCGAMER. Editor of PCGamer, Tim Clark, also featured the chair on Youtube. Linus of LinusTechTips says the OM5 is the most comfortable chair he's ever tested. The OM5 has no levers or manual adjustments; it naturally contours to your body, and maintains your posture as you change from upright to more relaxed positions. Finally, this chair is specifically designed to be used for long hours.
Highlights
Unique self-adjusting mechanism
Continous lumbar support in any position
Recommended arms: MR45 arms with sliding and pivoting mechanism
Standard casters:

SC-CAS0065-S
Lifetime Limited Warranty
What to consider when choosing a gaming chair:
Ergonomic design and comfort: The average gamer spends 8-12 hours a week playing video games. This warrants a chair that offers plenty of back and seat support for maximum comfort while keeping the body in a correct posture at all times.
Gaming chair height: To avoid straining your neck looking up or down at a screen, chairs with height adjustment ability and lumbar support allow gamers to look straight at their screen.
Office task chairs: Office chairs are designed to provide lumbar and neck support as users sit for long hours, making them perfect for gamers. As well, with adjustable armrests and, in some cases, adjustable lumbar support, adjust your chair to the perfect position for you. Plus, with a multi-functional chair you won`t have to switch chairs when you switch gears.
Description
Office Master understands why PC gamers need gaming chairs with comfort and durability as well as ergonomic design. Tested by PCGamer for its ergonomic functionality and adjustability in height, arm rests, and back rest, the OM5 makes it ideal for both work and games.
This popular gaming chair offers continuous support for your body as you move. As you recline in the OM5, the seat pan moves with your body, allowing you to change to more relaxed positions seamlessly.
No levers or handles are required to make adjustments for your spine or lumbar support; the chair adjusts on its own to the size and position of your body.
Adjust your OM5 with three unique adjustments: armrests that move up and down and slide back and forth; a "waterfall" effect on the Standard and EX models that adjusts the seat front up and down and; a headrest that can be elevated or lowered to provide desired support.
Specifications
Overall Width
27"
Overall Height
37 - 42"
Back
18" W x 21" H
Seat
19.75" W x 17-18.5" D (16.5-18" D Back Upholstery)
Seat Height with 4" cylinder
14.7 - 18.5" (4" travel range)
Seat Height with 5" cylinder (standard cylinder)
16 - 21" (5" travel range)
Seat Height with 6" cylinder
18.5 - 25" (6" travel range)
COM

Back = 0.75 yards

Seat = 0.75 yards

Carton Weight
64 lbs
UPS Weight
101 lbs
Arms
Optional
Warranty
Lifetime Limited
Features
Variable back resistance
PolyFlex Back
Body Activated Motion
Swing Arm
Front Edge Waterfall Flex
Designed to support users up to 300 lbs under standing commercial usage
Option 1: Frame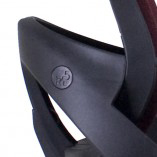 Black Frame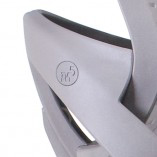 Gray Frame
Options 2 and 3: Cylinders and Base Type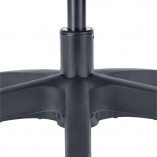 OB5 - 5" Black Cylinder
B27 - Black Nylon Base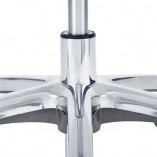 OC5 - 5" Polished Chrome Cylinder
P27 - Polished Aluminum Base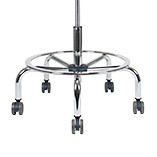 OC8 - 8" Chrome Cylinder
GSP - Fixed Height Chrome Footring and Base

CYL-4HD - 4" heavy-duty cylinder

CYL-6SHD - 6" heavy-duty cylinder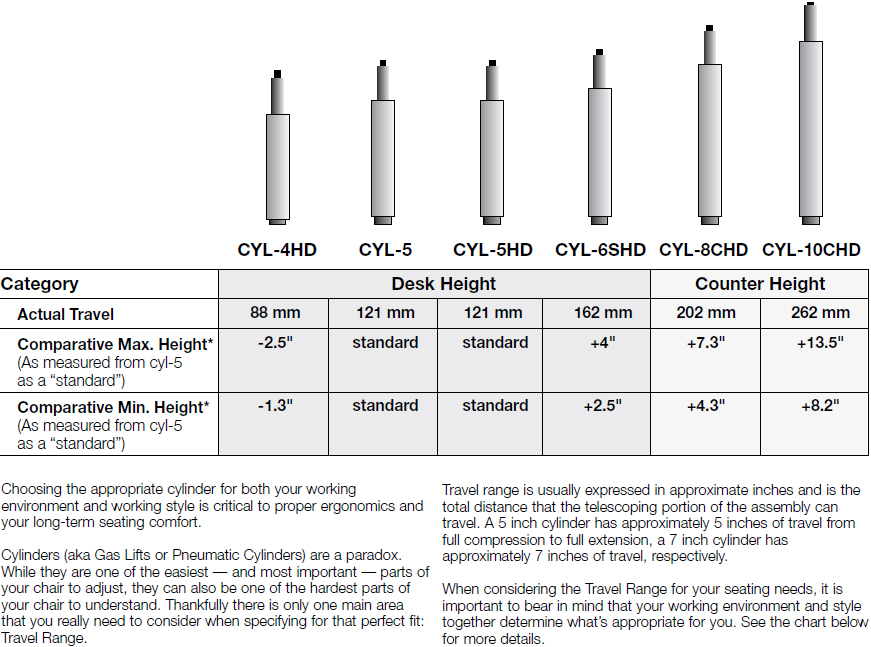 Option 4: Arms Type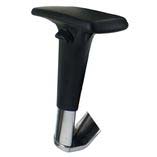 MR5 - Height adjustable T-arms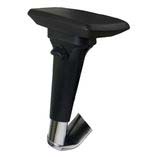 MR45 - Height adjustable T-arms with smooth fore-aft, side-to-side, and pivoting motion armpads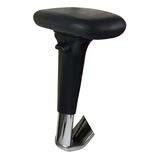 MR50 - Height adjustable T-arms with RP50 extra-wide arm top mechanism and superior range of motion (2" per side)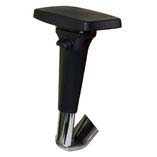 MR65 - Height adjustable T-arms with RP65 lockable arm pad
Option 5: PolyFlex Back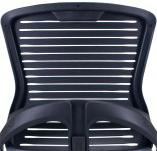 PB - Modern Black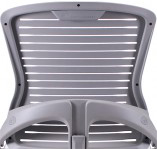 PG - Palladium Grey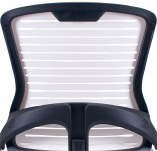 PW - Arctic White
Option 6 & 7: Back & Seat Upholstery Fabric Color
Chair back could be upholstered as mesh with following 11 Mesh fabrics
Following 5 grades of fabrics and leathers could be used for both chair seat and chair back
Option 8: Casters

CAS0065-S (Soft)

CAS0050-SS (Safety Soft)

CAS-RUB (Rubber)

CAS-REV Reverse Braking

GLIDES
Note: This gamer/office chair is custom-made and non-returnable. All fabric colors shown on your computer screen are approximate, based on the resolution of your monitor and subject to variation from the actual color on physical chairs. For more accurate ideas of color tones, etc. please contact customerservice@ergodirect.com or call 888-456-ERGO to obtain a sample or fabric swatch.
Officemaster OM5 Gaming Chair Specs Comparison Chart
| | | | |
| --- | --- | --- | --- |
| | This item: Gaming Chair ED-GM-5CH, Mid Back Office Master OM5 Small Chair | | |
| Seat Height | 16 - 21" | 16 - 21" | 19 -24" |
| Overall Height | 37 - 42" | 40 - 45" | 40.5 - 45.5" |
| Overall Width | 27" | 27" | 28" |
| Back | 18" W x 21" H | 18" W x 24.5" H | 18" W x 24.5" H |
| Seat | 19.75" W x 17-18.5" D (16.5-18" D Back Upholstery) | 19.75" W x 17-18.5" D (16-17.5" D Back Upholstery) | 19.75" W x 21" D (20" D Back Upholstery) |
| Weight Capacity | 300 lbs | 300 lbs | 300 lbs |
| | | Details | Details |
Frequently Asked Questions
Question: Hey, I was reading the return policy on the Office Master chair products you carry. I saw that none of these are returnable for a refund. It's hard to justify such a high price without the option to return, as that is a very high cost gamble without being able to sit in the chair first. I have no idea if the adjustments of this chair will suit me at all. Can exceptions be made in certain cases?
Answer: The reason there is a no return on these chairs is because every chair is custom made to order since each customer chooses their own fabric color, casters, cylinders etc. Everything is built to order based on the customer's specific picks. Therefore if Officemaster accepted the returns they would not be able to re-sell those chairs. In some cases they do take them back but with a 35% re-stock fee and the customer would be responsible to ship the chair back.
Question: I am 5'2" and 130lb and wondering if this would be a good desk gaming/office chair. Is the chair flexible to different positions? And do the arm rest move in and out or is it only up/down/tilt in and out?
Answer: The OM5 is very flexible when it comes to different positions. In fact, it has a unique sliding mechanism that allows the angle of your back to be adjusted based on how much pressure you lean back with. Since you are 5'2", we recommend you get the smaller 4" cylinder (Option #6). We have two options for armrests on this chair: height adjustable only (model A) and height adjustable with pivoting inward and forward/backward sliding (RP-45). Please see the product video # 3 from Linus TechTips on our product page for more information about the sliding back and armrests.
Question: I am 6'4, and curious to know if this chair would be fine or if I need to get the XT version. Please let me know!
Answer: There are three versions of this chair. Please see comparison chart at the end of this product page for more details. The Gaming Chair ED-GM-5CH has a back that is 18" wide x 21" high and seat that is 19.75" wide x 17-18.5" deep . The EX and the XT version of this chair however have a taller back - 18" wide x 24.5" high and the XT also has a deeper seat - 19.75" wide x 21" deep. Based on these specs, you can decide if you need a taller back and a deeper seat. The one thing we may recommend is a heavier 6" cylinder compared to the standard 5". However we've had 6'4" tall users who have stuck with 5" cylinders too.
Question: I don't understand why there is an option for Back Upholstery Fabric Color when the chair seems to come with the polyflex back?
Answer: Polyflex back is standard but you have the option of getting fabric on the back.
| | |
| --- | --- |
| Model | OM5-B, OM5-G |
| Manufacturer | Office Master Chairs |
| Part Number | OM5-B, OM5-G |
| | |
| --- | --- |
| Overall Width | 27" |
| Overall Height | 37 - 42" |
| Back | 18" W x 21" H |
| Seat | 19.75" W x 17-18.5" D (16.5-18" D Back Upholstery) |
| Seat Height | 16 - 21" |
| Base Diameter | 26" |
| COM | Back = 0.75 yards, Seat = 0.75 yards |
| Warranty | Lifetime Limited |
| Carton Weight | 64 lbs |
| UPS Weight | 101 lbs |
| Arms | Optional |
| Weight Capacity | 300 lbs |
Great chair
, May 4, 2017
by
C Morrison
, College Station, Texas
This is a very comfortable chair, one of the only chairs I can sit in for longer than 30 minutes without pain. Be aware though that the charcoal color is NOT black, it's a grey.
Was this review helpful to you?
Truly Comfortable chair
, Oct 20, 2016
by
Karen M
, Laguna Beach, California
Easy to put together; exceedingly comfortable chair. Loved the options to customize just what my son wanted. Considering getting one for myself given the price point, comfort level and helpful sales force from start to finish!
1 of 1 voted this review as helpful
Was this review helpful to you?
Super Comfortable Chair
, Apr 27, 2016
by
Jason L
, Washington
This chair is extremely comfortable. The self adjusting back works really well, supporting your back and bottom as both the back and seat adjusts to your leaning. For me and my weight, 162, it doesn't activate too easily so far. It's got just the right amount of resistance. The cushion was a little too hard at first, but after sitting in it for a month now it has softened up to a very comfortable level. I purchased the memory foam extra. I think it was worth it. This chair has completely fixed the problems I had with an Aeron chair I returned, namely the no cushion seating. The lumbar support is just about perfect for my height, 5' 8". It's also extremely well built, sturdy, and easy to put together. The adjustable arms are also nice and they don't slide back and forth too easily. Just the right amount of cushion too. They don't hurt my elbows. My only negative is that sometimes it wobbles a tiny bit, seemingly at the hydraulic stem. Depending on my sitting position though, I hardly notice it. If your leaning back a lot I would consider getting the higher back, especially if you're taller, as I missed the extra support on my shoulders when leaning back for a while. Was nervous because of the no return policy, but it was super worth it. Awesome chair.
3 of 3 voted this review as helpful
Was this review helpful to you?
Love it!
, Apr 16, 2016
by
Austin
, Florida
I been using the chair for about a week and I absolutely love it! The wheels glide across the floor with ease and I really like the seat itself. I went with the extra memory foam option and it seems to pay off well. Warranty for the chair seems fair and if I get 5-10 years out of it that would be excellent.
ErgoDirect customer support was excellent! I worked with Anthony M. and he helped me every step of the way and answered all my questions with great detail. He provided me fabric samples and feedback from the manufacturer to help me make the best choices for this chair. He went above and beyond as far as customer service goes.
3 of 3 voted this review as helpful
Was this review helpful to you?
Great Product
, Feb 26, 2016
by
Jane T
, Texas
I gave this chair to my boyfriend as a gift. He is a big gamer so sits in his computer chair for hours at a time. He LOVES the chair. He has raved about the back support and the comfort of the seat. Great purchase.
1 of 1 voted this review as helpful
Was this review helpful to you?
Can't decide...
, Dec 23, 2015
by
Jeffrey
, Georgia
I purchased this chair after watching numerous videos on gaming chairs and decided to try it. What I love about it is that the seat slides forward as the back of the chair reclines, this makes it super comfortable to lean back a little. What I hate about it is that the act of leaning back is just a bit too easy and there's no way to adjust this. In other words, what would make this chair perfect, is if there was a way to increase the resistance on the leaning back action. Otherwise, it's very comfortable and solved the issue I had were my thighs & buttocks were going numb during long work (or gaming) sessions. It's an expensive chair but has the quality to go along with it.
3 of 3 voted this review as helpful
Was this review helpful to you?
Your spine will thank you
, Nov 9, 2015
by
Carl C
, Colorado
I'm not a chair expert by any means so I will just list what I liked and do not like.
Likes:
-Helps me sit up straight more
-is very easy to lounge back in
-arm rests are very comfortable and adjustable if you get the nice ones
-overall very supportive and does cause any weird tense spots in my back, neck, or shoulders
One note is that I was concerned that the lack of a cushioned back (on my customized version) would make the seat uncomfortable, but the plastic flex back has plenty of give and is actually very comfortable. And breathable too!
Things I don't like:
- lack of height adjustment for the back. I get that the chair is all about not needing adjustments, but I feel like my tail bone just barely makes it up to the flex back and a shorter person would have a bad time.
-A lot of the features you'd probably want (like the arm rests) are not stock and cost extra
-Pretty expensive
-I still haven't found much use for the "waterfall lip"
4 of 4 voted this review as helpful
Was this review helpful to you?
Highly satisfactory
, Oct 29, 2015
by
Dillon S
, Nebraska
I was a little overwhelmed by the choices in fabrics when designing the chair myself, it would've been nice to see example photos of similar chairs (where available) to demonstrate each fabric or frame choice.
That aside, I got the chair, undamaged. Assembly was easy (just put the chair on the stand) and I was sitting in the chair within 5 minutes. I use this chair at a computer both for work, watching of streamed video (TV style usage), as well as gaming. The automatic reclining and highly adjustable arms make switching modes really comfortable and easy.
Obviously, this chair (especially with all its additional options) is quite expensive, but this feels like a chair I'll probably be using for 10 years, so I don't mind the expense. The only downside is that I have this chair in my home office, but I have to sit in a 'normal' chair while I'm at work. I guess until we have a Jetson's style ability to shrink things and take them with us, I'll just have to deal ;)
5 of 5 voted this review as helpful
Was this review helpful to you?
Very good all around chair
, Oct 14, 2015
by
Alex
, TN
I believe this is the most comfortable chair that I have ever sat in. It takes out all the adjustment and does it for you. Easily worth the price and works great with my gaming set-up/also for productivity.
1 of 1 voted this review as helpful
Was this review helpful to you?
Best Chair I've owned
, Sep 2, 2015
by
Kevin D
, Massachusetts
I spend a lot of time working from home and this is a great all around office chair. It's also very comfortable when playing games. The back and seat are connected in a way that as you move, the base moves with you. It's extremely comfortable. Highly recommended.
1 of 1 voted this review as helpful
Was this review helpful to you?
Most comfortable chair I've ever sat in
, Apr 16, 2015
by
Nathan H
, Illinois
The lower back support is the best I've ever felt in a chair. It's perfect. Maintaining proper posture feels completely natural. Would recommend to anyone who sits at a desk for the majority of the day. It's an expensive chair, but absolutely worth it.
2 of 2 voted this review as helpful
Was this review helpful to you?
Office use
, Mar 24, 2015
by
Darren P
, Tennessee
Professional modern appearance for my medical office while providing comfort,fatigue free posture and effortless positioning.
1 of 1 voted this review as helpful
Was this review helpful to you?