Innovative STX-01S Staxx Single Monitor Mount
Description
Innovative's modular display system, Staxx, is a completely configurable pole based system that supports up to six monitors. Once your system is locked into place at the desired height using the new anti-rotation clip and collar, a single modular component can support anywhere from one tilter head to several different combinations of arms and up to six monitors.

Introducing Staxx - Modularity. Flexibility. Simplicity
Scalable Solution - Staxx is easy to install and reconfigure, more monitors can be added by simply adding more of the same parts.

Large Screen Sizes Welcome - Staxx is capable of mounting three monitors, up to 30" wide, side-by-side.

Independent Monitor Adjustment - Flexible extension arms allow you to position the monitors for your perfect viewing angle.

Small Footprint, Big Capabilities - Designed for modularity, Staxx can accommodate up to six monitors using a single mount.
| | | |
| --- | --- | --- |
| Space | Flexibility | Ergonomics |
| | | |
| Staxx is as sleek as it is functional. It supports up to six monitors to a solid mount that requires little desk space. | Workspace configurations are continually changing and evolving. Staxx makes it easy to adapt to your changing needs with little time or effort. | Staxx allows you to work and feel better throughout the day by making it easy to create your perfect viewing position. Independent monitor tilt, pivot, and rotation gives you control to work in comfort. |
Mount one monitor with Innovative STX-01S Staxx. This single monitor stand can support a monitor weighing up to 30 lbs. Staxx is shown with a 24", 16:9 monitor.
Technical Drawing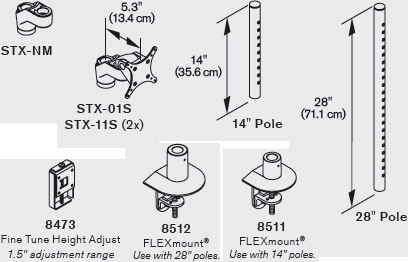 Specifications
| | |
| --- | --- |
| Color | Vista Black: 104, Silver: 124, Flat White: 248 |
| Pole Height | 14" |
| Monitor Size | 50" and under |
| Weight Capacity | Up to 30 lbs (13.6 kg) |
| Tilt | 200 degrees |
| Mounting Options | FLEXmount |
| Warranty | 10 year |
Features
Friction control system provides smooth adjustment while adjusting the position of the monitor

Provides 200 degrees of monitor tilt

Adjust height of monitors on pole in 1" increments

VESA-monitor compatible - 75mm & 100mm VESA adapter included

10 year warranty
Frequently Asked Questions
Question: I purchased the STX-01S to mount my Samsung CHG90, which weighs 24 lbs (without stand) and is less than 50" in size. I also purchased the 12" extension arm to go with this unit. The monitor, when mounted directly on the base pole, works fine. I was told that the extension arm would work and that it could support the weight. But it wasn't happening. Moving the center of gravity for the monitor 12 inches laterally was too much for the base, even when clamped to the desk.
Answer: As long as the monitor is less than 30 pounds and less than 50" in size, it will work with a STX-01S. Adding an extension arm changes the moment load. In other words the further away from the pole you go the less weight it can bear as the monitor "feels" heavier to the mount. For this product the mount and pole will not fail even at full capacity. With the 50" monitor at 30 pounds you may experience lean but the unit will not fail with any of the three extension arms shown as accessories on the page. In other words the monitor would feel heavier to the pole causing lean, but the lean would be within spec.
| | |
| --- | --- |
| Model | STX-01S |
| Manufacturer | Innovative LCD Arms |
| Part Number | STX-01S |
| | |
| --- | --- |
| Color | Vista Black: 104, Silver: 124, Flat White: 248 |
| Weight Capacity | Up to 30 lbs (13.6 kg) |
| Monitor Size | 50" and under |
| Pole Length | 14" |
| Tilt | 200 degree |
| Mounting Options | FLEXmount |
| Number of Monitors | 1 Monitor |
| Warranty | 10 year |
Be the first to review this product
Warranty
Seller warrants that its products will be free from defects in material and workmanship when the title passes to the buyer. Seller will repair or replace, at its discretion, any defective product without charge (shipping charges excluded) for a period of 10 years (exception: 1 year for Busby, 5 years for Winston Workstation, Winston-E, Winston Desk and Freedom Desk, 3 years for Tablik and 1 year for Bild motorized column) after the original date of sale, unless the product damage resulted from normal wear and tear, buyer abuse, misuse or negligence or failure to follow instructions related to the products's installation or intended use. Seller may require proof of purchase before performing any repairs or replacing any products during the warranty period. Except as specifically set forth above, seller makes no warranties, express or implied and specifically disclaims any warranty of merchantability or fitness for a particular purpose. Repair or replacement of the product ordered from seller shall be buyer's exclusive remedy.