The below item has been discontinued.
Contour Design RM-PRO2-BLK Roller Ergonomic Mouse
Dimensions: 20" x 9" with lifters
Contour Design RM-PRO2-BLK RollerMouse PRO2 Ergonomic Mouse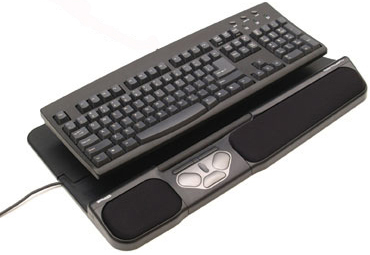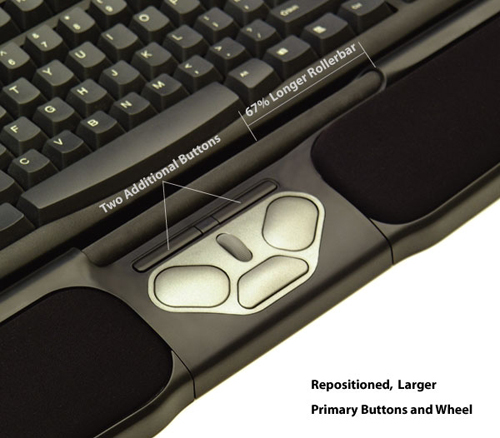 Contour Design RollerMouse PRO2 Features and Benefits:
1.  Palm Support:
The fabric of the palm support have been replaced by a softer material.

The newer leather-like material is longer lasting and easier to clean.
2.  Button Functions:
In place of the old "Auto Scroll" and "Click Lock" we now have "Copy" and "Paste."

A sticker has been placed around the buttons to notify the user of each button function.

The button function sticker is easily removed if desired.
3.  Keyboard Risers:
Because keyboards are currently available in many shapes and sizes our new keyboard riser will allow the user to adjust the height and tilt of the keyboard to a more desire setting.

Thin MAC keyboards are now adjustable to the appropriate height to avoid hitting the bar by mistake.

The keyboard risers are covered in a thick and gripping rubber that will keep the keyboard in place.
4.  Eliminates reaching for a traditional mouse, relieving neck, shoulder and elbow pain:
Asymmetrical reaching with one side of your body and not the other causes your muscle groups to compensate for the weight of your extended arm while reaching for a traditional mouse.  Repetitive reaching oftentimes leads to tightness and pain in the neck, shoulder and elbow areas.  The RollerMouse PRO2 allows you to keep your elbows comfortably by your side, which is more beneficial ergonomic position.  Thousands of users have thanked us due to the pain relief they have realized after using the RollerMouse for a short period of time.  
5.  There is no gripping necessary, thus avoiding the threat of Repetitive Strain Injuries such as Carpal Tunnel Syndrome and Tendonitis.
The RollerMouse PRO2 is controlled with the use of an unflexed hand, so there is no need to clutch or hold the device in order to navigate the cursor.  Your fingertips roll a narrow bar both up and down and from side to side simultaneously to navigate the cursor over the entire screen, with very little friction or resistance.  The elimination of flexing your fingers avoids activity through the carpal tunnel.  Overuse of a traditional mouse can aggravate the carpal tunnel and lead to numbness, tingling and pain.
6.  Promotes the equal use of both hands, reducing the risk of injuring your dominant "mousing" hand.
With the mouse buttons centered beneath the keyboard home keys, mouse control is equidistant from either hand.  Ambidextrous use is encouraged and easily accomplished.
7.  Easy to use keyboard "lifters" elevate your keyboard to the proper height.
With ultra-slim keyboards becoming increasing popular, we have designed two keyboard lifters that allow you to change the height and angle of your keyboard.  You have three heights to choose from and you can angle your keyboard flat or sloping down and away from you (negative slope).
8.  Convenient, out of the box, "plug and play" connectivity for both PC and MAC computers.
This HID compliant device has the drivers "on board" and simply needs to be plugged into any empty USB port, without the need for a cumbersome connection routine.
9.  Seven powerful button functions right out of the box.
You wont' appreciate this product's ease of use and responsiveness until you try it out for yourself.  If you are dissatisfied with your purchase in the first 30 days for any reason, simply ship it back to us for a refund.
Specifications:
| | |
| --- | --- |
| Dimensions without Keyboard Risers: | 20" L x 6" W x 3" H |
| Dimensions with Keyboard Risers: | 20" L x 9¾" W x 3" H |
---
Description of Contour Design RollerMouse PRO2:
New Roller Bar Design for effortless control of the cursor is 67% longer than the "classic" roller Ergonomic mouse.

Two more buttons to extend versatility and flexibility - includes "drag lock" and "double click" functionality.

Most cost effective mousing investment on the market today.
System Requirements:
PC with available USB or PS2 rot, serial ports are NOT supported.

Macintosh with available USB port only, no ADB support available.

Recommended for use with 101 key "straight" style keyboards or one of the "ergonomic keyboard options" shown on the left.

Supported by virtually all operating systems with USB or PS2 support.  (some operating system require driver to enable scroll wheel support.)
---


Privacy Notice:
ErgoDirect.com fully respects and protects your privacy. With the exception of arranging for delivery of the products ordered, we do not sell, share or rent any personal information (including your name, address, telephone number or e-mail address) to other parties for any reason; nor do we contact you by telephone or e-mail to solicit additional products or services.

Credit Card Security:
We use SSL security to protect all transactions so your credit card information is completely safe
| | |
| --- | --- |
| Model | RM-PRO2-BLK |
| Manufacturer | Contour Design |
| Part Number | RM-PRO2-BLK |
| UPC | 004387000646 |
Be the first to review this product