The below item has been discontinued.
WorkRite Sierra HXL Electric Rectangular Concave Workcenter
Standard lead time for our laminated worksurfaces is 20 business days for quantities of 10 or less.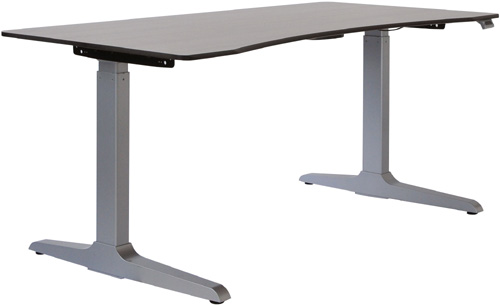 Description
Making the Move to Sit-Stand. Outfitting your office with sit-to-stand workcenters is now within reach. Recent research has documented the dramatic positive health benefits of alternating between standing and seated positions throughout the workday. Sierra HXL is Workrite's answer to companies who are seeking an entry level sit to stand workcenter that can provide your employees with the ability to reduce stress, improve blood flow and alertness and maximize personal comfort.

Moving to a more comfortable position is just a fingertip adjustment away. The HXL motor quickly and quietly repositions the worksurface to just the right height. All your tools move with you as the HXL can support up to 225 lbs of material on the worksurface. The HXL features a sturdy open frame design with no visible crossbar so you have the maximum open space below desk for your ped, processor or personal property.

The Workrite Sierra HXL frame set is a great solution for companies who want to add limited  sit-stand capabilities to the workplace. Sierra HXL features a limited height range that adjusts from 25.5"-43" and will accommodate the average male or female worker, whether seated or standing.
 
The Sierra HXL can handle payloads of 225–300 pounds, is available in 3 contemporary finishes and comes in a wide range of mix and match feature options that can be selected to build the best workcenter for each specific application.
Dimensions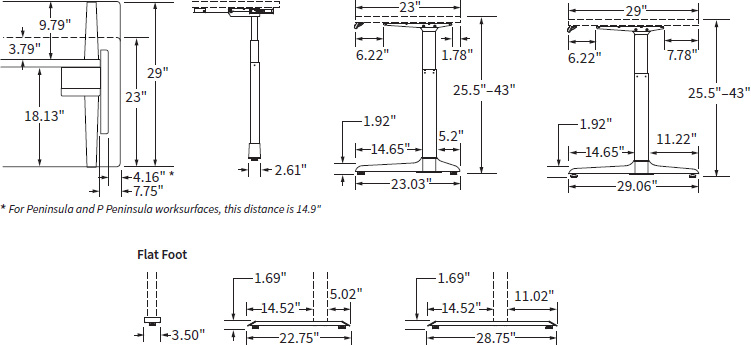 Features
Frame options: 2-leg and 3-leg frames 24" or 30" depths
Widths from 34" to 84" depending on shape
Finish options: Silver, Charcoal, and White
Height Range: 25.5" to 43"
Payload Capacity: 225 pounds for 2-leg models, 300 pounds for 3-leg models
Travel Speed: 1.6 inches per second
Max Power Draw: 120 V, 60 Hz, 2.9 A (2-leg) 5 A (3-leg)
Standby Power: 0.1 W
Option 1: Surface Dimensions
Worksurface 58" x 29" T5829C-B3 and Frame Set SEHX60
Worksurface 70" x 29" T7029C-B3 and Frame Set SEHX72
Option 2: Switch Type
| | |
| --- | --- |
| Standard Switch STDSWITCH | Programmable Switch PROSWITCH |
Standard switch for simple Up/Down control or the Programmable switch for more advanced options including 3 memory pre-sets that can be easily customized by the user.
Option 3: Base Frame Colors
Colors and patterns are representative only. Actual colors and patterns may vary slightly
| | | |
| --- | --- | --- |
| Silver (S) | Charcoal (C) | White (W) |
Option 4: Laminate Top Colors
Colors and patterns are representative only. Actual colors and patterns may vary slightly
Designer White

0D35460

Black

0159560

Fashion Gray

0D38160

Titanium EV

0481060

Silicon EV

0481160

Nickel EV

 0481360

 
 
 
 
 
 

Tungsten EV

0481460

Canyon Zephyr

0484260

Misted Zephyr

0484360

Morro Zephyr

0484660

Shadow Zephyr

0485760

Wild Cherry

0705460

 
 
 
 
 
 

Beigewood

0785060

Monticello Maple

0792538

River Cherry

0793738

Skyline Walnut

7964K12

Kensington Maple

1077660

Black (Woodgrain)

1595K78

 
 
 
 
 
 

Windsor Mahogany

0703960

 
 
 
 
 
Option 5: Edge Treatments
Colors and patterns are representative only. Actual colors and patterns may vary slightly
Designer White

348

Black

300

Folkstone

004

Shaker Gray

026

Pepperdust

007

Brownstone

006

 
 
 
 
 
 

Jute

395

Anchor Gray

048

Kodiak Brown

089

French Roast

023

Rainier Cherry

152

Beigewood

250

 
 
 
 
 
 

Candlelight Maple

206

River Cherry

249

Graphite

008

Sugar Maple

153

Windsor Mahogany

151

 
Option 6: Foot Set
| | |
| --- | --- |
| Flat Foot Set | Styled Foot Set |
Flat foot or the styled foot for use with any Workrite electric height adjustable workcenter. Both options are available in finishes that coordinate with our frame sets and in 23" or 29" lengths.
Option 7: Casters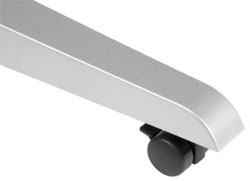 Sierra Locking Casters
Features
Low profile locking casters 2" W x 1.5" H
Casters raise work centers by 1" versus installed adjustable glides
Can be used with all Workrite adjustable work centers, recommended for Sierra workcenters
Four (4) casters required for 2 leg workcenters, five (5) casters required for 3 leg workcenters
The following Casters are available
95234 - 4 casters for 2 leg tables
95235 - 5 casters for 3 leg tables
Workcenter Ordering Information
Determining the correct size and shape of your worksurface is extremely important. Combining a Workrite worksurface with any height adjustable base requires 1" of clearance at each side and in the back of the worksurface to avoid pinching or scraping. All Workrite worksurfaces are manufactured to the dimensions required to provide these clearances.
 
Worksurfaces are pre-drilled with mounting location for frame sets or bases.

Joining kits are provided with all two piece worksurfaces.
 
Standard lead time for our laminated worksurfaces is 20 business days for quantities of 10 or less. Lead times for larger product orders will be provided upon receipt of the order.
Important Notes:
Workcenters ship unassembled and require simple hand tools to install.

If using customer's own worksurfaces, pre-drill pilot holes for all screws to ensure the most secure attachment.

If installing a keyboard arm or track, the electric motor control box may need to be repositioned from its pre-drilled location.

All workcenters have adjustable glides providing 0.5" of adjustment.

Mobile pedestals may limit lower height range.
| | |
| --- | --- |
| Model | SEHXL4830C, SEHXL6030C, SEHXL7230C |
| Manufacturer | Workrite Ergonomics |
| Part Number | SEHXL4830C, SEHXL6030C, SEHXL7230C |
| | |
| --- | --- |
| Height Range | 25"– 42½" at 1.6" per second |
| Lifting Capacity | 225 lbs |
| Desk Type | Electric |
| Desktop Shape | Rectangular Top |
Be the first to review this product