Goldtouch GTC-MACW and GTC-MACB Apple Mac USB Numeric Keypad
Product ID 14082
HIGHLIGHTS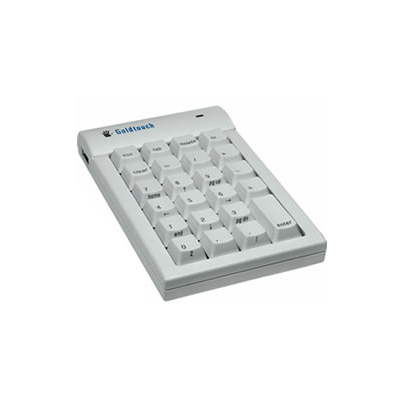 Description
Convenient and fully adjustable, the Goldtouch GTC-MAC Mac USB Numeric Keypad is just what's needed for faster, more comfortable data entry and calculations. Unlike attached keypads, this dedicated numeric keypad is easy to position wherever feels best for you, whether that's to your right, to your left, or right in front of you. Experience the unparalleled comfort of Goldtouch with this excellent numeric keypad.



Sure to satisfy number crunchers - Unlike other newer numeric keypads, this one provides excellent tactile feedback. And because it's not attached to your main keyboard, you can place it wherever feels best, leaving ample room for your mouse.

Sleek and stylish - This white numeric keypad will fit right in all with all of your other Apple devices.

Mac-compatible, out of the box - Works with Mac OS 10.4 and higher without any additional driver installations.

Your favorite keys within easy reach - Including Move quickly to Escape, Tab, Delete, FN, Clear, and Enter; in addition, the Goldtouch Mac Keypad features the home key, page up and page down keys, the end key, and directional arrows. The Goldtouch Mac Keypad also comes equipped with the essentials (0,1,2,3,4,5,6,7,8,9,=,+,-,/, and * as well as the decimal period and comma).
Specifications
System Requirements

The Goldtouch Numeric Keypad supports Mac systems only. Mac systems do not require a Numlock Key to operate. Because these keypads do not have Numlock keys these keypads will not work on non-Mac devices.


Mac Operating System 10.4 and newer

Dimensions

Length 6 inches (15.24 cm)

Width 3.75 inches (9.5 cm)

Height 1.25 inches (3.175 cm)

Weight

10.1 ounces (0.29 kg)

Cable Length

6 ft (1.83 m)

Features

USB Connector

22 Keys

2 USB Hubs (for low power devices; mice, USB memory sticks)

Switch life 20 million cycles

Operating Key Force

50g-55g

Pre-travel

2mm-6mm

Total Travel

4mm-5mm
Product Options/Accessories
| | |
| --- | --- |
| Model | GTC-MACW, GTC-MACB |
| Manufacturer | GoldTouch |
| Part Number | GTC-MACW, GTC-MACB |
| UPC | 183238000308 |
| | |
| --- | --- |
| Color | White, Black |
| Compatible | Mac Operating System 10.4 and newer |
| Dimensions | Length 6" (15.24 cm) Width 3.75" (9.5 cm) Height 1.25" (3.175 cm) |
| Weight | 10.1 ounces (0.29 kg) |
| Cable Length | 6 ft (1.83 m) |
| Operating Key Force | 50g-55g |
| Pre-travel | 2mm-6mm |
| Total Travel | 4mm-5mm |
Customer reviews
1 stars

0

2 stars

0

3 stars

0

4 stars

0

5 stars

0
Return Policy
Returns or Replacement
Damaged and/or Defective - There is a one year manufacturer's warranty from date of original purchase date. Customer must submit an RMA form and obtain an RMA number before shipping product back. If product tests non-defective or damaged by human error then customer is responsible for all shipping costs for return to Key Ovation and back. After 30 days, customer is responsible for shipping costs to have items sent back for testing. If defective, Key Ovation will return, at our cost, a replacement factory refurbished product. Warranty for the replacement item continues from the original date of purchase. The one year warranty does not cover Abuse or Normal wear.

Refund - Proof of purchase is required. Refunds will only be issued for products purchased directly from the KeyOvation website, or, if the product was advertised as Money Back Guaranteed by Key Ovation or authorized by Key Ovation through an Authorized Reseller. Customer must submit a RMA within 30 days from the date of purchase from KeyOvation and obtain a RMA number before the product can be returned; the RMA number will remain valid for 14 days from the date it was issued. The refund will be issued in the original form of payment. All items must be returned in the original packing material to qualify for a refund. Misused product will not qualify for a refund. Shipping will not be refunded. The customer will be responsible for return shipping charges of non-defective product.

Resellers - A 50% restocking fee will apply to opened non-defective product for 0 to 90 days and a 15% restocking fee will apply to unopened product returned within 90 days of purchase.

(These terms and conditions may be superseded by individual Reseller or Distributor Agreements. Please see your vendor agreement for further details.)

Web Orders - Product can be returned for 100% refund within the 30 days from the original date of purchase. Proof of purchase must be provided. No refund will be issued after 30 days.

Replacement - Items purchased directly from KeyOvation or an Authorized reseller have 1 year from the date of purchase to request an exchange, Proof of Purchase is required for all exchanges. Only defective products will be exchanged. Misused or damaged products will not qualify for an exchange. All items will be replaced with a factory refurbished item of the same model number. The Warranty for the replacement item continues from the original date of purchase. The defective items must be tested by KeyOvation and deemed defective before a factory refurbished replacement can be shipped out. KeyOvation will be responsible for return shipping charges of the defective product and shipping charges of the replacement product shipping within the continental USA. Items determined not to qualify for an exchange will be returned at the owner's expense. An expedited replacement can be arranged by providing a valid credit card for immediate cross-shipment of replacement item. Credit card charges will not be applied unless original item is not returned and/or product is found not to be defective.

Unless otherwise arranged all international orders, must be prepaid, prior to shipping.

Product Damaged in Transit - If you take delivery of a package and the contents have been damaged in transit, you can return the item(s) to us within 30 days of receipt for exchange.

Items should be returned to the original place of purchase.

You must complete an RMA form and receive an RMA number before returning product. Packages will not be accepted without an RMA Number.