The below item has been discontinued. See above for similar products that we offer instead. We apologize for this inconvenience.
Adesso ACK-730UB or ACK-730PB EasyTouch Keyboard with Touchpad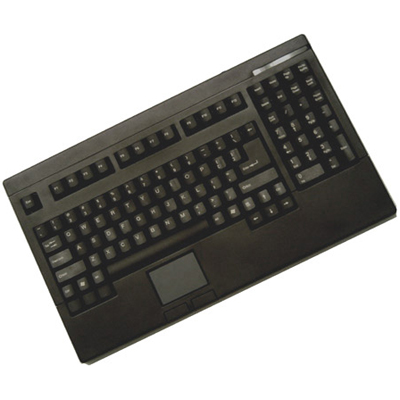 Related Products:
| | |
| --- | --- |
| ACK-730UB | Black Adesso Easy-Touch Ergonomic Keyboard with Touchpad, USB Connection |
| ACK-730PB | Black Adesso Easy-Touch Ergonomic Keyboard with Touchpad, PS/2 Connection |
General Information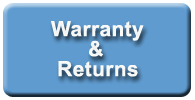 Buy from an Authorized Dealer
Adesso ACK-730UB or ACK-730PB Easy-Touch Keyboard with Touchpad Black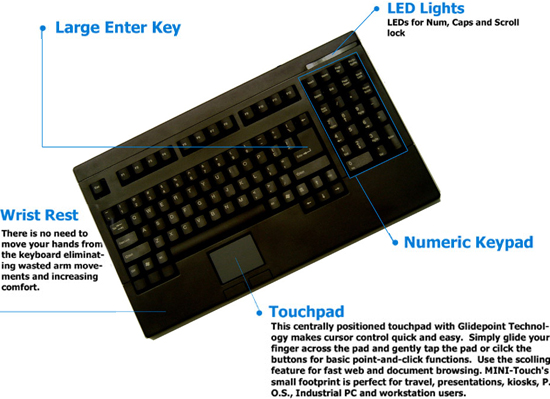 Features of Adesso ACK 730UB or ACK 730PB:
    1.  IBM AT , PS/2 compatible.
2.  Providing the high-end graphics and pixel-point control that allowing us to work quickly and
      efficiently.
    3.  Built-in Touch-Pad for Pointing input device.
    4.  Glide your finger to move the cursor.
    5.  No contact force is required.
    6.  Use the buttons like mouse buttons.
    7.  Tracking speed up to 40 inches per second.
    8.  Elegant Wrist-Rest for a comfortable support and rest.
    9.  Easy Internet key as shortcut to your E-world.
Description of Adesso ACK730UB or ACK730PB:
The condense and industrial sized easy touch keyboard includes a built-in Glidepoint Touchpad and it has a compact 1U design for standard industrial applications. This Industrial keyboards are designed according to EIA-RS-310C specification. It can be mounted to a rack mount drawer or have the combined keyboard and drawer which is the ACK-730PB-MRP. This PC keyboards offers a flexible selection of full-size keyboards to meet any industrial environment requirements.
 

Specifications:

Dimensions:

15.75" x 9.25" x 1.34"

Weight:

3 lbs

Compatibility:  

IBM - PS/2

Key Layout:

104/107 keys

Travel Distance:

4.0 + 0.5 mm

Travel to Peak:

1.5 + 0.5 mm

Peak Force:

50 + 10 gm

Operating Temperature:

0 to 55_C

Storage Temperature:

-20 to 60_C

Operating Humidity:

10% to 95% RH

Switch Life:

10 million life cycles

Electronic Data:

+5VDC + 5% @ 300mA

Connectivity:

IBM AT, PS/2

Connection:

PS/2 and USB

Platform:

with Windows Vista, XP, 2000, ME, 98SE, NT 4.0
Images: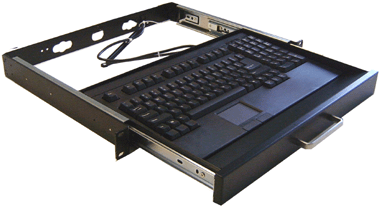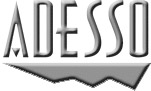 Privacy Notice:
ErgoDirect.com fully respects and protects your privacy. With the exception of arranging for delivery of the products ordered, we do not sell, share or rent any personal information (including your name, address, telephone number or e-mail address) to other parties for any reason; nor do we contact you by telephone or e-mail to solicit additional products or services.
Credit Card Security:
We use SSL security to protect all transactions so your credit card information is completely safe.
Product Options/Accessories
| | |
| --- | --- |
| Model | ACK-730UB, ACK-730PB |
| Manufacturer | Adesso |
| Part Number | ACK-730UB or ACK-730PB |
| Weight | lb(s) |
| | |
| --- | --- |
| Connection Type | USB |
| Connection Type | PS/2 |
| Wireless | No |
Customer reviews
1 stars

0

2 stars

0

3 stars

0

4 stars

0

5 stars

0