Neutral Posture 5000 Series Ergonomic Office Task Chair
NPS5000 chairs are custom-made and non-returnable. All fabric colors shown on your computer screen are approximate depending on resolution of your monitor. 
Product ID 14386
HIGHLIGHTS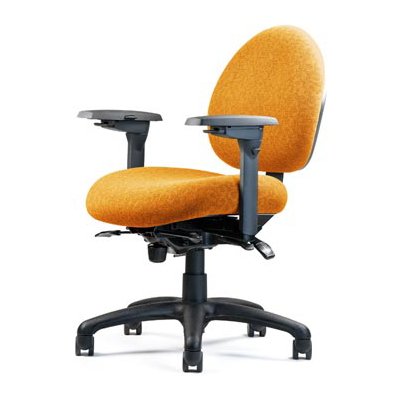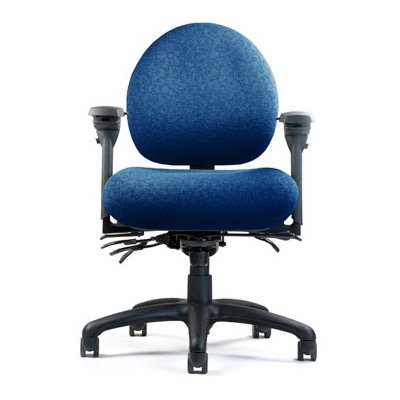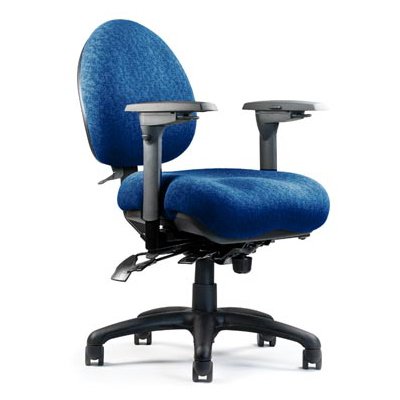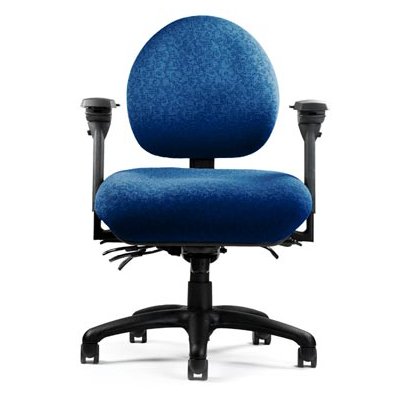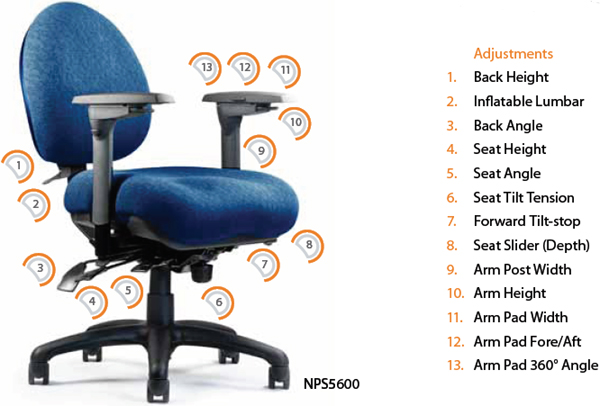 Description
Offering exceptional back and lumbar support, the 5000 series is the mid-back chair of the choice for ergonomic comfort. The 12 active adjustments put you in control and deliver daily, personal comfort and body comfort.
Features
Mid back for exceptional back and lumbar support, contoured seat designs

Passive Weight Dispersion Design and Generous Foam for Optimal Comfort

Choice of 5 seat options and 8 arm options

Adjustable Back Height and Angle

Adjustable Seat Height, Depth, Angle and Tension

Adjustable Arm Height, Width and 360° Armpad Rotation

Inflatable lumbar

Plastic Outer Shell (Upholstered Back Option Available)

Optional Fring Footrest

Forward Tilt-stop Standard on Multi-function Mechanism (0) w/Seat Slide
Applications
Chair Ship Un-assembled with the following parts in a Box
Single Back

Base with Caster already in

Separate Cylinder

Arms, Seat and Mechanism all put together
Specifications
| | | | | | |
| --- | --- | --- | --- | --- | --- |
| Models | NPS5550 | NPS5600 | NPS5700 | NPS5800 | NPS5900 |
| Chair (H x W x D) | 36" x 26" x 26" | 36" x 26" x 26" | 36" x 26" x 26" | 36" x 26" x 26" | 36" x 26" x 26" |
| Chair Weight | 52.5 lbs | 52.5 lbs | 57 lbs | 57 lbs | 57 lbs |
| Seat Width | 21" | 23" | 23" | 23" | 25" |
| Seat Height | 17.5" - 22.5" | 17.5" - 22.5" | 17.5" - 22.5" | 18.25" - 23.5" | 17.5" - 22.5" |
| Seat Depth | 15.5" - 18" | 16" - 18.5" | 16" - 18.5" | 18" - 20.5" | 19" - 21.5" |
| Seat Angle | F 3° - R 11° | F 9° - R 6° | F 10° - R 3° | F 5° - R 7°F | F 8° - R 6°F |
| Back Width | 17.5" | 17.5" | 17.5" | 17.5" | 17.5" |
| Back Height | 17" - 21" | 17" - 21" | 16" - 20" | 17" - 21" | 16" - 20" |
| Back Angle | 102° - 122° | 107° - 122° | 107° - 124° | 108° - 128° | 102° - 118° |
| Lumbar Range | 4" | 4" | 4" | 4" | 4" |
| Arm Height | 7" - 11" | 7" - 11" | 7" - 11" | 6.5" - 10.5" | 6.5" - 10.5" |
| Arm Width | 15.75" - 22.25" | 15.75" - 22.25" | 18" - 22.25" | 18" - 22.25" | 18.5" - 22.25" |
| Shipping Box (L x W x H) | 28" x 26" x 24" | 28" x 26" x 24" | 28" x 26" x 24" | 28" x 26" x 24" | 28" x 26" x 24" |
| Shipping Weight | 62.5 lbs | 62.5 lbs | 67 lbs | 67 lbs | 67 lbs |
Option 1: Seat Back Style
5 - Mid Back

Mid back design with minimal lateral contour

Excellent lower back support with inflatable lumbar

Smaller profile. Good choice for tight areas
Option 2: Seat Style
5 - Medium Seat Minimal Contour

Top selling seat design

3" thick foam eliminates "bottoming out"

Fits widest range of population

6 - Medium Seat Moderate Contour

Top selling contoured seat design

3" thick foam and increased surface contact minimize seated pressure

Arm post notches reduce armrest width by 2"

7 - Medium Seat Deep Contour

Most contoured seat design

Designed to support forward tilt (i.e. neutral posture)

Maximizes surface contact to disperse seated pressure

8 - Large Seat Minimal Contour

Large dimension accommodates larger users

3" thick foam eliminates "bottoming out"

9 - Large Seat Deep Contour

Largest contoured seat design for larger users

Designed to support forward tilt (i.e. neutral posture)

Maximizes surface contact to disperse seated pressure
Product Options/Accessories
| | |
| --- | --- |
| Model | NPS5500, NPS5600, NPS5700, NPS5800, NPS5900 |
| Manufacturer | Neutral Posture Chairs |
| Part Number | NPS5500, NPS5600, NPS5700, NPS5800, NPS5900 |
Customer reviews
1 stars

0

2 stars

0

3 stars

0

4 stars

0

5 stars

1
Adjustable seat and back for comfort while working from home
by Pam B, Boulder, Colorado, Mar 29, 2017
The chair has helped out a great deal with alignment of my body. It feels real good to have an adjustable seat and back for comfort. Wonderful product