Peerless LCC36C Ceiling Mount with Cord Management Cover for 13-29" LCD LED Screens LCC-36C
36" adjustable column comes with this product. You may add on top of this by adding another column using Option 3 - Fixed/Adjustable Columns and Option 4 - Extension Column Connector. It comes with Ceiling plate for Structural or Wood Joists and a 75 x 75/100 x 100 VESA Plate.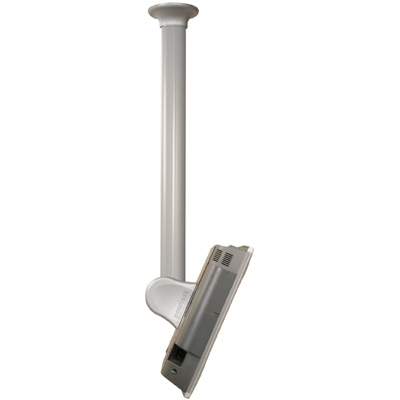 Other LCC Models

LCD Ceiling Mount,18 - 30 inch adjustable length

LCD Ceiling Mount with cord management covers,18 - 30 inch adjustable length

LCD Ceiling Mount, 36 - 48 inch adjustable length
General Information
Peerless LCC 36C LCD Ceiling Mount with 36 - 48 inch adjustable length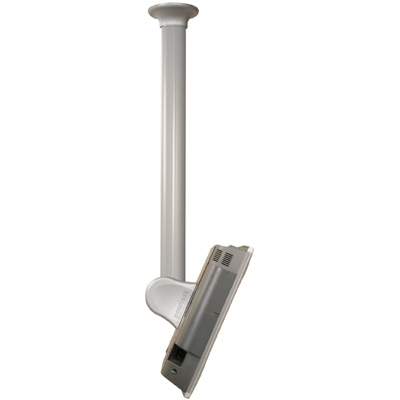 Dimensional Diagram for Peerless LCD Ceiling Mount LCC-36C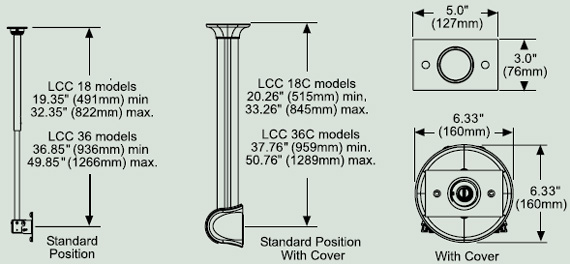 LCD Ceiling Mount Description:
The slim design of the LCD Ceiling Mount offers the ideal low profile mounting solution and enhances the professional look of any 13" to 29" LCD screen. The slender adjustable extension column minimizes the mount's appearance while maximizing the screen's presence in any room. Models with the optional cable management covers offer a sleek, stylized veneer that conceals cords and augments the mount's overall aesthetic. Its versatile design allows the screen to be mounted in standard position or facing the floor with the option of portrait or landscape orientation, making it ideal for dental offices, medical facilities, and digital signage
Features:
Comes in two adjustable height ranges (in 1" increments): 18"-30" and 36"-48"

-5° to +20° adjustable tilt

Screen can be mounted in standard position or face-down

Portrait or landscape orientation

Ceiling plate included for structural or wood joist ceilings

Cord management covers with dual cord management channels included with all models ending in "C"

Hardware included for wood or concrete installations

Theft resistant security fasteners included

VESA 75/100 mm compliant (Non-VESA adapter offered separately)

Comes in black and silver

360° swivel action (at time of installation)
Product Information:
Model Numbers

LCC-18, LCC-18S, LCC-36, LCC-36S : Security Version

 

LCC-18C, LCC-18CS, LCC-36C, LCC-36CS : Security Version with optional Cable Management Covers

 

Product Specifications

Height

LCC-18 models: 18"-30" (45.72 cm - 76.20 cm)

LCC-36 models: 36"-48" (91.44 cm - 121.92 cm)

Load Capacity

40 lbs (18.14 kg)

Product Weight

LCC-18(S): 4 lbs (1.81 kg)

LCC-18C(S): 5.4 lbs (2.4 kg)

LCC-36(S): 5.4 lbs (2.4 kg)

LCC-36C(S): 8 lbs (3.6 kg)

Finish

Scratch resistant fused epoxy

Available Colors

Black, LCC-18/LCC-18C/LCC-36/LCC-36C

Silver, LCC-18S/LCC-18CS/LCC-36S/LCC-36CS

Accessories

Non-VESA Adapter Plates (LC models)

Lightweight Adjustable Suspended Ceiling Kit (CMJ 500)

Various structural and finished ceiling plates

Accessory Pack for CMJ 455 (ACC 455)

Package Specifications

Package Contents

Ceiling Plate, Adjustable Extension Column, Tilt Box/Screen Adapter Plate, Mounting Hardware

Units in Package

1

Package Size

LCC-18(S): 24.5" x 4" x 4" (62.99 x 10.16 x 10.16 cm)

LCC-18C(S): 31.75" x 12" x 4" (80.65 cm x 30.48 cm x 10.16 cm)

LCC-36(S): 36" x 4" x 4" (91.14 x 10.16 x 10.16 cm)

LCC-36C(S): 46" x 12" x 4" (116.84 cm x 30.48 cm x 10.16 cm)

Package Ship Weight

LCC-18(S): 4.6 lbs (2.1 kg)

LCC-18C(S): 7.3 lbs (3.1 kg)

LCC-36(S): 6.2 lbs (2.8 kg)

LCC-36C(S):10.6 lbs (4.8 kg)

Package UPC Code

LCC-18 735029229711             LCC-18C 735029230083

LCC-18S 735029229728          LCC-18CS 735029230090

LCC-36 735029229735            LCC-36C 735029230106

LCC-36S 735029229742          LCC-36CS 735029230113

Warranty

Limited 5-year
Literature (Please open the following documents for more technical information)
Product Options/Accessories
| | |
| --- | --- |
| Model | LCC-36-C |
| Manufacturer | Peerless Mounts |
| Part Number | LCC-36-C |
| UPC | 735029230106 |
| Weight | lb(s) |
Customer reviews
1 stars

0

2 stars

0

3 stars

0

4 stars

0

5 stars

0
Warranties and Returns
Limited Warranty
Peerless Industries, Inc. (Peerless-AV) warrants to original end-users of Peerless-AV products that Peerless-AV products will be free from defects in material and workmanship, under normal use, for the periods listed below, from the date of purchase by the original end-user. At its option, Peerless-AV will repair or replace with new or refurbished products or parts, or refund the purchase price of, any Peerless-AV product which fails to conform with this warranty.

In no event shall the duration of any implied warranty of merchantability or fitness for a particular purpose be longer than the period of the applicable express warranty set forth above. Some states do not allow limitations on how long an implied warranty lasts, so the above limitation may not apply to you.

This warranty does not cover damage caused by (a) service or repairs by the customer or a person who is not authorized for such service or repairs by Peerless-AV, (b) the failure to utilize proper packing when returning the product, (c) incorrect installation or the failure to follow Peerless-AV's instructions or warnings when installing, using or storing the product, or (d) misuse or accident, in transit or otherwise, including in cases of third-party actions and force majeure. This warranty also does not cover corrosion or rust resulting from damaged, scratched or chipped paint or other surfaces.

In no event shall Peerless-AV be liable for incidental or consequential damages or damages arising from the theft of any product, whether or not secured by a security device which may be included with the Peerless-AV product. Some states do not allow the exclusion or limitation of incidental or consequential damages, so the above limitation or exclusion may not apply to you.

This warranty is in lieu of all other warranties, express or implied, and is the sole remedy with respect to product defects. No dealer, distributor, installer or other person is authorized to modify or extend this Limited Warranty or impose any obligation on Peerless-AV in connection with the sale of any Peerless-AV product.
This warranty gives specific legal rights, and you may also have other rights which vary from state to state.
| | |
| --- | --- |
| Product | Warranty Period |
| Mounts | 5 years |
| Kiosk Enclosures | 5 years |
| Furniture | 1 year |
| Cables | 25 years |
| Cleaning Products | 1 year |
| Power Products | 1 year |
| Electronic Products and Components | 1 year |
| Xtreme Displays, Ultra View TVs | 2 years |
| Interactive | 1 year |