Humanscale M2 Monitor Arm Desk or Wall Mount
Highlights
10" vertical adjustment

: 

Height adjustable monitor arm
Up to 20 lbs weight

: Supports all monitors weighing up to 20 lbs

20"

 

Horizontal extension: Arm has horizontal reach of 20" 
Interchangeable mounting options: Can be mounted on a wall, desk or slatwall 
For a heavier monitor, see Humanscale M8 Monitor Arm 
Description
Designed to suit a range of settings, the M2 allows the user to bring their work to them, versus having to adjust to a static monitor stand. M2's articulating arm offers effortless height and depth adjustment for the majority of flat-panel screens available today, accommodating monitors up to 9kg (20 lbs).
Instead of using a gas cylinder to counterbalance the weight of the monitor, the M2 monitor arm uses extension spring technology. Without clunky mechanisms to complicate the design, the M2 offers uncompromising lightweight, long-term durability and an ultra-thin design that complements flat-panel monitors and attachments for a truly flexible workstation.
Offering all the benefits of a traditional dynamic monitor arm, with none of the shortcomings, the M2 redefines high-performance monitor arms. Current-generation monitor arms utilise a bulky, failure-prone gas cylinder to support the weight of the monitor. The M2 instead uses an innovative mechanical spring to achieve exceptional performance and durability in a lightweight, ultra-thin design.
The M2 embodies what a monitor arm should be, allowing the user to work in a healthy posture by setting the monitor at an optimal distance and height. Collaboration is made easier through effortless screen sharing, and desk space is increased. The M2's seamless cable management and minimal design enhances the look of any workstation.
Design Story - Designed and developed by the Humanscale Design Studio, the M2 was created to suit any workspace and add ergonomic versatility to the workstation. The M2 was built to offer exceptional performance and durability in a lightweight, ultra-thin design.
Technical Drawing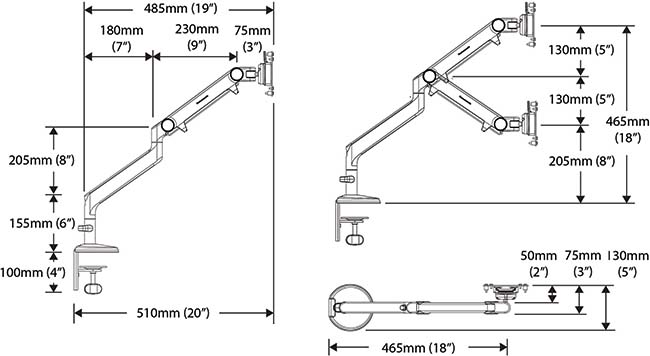 Features
Less Is More - With fewer moving parts than other articulating monitor arms, no gas cylinder, and steel and aluminum construction allows the M2 to have an ultra thin profile while extending its useful life to many times that of traditional gas spring monitor arms. As a result, every M2 monitor arm is backed by Humanscale's robust 15-year warranty.
Flexible Intuition - With an arm reach of 255mm (20"), height adjustment of 10" and an additional 12" link, the M2 is one of the most versatile monitor arms available. It also features a removable 180-degree stop that protects walls and panels.
A New Level of Customization - The M2 has customizable option including multiple surface attachments and add-ons like a notebook holder that can accommodate 230 - 355 mm (9" - 14") laptops. M2 also boasts interchangeable mounting options such as clamp, bolt through and slatwall mounts as well as accommodate multiple monitor types through a variety of VESA plates.
Design - The M2 is thinner, lighter and easier to manoeuvre than any currentgeneration monitor arm, and its sleek aesthetic complements the thin profiles of today's flat panel monitors.
Durability - With no gas cylinder and fewer parts than current-generation arms, less can go wrong with the M2 over time. As a result, it's backed by an 10 year warranty.
Performance - Designed to support 95% of the monitors in use today and offering effortless adjustment of both height and depth, the M2 will accommodate virtually every application for single monitors.
Specifications
Supports 95% of monitors in use today, up to 9kg (20 lbs)
Interchangeable mounting options attach to a variety of work surfaces
Integrated cable management hides cables within the arm
Removable 180° stop protects walls and panels
Arm reach: 510mm (20")
Height adjustment range: 255mm (10")
Weight: 2.6kg (5.7 lbs)
Finish options: Polished Aluminum with White accents, Silver with Grey accents or Black with Black accents
Made primarily of recycled aluminum
52% recycled and 99% recyclable content
May contribute to a number of LEED-CI, -NC and -EB credits
15 year warranty
Sustainability
A New Level of Sustainability - For all its advancements, the M2's most notable achievement is that it treads lightly where the environment is concerned.
Fewer parts mean fewer manufacturing processes
Lighter weight means less material to source, process, dispose of, and ship
Slim profile enables less wasteful packaging
Durable design means it won't need to be replaced for a very, very long time
No gas cylinders, which are difficult to recycle
52% recycled content and 99% recyclable
Contributes to valuable LEED-CI, -NC and -EB points
Option 1 - Color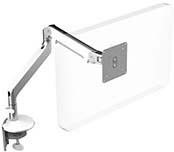 Polished Aluminum with White Trim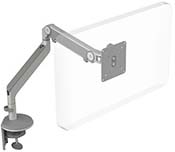 Silver with Gray Trim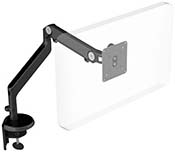 Black with Black Trim
Option 2 and 3 - Mount Style and Arm Style
Mount: C- Two Piece Clamp Mount with Base, Arm: Fixed Angled Link/Dynamic Link with Black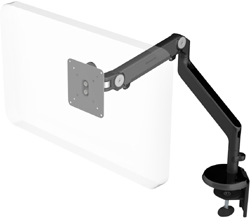 Mount: C- Two Piece Clamp Mount with Base, Arm: Fixed Straight Link/Dynamic Link with Black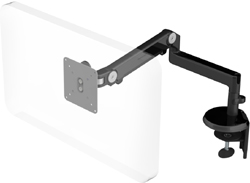 Mount: C- Two Piece Clamp Mount with Base, Arm: Fixed Straight Link/Fixed Straight Link with Black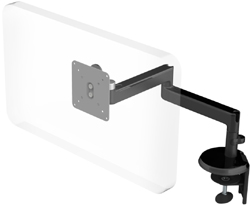 Mount: B- Bolt Through Mount with Base, Arm: Fixed Angled Link/Dynamic Link with Black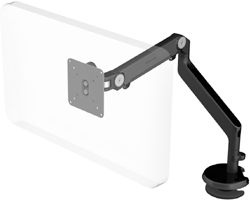 Mount: B- Bolt Through Mount with Base, Arm: Fixed Straight Link/Dynamic Link with Black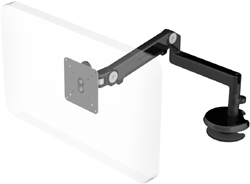 Mount: B- Bolt Through Mount with Base, Arm: Fixed Straight Link/Fixed Straight Link with Black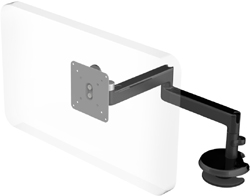 Mount: H- Direct Hard Wall Mount, Arm: Fixed Angled Link/Dynamic Link with white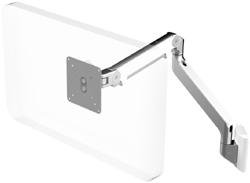 Mount: H- Direct Hard Wall Mount, Arm: Fixed Straight Link/Dynamic Link with White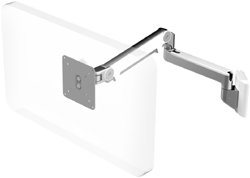 Mount: H- Direct Hard Wall Mount, Arm: Fixed Straight Link/Fixed Straight Link with White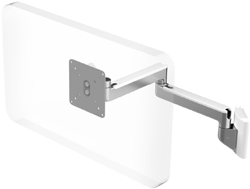 Mount: D- Dual Mount Clamp and Bolt Through, Arm: Fixed Angled Link/Dynamic Link with White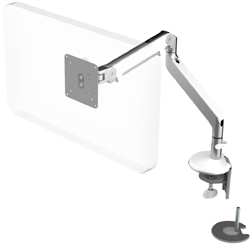 Mount: D- Dual Mount Clamp and Bolt Through, Arm: Fixed Straight Link/Dynamic Link with White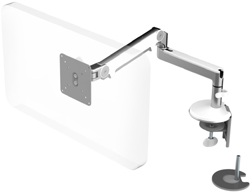 Mount: D- Dual Mount Clamp and Bolt Through, Arm: Fixed Straight Link/Fixed Straight Link with White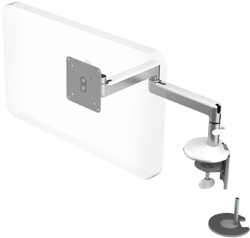 Mount: S- Universal Slatwall Mount, Arm: Fixed Angled Link/Dynamic Link with Silver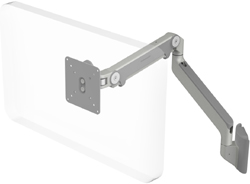 Mount: S- Universal Slatwall Mount, Arm: Fixed Straight Link/Dynamic Link with Silver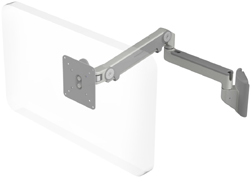 Mount: S- Universal Slatwall Mount, Arm: Fixed Straight Link/Fixed Straight Link with Silver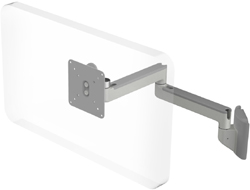 Mount: N- No Mount, Arm: Fixed Angled Link/Dynamic Link with Silver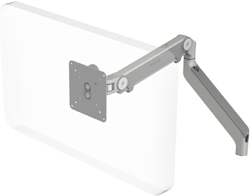 Mount: N- No Mount, Arm: Fixed Straight Link/Dynamic Link with Silver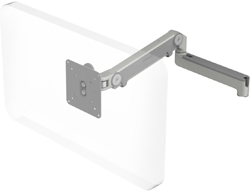 Mount: N- No Mount, Arm: Fixed Straight Link/Fixed Straight Link with Silver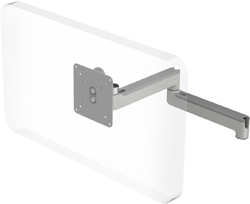 Option 4 - VESA Plates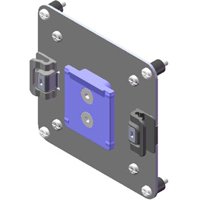 VM28-11 - Standard 100 x100 mm (also used for 75 x 75 mm)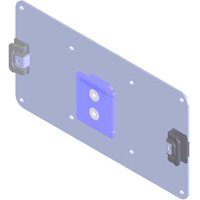 VM28-12 - 100 x 200 mm VESA Plate with hardware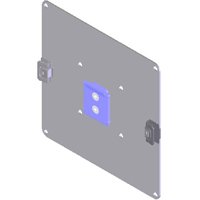 VM28-22 - 200 x 200 mm VESA Plate with hardware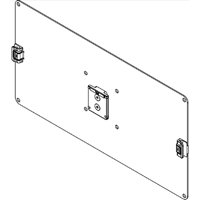 VM28-24 - 200 x 400 mm VESA Plate with hardware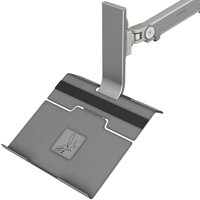 M2NH - Laptop Holder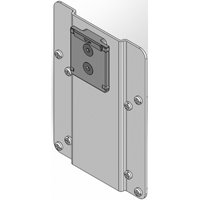 M2DVP - Drop Down VESA Plate
| | |
| --- | --- |
| Model | M2 |
| Manufacturer | Humanscale |
| Part Number | M2 |
| | |
| --- | --- |
| Mounting Options | Wall |
| Mounting Options | Desk |
| Monitor Arm Types | 1 Monitor |
| Mounting Options | Slatwall |
| Number of Monitors | 1 Monitor |
Be the first to review this product