Goldtouch KOV-ORTHO Wired Ortho Mouse
Product ID 16040
HIGHLIGHTS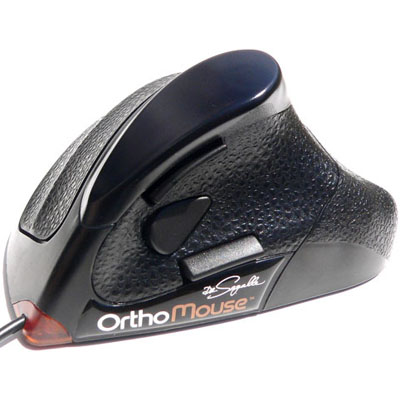 Description
The fully customizable OrthoMouse KOV-ORTHO will gently guide your wrist and hand into an ideal position. This creates a better fit and is scientifically proven to reduce the risk of developing a repetitive strain injury like carpal tunnel syndrome. The Goldtouch KOV-ORTHO-W OrthoMouse is ready to go out of the box. Just plug and play for instant ergonomic comfort.
Enjoy a new level of comfort - The OrthoMouse is fully customizable, offering three different palm prolongers and two different sizes of upper adapters for six configurations in total.

Easier scrolling - There are five customizable buttons in total, three of which are devoted just to scrolling your preferred way. Buttons are low-resistance to reduce stress while clicking.

No scraping - The anti-skid texture and optimal location of optical sensor allow for precision movement with minimum travel.
Specifications
System Requirements

The OrthoMouse connects via USB port, and features Plug-and-Play technology. The mouse is compatible with the following operating systems:

Windows: 7, 8, 10, Vista, XP, 2000, Me, 98

Mac OS: 8.6-9, Mac OS X, 10.1 or newer

Linux: Kernal 2.4 or newer w/ USB support

Color

Black

Optical Sensor

800 DPI

Cord Length

6 ft (1.83 m)

Dimensions

2.56" (6.5 cm) H x 3.23" (8.2 cm) W x 4.45-5.35" (11.43 - 13.59 cm) L

Weight

KOV-ORTHO: 5.3 ounces (0.15 kg)

KOV-ORTHO-B: 3.8 ounces (0.11 kg)
Frequently Asked Questions
q
What is a mousing platform? Is it essential if I am interested in this product?
a
The mousing platform is a mouse pad and it is optional.
| | |
| --- | --- |
| Model | KOV-ORTHO |
| Manufacturer | GoldTouch |
| Part Number | KOV-ORTHO |
| | |
| --- | --- |
| Mouse Type | Vertical |
| Wireless | No |
| Trackball | No |
| Color | Black |
| Optical Sensor | 800 DPI |
| Cord Length | 6 ft (1.83 m) |
| Dimensions | 2.56" (6.5 cm) H x 3.23" (8.2 cm) W x 4.45-5.35" (11.43 - 13.59 cm) L |
| Weight | 5.3 ounces (0.15 kg) |
| Compatible | Windows: 7, 8, 10, Vista, XP, 2000, Me, 98. Mac OS: 8.6-9, Mac OS X, 10.1 or newer. Linux: Kernal 2.4 or newer w/ USB support |
Customer reviews
1 stars

0

2 stars

0

3 stars

0

4 stars

0

5 stars

0
Return Policy
Returns or Replacement
Damaged and/or Defective - There is a one year manufacturer's warranty from date of original purchase date. Customer must submit an RMA form and obtain an RMA number before shipping product back. If product tests non-defective or damaged by human error then customer is responsible for all shipping costs for return to Key Ovation and back. After 30 days, customer is responsible for shipping costs to have items sent back for testing. If defective, Key Ovation will return, at our cost, a replacement factory refurbished product. Warranty for the replacement item continues from the original date of purchase. The one year warranty does not cover Abuse or Normal wear.

Refund - Proof of purchase is required. Refunds will only be issued for products purchased directly from the KeyOvation website, or, if the product was advertised as Money Back Guaranteed by Key Ovation or authorized by Key Ovation through an Authorized Reseller. Customer must submit a RMA within 30 days from the date of purchase from KeyOvation and obtain a RMA number before the product can be returned; the RMA number will remain valid for 14 days from the date it was issued. The refund will be issued in the original form of payment. All items must be returned in the original packing material to qualify for a refund. Misused product will not qualify for a refund. Shipping will not be refunded. The customer will be responsible for return shipping charges of non-defective product.

Resellers - A 50% restocking fee will apply to opened non-defective product for 0 to 90 days and a 15% restocking fee will apply to unopened product returned within 90 days of purchase.

(These terms and conditions may be superseded by individual Reseller or Distributor Agreements. Please see your vendor agreement for further details.)

Web Orders - Product can be returned for 100% refund within the 30 days from the original date of purchase. Proof of purchase must be provided. No refund will be issued after 30 days.

Replacement - Items purchased directly from KeyOvation or an Authorized reseller have 1 year from the date of purchase to request an exchange, Proof of Purchase is required for all exchanges. Only defective products will be exchanged. Misused or damaged products will not qualify for an exchange. All items will be replaced with a factory refurbished item of the same model number. The Warranty for the replacement item continues from the original date of purchase. The defective items must be tested by KeyOvation and deemed defective before a factory refurbished replacement can be shipped out. KeyOvation will be responsible for return shipping charges of the defective product and shipping charges of the replacement product shipping within the continental USA. Items determined not to qualify for an exchange will be returned at the owner's expense. An expedited replacement can be arranged by providing a valid credit card for immediate cross-shipment of replacement item. Credit card charges will not be applied unless original item is not returned and/or product is found not to be defective.

Unless otherwise arranged all international orders, must be prepaid, prior to shipping.

Product Damaged in Transit - If you take delivery of a package and the contents have been damaged in transit, you can return the item(s) to us within 30 days of receipt for exchange.

Items should be returned to the original place of purchase.

You must complete an RMA form and receive an RMA number before returning product. Packages will not be accepted without an RMA Number.