Kinesis AC730-Blk Freestyle V3 Accessory
Solo Keyboard is not included with this V3 Accessory, purchase separately.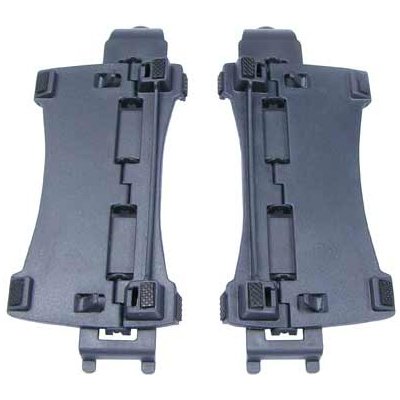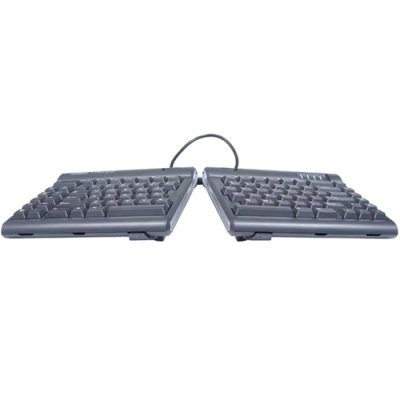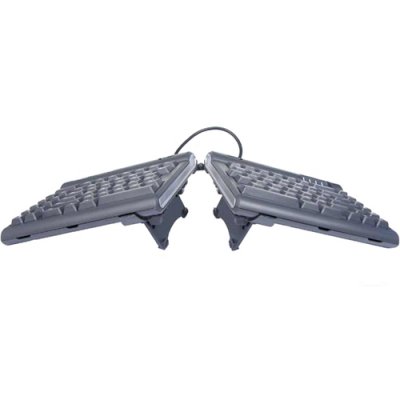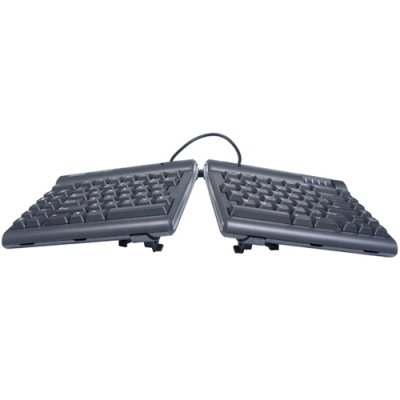 Kinesis AC730-blk Freestyle V3 Accessory
General Information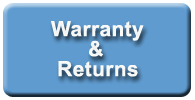 Kinesis AC730-blk Freestyle V3 Accessory black
Features of Kinesis Freestyle V3 Accessory:

(Click on an image for a larger view)
The V3 accessory attaches easily to the base of the Solo Keyboard allowing quick and reproducible slope settings of 5, 10 and 15 degrees without the use of integrated palm supports.
Left and Right V3 V-Lifters: the V3 V-lifter quickly and easily alternates the slope of the keyboard from 5, 10 & 15 degrees positioning your forearms and wrists in a more comfortable position by reducing pronation.
Unlike the VIP the V3 does not require the installation of palm supports prior to use.
Use with or without the pivot/tether. The pivot tether connects the two keying modules of the Solo keyboard together. Disconnect the pivot tether if greater separation is required.
Provides a highly stable typing platform with no "bounce".
Physical Specifications:
| | |
| --- | --- |
| Includes: | Set of right and left V3 V-Lifters |
| Max Height at 15 Degree Slope: | 3 1/8 inches |
| Max Height at 10 Degree Slope: | 2 1/2 inches |
| Max Height at 5 Degree Slope: | 1 7/8 inches |
| Weight: | 1/2 lbs |
Applications of Kinesis Freestyle V3 Accessory:
Ideal replacement for other adjustable ergonomic keyboards, such as those with complicated, unstable, or hard-to-use tenting mechanisms.
For individuals that require tenting, variable splay and/or separation without the use of integrated palm supports.
For users that want easily reproducible tent settings.


Product Options/Accessories
| | |
| --- | --- |
| Model | AC730-Blk |
| Manufacturer | Kinesis |
| Part Number | AC730-Blk |
| UPC | 607998730003 |
Customer reviews
1 stars

0

2 stars

0

3 stars

0

4 stars

0

5 stars

0
Warranty and Return Policy
Please review the following (3) stipulations to the warranty and returns policy that are unique to the TKO keyboard.
Warranty: 1 year limited from date of purchase.

Returns: A $35 restocking fee will be charged for TKO keyboards that are returned without the hard-shell travel case included.

Warranty Exemption on Hot Swappable Switch Sockets: This Warranty does not apply to damage to switch sockets caused by the customer. If a customer receives a product with a broken switch they must contact Kinesis within 7 days of purchase and submit a Support Ticket documenting the switch failure. Damage to switch sockets reported after 7 days will be assumed to have been the fault of the customer and will not be covered under warranty. If Kinesis receives a returned keyboard after 7 days and determines that the failure was caused by a damaged socket, warranty coverage will be denied.
Please refer to the Kinesis Gaming Warranty Page for further information.