Hippus Handshoe Right Handed Wired Ergonomic Mouse
Product ID 16403
HIGHLIGHTS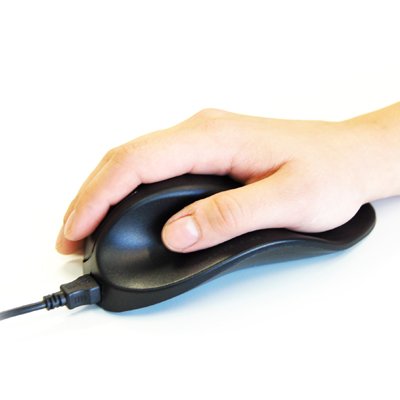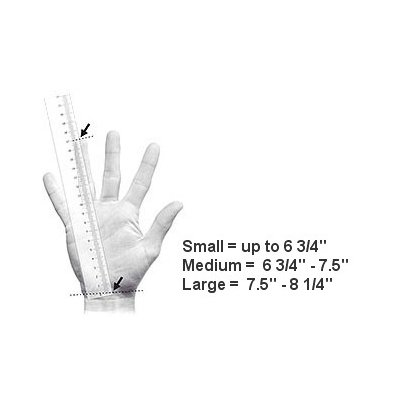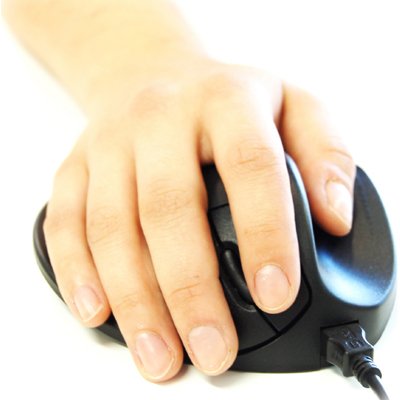 Related Products
| Part Number | Description |
| --- | --- |
| XS2WB | Up to 155 mm (up to 6.1") Extra Small Right Handed Wired HandshoeMouse |
| S2WB-LC | Up to 175 mm (up to 6.9") Small Right Handed Wired HandshoeMouse |
| M2WB-LC | 175 - 195 mm (6.9" - 7.7") Medium Handshoe Mouse Wired Right Handed Mouse |
| L2WB-LC | 195 - 215 mm (7.7 - 8.5") Large Wired Right Handed Handshoe Mouse |
This is why the HandShoe Mouse is different
Based on fundamental university research and confirmed by EMG measurements.
Your hand, thumb and fingers are supported in the best, relaxed position.
There is no friction between the skin of your hand and the desktop.
Ergonomic Mouse Research by Medical University
Intensive working with a conventional computer mouse may result in complaints like tingling, pain and /or obstruction of the blood flow to and from your arms and hands. Another symptom is a restricted rotation of the head.
However excellent the functionality of the standard computer mouse - we all use it with great ease - most of the time it is too small for the hand while its shape forces your hand and fingers in an unnatural gripping position. It lacks comfort.
Therefore a group of mechanical engineers, working in close co-operation with the Medical Center of Erasmus University in the Netherlands, have re-designed the mouse, and invented the ergonomic mouse called the Handshoe Mouse.
To maximize the advantages of this mouse and experience maximum comfort, a correct fit is required. Therefore the hand has to be measured.
Measure on the inside of the stretched out hand. The distance from your wrist (the cross over between hand and arm) up to the tip of the ring finger. This length provides an indication of the required size.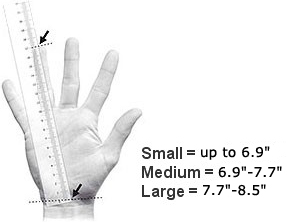 Prevent RSI and Carpal Tunnel Syndrome
This innovative, patented, truly ergonomic computer mouse, has been field tested in large organizations for almost two years and has shown to reduce the complaints as well as the risk of Repetitive Strain Injury (RSI), Carpal Tunnel Syndrome and other Neck, Shoulder, Arms and Hands (NSAH) complaints.
Instead of over-using your hand and wrist, your arm will most of the time let the optical Handshoe Mouse float without any effort. The shape allows for the hand to continuously rest on the mouse body in a relaxed fashion, so there is no skin contact between your hand and the desk.
As a result there is no skin irritation as caused by excessive rubbing when moving a conventional mouse. Contrary to conventional computer mice you don't have to continuously lift (hover) the fingers, to prevent accidental switching.
The buttons of this ergonomic mouse are positioned in line with the fingers. Only minor pressure is required to click the buttons. The thumb rest of the HandShoe Mouse allows for a relaxed position and prevents excessive thumb action which can be harmful.
HandShoe = "Glove"
In Dutch the word HandShoe means "Glove".
The Handshoe Mouse "fits like a glove" or, like some people say "feels like a saddle for the hand". The HandShoe Mouse is available in three standard sizes (Small, Medium and Large) which are available in a wireless and a wired version. So there is a Handshoe Mouse for everyone!
The HandShoe Mouse is developed, based on proper university research and measurements and not on beliefs of individuals
HandShoe Mouse Specifications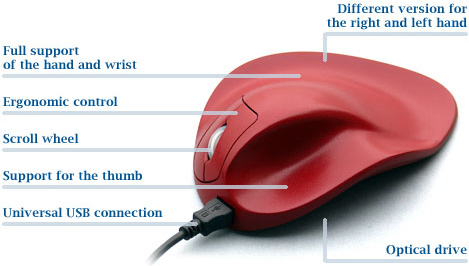 The user friendly HandShoe Mouse is an ergonomic mouse available in 4 standard sizes for the right hand: extra small, small, medium and large.
On special request left hand versions and extra small versions for the right and left hand can also be produced.
The HandShoe Mouse is plug and play, no special drivers for Mac or PC are needed. Controls consist of 2 buttons at an ergonomic position and a scroll wheel fitted with a switch mechanism.
The large size HandShoe Mouse has a third switch button.
This switch button is not programmable; it has the same function as the click function underneath the scroll wheel.
New: BlueRay Track Version of the HandShoeMouse
From now on you can also order a BlueRay Track (BRT) version of the HandShoe Mouse which will work on almost every surface. The BRT version works with a higher resolution than the standard: 1000 dpi.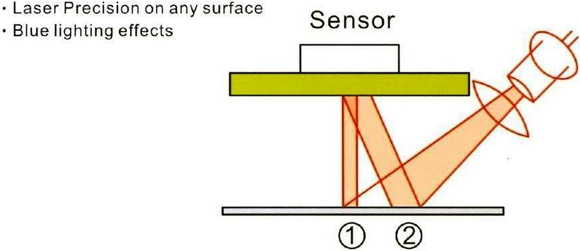 Specifications
Connection

USB 1.1 (compatible with USB 1.1 and USB 2.0)

Separate USB connection on the HandShoeMouse

Battery wireless version is charged with USB cable

Control
Two buttons at ergonomic position plus scroll wheel
Scroll Wheel
Fitted with Switch
Control Mechanism
standard: optical 800 dpi; BlueRay Track: 1000 dpi
Operating Systems

Windows 95, 98, 2000, NT, XP, Vista and Windows 7

Mac OS 9 or Mac OS X

Unix
Product Options/Accessories
| | |
| --- | --- |
| Model | S2WB-LC or M2WB-LC or L2WB-LC |
| Manufacturer | Hippus |
| Part Number | S2WB-LC or M2WB-LC or L2WB-LC |
| | |
| --- | --- |
| Color | Black with Blue Ray Track and Light Click |
| Size | Small: up to 175 mm (up to 6.9"). Medium: 175 - 195 mm (6.9"- 7.7"). Small: 195 - 215 mm (7.7"- 8.5") |
| Mouse Type | Horizontal |
| Wireless | No |
| Trackball | No |
Customer reviews
1 stars

0

2 stars

0

3 stars

0

4 stars

0

5 stars

1
Innovative design that works!
by Laurence J, Ft. Collins, CO 80526, Colorado, Feb 13, 2020
The Handshoe really is a great mouse! Very comfortable and functions flawlessly. Buy one!