Secure iPad Wall Mount Arm, ED-911-24
The iPad Holder works with iPad 1, 2, 3 and 4, and it comes with a lock and key to make the iPad secure. If you want to secure the Extension Arms to each other, you need to buy the Secure Screw Kits corresponding to the size of the Extension Arms that you choose. So the Secure Screw Kits are optional. To secure the arm to the wall, you will have to buy security fasteners from third party manufacturers (information at the bottom of the page).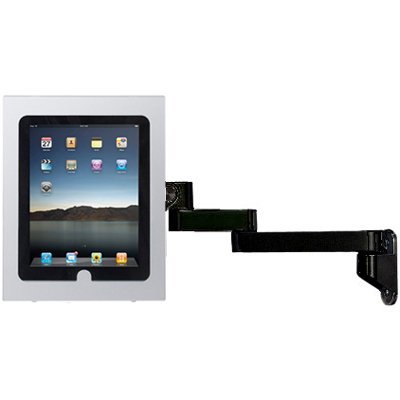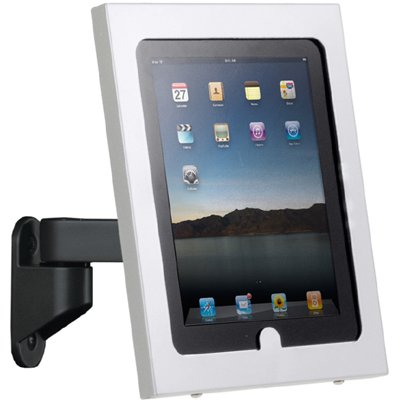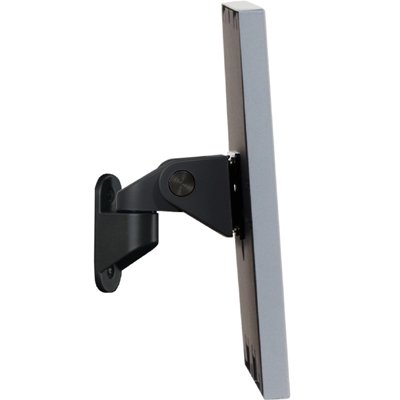 Secure iPad Arm ED-911-24
Disclaimer
iPad Secure Wall Mount Arm associated parts are designed only as theft deterrents, not theft-proof. Ergodirect.com in no event will be held liable for any loss or damage including without limitation, indirect or consequential loss or damage, or any loss or damage whatsoever arising from loss of data or profits arising out of or in connection with the use of this product.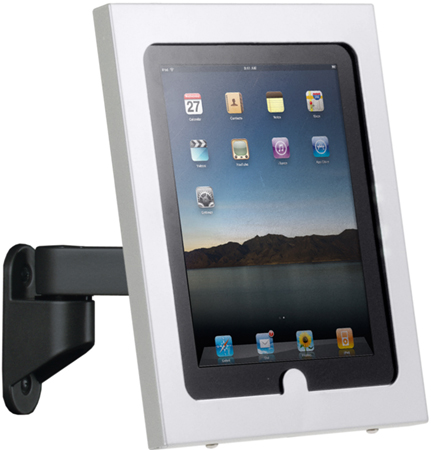 The Apple iPad is increasing finding a home in self-service and kiosk applications. However, the iPad's compact size and mobility creates a theft and risk. Ergodirect.com's Secure iPad Arm Wall Mount allows you to position the iPad wherever you need it wiHang your iPad on the wall to save maximum space. Allows pivot and tilt. Or, add optional extender arms to allow even greater flexibility and range. iPad secure arm wall mount comes in black only - inquire about upcharge for special color runs at Ergodirect.com.
Features
Adjustable tension at joints - ideal for touch screen applications

Reposition the iPad with one hand, no knobs to turn

The iPad display can tilt up and down 30º and turn left and right 30º

Pivot iPad 90º for portrait to landscape viewing

4" and 8" extension arms available; can be combined to increase extension up to 12"

Folds into 3" of space
Related Parts
Description
Pivoting Wall Mount with 4" Extension Arm
Pivoting Wall Mount with 8.5" Extension Arm
Pivoting Wall Mount with 8.5" + 4" = 12.5" Extension Arm
M4 x 12mm pin in hex screws
100 degree 10-32 x 3/8 pin in hex flat head screw
Secure iPad Holder with access to Home Button, Weight 2.75 lbs
Secure iPad Holder with No access to Home Button, Weight 2.75 lbs
Technical Drawing
Wall Mount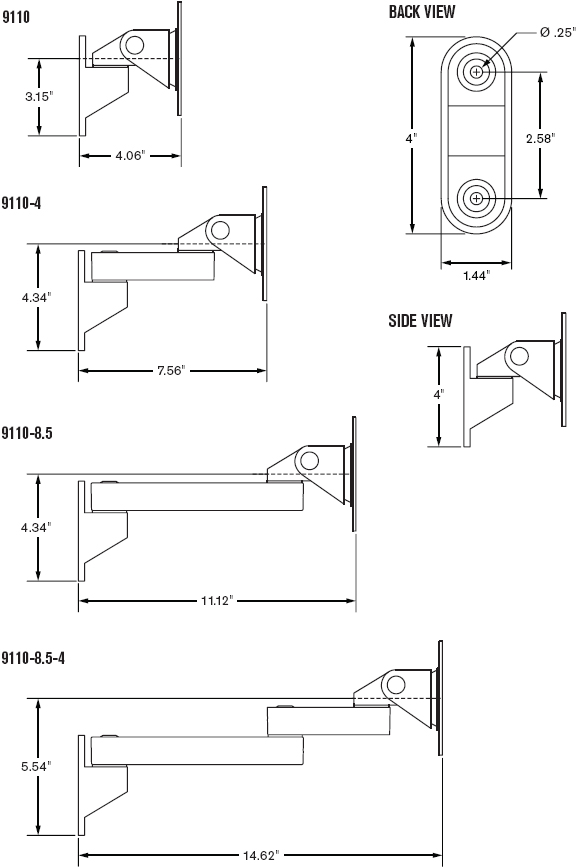 Secure iPad Holder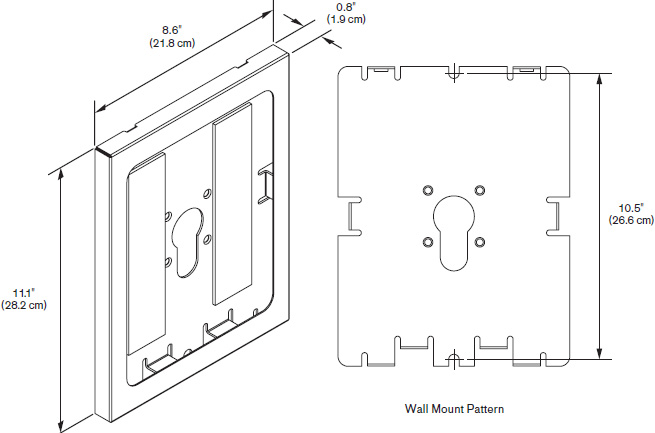 Installation of Secure iPad Holder with Arm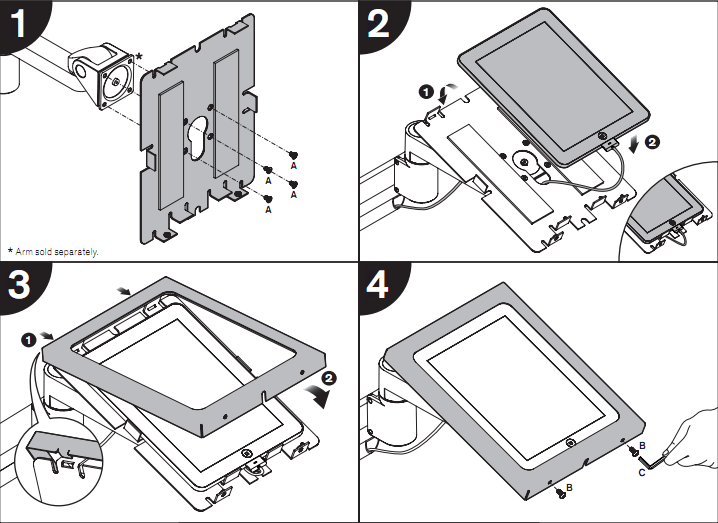 Secure iPad Wall Mount Arm
Pivoting Wall Mount Arm

Adjustable tension at joints. The display can tilt up and down 30° or left and right 30°. VESA monitor compatible.

Secure iPad Holder

It comes with two options:

1. Allows the user to access the Home Button

2. Blocks user access to Home Button for applications where it is necessary. It does not allow the user to access the Home Button

Screws to secure iPad to arm

Height = 1/4"

Threads per inch = 20

Head size = 10

 
 

Secure Screw Kits

Hex screws
Secure your iPad to the wall
You can find secure wall screws from independent manufacturers such as tamperproof.com or brycefastener.com. However, we are not responsible for the functionality, security or provide products warranty.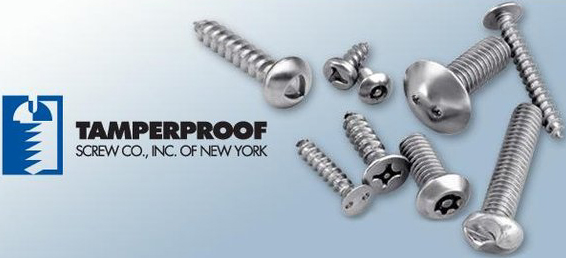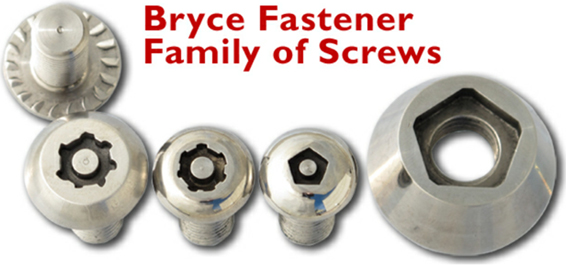 Product Options/Accessories
Frequently Asked Questions
q
Can this item be purchased with an 8" extension arm (no 4" extension) AND without the iPad holder? If so, what is the pricing?
a
Yes, you can. You can order the arm without the iPad holder here. Under "option 6," please select 8" extension arm. The total price including shipping would be $126.20.
| | |
| --- | --- |
| Model | ED-911-24 |
| Manufacturer | Ergodirect |
| Part Number | ED-911-24 |
| | |
| --- | --- |
| Mounting Options | Wall |
| Device | Apple |
Customer reviews
1 stars

0

2 stars

0

3 stars

0

4 stars

0

5 stars

0
Warranty
Seller warrants that its products will be free from defects in material and workmanship when the title passes to the buyer. Seller will repair or replace, at its discretion, any defective product without charge (shipping charges excluded) for a period of 10 years (exception: 1 year for Busby, 5 years for Winston Workstation, Winston-E, Winston Desk and Freedom Desk, 3 years for Tablik and 1 year for Bild motorized column) after the original date of sale, unless the product damage resulted from normal wear and tear, buyer abuse, misuse or negligence or failure to follow instructions related to the products's installation or intended use. Seller may require proof of purchase before performing any repairs or replacing any products during the warranty period. Except as specifically set forth above, seller makes no warranties, express or implied and specifically disclaims any warranty of merchantability or fitness for a particular purpose. Repair or replacement of the product ordered from seller shall be buyer's exclusive remedy.