EDC-OM5 Gaming Chair | Tall Back Executive/Task Chair by OM-Seating
ED-OM5-EX is custom-made and non-returnable. All fabric colors shown on your computer screen are approximate depending on resolution of your monitor.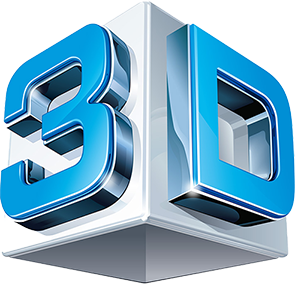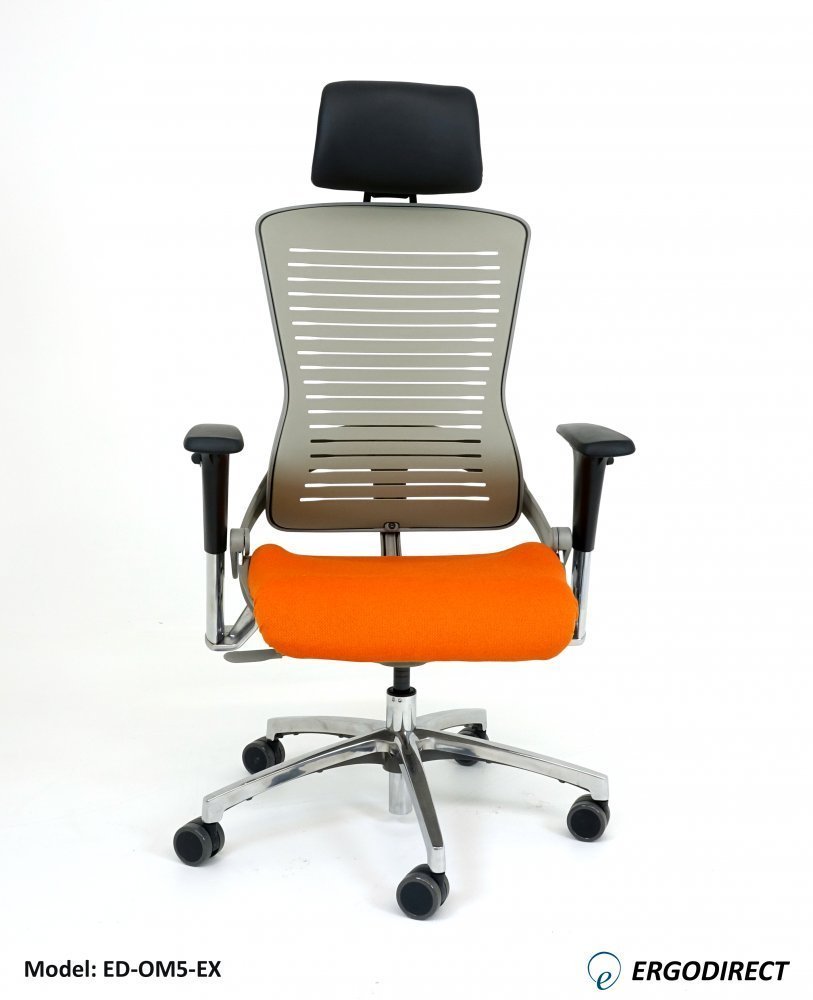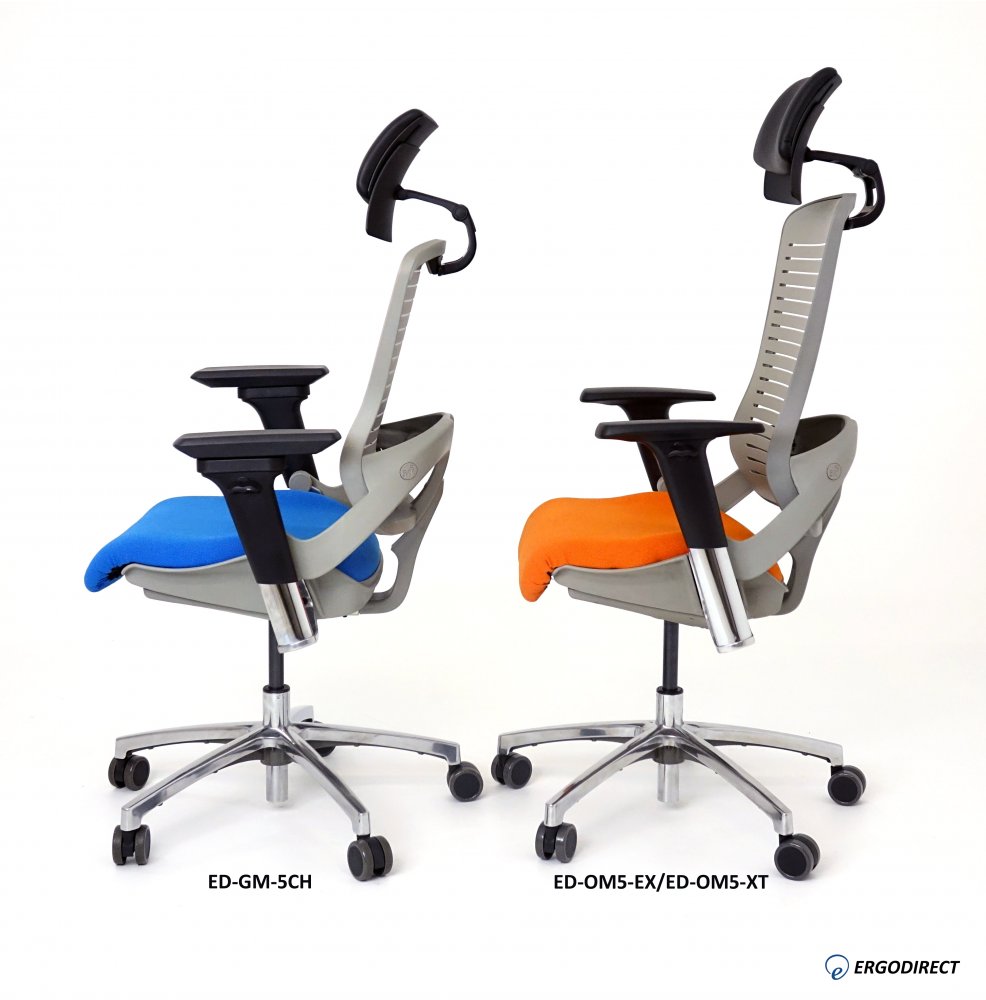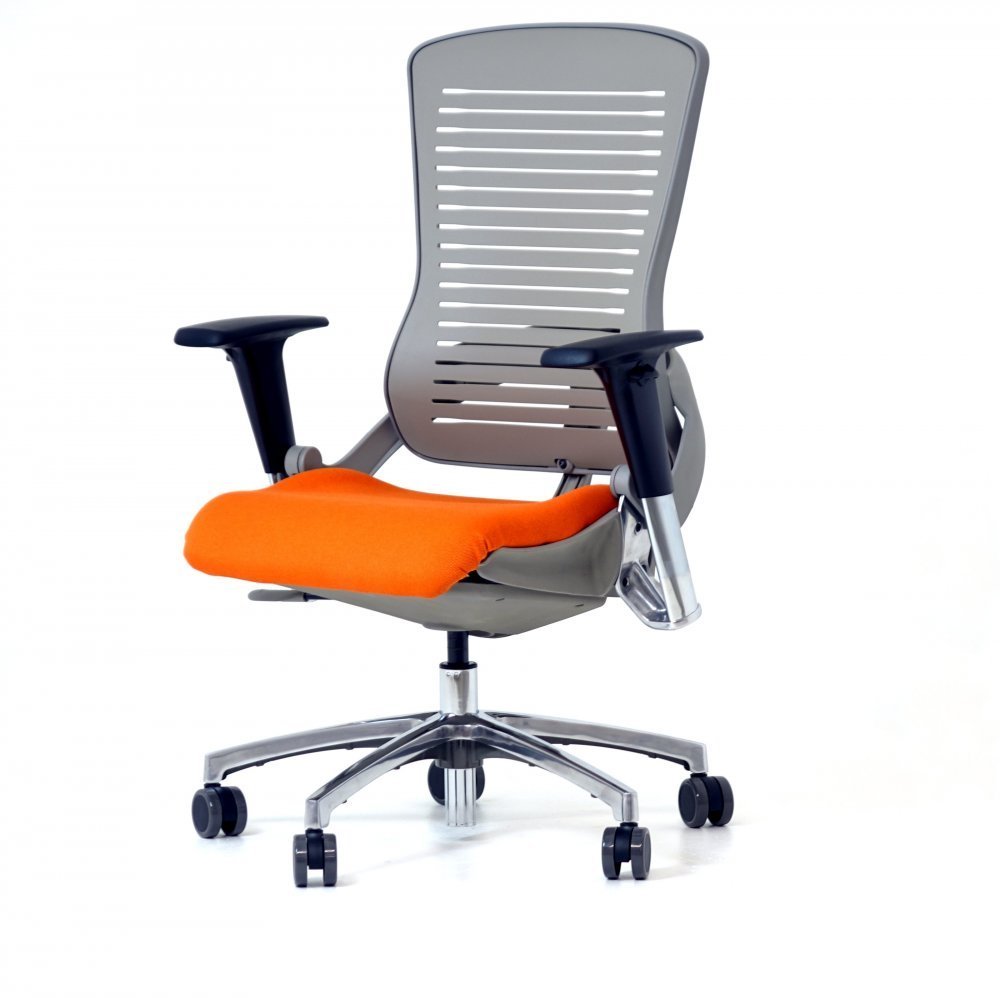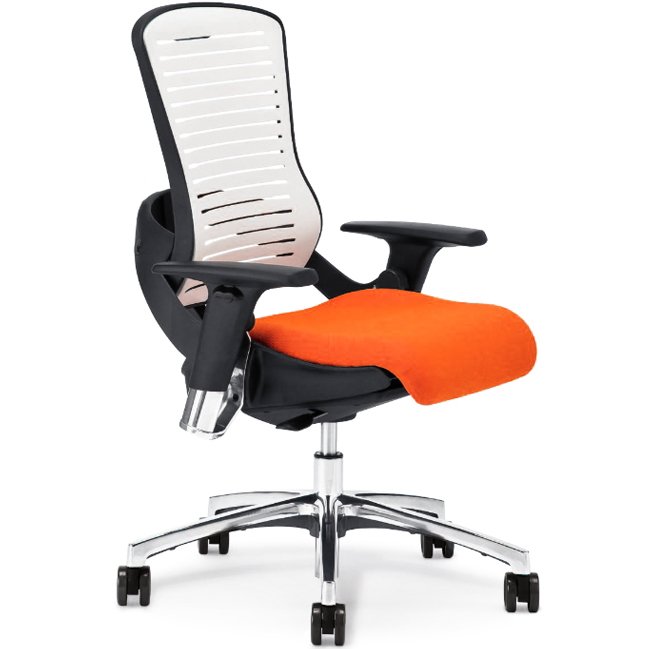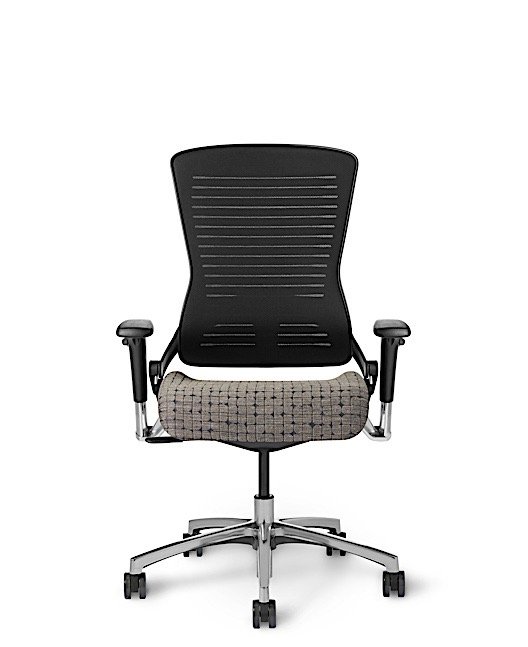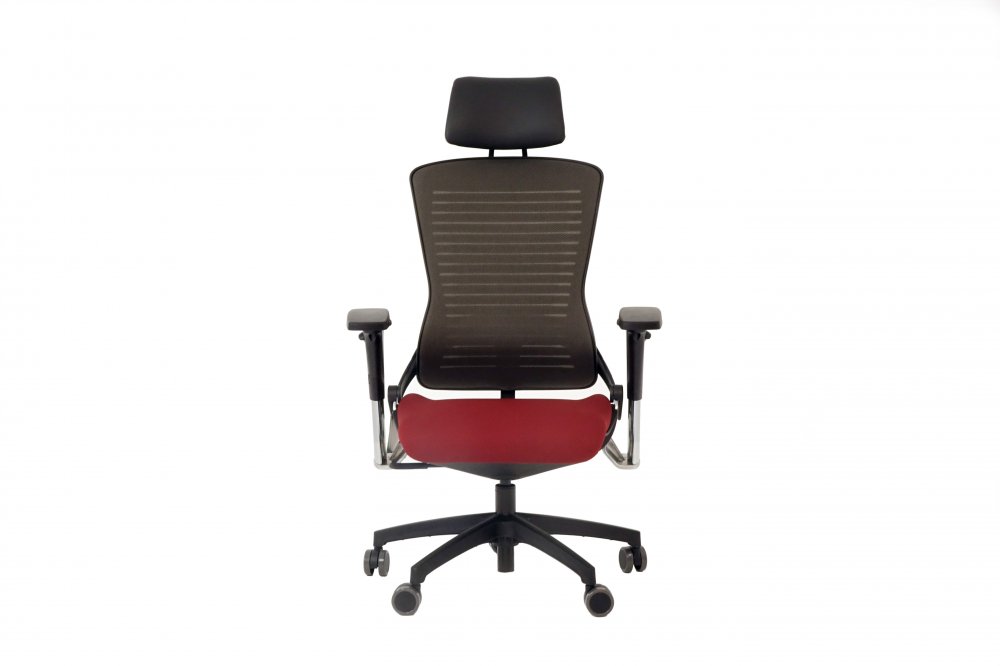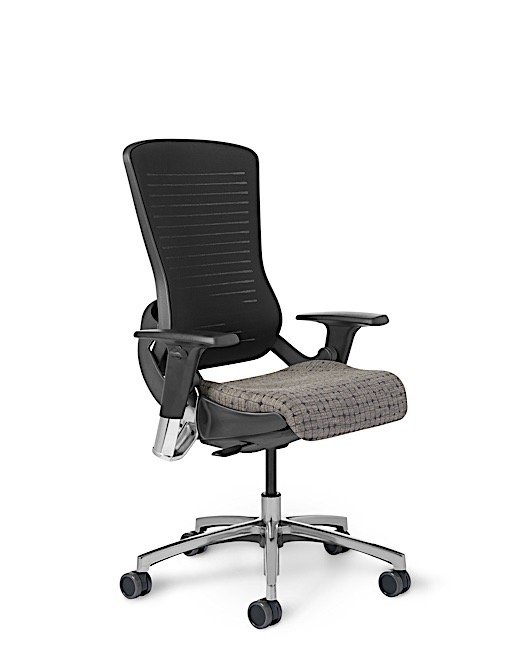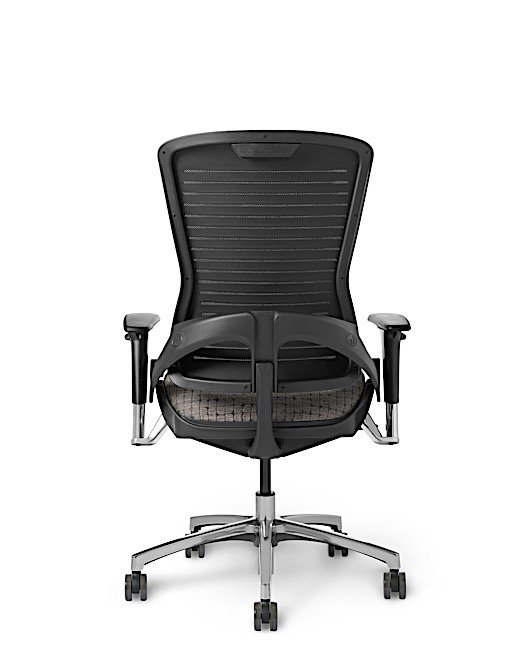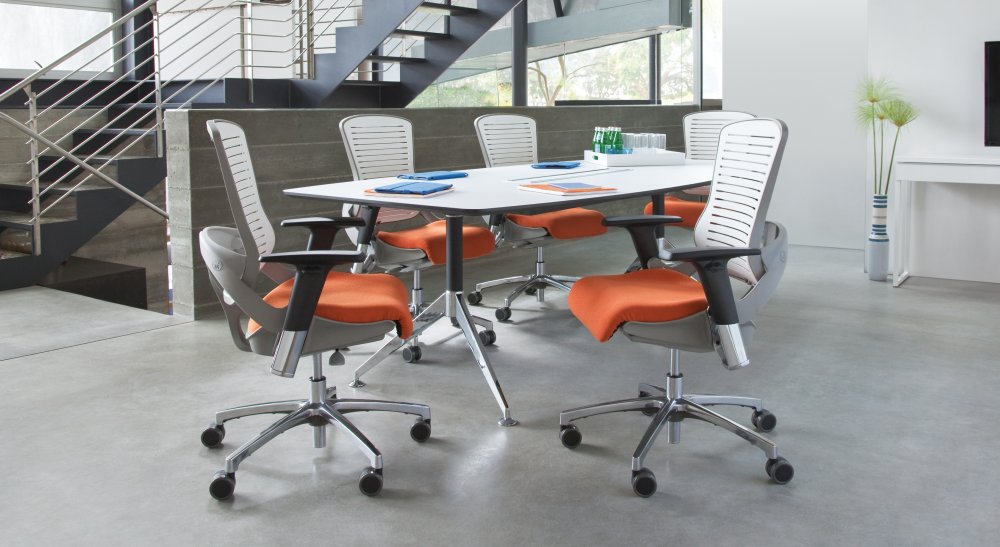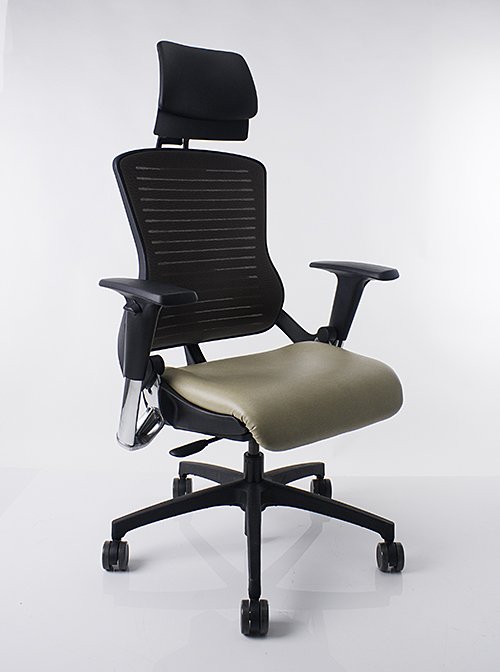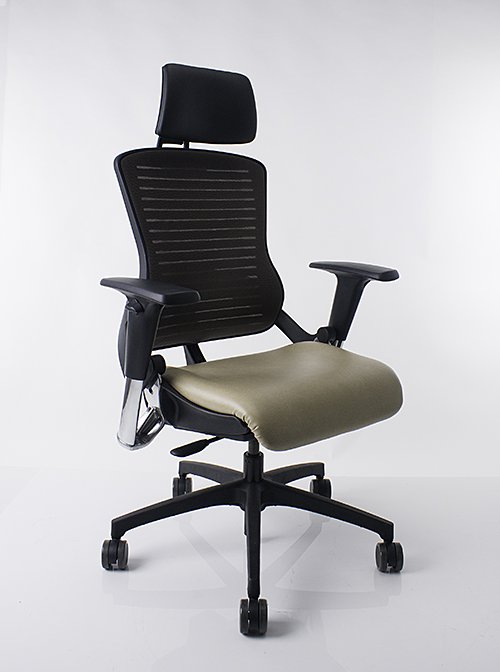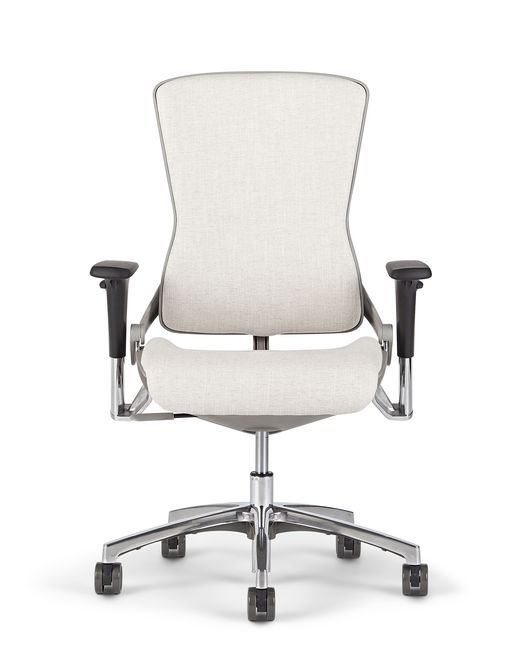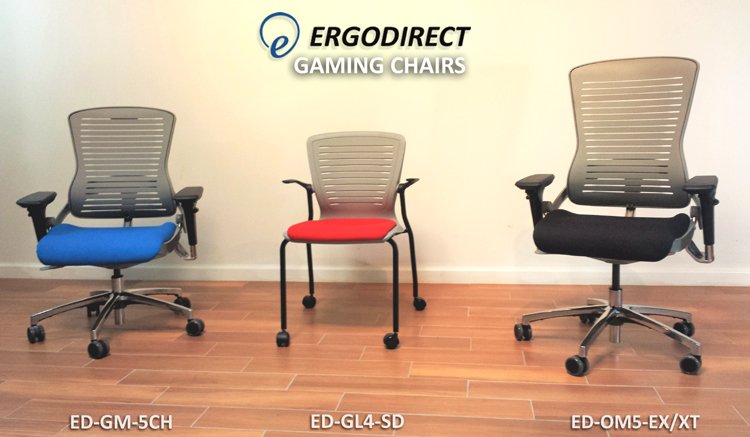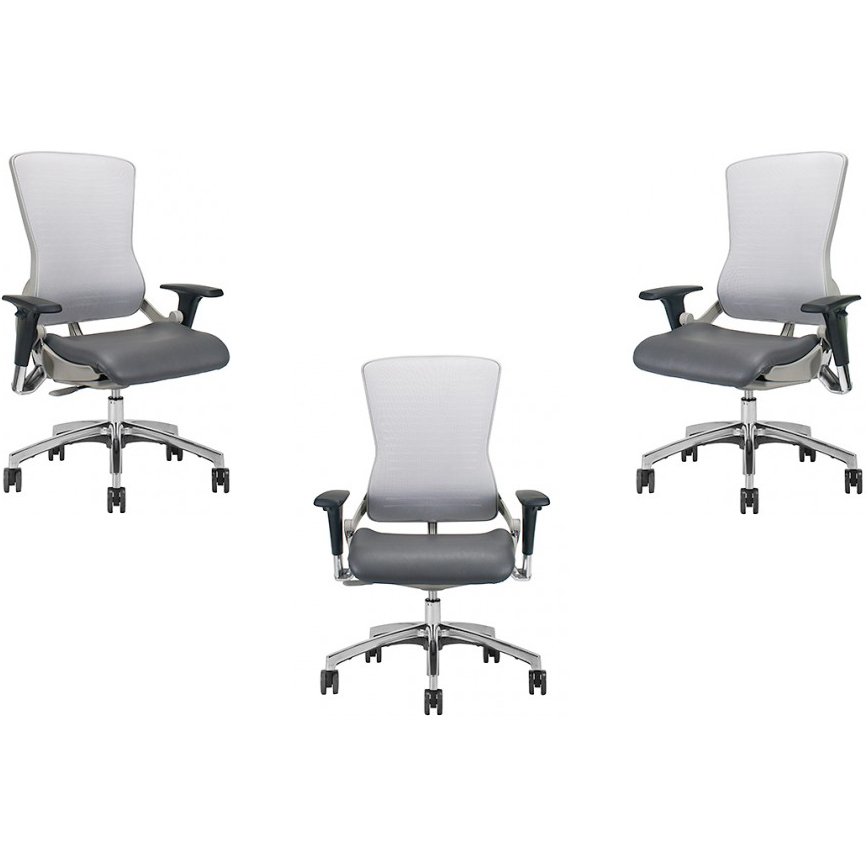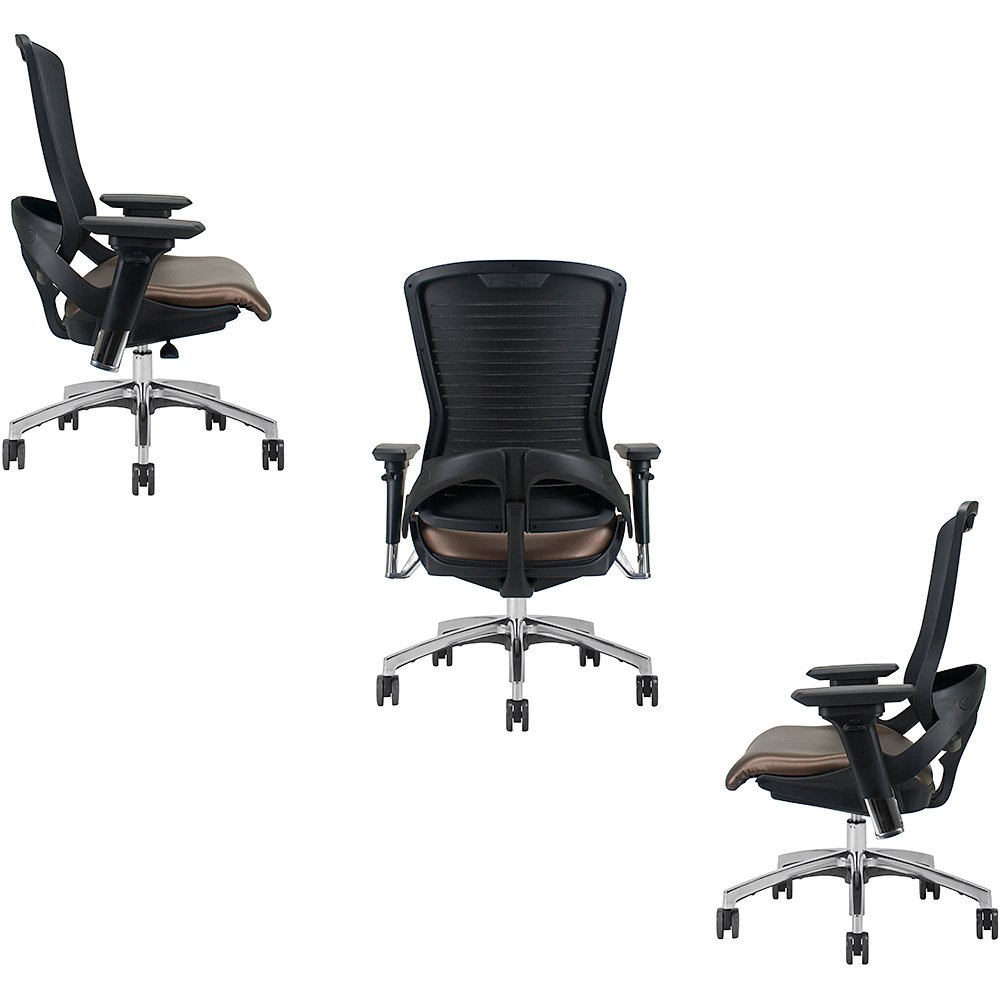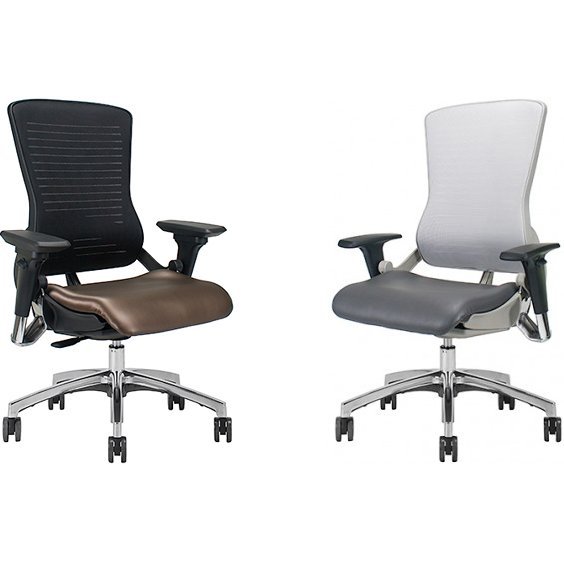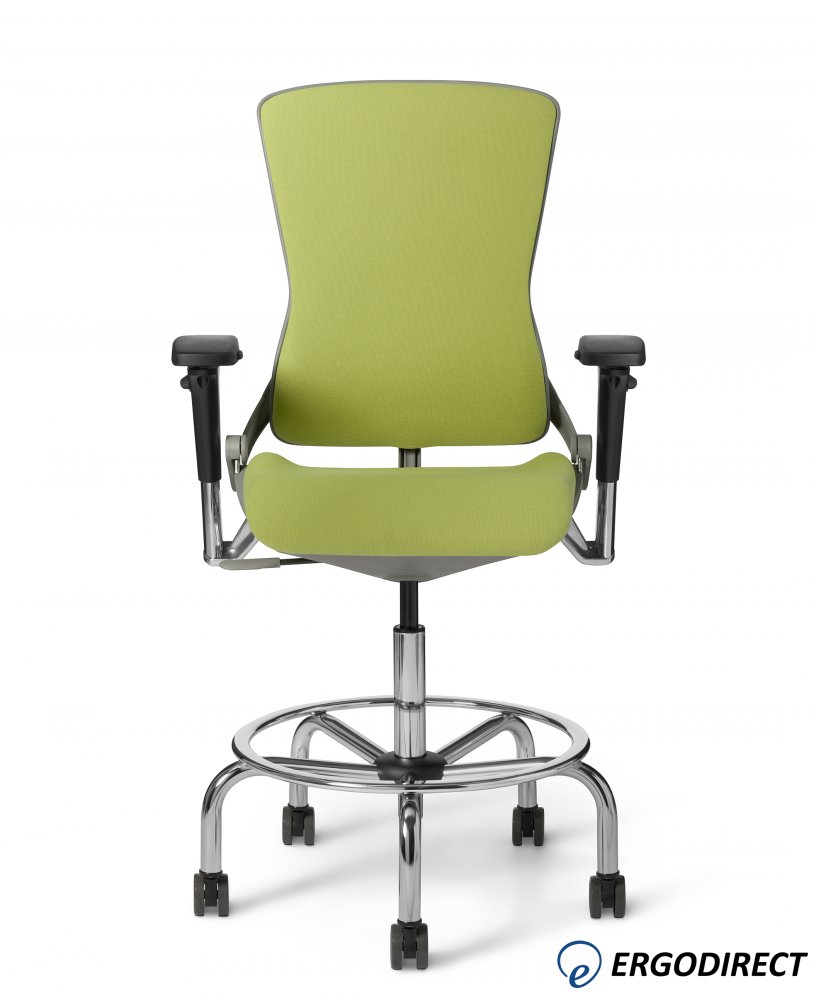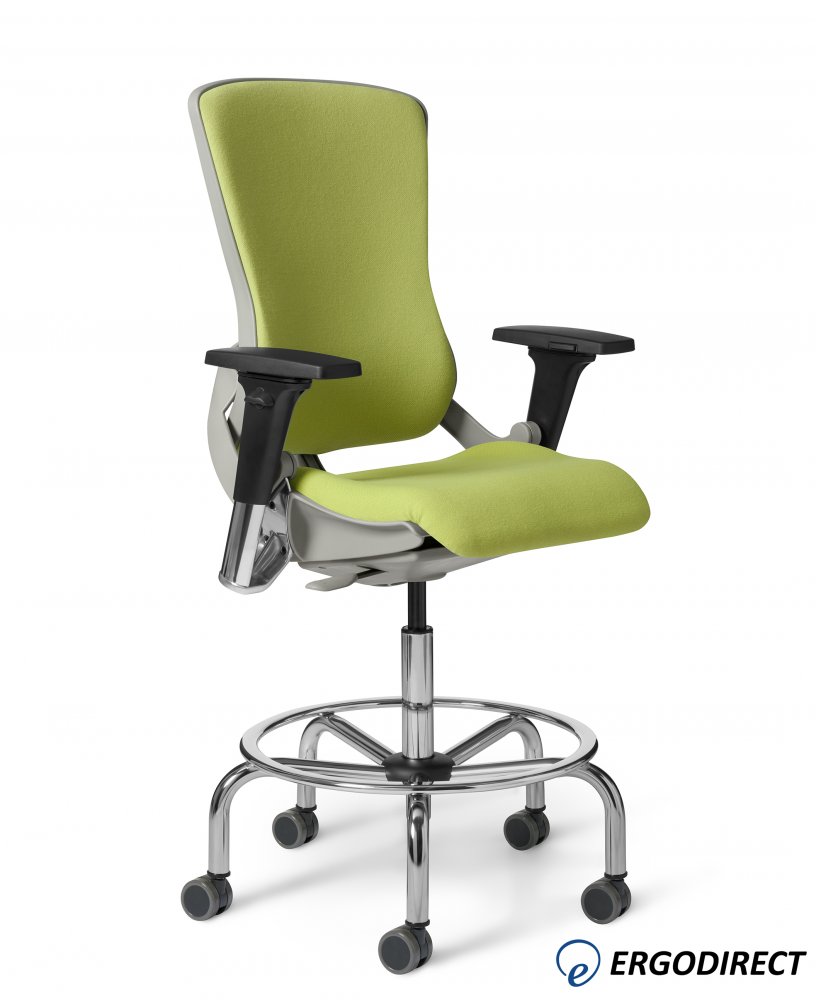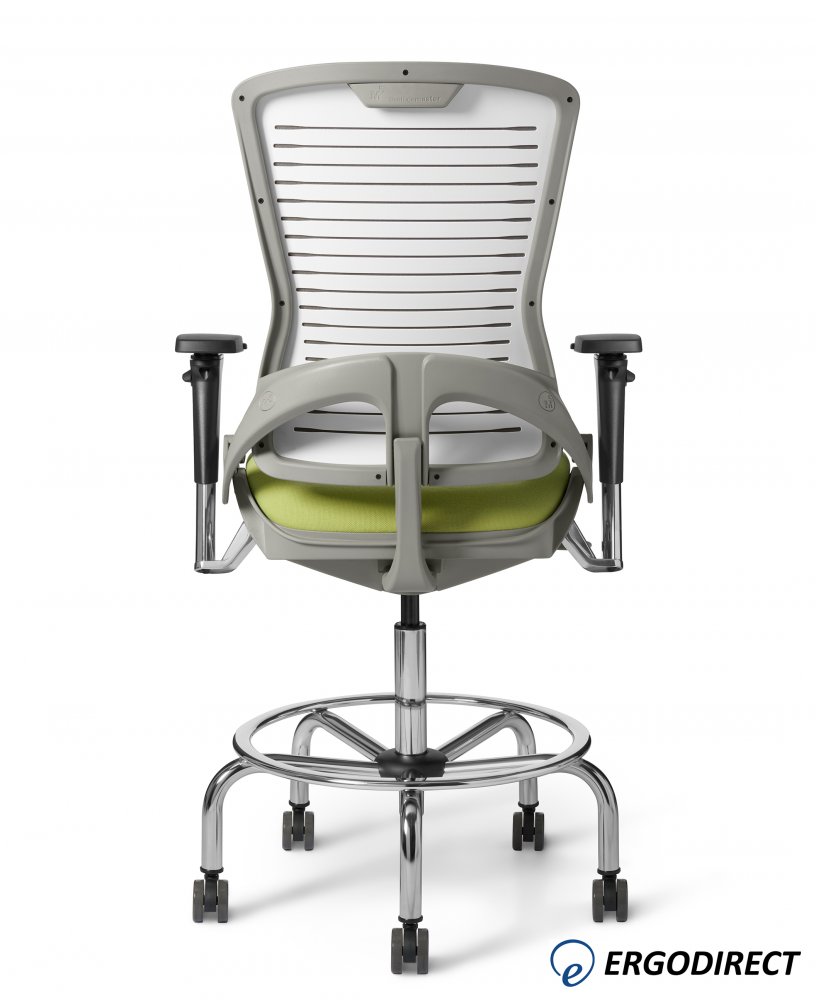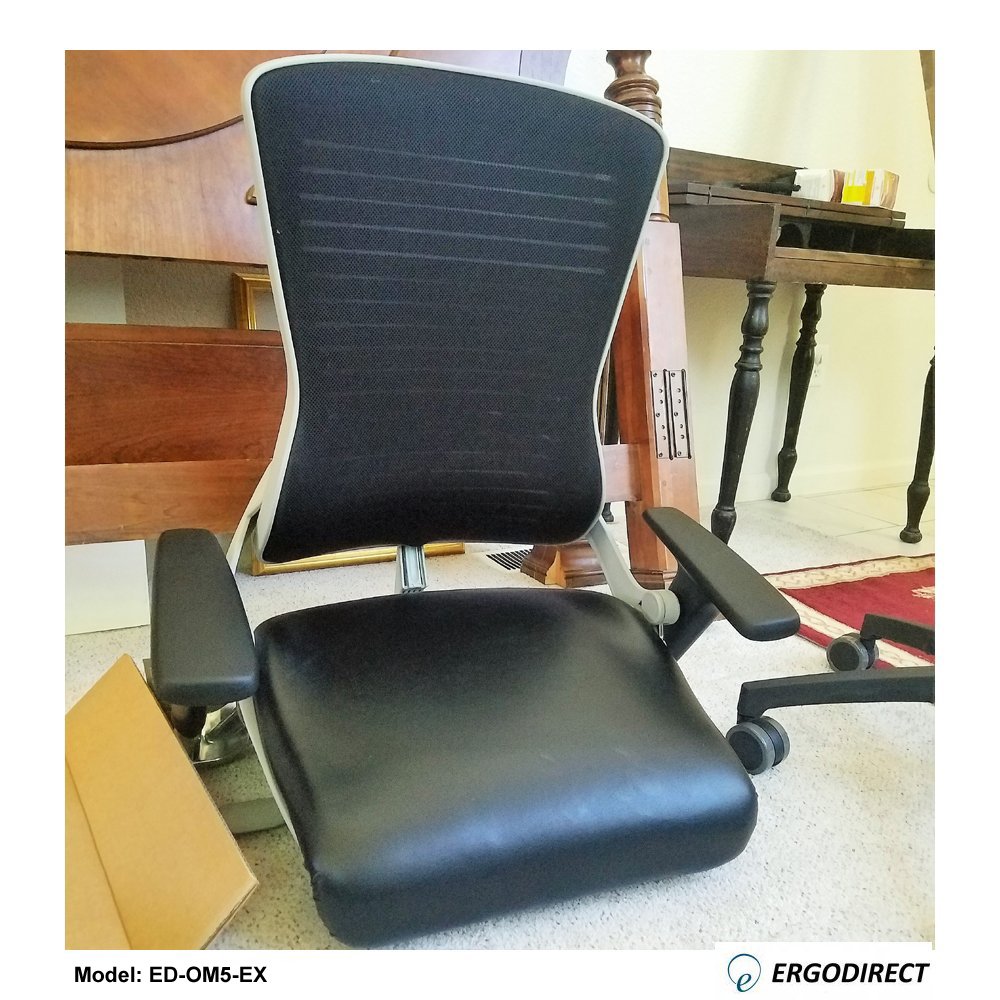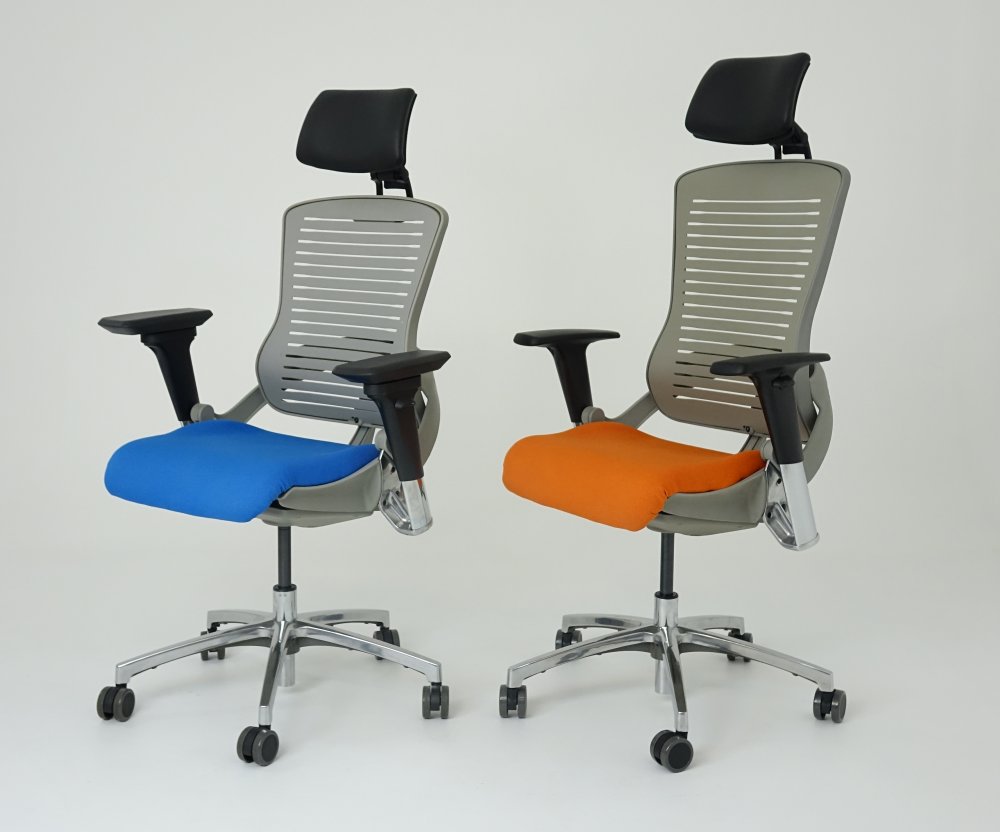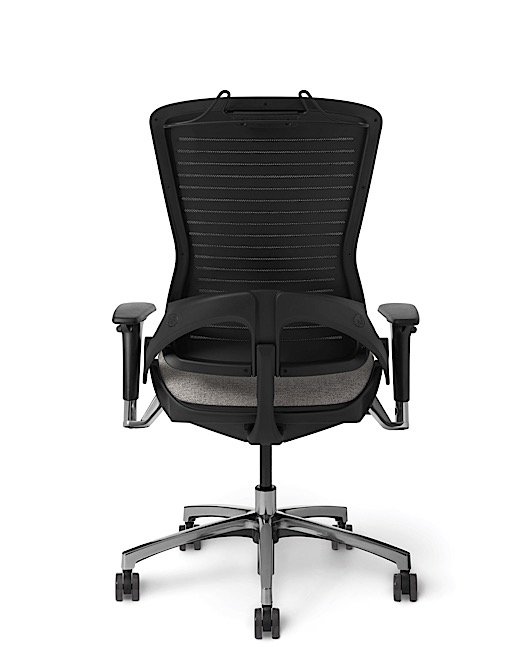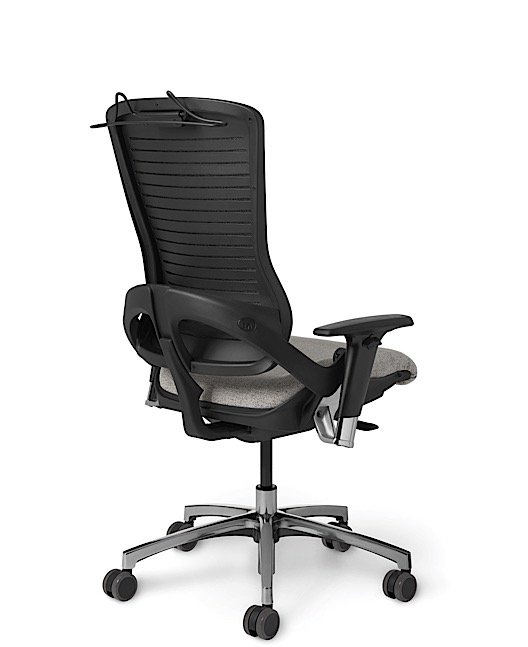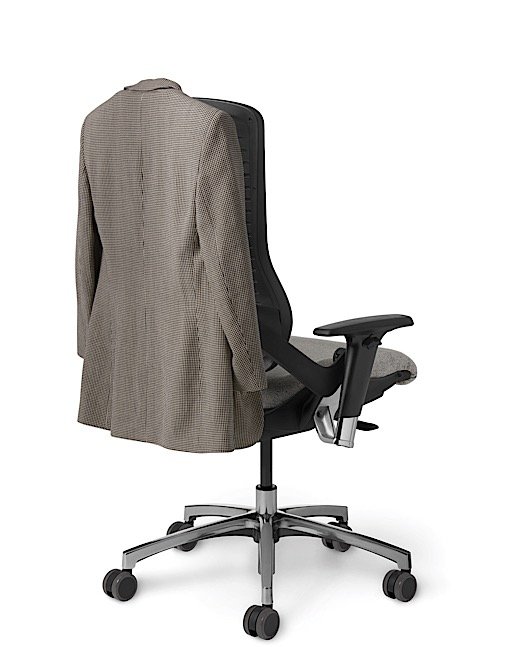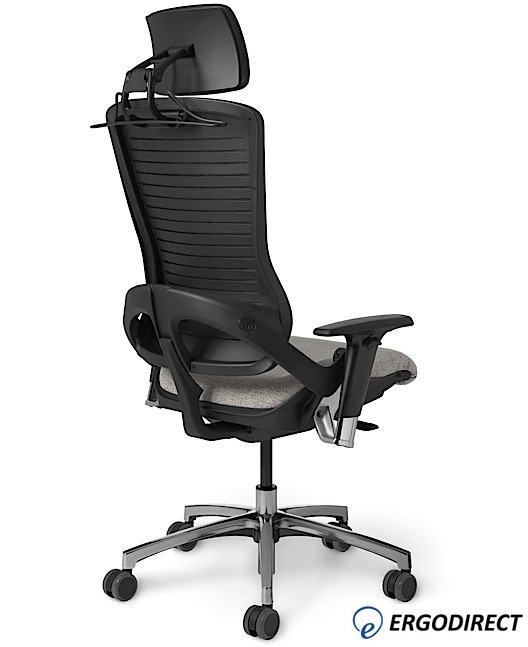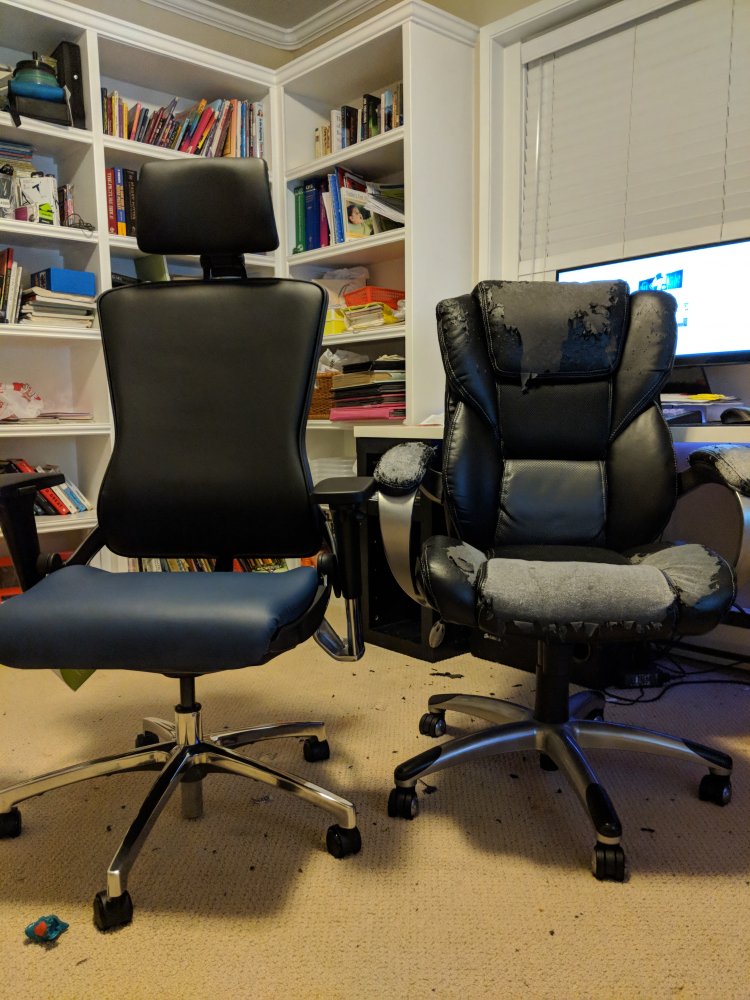 Description
The Office Master Executive Chair features a taller back than the regular OM5. This ergonomic office chair is a self-weighing chair that balances itself based on user weight. Since each body is unique, the chair intuitively responds to a wide range of body weights and sizes without needing manual tension adjustments. Larger built individuals with more upper body mass will find this taller-backed chair more comfortable. Individuals with longer legs would prefer the XT version of the OM5 chair.
The OM5 is a multi-functional gaming and office chair that delivers comfort, style, and performance in an innovative, advanced office seating line at an extremely attractive price. This combination of quality and affordability cannot be found anywhere else.
OM5 chairs are available in Modern Black (standard armless, with an unupholstered black PolyFlex back, and Standard Black package), and Palladium Grey (standard armless, with an unupholstered grey PolyFlex back, and Polished Aluminum package).
Specifications
Overall Width
27"
Overall Height
40 - 45"
Back
18" W x 24.5" H
Seat
19.75" W x 17-18" D (16.5-18" D Back Upholstery)
Seat Height with 4" cylinder
14.7 - 18.5" (4" travel range)
Seat Height with 5" cylinder (standard cylinder)
16 - 21" (5" travel range)
Seat Height with 6" cylinder
18.5 - 25" (6" travel range)
COM

Back = 1 yards

Seat = 0.75 yards

Carton Weight
67 lbs
UPS Weight
195 lbs
Weight Capacity
300 lbs
Arms
Optional
Warranty
Lifetime Limited
Features
Variable back resistance
PolyFlex Back
Body Activated Motion
Swing Arm
Front Edge Waterfall Flex
Designed to support users up to 300 lbs under standing commercial usage
Product Options/Accessories
Frequently Asked Questions
q
I was wondering if the 2 armrest options are removable either with ana alan key or screwdriver. I would like to purchase this chair with armrests, but in such a way, that if I don't like them, I can simply remove them.
a
If at any point you want to remove the arms you need to purchase a bracket. Part# BRKOM5-NB (for black frame) or BRKOM5-NG (for gray frame). It will be $30.00 per pair.
q
What are the main differences between this chair and the Gaming Chair ED-GM-5CH, Mid Back Office Master OM5 Ergonomic Chair?
a
The only difference between this chair and Gaming Chair ED-GM-5CH is the height of the back. EX Chair's back - 18" x 24.5" Mid Back - 18" x 21"
q
I want an OM5, I think, and I like high back chairs, so I was thinking the EX or the XT. I am a woman, 5' 8", about 200 lbs, who intends to use the chair for PC gaming. Which model would be better for me?
a
The EX has a high back, the XT has a high back and deeper seat. So if you think you need a deeper seat then go with the XT. EX - 19.75 wide x 17-18.5" Deep XT - 19.75 wide x 21" Deep The tall back on both chairs is 18" wide x 24.5"high, there is an option to also add a headrest if the 24.5" isn't enough for you.
q
Is it possible to order parts of the chair separately? For example if I wanted to buy the arms later would that be possible, could I buy the headrest later?
a
It is possible for the Office Master OM5 to have arms and a head rest added at a later date. Please see the kit for the head rest here. However, we typically do not advise that the arms be added at a later date as the end-user is responsible for assembling those, and it's a rather difficult process and requires special tools (such as a strap wrench).
q
I saw in the customization there was an option for extra memory foam in the seat. How thick is this foam? Does it add much height to the seat?
a
Adding memory foam will add 3/4" to 1" thickness to the seat.
| | |
| --- | --- |
| Model | OM5-GEX, OM5-BEX |
| Manufacturer | Ergodirect |
| Part Number | OM5-GEX, OM5-BEX |
| | |
| --- | --- |
| Overall Width | 27" |
| Overall Height | 40 - 45" |
| Back | 18" W x 24.5" H |
| Seat | 19.75" W x 16.5-18" D (Seat depth is adjusted through the waterfall mechanism of the chair) |
| Seat Height | 16 - 21" |
| Base Diameter | 26" |
| COM | Back = 1 yard, Seat = 0.75 yards |
| Warranty | Lifetime Limited |
| Carton Weight | 67 lbs |
| UPS Weight | 195 lbs |
| Arms | Optional |
| Weight Capacity | 300 lbs |
| Seat Depth with Back Foam Upholstery | Foam upholstery adds extra thickness to the back seat and as the result decreases the seat depth by 1/2". |
Customer reviews
1 stars

0

2 stars

1

3 stars

0

4 stars

2

5 stars

12
A weak first impression, but an enduring love
by John W., Vermont, Jun 30, 2018
Compared to chairs you'll find at most office supply stores, the OM5's padding feels thin, firm, and oddly sculpted. The odds are decent you'll find it inferior or even mildly uncomfortable for the first 15 minutes after you sit down.

However, after you've sat in them for several hours, those store-sold chairs that make such great, pillowy first impressions have worn out their welcome and left your back in knots. Conversely, the OM5's sculpted and rather firm seat pushes your butt into a position that encourages correct posture, and the hands-free reclining allows the chair to continue fully supporting your back even as you adjust or stretch, both are things you'll come to appreciate by the end of the day.

The seat may take some getting used to and feel mildly uncomfortable or strange at first, but give it a chance at prolonged use. My first work shift spent in the OM5 was the first time in years that I didn't leave work with back and shoulder pain.

In terms of drawbacks, there's the somewhat underwhelming first impression I already mentioned. The price for the OM5 is also certainly of note, especially since I consider the headrest and adjustable armrests as must-have upgrades. The chair also arrived with a decidedly unpleasant plastic or chemical odor that took approximately a week to fade. At 6'0" I'm also not sure whether the OM5-EX can really accommodate people several inches taller than I am, but perhaps I just have a proportionately longer torso and neck.

Overall, the OM5 is a great chair, and something I wish I'd purchased over a year ago when I first began looking into them.
Worth the money and the extra effort to customize!
by John D, Idalou, Texas, Jun 09, 2018
My wife and I are so glad we did our research and, finally, decided on the OM5. She teaches online classes and needed a chair that would really work. The lean-back (wow!) feature allows both of us to adjust/change our positions which reduces fatigue and back twinges. The ability to easily adjust the front of the seat is unique and we use it more than we thought we would. My wife found the ordering process to be perfectly detailed and worth her time - I left her to it when I realized it wouldn't show me what I was 'building.' She selected the leather seat covering and they turned out very classy.

Putting the chairs together was evidently easy since my wife didn't wait for me to help her. Little details, like the 'handle' on the back to pull the chair out were pleasant surprises and has added value to these already impressive chairs. Although we're not gamers, we do spend a lot of our time working at our desks and these chairs are perfect for hours-at-a-time sessions.
Almost perfect
by Liam H, Toronto, Ontario, May 12, 2018
Once you get used to the way the chair reacts to your weight it functions flawlessly. The waterfall lip is a feature I never knew I wanted but now I have to stop myself from constantly messing with it. I've put in more than a couple long days into it and I only appreciate it more the longer I'll I use the chair for.
The only real problem I have is the arms, I wish they were longer or somehow followed the chair when you leave back in it.

All in all 0 regrets, great buy.
Love this chair!
by Michael, Franklin, Tennessee, Apr 26, 2018
This is a great chair. Love the upgraded fabric. Would highly recommend upgrading the fabric. Very comfortable and keeps my back straight and healthy.
Perfect chair for long hours
by W. Clark, Nashville, Tennessee, Jun 19, 2017
I purchased this chair for my home office. I often work 8+ hour days and I am also a PC gamer in my spare time. I upgraded from a cheap Staples chair because I was beginning to have back pain and this was well reviewed online. I must say, even with the $300+ in extras on top of the base price, I feel like I got a great bargain. My back pain is completely gone after 3 weeks of this chair! On top of that, I had no idea how comfortable a chair could be before I bought this thing. If you are on the fence, go for it. You will not be disappointed. It works just exactly as described: it automatically adjusts to your desired position and stays until you want it to move. Everything about it screams premium. This should be priority for anyone who spends serious time in front of a computer because it will greatly and immediately improve your quality of life.
A taller gentleman's opinion...
by Dev, New York, Jan 20, 2017
I have been using my OM5-EX for a couple of months now, and I love it! This is a sturdy chair constructed from durable material- even the plastic/nylon feels built to last! I am 6'4", medium build, and went for the heavy duty 6" cylinder. I probably would have been fine with the standard 5" (adjusted to it's upper height, of course), but my current configuration works just fine. I feel that I am right at the height threshold for this chair; if you are 6'6+, you may be better off going for the XT model. Be aware of various measurements (seat depth, seat height), as that will ultimately help you determine what's best for you- I used a tape measure on myself, as well as chairs around my home.

Finally, I didn't opt for the memory foam seating, and I feel just fine. Your preferences may differ from my own.

Great chair, no significant complaints!
I'm tall and genuinely enjoy sitting in this chair.
by D3, Bronx, Dec 22, 2016
I am 6'4 and was nervous about ordering an essentially non-returnable chair (sight unseen to boot), but the initial anxiety was entirely worth it. This chair is extremely comfortable and sturdy, even the plastic/nylon feels solid. Considering my height, I opted for the 6" cylinder. I could have possibly gotten away with the standard shaft (set nearer to it's upper limits), but this configuration suits me just fine.
If you are taller than 6'4" you may want to consider the "XT" model with the deeper seat, I feel like I'm right on the border.
*note: I did not opt for the memory foam and the seat is still quite comfortable.
Best chair I've ever sat in, and the customer service of ErgoDirect is top notch!
by Matthew, California, Nov 18, 2016
I don't write many reviews online for products. I usually will only do that if it's something that is ridiculously impressive or ridiculously bad. I'm happy to say that this chair is on the ridiculously impressive scale. I had been searching for a new chair for my home office/gaming computer setup for a LONG time. At first, I was looking at some pretty cheap chairs and then, as I read reviews, I kept finding a great amount of problems with those chairs. I decided to up my budget a bit and looked into some mid to higher-end chairs which is where the OM5 comes into play. This is the one chair that kept getting consistently good ratings everywhere I looked, and reading PC Gamers' review of the chair had me take a hard look at it.

Let me first say, there are A LOT of options on the website and I feel that they need to provide you an example what your chair may look like before purchasing it online. This isn't a cheap chair when you start getting some of the add-ons, and because of that I think that customer should see a sample of what they're getting before they receive it. Besides that, I will say I had a really great experience with this company. I live near their HQ and the owner of the company accommodated me coming by on a Saturday to quickly test out the chair and determine if I wanted to get it. The second I sat in it, I knew it was what I wanted. Luckily, in person they have actual cloth samples for the different options so that made a HUGE difference in my selection.

Onto the chair, though. The chair is seriously the best I've sat on. I was coming from a really really old and crappy leather chair but I've also used Herman Miller and Steelcase chairs at work. While those other high-end chairs are great, I'd have to say I prefer this chair in EVERY way. The self-adjusting back mechanism ACTUALLY works as advertised. I feel supported no matter how far I go back in the chair. It's kind of an odd feeling but just really cool at the same time. In terms of the options, I know I had a lot of questions that I think I can help answer in this review. First of all, I'm 5'11" and around 175lbs. The EX is GREAT for this height and above. I think my biggest question prior to purchasing was whether I should get the mid-back or the high back and after sitting in it I knew the high back was the only answer. I also got the memory foam upgrade & the locking armrests. I think the memory foam upgrade is fantastic and, maybe even required for the best comfort. The locking armrests are good but, honestly, you could probably get away with the regular ones, no upgrades.

In summary, BUY THIS CHAIR. You won't regret it.
Great chair
by David M, Chicago, Illinois, Oct 12, 2016
Get a lot of compliments regarding its look and how comfortable it is!
Not for large people
by Matt A, Oregon, Aug 28, 2016
Do not recommend this chair if you're over 250lbs. The padding isn't strong enough and it feels like your sitting on the seat pan which will dig into your legs due to the curved shape. The back and seat slider for the recline feature are excellent and great for the back. If it weren't for the seat it would be a perfect chair
Excellent ergonomic choice for home office and PC gaming
by buttmancer, Canton, Georgia, Jun 16, 2016
I purchased this chair on recommendation from PC Gamer magazine. I recently started working from home full time and I also play PC games, so I initially looked at so-called "gaming chairs" such as DXracer. Most reviews of those claimed lack of durability or sustained comfort throughout the day. Most reviews actually recommended getting an ergonomic office chair instead, and PC Gamer Magazine specifically recommended the Office Master OM5. While I had the budget to pick something like a Herman Miller, the simplicity and sheer customizability of the OM5 were what made me go with it.

It provides incredible back support (as I try to sit at a 135 degree angle) and is very comfortable. It is not more complicated than it has to be. I also customized it to match the color theme I already established with my PC and other peripherals (black primary and blue secondary).

This is much better than any $50 office chair you could get, blows "gaming" chairs out of the water, and gives Herman Miller a run for their money.
Comfortable chair, quality product. Ergonomic.
by Nicole, Massachusetts, Mar 22, 2016
I was hesitant to buy due to it being non refundable but after reading reviews and watching video reviews helped me decide. Also my husband bought one before me. It really helps you sit up straight, and comfortably. I've had tailbone pain prior to the chair and the way it helps you sit up correctly and the design of the seat tapering just a bit in the back I'm no longer sitting on my tailbone the wrong way so it's helped the pain go away. No need for one of those C shaped cushions with this chair.
Also I'm 5'3" and so I didn't get the XL (not sure the exact name, but I did not get the larger size) and it's perfect for my height. My husband got the large chair and it's too big for my height- can't sit all the way back properly in that size. He is 6'1" and the large is perfect for him but he does like my smaller version of the chair, but felt since the seat was smaller that the underside of his legs were uncomfortable hanging over. So size choice is important for your height.
We got "Cats" color fabric (I believe- it's a dark grey) and it's nice, not "computer chair" looking at all. Definitely stain/water resistant as my husband spilled coffee on his accidentally. Comfortable and sturdy. We got adjustable arm rests and we like them, nice to have. I don't think I'll use the adjustable feature pivoting them but still, nice to have.
Very happy with the chair. I work from home and use the chair often after hours for my own projects so both of us use them a lot. The paper coming with it says standard 40 hour work week. Take lots of breaks no matter what. But comfortable for the long run if it's what you need.
I hope this review is helpful.
The single greatest purchase of the last decade - OM5-XT
by Michael Z., Florida, Dec 21, 2015
Where to begin?

The ordering process was incredibly simple, straight-forward, and plenty of reference. The contact at Ergodirect was nice, updated me periodically for my order as there was some delay, but oh, the wait was worth it. This is without a doubt the best chair I have ever sat in. Posture is already beginning to improve in the first few hours of owning it, the building process was literally three pieces, and the box it came in was sturdy, heavy, and huge. REALLY huge. Carrying that up a flight of stairs was a challenge, but all of it was worth it. Compared to the Steelcase Leap v2, Ikea Markus, an old $80 Office-Max cloth chair, and the DXRacer D-Series; this is a league above them all. The price is justified, and it feels like it'll last many, many years to come and with an improvement to my back and coccyx health. A note on the Steelcase Leap - it is a very nice chair, but pressure wise in regards to the cushioning placed a lot of unneeded pressure on the coccyx bone, the OM5XT has no issues in that regard what-so-ever.

Highly recommended, and highly comfortable. Also the white leather and white backing is stunning to look at.

All future office and chair purchases will be going through Ergodirect. It was an absolute pleasure.
Very simple to assemble!
by Scott, Nov 11, 2015
The packaging was a bit extreme (the box was way to large for the contents inside the box. Assembly was very simple. No complaints yet.
Best chair
by Thomas K, Texas, Nov 04, 2015
This is legitimately the best chair I've ever sat in. It completely supports me while at the same time being very comfortable and able to lean. With the ridiculously easy instillation, I could not recommend it higher.