Goldtouch GTU-0088 V2 Adjustable Comfort Keyboard - PC & Mac Compatible (USB)
Product ID 16794
HIGHLIGHTS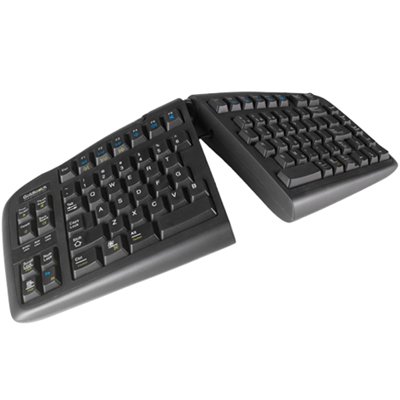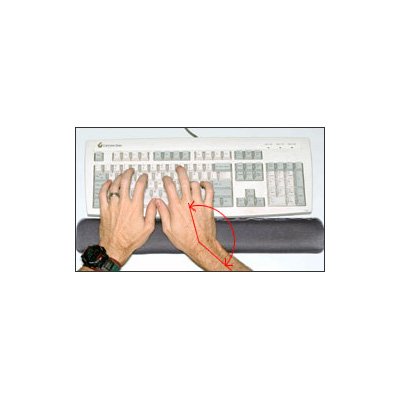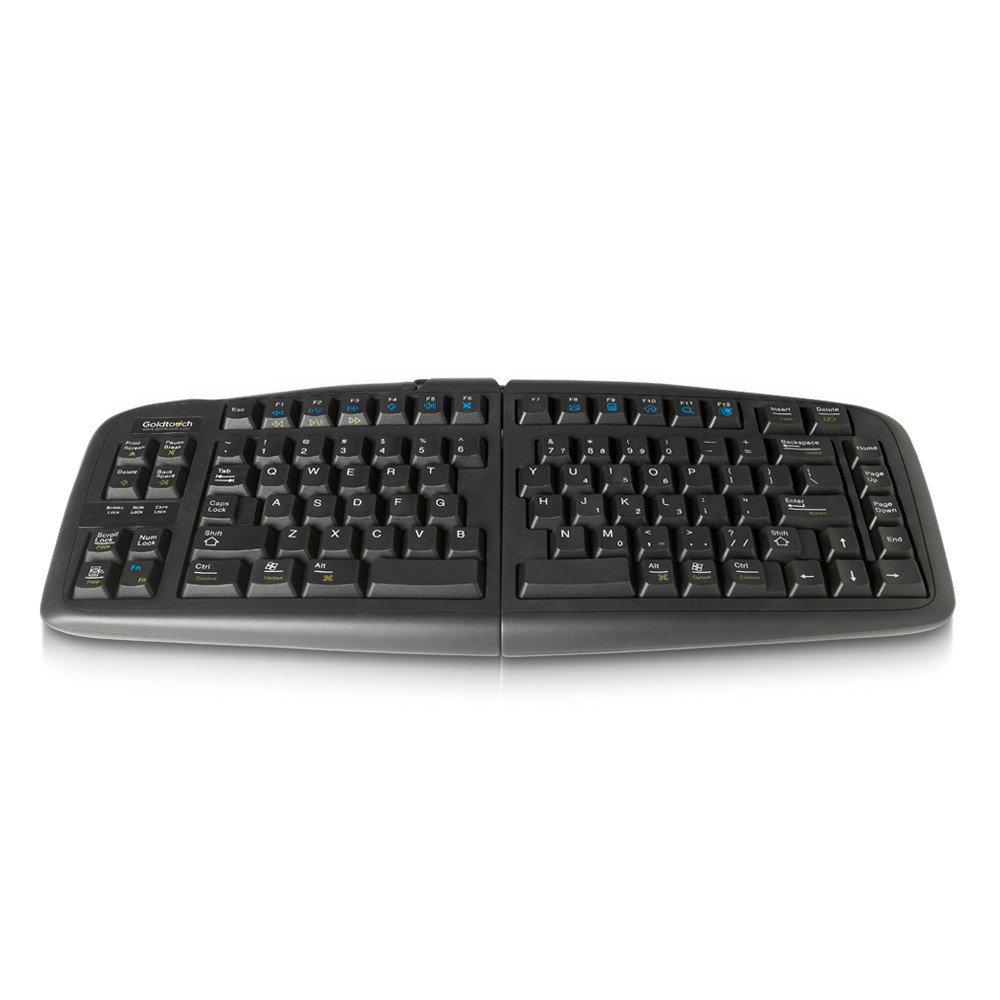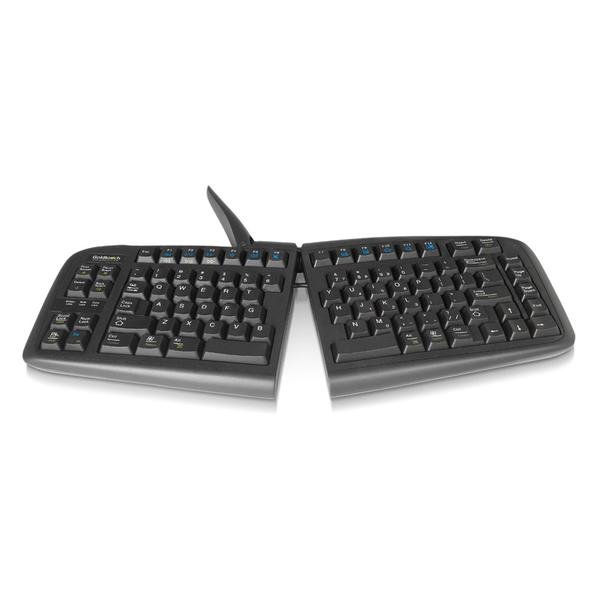 A traditional keyboard may cause you to bend your wrists sideways to reach all the keys.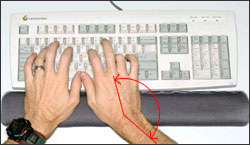 Side bending of the wrist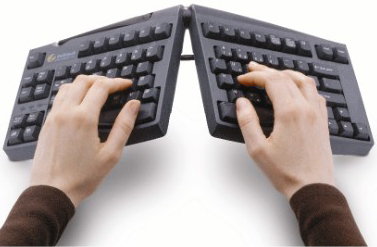 Above image with hands displays "straight wrist position" using older model keyboard
Description
Goldtouch GTU-0088 is designed specifically with individual fit in mind, our Adjustable Comfort Keyboard will find the right comfort position for every member of your office or home. Welcome to Comfort 2.0. Enjoy all of the Goldtouch features you've come to love and more - with the second generation Goldtouch V2 Adjustable Comfort Keyboard. Experience a better way of working with a keyboard that fits to your unique body and typing style. Main bullet points are below:
Adjusts from 0-30° on the horizontal and vertical planes to properly straighten wrists and achieve a more natural and comfortable position.
Positions your wrists in a neutral or downward position rather than tilted upward.
Soft key touch, low activation force, and full key travel distance.
Provides keying comfort and reduces risk of "bottoming out" when typing.
Plug and play, fully compatible with Mac or PC.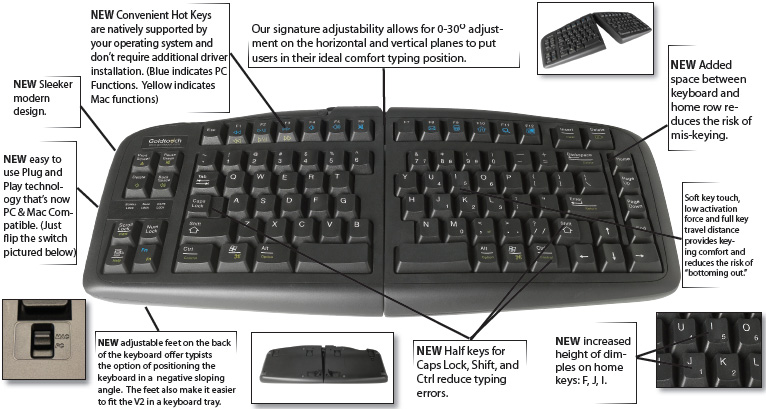 Features
Complete Adjustability - With 0°-30° of adjustments on the horizontal and vertical planes, the Comfort Keyboard will straighten your hands, wrists, shoulders, and back, helping to prevent carpal tunnel syndrome and other RSIs.
A better typing experience - With soft keys, a low activation force and full key travel distance, reduce the risk of "bottoming out" while typing.
Space saving - This compact keyboard will fit nicely into limited spaces, reducing shoulder abduction when reaching for mice and other peripherals.
Specifications
System Requirements

The Goldtouch V2 Adjustable Comfort Keyboard - PC & Mac Compatible (USB) is compatible with the following operating systems:

Windows 2000
Windows XP
Windows Vista
Windows 7
Windows 8
Windows 10
Mac OS 10.4, and newer
USB Port

Please note, in order to switch between PC and Mac mode, you will need to move the switch located on the back of the keyboard to your desired operating system. Once you select your operating system, and plug your keyboard into an open USB port, the keyboard will automatically install the necessary driver software.

Dimensions

Width: 16.25 in / 41.275 cm
Depth (front-to-back): 6.75 in / 17.145 cm
Height at home row: 1.25 in / 3.175 cm

Weight
3.3 lbs / 1.5 kg
Cable Length
5 ft 11 inches / 1.8 m
Travel Distance
3.6mm, +/-0.5mm
Activation Key Force
36g - 42g (average)
Disclaimers
Do Not Plug your USB Goldtouch Keyboard into the USB Keypad. Your PC will not recognize the device.
Product Options/Accessories
| | |
| --- | --- |
| Model | GTU-0088 |
| Manufacturer | GoldTouch |
| Part Number | GTU-0088 |
| UPC | 183238000728 |
| | |
| --- | --- |
| Connection Type | USB |
| Ergonomic Keyboard | Yes |
| Compatible | Windows 2000, Windows XP, Windows Vista, Windows 7, Windows 8, Windows 10 and Mac OS 10.4, and newer |
| Dimensions | 16.25" W x 6.75" D x 1.25" H |
| Weight | 3.3 lbs (1.5 kg) |
| Cable Length | 5 ft 11 inches (1.8 m) |
| Travel Distance | 3.6mm, +/-0.5mm |
| Activation Key Force | 36g-42g (average) |
| Wireless | No |
| Connection Type | Wireless |
Customer reviews
1 stars

0

2 stars

0

3 stars

0

4 stars

0

5 stars

2
Best I've used for 20 years
by David, Wisconsin, Aug 21, 2018
I love this keyboard!!! I'm replacing another ergonomic keyboard that cost 4 times as much 20 years ago and was getting just too nasty to use, it will take me a week to clean it, I wanted something to use in the meantime but love this one much better
Adjustable Comfort Keyboard
by Lynnette, Colorado, Mar 29, 2016
I recently broke my right arm at the elbow and was in a splint for 4 weeks, this keyboard is awesome, I was able to adjust it so that I was very comfortable typing even with the splint on! Thank you.
Return Policy
Returns or Replacement
Damaged and/or Defective - There is a one year manufacturer's warranty from date of original purchase date. Customer must submit an RMA form and obtain an RMA number before shipping product back. If product tests non-defective or damaged by human error then customer is responsible for all shipping costs for return to Key Ovation and back. After 30 days, customer is responsible for shipping costs to have items sent back for testing. If defective, Key Ovation will return, at our cost, a replacement factory refurbished product. Warranty for the replacement item continues from the original date of purchase. The one year warranty does not cover Abuse or Normal wear.

Refund - Proof of purchase is required. Refunds will only be issued for products purchased directly from the KeyOvation website, or, if the product was advertised as Money Back Guaranteed by Key Ovation or authorized by Key Ovation through an Authorized Reseller. Customer must submit a RMA within 30 days from the date of purchase from KeyOvation and obtain a RMA number before the product can be returned; the RMA number will remain valid for 14 days from the date it was issued. The refund will be issued in the original form of payment. All items must be returned in the original packing material to qualify for a refund. Misused product will not qualify for a refund. Shipping will not be refunded. The customer will be responsible for return shipping charges of non-defective product.

Resellers - A 50% restocking fee will apply to opened non-defective product for 0 to 90 days and a 15% restocking fee will apply to unopened product returned within 90 days of purchase.

(These terms and conditions may be superseded by individual Reseller or Distributor Agreements. Please see your vendor agreement for further details.)

Web Orders - Product can be returned for 100% refund within the 30 days from the original date of purchase. Proof of purchase must be provided. No refund will be issued after 30 days.

Replacement - Items purchased directly from KeyOvation or an Authorized reseller have 1 year from the date of purchase to request an exchange, Proof of Purchase is required for all exchanges. Only defective products will be exchanged. Misused or damaged products will not qualify for an exchange. All items will be replaced with a factory refurbished item of the same model number. The Warranty for the replacement item continues from the original date of purchase. The defective items must be tested by KeyOvation and deemed defective before a factory refurbished replacement can be shipped out. KeyOvation will be responsible for return shipping charges of the defective product and shipping charges of the replacement product shipping within the continental USA. Items determined not to qualify for an exchange will be returned at the owner's expense. An expedited replacement can be arranged by providing a valid credit card for immediate cross-shipment of replacement item. Credit card charges will not be applied unless original item is not returned and/or product is found not to be defective.

Unless otherwise arranged all international orders, must be prepaid, prior to shipping.

Product Damaged in Transit - If you take delivery of a package and the contents have been damaged in transit, you can return the item(s) to us within 30 days of receipt for exchange.

Items should be returned to the original place of purchase.

You must complete an RMA form and receive an RMA number before returning product. Packages will not be accepted without an RMA Number.