Chief SL236SP SMART-LIFT Automated Projector Mount, Suspended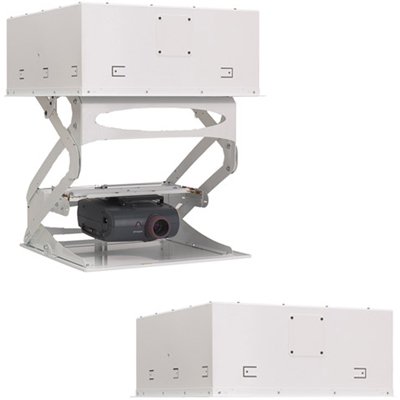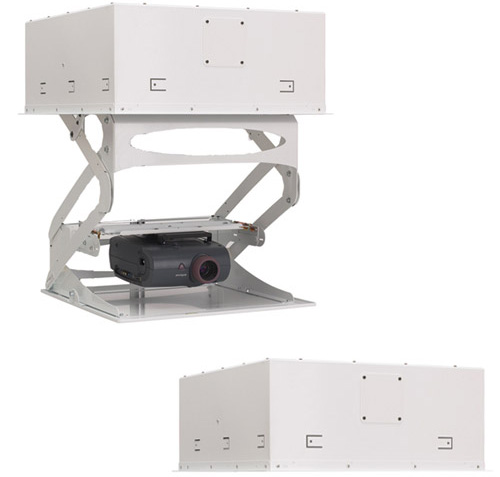 Description
Chief SL236 provides Extended Travel with exceptionally smooth and quiet movement and is a great option for suspended ceilings in homes and corporate offices.
Must order SLB interface bracket separately

Use Chief's MountFinder to determine which model number matches your specific projector
Technical Drawing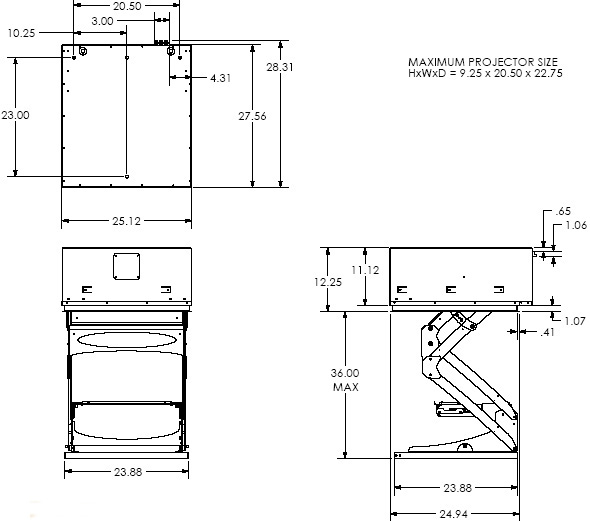 Specifications
Adjustments

Roll: 2°
Pitch: 15°
Yaw: 10°

Ceiling Closure

23.9" x 23.9" ( 607 x 607 mm)

Ceiling Opening

11.1" x 25.5" x 28.5" (282 x 648 x 724 mm)

Certifications

FCC Approved, UL Listed

Color

White

Extension

36"

Max Equip Size (H X W X D)

9.3" x 20.5" x 22.8" (235 x 521 x 578 mm)

Notes

TAA Compliant

Overall Dimensions (H x W x D)

12.3" x 25.1" x 28.3" (311 x 638 x 719 mm)

Power Requirements

100-125 VAC, 60 Hz, 1.5 A

Shipping Weight

150.00 lbs

Weight Capacity

35 lbs (15.9 kg)
Features
Two internal outlets, one is switched on 110V units
Fits most installation requirements, needing only 12.25" of clearance above the ceiling
Easily accommodates multiple control options
Extended Downward Travel up to 36" with 3 stopping positions
UL Listed
For suspended ceiling installations
TAA compliant
Product Options/Accessories
Frequently Asked Questions
q
Can I attach a ceiling tile to the bottom of the SL236SP?
a
Yes! The bottom pan of the SL236SP is recessed specifically to hold a ceiling tile, including grid pieces if necessary.
q
Is the SL236 plenum rated?
a
Yes. The SL236 is in compliance with the National Electrical Code requirements outlined in NEC Article 300.22 C when installed in accordance with Chief's instructions for plenum rated installations.
q
How do I mount my projector to the lift?
a
One SLB bracket is required to attach it to the lift. The SLB bracket is a separate part number and is used only for Chief lifts. You order the same suffix as the RPA but use an SLB prefix.
q
How do I adjust the "show" position?
a
Simply adjust the limit switch located in the outside bottom corner of the lift with a screwdriver. Adjusts within travel range of 4" to 36".
q
How do I service my projector?
a
Extend the lift to the service position. The center cradle removes for easy projector access without losing registration.
q
What do I need to control the lift with AMX/Crestron type systems?
a
Provide a minimum of two dry contacts to control the unit. One dedicated for extend. One dedicated for retract. A third may be added for the service position.
q
Can I wire more than one control device?
a
Yes, you can piggyback systems as long as you are not using latching switches.
q
Can I control another device, such as a screen, by using the lift's low-voltage controller?
a
Yes, Chief's controller provides two dry latching contacts to control another device.
q
What if my projector needs time to cool down before the lift closes?
a
If the projector has a 5V-30V trigger, Chief's lift can be wired to sense the trigger and extends/retracts with the ON/OFF function of the projector.
q
Does the SL236 fit inside a 2' x 2' suspended ceiling?
a
The SL236 is slightly larger than the 2' x 2' ceiling tile opening. Some modification of the ceiling track will be necessary to install the lift.
| | |
| --- | --- |
| Model | SL236SP |
| Manufacturer | Chief Mounts |
| Part Number | SL236SP |
| UPC | 841872024523 |
| | |
| --- | --- |
| Color | White |
| Roll | 2 degree |
| Pitch | 15 degree |
| Yaw | 10 degree |
| Ceiling Closure | 23.9" x 23.9" ( 607 x 607 mm) |
| Ceiling Opening | 25.5" x 28.5" x 11.1" (648 x 724 x 282 mm) |
| Extension | 36" |
| Max Equipment Size (H X W X D) | 9.3" x 20.5" x 22.8" (235 x 521 x 578 mm) |
| Overall Dimensions | 25.1" x 28.3" x 12.3" (638 x 719 x 311 mm) |
| Power | 100-125 VAC, 60 Hz, 1.5 A |
| Shipping Weight | 150 lbs |
| Weight Capacity | 35 lbs (15.9 kg) |
| Mounting Options | Ceiling |
Customer reviews
1 stars

0

2 stars

0

3 stars

0

4 stars

0

5 stars

0
Warranty
With the exception of electrical products, Chief warrants its products to be free of defects in material and workmanship for 10 years. All warranties are in effect beginning the date the product was invoiced by Chief. Electrical mechanisms (such as lift products) have a 1-year limited warranty. All warranties are in effect for the original purchaser only. Chief disclaims liability for any modifications, improper installation and/or installations over the specified weight capacity. Chief also disclaims liability for any modifications made to electrical mechanisms, improper installation, incorrect voltage connection and/or installations over the stated weight capacity. All Electrical Mechanisms are intended for indoor use only and failure to comply will void warranty.
Chief's sole warranty obligation to the owner of its products is to repair or replace (at Chief's discretion) defective products at no charge to the original purchaser within the warranty period. The purchaser is responsible for returning the product to Chief Manufacturing via prepaid shipping. To the maximum extent permitted by applicable law, Chief disclaims any other warranties, express or implied, including warranties of fitness for a particular purpose and warranties of merchantability. Chief will not be liable for any damages whatsoever arising out of the use or inability to use Chief products, even if Chief has been advised of the possibility of such damages. Chief bears no responsibility for incidental or consequential damages. This includes, but is not limited to, any labor charges for the repair of Chief products performed by someone other than a Chief employee. Because some states and jurisdictions do not allow the exclusion or limitation of liability for consequential or incidental damages, the above limitation may not apply. Chief will not be responsible for damage to Chief products caused by misuse, abuse, failure to properly package the product for return to Chief or for damage caused by carriers during shipment to or from Chief. Any repairs to Chief products required due to misuse, abuse or shipping damage or repairs of defective Chief product outside the warranty period will be performed at the current rates established by Chief for factory service.