HealthPostures 6254 Standard Surface TaskMate Lift Table
Product ID 17239
HIGHLIGHTS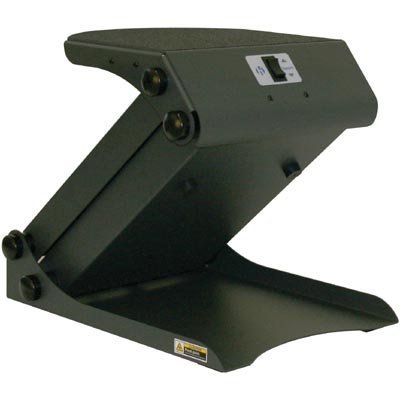 Description
Highest quality ergonomics products from HealthPostures will help you customize your work space. In addition, the work surfaces can raise high enough to allow users to work while standing. This sit to stand capability allows for welcome change of position to improve comfort and help prevent sore muscles. The 6254 Surface TaskMate provides optimal comfort and adjustability in many work place settings.
The Surface TaskMate makes it easy to phase in the benefits of a healthy sit-stand workstyle.
Prevention is less costly than treatment. Save money by reducing workplace injury caused by a static work environment.
Alternating between sitting and standing increases energy and maintains a workflow which improves work quality and production.
Slight adjustments and freedom to move from sitting to standing creates a more satisfying work environment and improves morale.
Specifications
| | |
| --- | --- |
| Tabletop Dimensions | 14" x 11.5" (36 cm x 29 cm) |
| Length | 21" (54 cm) |
| Width | 14" (36 cm) |
| Top Length | 11 ½" (28 cm) |
| Height Travel | 5 ½" to 18" (14 cm to 46 cm) |
| Total Unit Weight | 50 lbs (23 kg) |
| Maximum Lift | 75 lbs |
How to use
Place the TaskMate on you work surface
Plug power cord into outlet
Easily adjust height using one push button control
Product Options/Accessories
| | |
| --- | --- |
| Model | 6254 |
| Manufacturer | HealthPostures |
| Part Number | 6254 |
| | |
| --- | --- |
| Worksurface Dimensions | 14" x 11.5" (36 cm x 29 cm) |
| Length | (54 cm) 21 |
| Width | (36 cm) 14 |
| Top Length | (28 cm) 11 ½" |
| Height Travel | 5 ½" to 18" (14 cm to 46 cm) |
| Lifting Capacity | Up to 75 lbs |
| Weight | 50 lbs (23 kg) |
| Color | Charcoal Gray |
| Price | $600 - $699 |
Customer reviews
1 stars

0

2 stars

0

3 stars

0

4 stars

0

5 stars

0