Wall Mount Power Strip and Surge Protector with 15ft cord ED-PS6-UD
Highlights
Wall mount or

 Under desk p

ower strip 
Surge protector with 15 ft cord
1150 Joule surge protector with indicator light
Mounting slots on both ends of h

eavy duty metal case
Easy and secure installation  with two screws
Description
Traditional power strips rest on the floor with cables hanging from desks, down the wall, or across the floor to connect with it. The ED-PS6-UD power strip with a long cord, on the other hand, can be mounted on a wall or under a desk to create a clean and safe environment.
Connecting computers, laptops, TVs, and entertainment systems to a surge protector can prevent damage due to a power spike (sudden surge in electrical voltage). This mountable surge protector will direct excess electricity from a power surge to the outlet`s grounding wire.
Mountable power strips prevent back and shoulder pain, allowing you to plug in up to 6 devices without hurting yourself reaching underneath and around furniture. As well, this power strip performs the task of under desk cable management and helps keep your desk and floor free of messy cables.
Use a level when mounting this power strip on the wall, and always measure the thickness of the surface to know how long your screws should be. We recommend mounting on a wooden stud or board as mounting directly to drywall may not provide a strong enough hold and the power strip may tear out of the wall over time.
This power strip with mounting holes can be easily installed using two screws, one in each hole on either end of the strip. We recommend the largest possible pan head screw that fits easily into the power strip`s screw slot. For desks one inch thick, use a 5/8" screw. With its heavy duty metal case, this power strip is ideal for use in industrial and commercial applications. This extension power cord  with surge protector finds use in homes too for entertainment centers, gaming consoles or mounting TV on wall.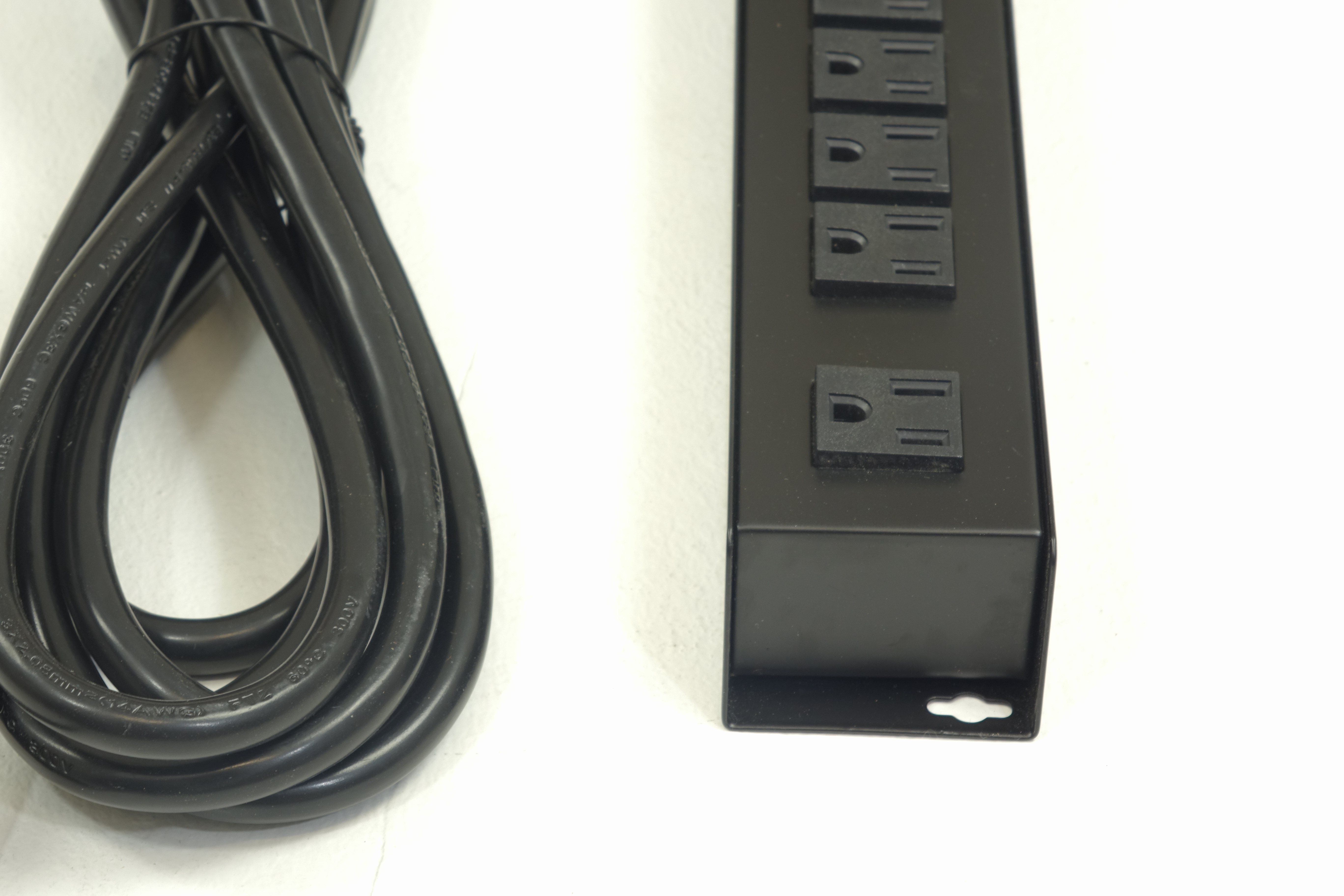 Features
Heavy Duty Metal Case
6 Outlet Power Strip
4 Standard Outlets, 2 Wide-Spaced Outlets for Transformer Plugs
15ft 14/3 SJT Power Cord
Auto Shut-Off, Lighted On/Off Circuit Breaker Switch Protects Against Overloads
PROTECTED indicator light shows unit is working
GROUNDED indicator light shows unit is plugged into a properly grounded outlet
Mounting slots on the ends and back of housing
Surge Suppressant
Unit Measurements (DxWxH): 2.38 x 7.63 x 17.00
Unit Weight (lbs): 2.78
Wall Mountable: Yes
Indoor use only
Legal Disclaimer:
ErgoDirect Inc. is not responsible for any loss or damage to computer equipment or other physical or intellectual properties because of possible malfunction of surge suppressant. Best practice is to regularly backup your data stored on your computer to a separate storage device to prevent any possible data loss.
Returns:
If you are not satisfied with your purchase within 30 days of receipt of your order, you may return your wall mount power strip in brand-new condition, unused, unopened, undamaged in its original packaging for a full refund or exchange. Packaging should be in brand-new, undamaged and resell-able condition. Please do not return without a valid RMA (return merchandise authorization) number. Shipping and handling charges will be customer`s responsibility.
| | |
| --- | --- |
| Model | Power Strip ED-PS6-UD |
| Manufacturer | Ergodirect |
| Part Number | Power Strip |
| UPC | 709317696790 |
Be the first to review this product