Plantronics CS540 Convertible Wireless DECT Headset System
Product ID 17606
HIGHLIGHTS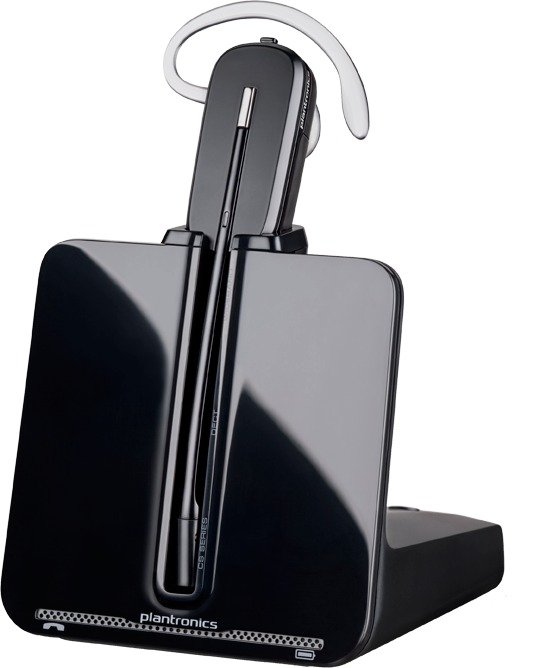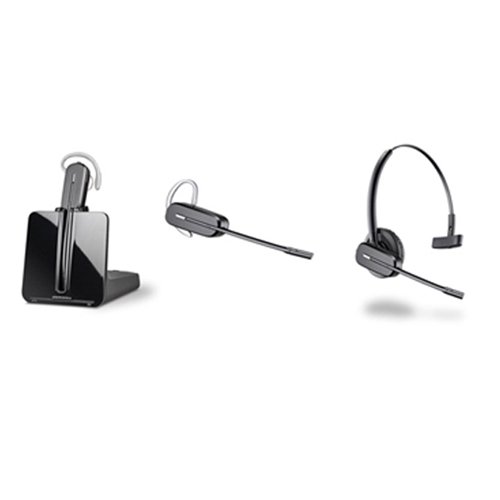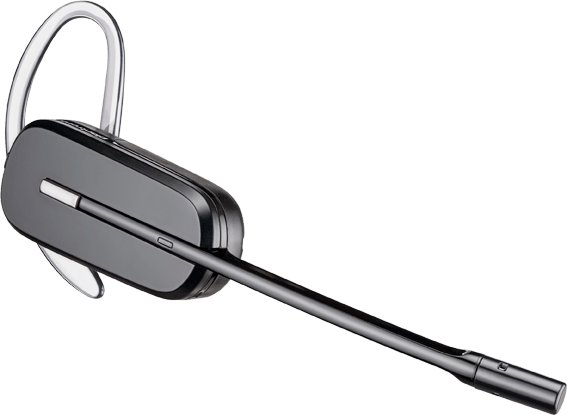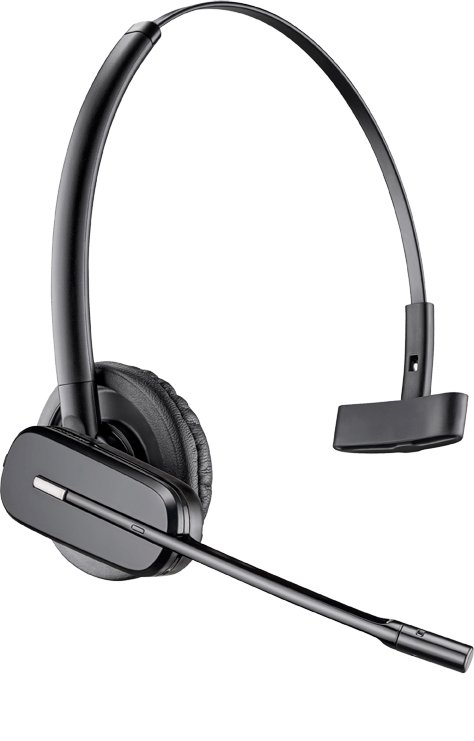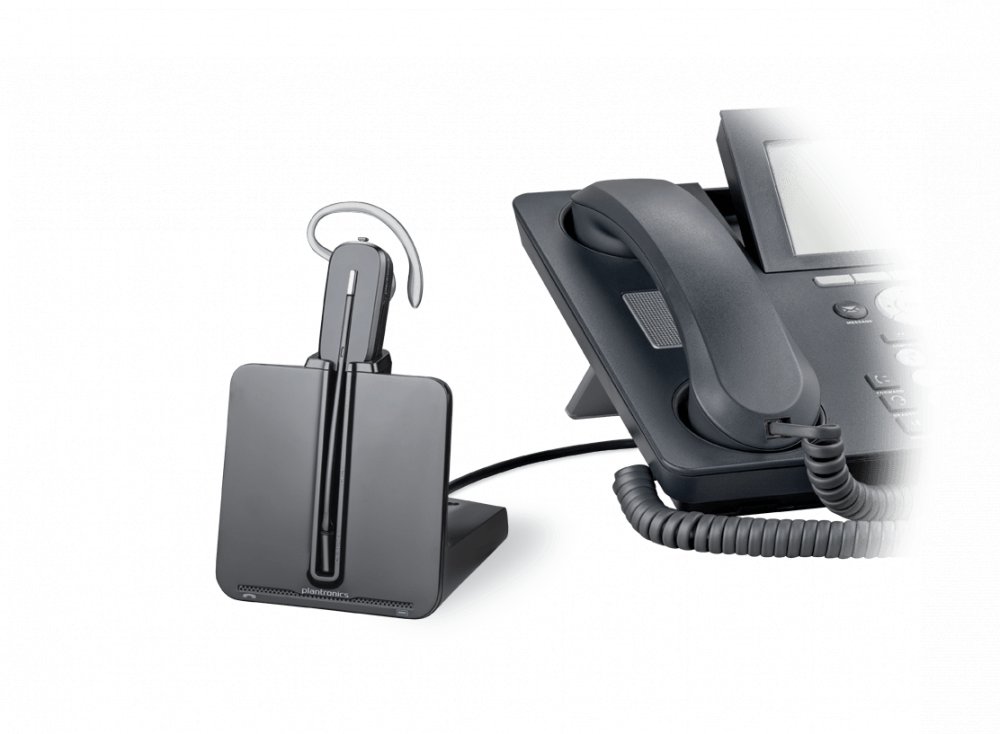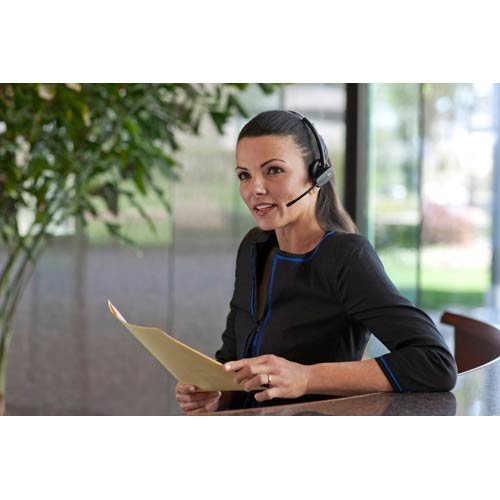 Description
Plantronics legendary CS family is setting a new wireless standard for desk phone communication with the CS500 Series. The system features the lightest DECT headset on the market, a streamlined design and improved performance all with the same reliability for hands-free productivity that has made the CS family a best-seller for nearly a decade.
Superior Call Management - With one-touch call answer/end, vol+/-, and mute, manage calls from up to 350 feet from the charging base. The CS500 system also enables you to conference in up to three additional headsets for easier collaboration and guest headsets can subscribe to a base by simply docking the headset. Use with Electronic Hook Switch Cable or Handset Lifter to remotely answer/end calls.
Power in the Base - A sleek charging base is included with the CS500 Series. An adaptive power system optimizes for range and talk time by automatically downshifting to low power when the headset is close to the base to save battery life.
Outstanding Audio Quality - Voice-dedicated DECT technology provides better audio and eliminates interference from Wi-Fi networks while advanced wideband audio provides high definition voice quality. Your choice of narrow or wideband professional grade audio quality - choose narrowband to extend talk time or wideband mode to enable clearer conversations. An extended boom and noise-canceling microphone filter out background noise, so listeners can hear conversations clearly and enhanced Digital Signal Processing (DSP) provides more natural sound, delivering clear audio the way it's intended to be heard.
CS530 and CS540 feature Soundguard. Protecting your senses - Whether you are using a headset in the office or on the road, hearing protection should be a guarantee, not a luxury. For over 50 years, Plantronics has been dedicated to creating headsets that provide customers with a safe audio experience, without sacrificing quality.
Plantronics promises to deliver our customers with products that will protect them from long term daily noise exposure and identify and remove acoustic startle events that are either uncomfortable, or can potentially become stress inducing. To ensure a superior and safe audio experience Plantronics headsets come equipped with a fail-safe acoustic protection technology, called SoundGuard.
DECT Security Certified - Advanced Dect wireless security. Using the latest standards in DECT wireless security, CS500 series headsets keep conversations safe and secure. With eight discreet security measures, including a 64-bit encryption, confidential information remains private.
Features
Superior Comfort and Call Management
Gain mobility - multitask hands-free up to 350 ft

One-touch call answer/end, vol +/–, and mute

Conference in up to three additional headsets for enhanced collaboration

CS540 convertible headset offers a choice of three (Neckband sold separately) comfort-tested wearing options to match your personal style
Outstanding Audio Quality
DECT technology provides better audio; eliminates interference from Wi-Fi networks

Advanced wideband audio using CAT-iq technology for high definition voice quality

Noise-canceling microphone reduces background noise interruptions, ensuring great audio quality and easing listener fatigue

Enhanced Digital Signal Processing (DSP) provides more natural sounding voice
Advanced DECT wireless security
Keep calls and information safe and secure with the latest DECT security certification

Most secure DECT headset on the market certified by DECT Forum
Recommended Accessories
HL10 Handset Lifter adds remote call answer/end convenience

Electronic Hookswitch Cable electronically adds remote answer/end convenience, eliminating the need for a Handset Lifter
Specifications
Models

CS540: Convertible

CS530: Over-the-ear

CS520: Over-the-head, binaural

CS510: Over-the-head, monaural

Connects to
Desk phone
Ideal for
Office and desk-centric workers across the enterprise looking for a simple-to-set-up, simple-to-use wireless offering for managing desk phone calls
Talk Time

CS540: Up to 7 hrs

CS530: Up to 6 hrs

CS520, CS510: Up to 13 hrs

Handset Weight

CS540 Convertible: 21 g

CS530 Over-the-ear: 25 g

CS520 Over-the-head (binaural): 96 g

CS510 Over-the-head (monaural): 74 g

Security
64-bit encryption, DECT Security Certified
Wireless Frequency
DECT 6.0, range up to 350 ft
Audio Performance
Narrowband or wideband: up to 6,800 Hz
Hearing Protection

CS540, CS530: SoundGuard: protects against sound levels above 118 dBA

CS510, CS520: SoundGuard DIGITAL: protects against sound levels above 118 dBA; Anti-startle detects and eliminates any large sudden increase in signal level; Time-Weighted Average prevents average sound level from exceeding 85 dBA

Limited Warranty
1 year
Product Options/Accessories
| | |
| --- | --- |
| Model | CS540 |
| Manufacturer | Plantronics |
| Part Number | CS540 |
| | |
| --- | --- |
| Connects to | Desk phone |
| Talk Time | Up to 7 hours |
| Weight | 21 gm |
| Wireless Range | Frequency: DECT 6.0, range up to 350 ft |
| Audio Performance | Narrowband or wideband: up to 6,800 Hz |
| Warranty | 1 yr |
Customer reviews
1 stars

0

2 stars

0

3 stars

0

4 stars

0

5 stars

0