Plantronics W730/HL10 Savi Over-The-Ear Monaural Headset with Lifter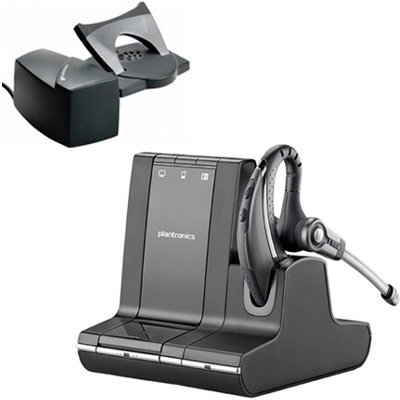 Description
Enjoy wireless freedom while seamlessly managing PC, mobile and desk phone calls with a single intelligent headset system.
Multiple Devices - Singular Control - The Savi 700 series is changing the way productivity-focused office professionals communicate. With multi-device connectivity, a newly designed convertible headset, and up to 120 metres of wireless range, now you can easily manage desk phone, PC and mobile phone calls with the most intelligent wireless headset system on the market. Three-way Connectivity - Three-way connectivity lets you easily switch and mix audio between desk phone, PC and mobile phones with one intelligent, wireless headset system. Ideal for office professionals who use multiple devices and require best-in-class sound quality for their business communications.

Savi 730 features Soundguard. Protecting your senses. Whether you are using a headset in the office or on the road, hearing protection should be a guarantee, not a luxury. For over 50 years, Plantronics has been dedicated to creating headsets that provide customers with a safe audio experience, without sacrificing quality. Plantronics promises to deliver our customers with products that will protect them from long term daily noise exposure and identify and remove acoustic startle events that are either uncomfortable, or can potentially become stress inducing. To ensure a superior and safe audio experience Plantronics headsets come equipped with a fail-safe acoustic protection technology, called SoundGuard.

Power in the Base - With one-touch call answer/end, vol+/-, mute and flash, manage calls from any connected device up to 350 feet from the charging base. Automatically routes mobile calls to the mobile phone or headset - whichever device is within easy reach. Transfer audio between headset and mobile phone with a press of a button so you can leave the office and take the mobile call with you. Wearing Styles for You - Choose the style that's right for you with more wearing style choices than any other wireless headset system on the market. Convertible (over-the-ear, behind-the-head, over-the-head), over-the-ear and over-the-head (monaural and binaural) designs available.

DECT security certified - Advanced Dect wireless security. Using the latest standards in DECT wireless security, Savi 700 series headsets keep conversations safe and secure. With eight discreet security measures, including a 64-bit encryption, confidential information remains private

Plantronics HL10 handset lifter fits on your telephone, letting you answer calls with the touch of a button, conveniently and automatically takes your handset off hook. Small, compact and discrete handset lifter. Ideal accessory for the CS50 wireless office headset system. Answer Your Phone When You're Away From Your Desk. The must-have addition to your Plantronics cordless headset system - The Plantronics HL10 automatic handset lifter enables one-touch call answer/end for compatible Plantronics headset systems.

Completes your cordless headset system - Enjoy the full mobility of cordless conversations. Roam around your workspace knowing that you'll be notified when a call is received and you can answer and hang up whenever you choose. Lifts handset and returns it to the cradle at the touch of a button - On most desktop phones, the HL10 lifts up and replaces the handset so you don't have to be at your desk to answer the phone or to hang up. Takes up no desktop space - Because the HL10 fits under the handset on your desktop phone, it requires no additional space on your desktop, and the discreet, stylish design is backed by a one-year warranty.
Features
Superior Call Management
3-way connectivity to easily switch and mix PC, mobile, and desk phone audio

Automatically routes mobile audio to whichever device you pick up

Easily transfer audio between headset and mobile phone to take calls on-the-road

UC presence automatically updated when on a PC, mobile, or desk phone call

Energy efficient adaptive power system optimizes for range and talk time

Conference in up to three additional headsets and guests can continue through multiple calls
Savi 740 Innovative Design
Lightest DECT wireless headset on the market

Three comfortable wearing styles

Hot swappable battery for unlimited talk time
Advanced DECT Wireless Security
Keep calls and information safe and secure with the latest DECT security certification

Most secure DECT headset on the market certified by DECT forum
Premium Sound Quality
Advanced wideband audio using CAT-iq technology for high definition voice quality

Noise-canceling microphone reduces background noise interruptions

Enhanced Digital Signal Processing (DSP) provides more natural voice sounds
Recommended Accessories
Use with Electronic Hookswitch Cable or Handset Lifter to remotely answer/end calls
HL10 Headset Lifter
Automatically lifts handset and returns it to the cradle.

Enables remote call answer/end with your cordless headset.

For Plantronics CS10 and CA10 cordless headset systems.

Enables one-touch call answer/end with your corded headset.

Works with corded S20 and A20 headset systems.

Works with most standard desktop phones.

No desktop footprint.

Quick and quiet performance.

Remote ring detection.

Easy set up.

Discreet and stylish design.
Specifications
Models

W740: Convertible

W730: Over-the-ear

W720: Over-the-head, binaural

W710: Over-the-head, monaural

UC Standard version for softphones from Avaya, Cisco, IBM, Skype and more

Connects to
PC + mobile + desk phone
Ideal for
Professionals who use a mix of PC, mobile and desk phone communications while in the office for conference calls, webinars, video conferencing, and listening to multimedia
Talk Time

W740: Up to 7 hrs

W730: Up to 6 hrs

W720, W710: Up to 13 hrs

Handset Weight

W740 Convertible: 21 gm

W730 Over-the-ear: 25 gm

W720 Over-the-head (binaural): 96 gm

W710 Over-the-head (monaural): 74 gm

Security
64-bit encryption, DECT Security Certified
Wireless Frequency
DECT 6.0, range up to 350 ft between headset and base; Bluetooth v2.1 connection between mobile phone and base
Audio Performance
PC + desk phone Wideband: up to 6,800 Hz
Hearing Protection

W740, W720 and W710: SoundGuard DIGITAL - protects against sound levels above 118 dBA; Anti-startle (detects and eliminates any large sudden increase in signal level); Time-Weighted Average prevents average daily noise exposure level from exceeding 85 dBA

W730: SoundGuard: (W730) - protects against sound levels above 118 dBA

Limited Warranty
1 year
HL10
Dimensions
4" x 2.9" x 1.7" (10.2 x 7.3 x 4.3 cm)
Weight
3.5 oz (100 g)
Power
325mA supplied by Plantronics Serial Bus
Environmental

Operating Temperature: 39.2 F - 104 F (4 C - 40 C)

Storage Temperature: -4 F - 150.8 F (-20 C - 66 C)

Compatibility
Compatible with most standard desktop phones
Product Options/Accessories
| | |
| --- | --- |
| Model | W730 HL10 |
| Manufacturer | Plantronics |
| Part Number | W730 HL10 |
| | |
| --- | --- |
| Connects to | PC + mobile + desk phone |
| Talk Time | Up to 6 hrs |
| Weight | W730: 25 gm, HL10: 3.5 oz (100 g) |
| Wireless Range | DECT 6.0, range up to 350 ft between headset and base; Bluetooth v2.1 connection between mobile phone and base |
| Audio Performance | PC + desk phone Wideband: up to 6,800 Hz |
| Warranty | 1 yr |
| Dimensions | 4" x 2.9" x 1.7" (10.2 x 7.3 x 4.3 cm) |
| Power | 325mA supplied by Plantronics Serial Bus |
| Temperature | Operating Temperature: 39.2 F - 104 F (4 C - 40 C). Storage Temperature: -4 F - 150.8 F (-20 C - 66 C) |
| Compatible | With most standard desktop phones |
Customer reviews
1 stars

0

2 stars

0

3 stars

0

4 stars

0

5 stars

0