Goldtouch GTLS-0077U Go Travel Notebook and Tablet Stand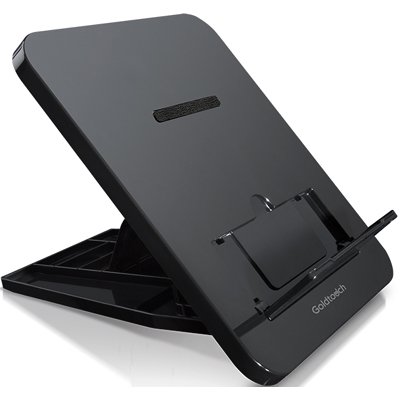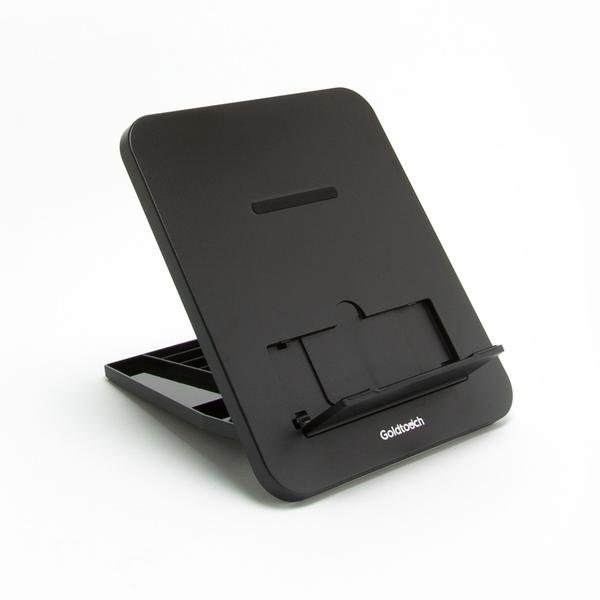 Description
Attention tablet users and laptop fans: It's time to find a new way of working. Stop hunching over your screens as you work at the desk or on the road. With the NEW Goldtouch GTLS-0077U Go Travel Notebook and Tablet stand, you'll have the perfect on-the-go solution for ergonomic working, wherever you are.

The Go! Travel Laptop Stand is also a great addition to any home, office, or mobile workspace.
Specifications
Dimensions

Minimum Size

Length 10.25 inches (26.04 cm)

Width 8.75 inches (22.23 cm)

Height 0.5 inches (1.27 cm)
 

Maximum Size

Length 10.25 inches (26.04 cm)

Width 8.75 inches (22.23 cm)

Height 9.5 inches (24.13 cm)

Weight

1 lbs (0.45 kg)
Features
Focus on your work, not your pain - This stand will bring your screen to eye level so you can keep your shoulders and neck in alignment.

Find your perfect position - With seven different incline positions available, you're sure to find the height that's right for you.

Goes where you do - This stand weighs only one pound and can slip easily into your laptop bag. But don't be fooled: made from from composite resin, this strong plastic stand can accommodate up to 17-inch notebooks.
Product Options/Accessories
| | |
| --- | --- |
| Model | GTLS-0077U |
| Manufacturer | GoldTouch |
| Part Number | GTLS-0077U |
| UPC | 183238000919 |
| | |
| --- | --- |
| Color | Black Composite Resin |
| Dimensions | Minimum: Length 10.25" (26.04 cm), Width 8.75" (22.23 cm), Height 0.5" (1.27 cm). Maximum: Length 10.25" (26.04 cm), Width 8.75" (22.23 cm), Height 9.5" (24.13 cm) |
| Weight | 1 lb |
| Mounting Options | Desk Stand |
Customer reviews
1 stars

0

2 stars

0

3 stars

0

4 stars

0

5 stars

0
Return Policy
Returns or Replacement
Damaged and/or Defective - There is a one year manufacturer's warranty from date of original purchase date. Customer must submit an RMA form and obtain an RMA number before shipping product back. If product tests non-defective or damaged by human error then customer is responsible for all shipping costs for return to Key Ovation and back. After 30 days, customer is responsible for shipping costs to have items sent back for testing. If defective, Key Ovation will return, at our cost, a replacement factory refurbished product. Warranty for the replacement item continues from the original date of purchase. The one year warranty does not cover Abuse or Normal wear.

Refund - Proof of purchase is required. Refunds will only be issued for products purchased directly from the KeyOvation website, or, if the product was advertised as Money Back Guaranteed by Key Ovation or authorized by Key Ovation through an Authorized Reseller. Customer must submit a RMA within 30 days from the date of purchase from KeyOvation and obtain a RMA number before the product can be returned; the RMA number will remain valid for 14 days from the date it was issued. The refund will be issued in the original form of payment. All items must be returned in the original packing material to qualify for a refund. Misused product will not qualify for a refund. Shipping will not be refunded. The customer will be responsible for return shipping charges of non-defective product.

Resellers - A 50% restocking fee will apply to opened non-defective product for 0 to 90 days and a 15% restocking fee will apply to unopened product returned within 90 days of purchase.

(These terms and conditions may be superseded by individual Reseller or Distributor Agreements. Please see your vendor agreement for further details.)

Web Orders - Product can be returned for 100% refund within the 30 days from the original date of purchase. Proof of purchase must be provided. No refund will be issued after 30 days.

Replacement - Items purchased directly from KeyOvation or an Authorized reseller have 1 year from the date of purchase to request an exchange, Proof of Purchase is required for all exchanges. Only defective products will be exchanged. Misused or damaged products will not qualify for an exchange. All items will be replaced with a factory refurbished item of the same model number. The Warranty for the replacement item continues from the original date of purchase. The defective items must be tested by KeyOvation and deemed defective before a factory refurbished replacement can be shipped out. KeyOvation will be responsible for return shipping charges of the defective product and shipping charges of the replacement product shipping within the continental USA. Items determined not to qualify for an exchange will be returned at the owner's expense. An expedited replacement can be arranged by providing a valid credit card for immediate cross-shipment of replacement item. Credit card charges will not be applied unless original item is not returned and/or product is found not to be defective.

Unless otherwise arranged all international orders, must be prepaid, prior to shipping.

Product Damaged in Transit - If you take delivery of a package and the contents have been damaged in transit, you can return the item(s) to us within 30 days of receipt for exchange.

Items should be returned to the original place of purchase.

You must complete an RMA form and receive an RMA number before returning product. Packages will not be accepted without an RMA Number.