Cotytech DM-GSDA Dual Apple Desk Mount Spring Arm
Product ID 17913
HIGHLIGHTS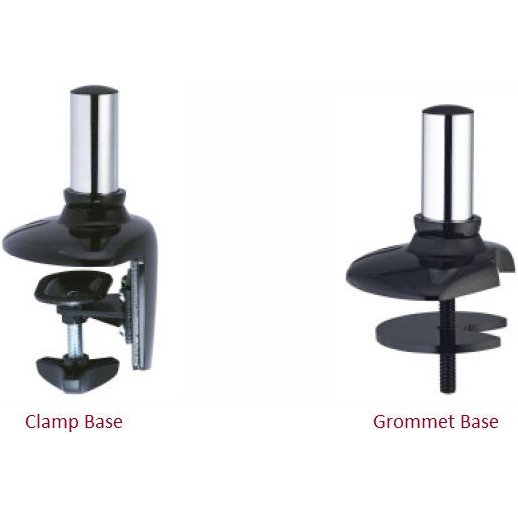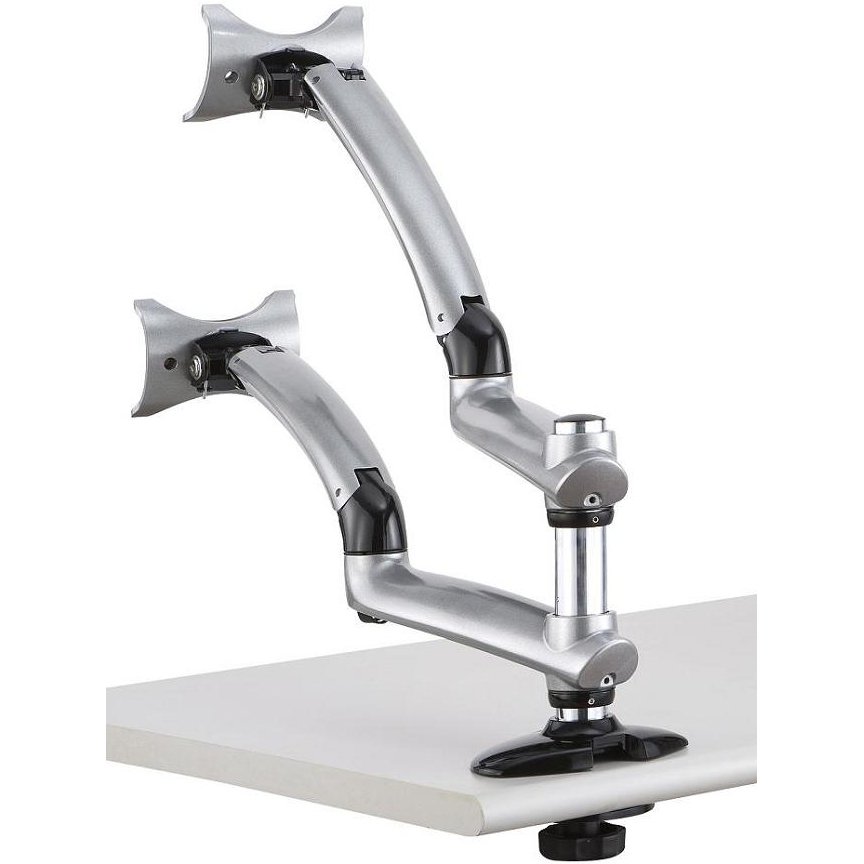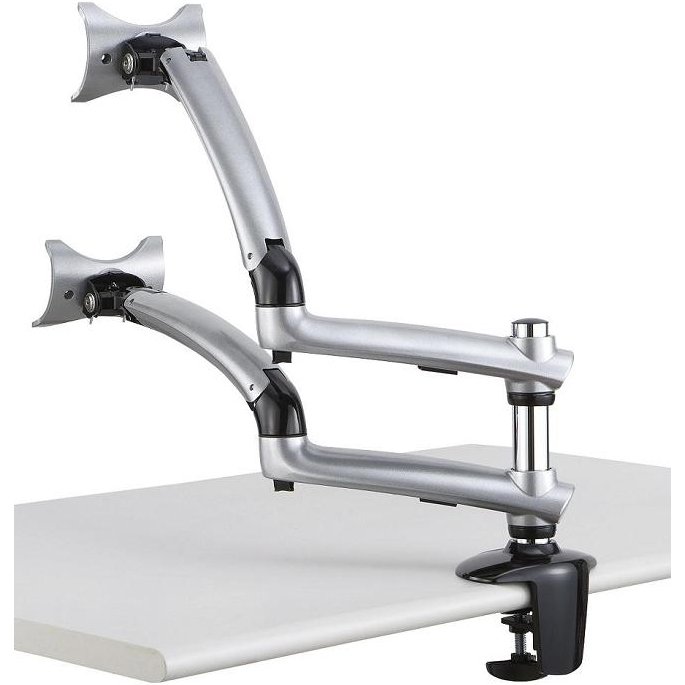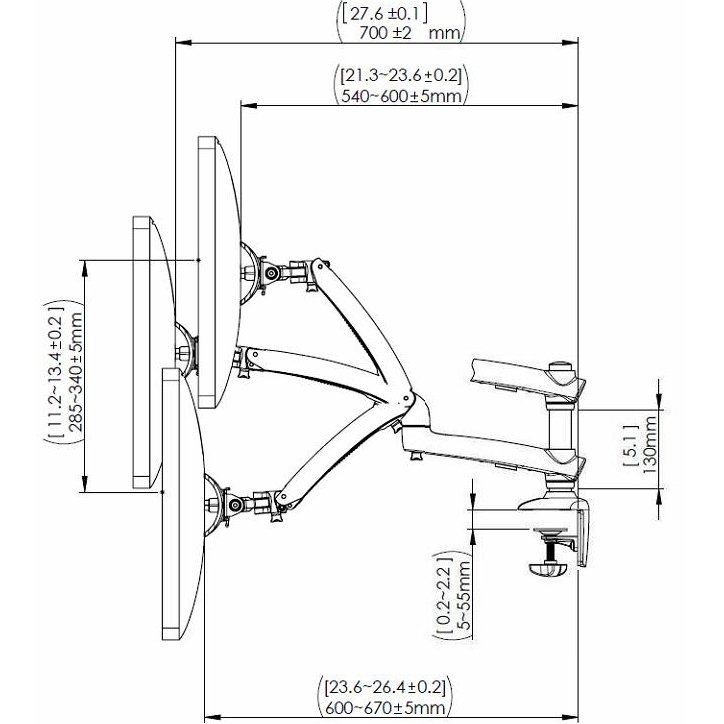 Description
Cotytech DM-GSDA Dual Apple Desk Mount Spring Arm - Silver DM-GSDA is a stylish desk mount that is perfect for your Apple LCD monitor. With a 180° swivel function and a weight capacity of 30.8lbs (14kg), this desk mount is ideal for offices, classrooms, private homes and public areas. It's the perfect accessory for the busy individual; and can fit neatly into any home office space. This desk mount has +90° / -45° tilt actions to ensure perfect viewing at any angle. The convenient desk arm features robust cable management; ensuring a neat and tidy desk space with no visible cables.

This convenient and stylish LCD desktop mount offers perfect flexibility and is maneuverable to suit any viewing angle. It has a modern look; which fit in perfectly with Apple's stylish looks. The monitor mount has been designed with the latest engineering technologies in mind; to ensure durability and strength. These quality mounts are manufactured in our offshore manufacturing plant; adhering to strict quality guidelines that enable us to deliver value to our customers. This handy Cotytech monitor mount has been manufactured with the end-user in mind; and ensures easy installation features while simultaneously offering intuitive, practical and functional designs.
Technical Drawing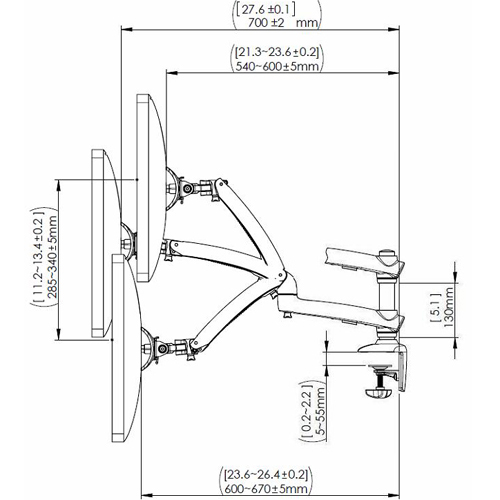 Specifications
| | |
| --- | --- |
| Weight Capacity | Supports 17.6 - 30.8lbs (8 - 14kgs) for each monitor |
| Tilt | +90° / -45° |
| Rotation | 360° |
| Swivel | Max 180° |
| Mounting Pattern | VESA compliant: 75x75 and 100x100 |
| Maximum Extension | 27.6" (700mm) |
Features
Designed for the following Apple Monitors:
24-inch iMac (aluminum and glass)
27-inch iMac
24-inch LED Cinema Display
27-inch LED Cinema Display
27-inch Thunderbolt Display
21.5" or 27" iMac with Built-in VESA Mount Adapter early 2013 please be sure to choose the option of 'iMac Early 2013'
If your Apple monitor is not listed above, please contact us for solutions.
Desk-mountable, for two screens placed next to each other; available in clamp base and grommet base
Clamp table thickness: 0.2"-2.21" (5-55mm); Grommet table thickness: 0.2"-2.21" (5-55mm), Hole Diameter: 0.39"-1.97" (10-50mm)
Spring arm design makes extension, retraction and height adjustments dynamically and easily
Pole length: 7.87" (200mm); Longer pole option available
Maximum adjustment rendered by tilting, swiveling, rotation and dynamic height adjustment
Swift and easy movements and adjustments
Height Adjustment Range: 5.1" at 7.87" pole (16.95" at 19.7" pole), 11.2" - 13.4" at monitor
Solid Aluminum die-cast construction
Space saving with its compact design
Smooth extension (up to 27.6") to achieve ideal viewing angles
Clean look with minimal hardware visible from underside of work surface
Rotation 360° and side-to-side pivot
Neat and efficient cable management
Maximum productivity and supreme ergonomic comfort
Easy installation and dis-installation
Color: Metallic Silver (please contact us for special order of white, dark gray or red color)
Product Options/Accessories
Frequently Asked Questions
q
I am wondering if there are vesa compliant mounts available for this. I am wanting to mount a 27" 2010 imac and a normal monitor to this arm, both would need vesa compliant mounts. If not, can you recommend an arm with vesa mounts that would support the weigh of an imac? Also, would it be possible to add an arm to this for a laptop platform?
a
Cotytech DM-GSDA Dual Apple Desk Mount Spring Arm is VESA compliant: 75x75 and 100x100. You should be able to mount the 27" iMac and a normal monitor. You can purchase a triple arm unit here and a mountable laptop tray here.
| | |
| --- | --- |
| Model | DM-GSDA |
| Manufacturer | Cotytech |
| Part Number | DM-GSDA |
| | |
| --- | --- |
| Color | Metallic Silver |
| Weight Capacity | 17.6 - 30.8lbs (8 - 14kgs) for each monitor |
| Tilt | +90 degree / -45 degree |
| Rotation | 360 degree |
| Swivel | Max 180 degree |
| Mounting Pattern | VESA 75x75 and 100x100 |
| Maximum Extension | 27.6" (700mm) |
| Height Adjustment | 5.1" at 7.87" pole (16.95" at 19.7" pole), 11.2" - 13.4" at monitor |
| Pole Length | 7.87" (200mm), Longer pole option available |
| Clamp Thickness | 0.2"-2.21" (5-55mm) |
| Grommet Thickness | 0.2"-2.21" (5-55mm) |
| Hole Diameter | 0.39"-1.97" (10-50mm) |
| Monitor Size | 24" iMac (aluminum and glass). 27" iMac. 24" LED Cinema Display. 27" LED Cinema Display. 27" Thunderbolt Display |
Customer reviews
1 stars

0

2 stars

0

3 stars

0

4 stars

0

5 stars

0