Evoluent VMDL Vertical Mouse D Large Wired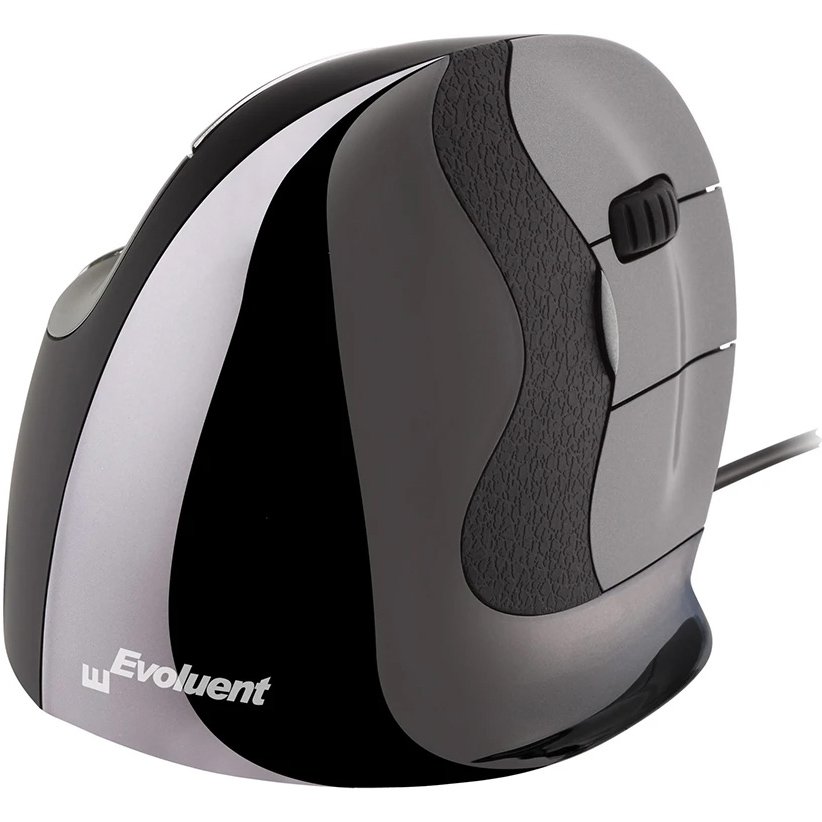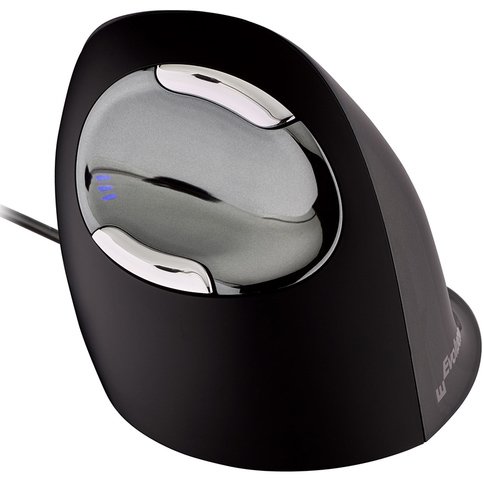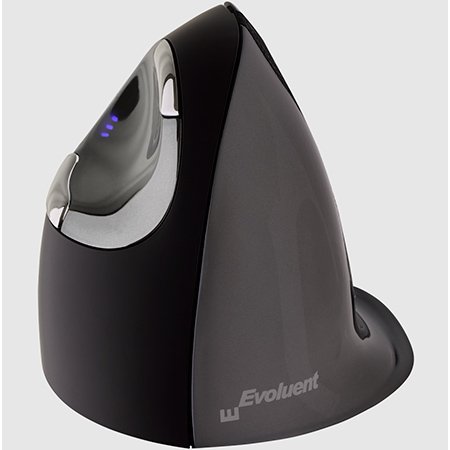 Description
Evoluent VMDL is another great innovation from the creator of the original VerticalMouse. Relax your wrist with the Evoluent VerticalMouse D Series. This mouse is thoughtfully sculpted to provide comfort and has shown relief in those who experience wrist pain.
Features
World's First Mouse with Grooved Buttons

Your fingertips rest in a shallow groove on the buttons. This patented innovation secures the mouse in your hands and makes moving it much more precise.

Avoids Forearm Twisting For Comfort

The ergonomic shape supports your hand in a handshake position. Since 2002, users continue to report that Evoluent VerticalMouse provides superior comfort and even relieves their wrist pain.

Extended Lip Prevents Rubbing

An extra wide lip along the bottom edge prevents the last finger from rubbing the desk.

Easy-To-Reach Thumb Buttons

Smartly-placed thumb buttons are both within easy reach at the top and bottom of a contoured thumb rest.

Adjustable Pointer Speed

A button behind the wheel enables quickly changing the pointer speed to suit different tasks: select higher speed (higher DPI) to make the pointer move faster for general use; select lower speed (lower DPI) to make the pointer move slower and more precisely for drawing, photo editing, etc.

Pointer Speed Indicators

Up to four lights show pointer speeds from slow to fast: slow speed or low DPI for precision work such as photo editing or drawing; fast speed or high DPI for quickly moving across the screen for general tasks.

Laser Sensor

A laser sensor ensures reliable tracking on most surfaces.

Copy/Paste and Much More

Configure the buttons to perform nearly any function you wish such as Copy or Paste with fewer clicks and mouse movements.

Hyper Scrolling

Dramatically varies sensitivity per notch in response to the speed you roll the wheel, from slow-and-precise all the way to hyper speed for blazing through long pages.

Eye Comfort Control

Quickly lower your screen's brightness to help reduce eye strain by simply rolling the mouse wheel. Easily change the brightness of the screen as your ambient light level changes.

Three Sizes

VerticalMouse D models are available in three sizes: Small, Medium and Large.

Note

Requires Evoluent Mouse Manager software. Customize Functions for Different Programs, Hyper Scrolling and Eye Comfort are available only in the Windows version of the software. The Mac version of Mouse Manager has fewer functions.
Specifications
Model Number

VMDL

Cable

USB Type-A. Requires adapter (not included) for USB Type-C ports

Compatibility

Microsoft Windows 7 or later - Includes driver for Windows 7, 8 and 10 for configuring the buttons. The driver is optional but highly recommended. VerticalMouse still has basic functionality without the driver.

Apple Mac OS X 10.5 or later - Includes Mac driver for configuring the buttons. The driver is optional but highly recommended. VerticalMouse still has basic functionality without the driver. Some functions of the Windows driver are not available in the Mac driver.

Other operating systems - Fixed button functions without a driver. Third party drivers may be available from other vendors.

Dimensions

Length: 4.56 inches (11.58 cm)

Width: 3.63 inches (9.22 cm)

Height: 3.25 inches (8.26 cm)

Hand Size

Greater than 7.8" (198 mm)
Product Options/Accessories
| | |
| --- | --- |
| Model | VMDL |
| Manufacturer | Evoluent |
| Part Number | VMDL |
| | |
| --- | --- |
| Adapter Type | USB Type A. Requires adapter (not included) for USB Type C ports. |
| Compatible | Microsoft Windows 7 or later, Apple Mac OS X 10.5 or later and Other operating systems |
| Wireless | No |
| Trackball | No |
| Mouse Type | Vertical |
| Dimensions | Length: 4.56" (11.58 cm), Width: 3.63" (9.22 cm), Height: 3.25" (8.26 cm) |
| Accomodates | Measurements greater than 7.8" (198 mm) |
Customer reviews
1 stars

0

2 stars

0

3 stars

0

4 stars

0

5 stars

0