Ergotron Telemedicine Cart with Side-by-Side Monitors and Onboard SLA Power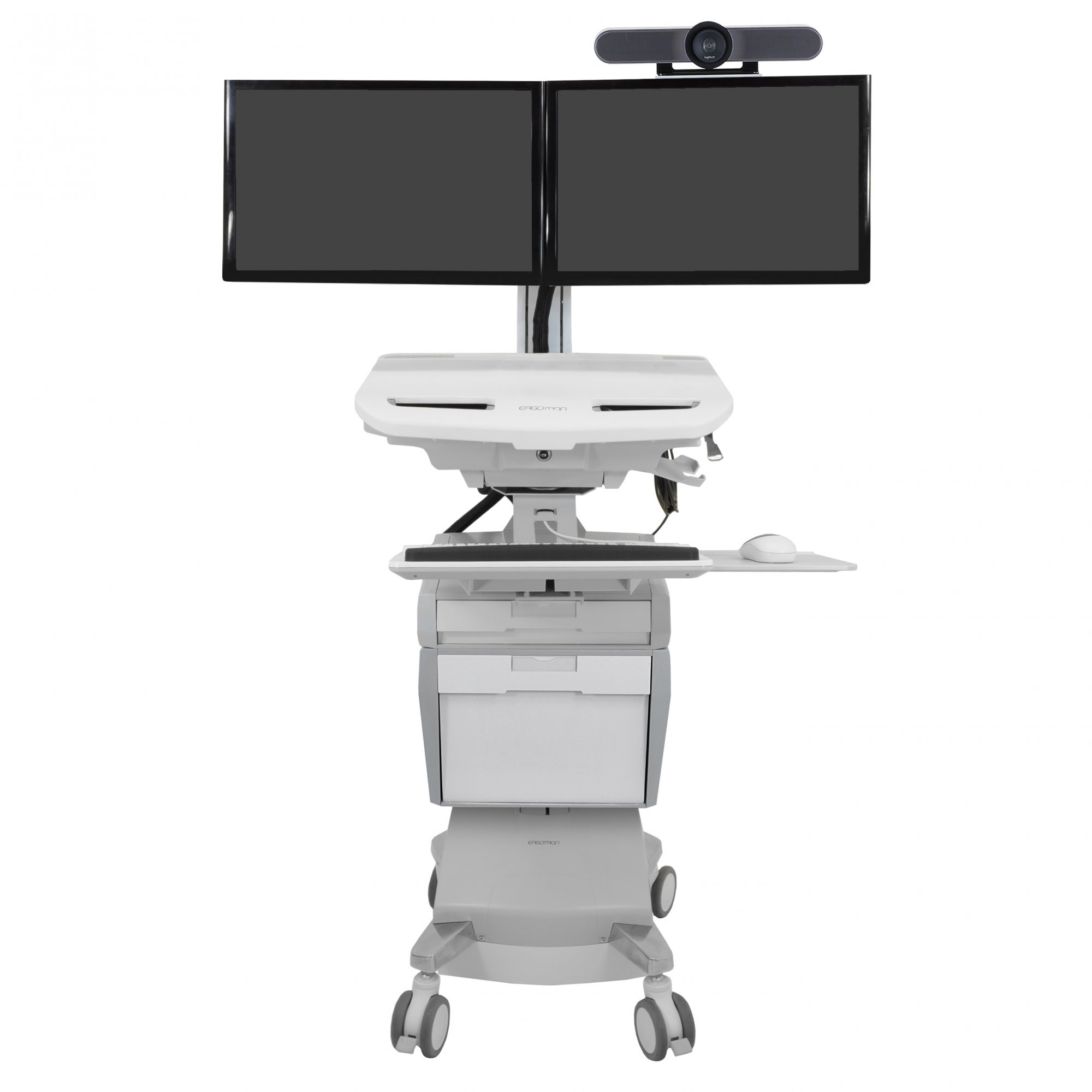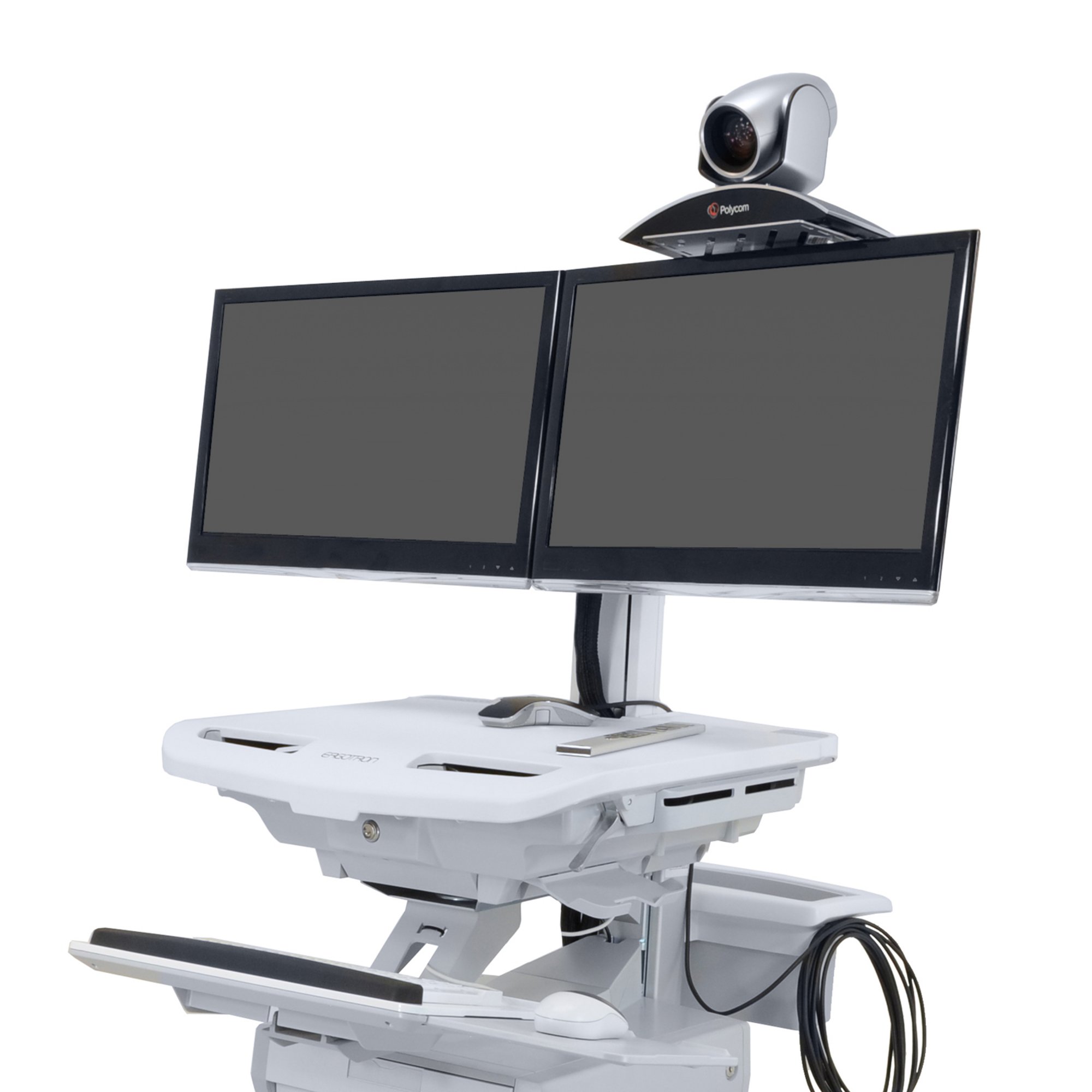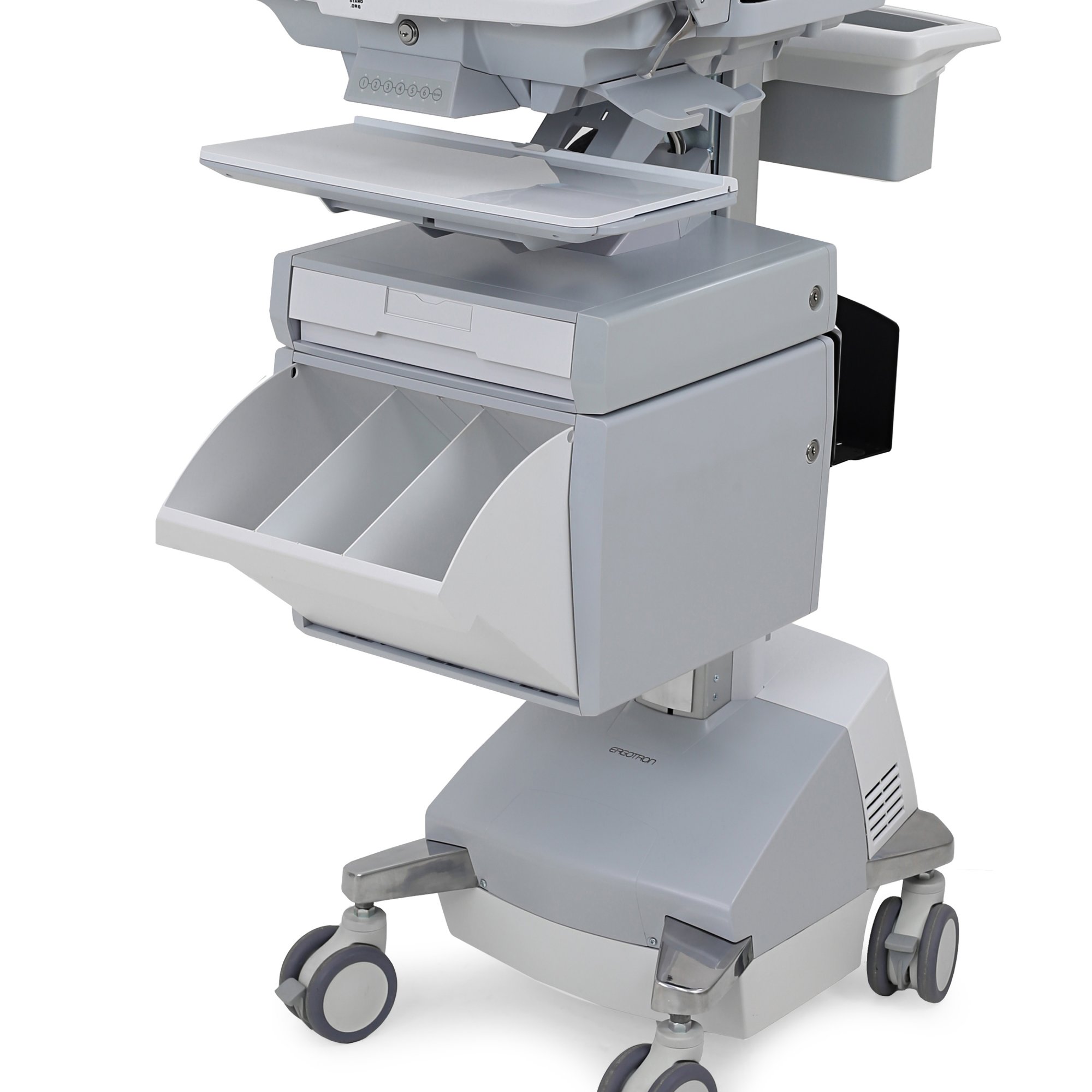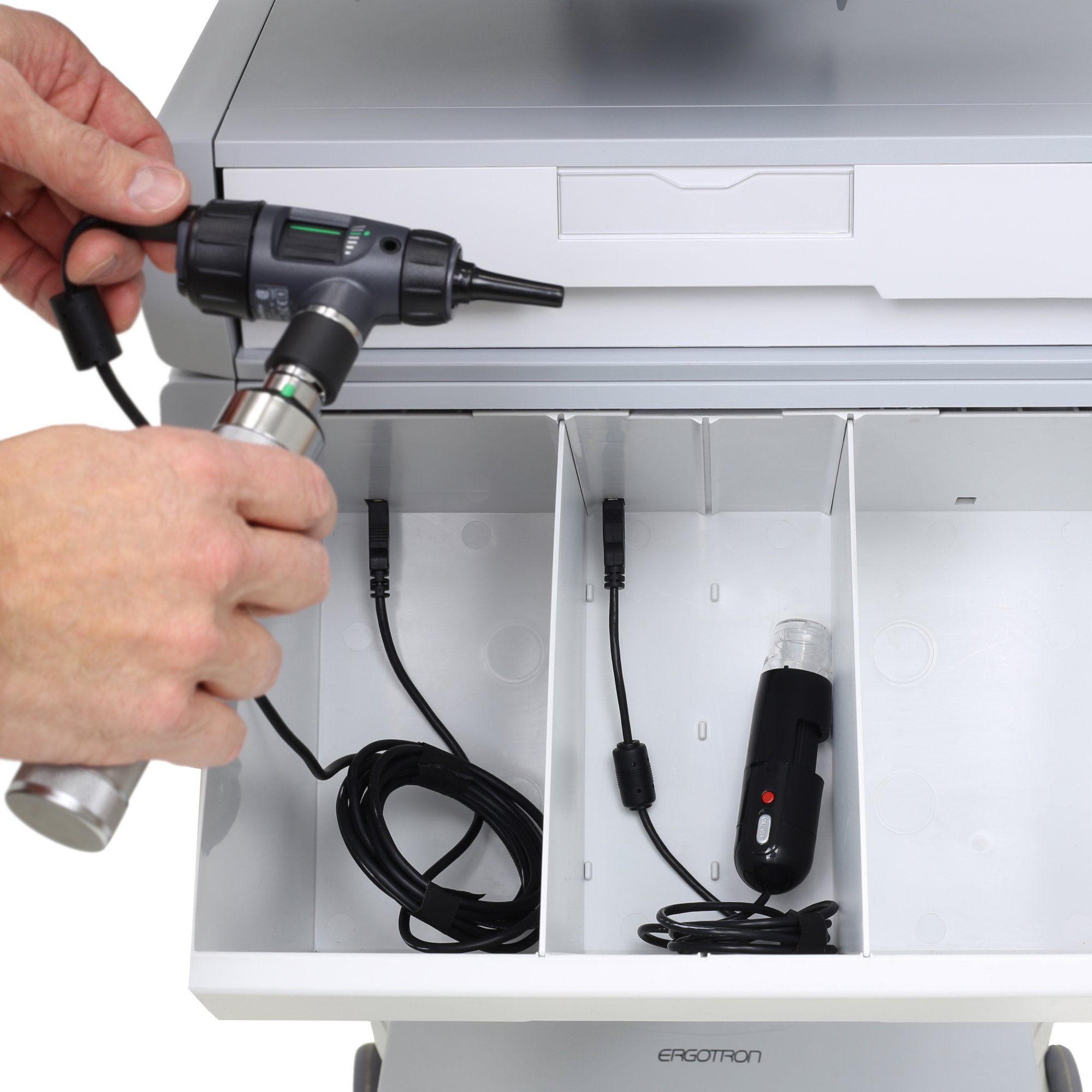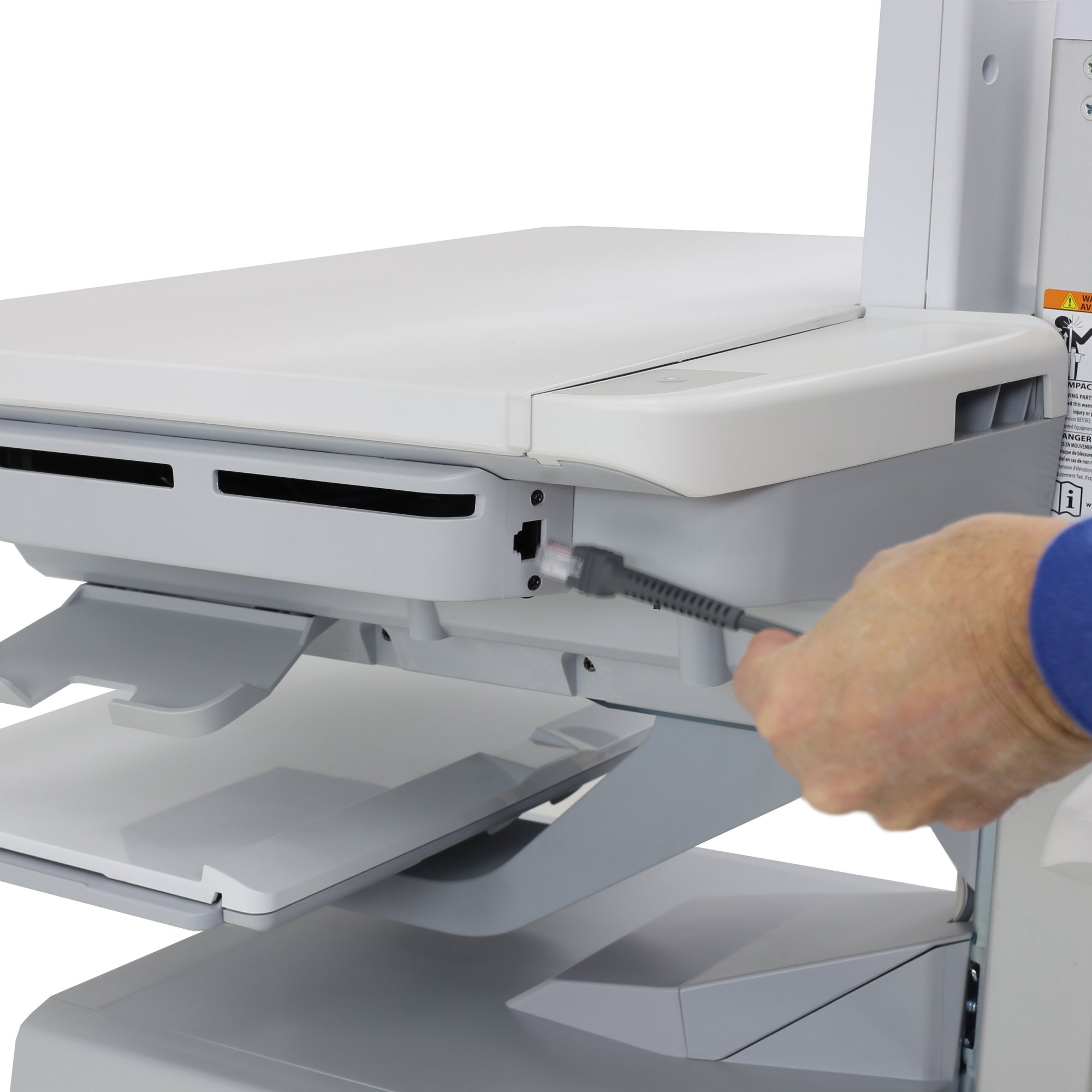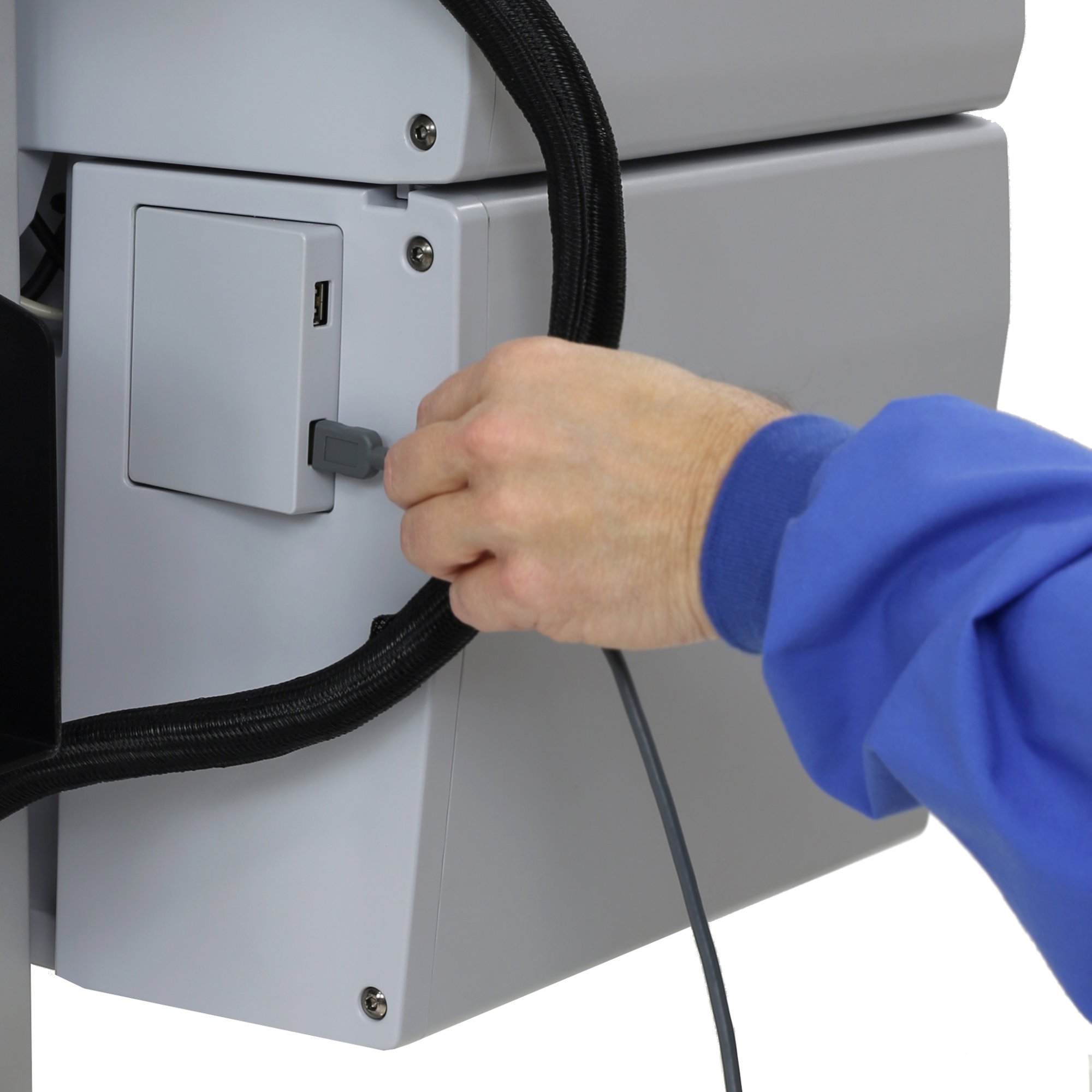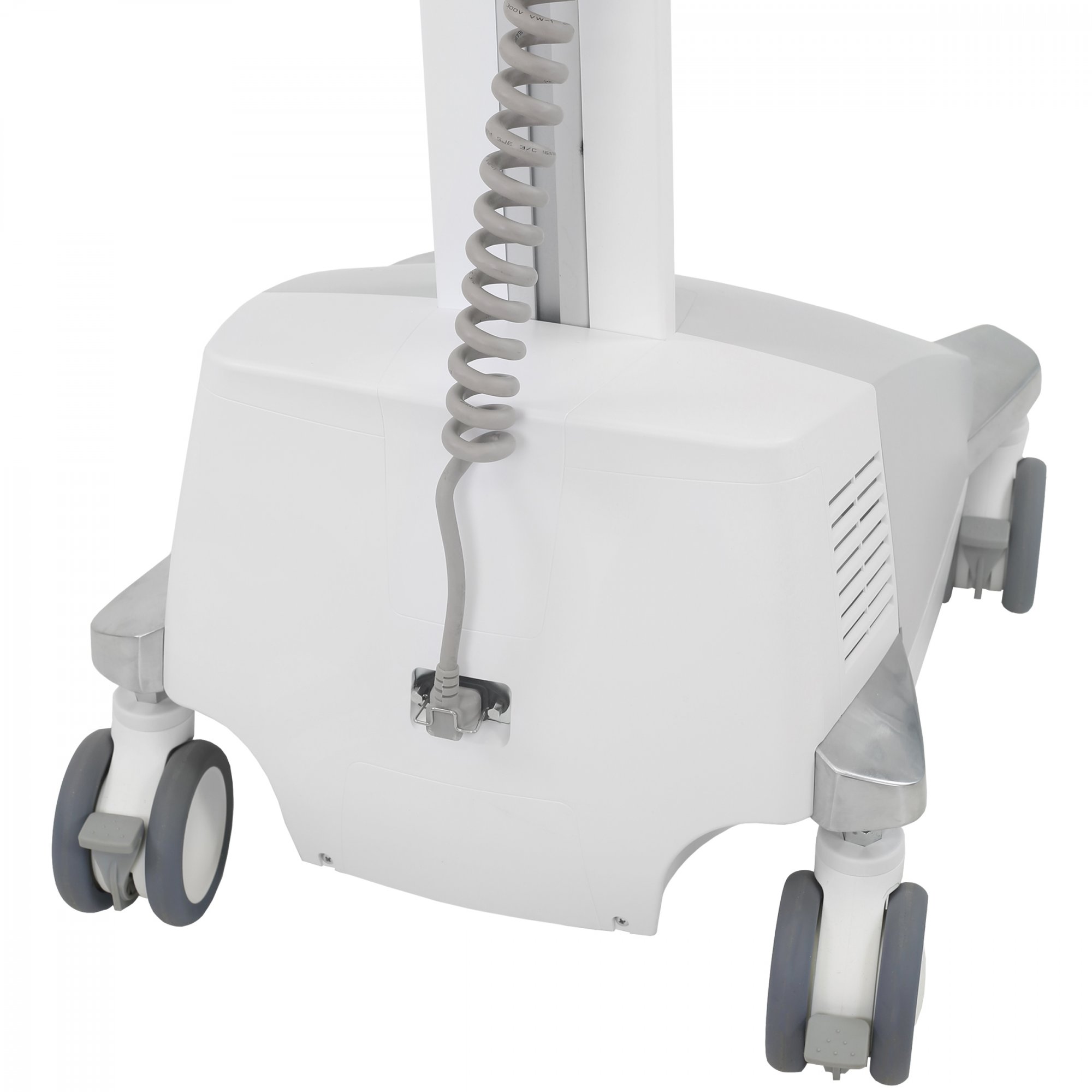 Description
Bundle Components - SV44-1311 StyleView Cart with LCD Pivot, SLA Powered, 1 Drawer (1x1), 98-030 SV Dual Monitor Kit, 97-854 SV Telemedicine Bin, 97-776-194 SV Camera Shelf and 97-855 SV Ethernet Side Cover for LCD carts.
Combine support for onboard diagnostics and videoconferencing with the benefits of a mobile workstation on wheels. The dual-monitor bow provides convenient side-to-side turning of either display, compartmentalizing screen viewing for caregiver and patient.
Technical Specifications
Screen
Capacity
Lift
Tilt
Pan
Rotation
VESA
Up to 24"

Up to 45 lbs

20.4 kg

12"

30.5 cm

-
180°
90°
MIS-D
Product Information
Description
Telemedicine Cart with Side-by-Side Monitors and Onboard SLA Power
Total maximum load on height-adjustment assembly
45 lbs (20.4 kg). This is the sum of the following components: dual LCD bow ≤ 18 lbs (8.2 kg); camera shelf ≤ 2 lbs (1 kg); worksurface ≤ 5 lbs (2.2 kg); keyboard tray ≤ 2 lbs (1 kg); CPU compartment ≤ 13 lbs (5.9 kg); drawer ≤ 2 lbs (1 kg)
Pan
180° side-to-side motion for each display
Portrait Screen Orientation
Portrait screen orientation may be incompatible with widescreen displays > 19"
Components (Build this tailored solution with the following products)
StyleView Cart with LCD Pivot, SLA Powered, 1 Drawer (1x1), US/CA/MX SV44-1311-1
Includes

Auto-locking drawer system (ADS)
Primary single drawer
Drawer dividers
LCD pivot
Worksurface
CPU lock
Secure CPU compartment
Four-port USB hub
Scanner holder bracket
Mouse holder
Wrist rest
Back-tilt keyboard tray
Keyboard lights
Left/right mouse tray
Rear handle
Storage basket
Cable storage
Four casters (lockable, 1 tracking function)
Two-battery 66 Ah power system
10-foot (3 m) coiled cord
AC outlets
Power system user interface

TAA
(Trade Agreements Act) compliant
CPU
Storage compartment for closed notebook, thin client or CPU: 17.75"W x 14.75"D x 4"H (45 x 37.5 x 10.1 cm)
Compact Wheel-to-Wheel Base Dimensions
15.5" x 17" (39 x 43 cm)
Worksurface Dimensions
22.4"W x 19.75"D (57 x 50 cm)
Drawer, Internal Dimensions
2.5"H x 12"W x 10.5"D (6.4 x 31 x 27 cm) - includes dividers to configure up to 16 compartments
Entire Cart
Entire cart is certified to UL/EN/IEC 60601-1 and CAN/CSA C22.2 No.601.1 M90. Also complies with EMI limits of FCC Part 15 Class A
VAC
100-230V, 50/60 Hz
Product Weight
155 lbs (70.3 kg)
Shipping Dimensions
24.5" x 34" x 56" (62 x 87 x 142 cm)
Shipping Weight
189 lbs (85.7 kg)
Warranty
Five years for cart's mechanical components, two years on power module
SV Dual Monitor Kit 98-030
Includes

HD lift engine
Hinged bow
Two monitor brackets
Cable management
Attachment hardware

Monitor Brackets
Can be installed to angle screens at either 2.5° or 7.5°
Shipping Dimensions
23" x 6.5" x 7.5" (58.4 x 16.5 x 19 cm)
Shipping Weight
10.3 lbs (4.7 kg)
Warranty
Five years
SV Telemedicine Bin 97-854
Includes

Telemedicine bin
keys
Dividers
Travel stop
Mounting hardware

Removable Dividers
Removable dividers allow bin to be configured with one, two or three compartments
Internal USB Ports
Three internal USB ports connect to stored devices; two external USB ports allow other devices to be connected on the fly
Works
In conjunction with the cart's auto-locking drawer system. Also provides key-lock access
Shipping Dimensions
18" x 18" x 13" (46 x 46 x 33 cm)
Shipping Weight
20 lbs (9.1 kg)
Warranty
Five years
SV Camera Shelf 97-776-194
Includes

Shelf
Strap
Bracket
Mounting hardware
Velcro

Attaches
Via the monitor VESA plate
Shelf Surface Area
8" x 4" (20 x 10 cm)
Weight Capacity
2 lbs (0.9 kg)
Shipping Dimensions
9.5" x 5" x 6" (24 x 13 x 15 cm)
Shipping Weight
2 lbs (0.9 kg)
Warranty
Five years
SV Ethernet Side Cover for LCD carts 97-855
Includes

Side panel with Ethernet port and internal cable

Provides
Network connection while keeping internal computer hardware secured
Discreet Location
For port ensures no interference with other hardware or cables
Shipping Dimensions
11" x 3" x 4" (28 x 8 x 10 cm)
Shipping Weight
2 lbs (0.9 kg)
Warranty
One year
Benefits
Comfortable fit - Ergonomic, height-adjustable design supports caregiver well-being

Optimized for telehealth - Enables remote delivery of specialized care and timely diagnostics

Easy connectivity - Internal and external USB ports connect diagnostic devices

Project & capture video - Shelf places camera above monitors; travels with screens throughout motion range

Extra storage - Large lower bin is perfect for storing critical appliances

Flexible views - Side-to-side turning of displays for shared viewing of either screen
Product Options/Accessories
| | |
| --- | --- |
| Model | SV44-1311-1, 98-030, 97-854, 97-776-194, 97-855 |
| Manufacturer | Ergotron |
| Part Number | SV44-1311-1, 98-030, 97-854, 97-776-194, 97-855 |
| | |
| --- | --- |
| Monitor Size | Up to 24" |
| Weight Capacity | Up to 45 lbs (20.4 kg) |
| Lift | (30.5 cm) 12 in |
| Pan | 180 degree |
| Rotation | 90 degree |
| Mounting Pattern | MIS-D |
| Warranty | 5 years |
Customer reviews
1 stars

0

2 stars

0

3 stars

0

4 stars

0

5 stars

0
Warranty
All Ergotron and OmniMount durable products will remain free of defects in material and workmanship for a period of five years from the date of receipt of the product, subject to any exclusions and limitations as set forth below.


Exceptions
Ten-year warranty on all HX Products, as well as LX and MX Products purchased on or after August 1, 2014

Zip and YES Charging Systems: Lifetime material/workmanship; three years electrical components; one year cables (power/Ethernet)

Ten-year warranty on LearnFit Sit-Stand Desks

Three-year warranty on all Neo-Flex Ergotron Products

Two-year warranty on WorkFit-Z Mini

Elevate and accessories: Lifetime material/workmanship. Five (5) years on electrical components. Cords, cables and plugs not warranted

The Peanut, Zido and accessories: Lifetime material/workmanship; five (5) years for pneumatic cylinder

One-year warranty on electronic components. For example: Auto Lock Drawers, Auto Lock Systems, Keyboard Lights, User Interface, Coiled Cord, Battery Harness, Cables from User I/F to Power Module (excludes AA batteries)

Two-year warranty on Power Modules by Ergotron

Sealed Lead-Acid (SLA) Power Systems, SLA Batteries

Two-year warranty on all SLA power system components by Ergotron

Up to one-year capacity warranty on SLA batteries (refer to Further Exclusions and Limitations section)

Six-month warranty against Manufacturer's Defects on SLA batteries, or as mandated by local law

Lithium Iron (LiFe) Power Systems, LiFe Batteries

LiFe battery capacity is warranted for two years or 1200 discharge cycles, whichever comes first (refer to Further Exclusions and Limitations section)

Five-year warranty against Manufacturer's Defects on LiFe factory-installed batteries (excludes LiFe replacement batteries). Factory-installed LiFe batteries are covered at 100% for the first three years; coverage for years four and five are prorated at 1/60th per month (refer to Further Exclusions and Limitations section)

Service Programs - 30-day warranty

Refurbished StyleView Carts - one-year warranty for Mechanical Components and Power Module (excludes batteries and cosmetic defects). The appropriate battery-type warranty applies

Original Equipment Manufacturer (OEM) Products resold by Ergotron are warranted by the respective manufacturer

StyleView Electric Lift motor: Three (3) years on motor and switch
Further Exclusions and Limitations
SLA Batteries
In Dual SLA battery systems, replacement of both batteries must occur at the same time (in accordance with the Ergotron User Manual), or the Warranty is automatically void

Warranties on SLA batteries (fully-charged or fully-uncharged) left in an unused state for more than three consecutive months are automatically void

Factory-installed SLA batteries, and replacement SLA batteries carry a Six-month Warranty Against Manufacturer's Defects and a 90-day Performance Warranty, or as mandated by local law

The 90-day Performance Warranty on factory-installed SLA batteries (excludes SLA replacement batteries) is extended to one-year provided that:
StyleLink software is installed and remains continually operational to show compliance with exclusions and limitations

SLA Battery is not discharged below 25% capacity more than 25 times as recorded by the StyleLink software history

SLA Battery is fully recharged at least once every 36 hours as recorded by the StyleLink software history
LiFe Batteries
LiFe batteries that fail to deliver 70% of their rated capacity during the first 1200 discharge cycles of battery life are deemed not to have met performance standards (capacity retention)

The LiFe battery discharge cycle is defined as starting at the fully-charged state through the fully discharged state and back to the fully-charged state. Discharge cycle counts are calculated by the software within the battery.
These warranties do not cover product abuse, modification and failure to adhere to product instructions, improper operations and/or misuse. Ergotron is not responsible for damage arising from failure to follow instructions relating to the product's intended use. Ergotron is not responsible for injury or loss caused by or associated with the installation and/or use of equipment in any manner other than in strict conformance with the instructions set forth in its installation manuals, supplemental assembly and installation instruction sheets, technical bulletins and/or product literature. You will provide Ergotron immediate written notice of any personal injury resulting from the use of Ergotron products.
Ergotron does not warrant damages or defects to the Ergotron product under the following conditions: an Act of God, unauthorized service or repair of the Ergotron products, damage from electrical power problems, usage of parts or components not supplied by Ergotron, failure to follow product instructions and guidelines, unauthorized changes to the Ergotron product, shipping damage (other than original shipment from Ergotron), failure to perform preventative maintenance, or damage caused by peripherals or software or from other external sources.
Exclusive Remedy
Warranty Repair: In the event that any Ergotron equipment becomes defective in material or workmanship during the warranty period, Ergotron will determine with you if the product defect is covered under warranty. Ergotron, at its sole discretion, may replace or repair the unit determined to be under warranty at a designated Ergotron location or at your location. The labor costs associated with the repair of the product may be the responsibility of Ergotron if determined to be under warranty. You must receive pre-approval by Ergotron for the labor costs prior to repair or replacement of warranty products. You must contact Ergotron to obtain a Return Material Authorization (RMA) number. An RMA number may be obtained by contacting Ergotron Customer Care online or by telephone within your specific region. Contact information is available to you on the Ergotron web site at www.ergotron.com. Performance of any repair or replacement on product under warranty does not renew or extend the warranty period.
Non-Warranty Repair: You may return a product for repair that is not covered by warranty only if you have received a preapproved RMA number from Ergotron Customer Care. Labor costs and freight charges associated with non-warranty repair will be the sole responsibility of the customer, reseller or installer/integrator. A standard repair fee, specific to the product, is charged for any product that is repaired outside of the warranty period. Repairs on products out of warranty also carry a 90-day warranty, effective the day that you receive the item after repair.
For products that are not covered under warranty, Ergotron offers you the following options:
You may upgrade to a newer, functionally equivalent product at a normal MSR list price

Ergotron will return the product to you

You can request in writing that Ergotron appropriately dispose of the product for you. A fee may apply for this service as designated by local law
Non-Defective Products: You are notified if, after examining and testing a returned product, Ergotron concludes that the product is not defective. The product is returned to you and you would be responsible for the freight charges associated with the return.
Warranty Disclaimer
Except as expressly set forth in this Limited Warranty and to the greatest extent allowed by law, Ergotron makes no other representations, warranties or conditions, express or implied, including any implied representations, warranties or conditions of merchantability, fitness for a particular purpose, non-infringement, and non-interference. Ergotron does not warrant that your use of the Ergotron product will be uninterrupted or error free. Any implied warranties that may be imposed by law are limited in duration to the Limited Warranty period, to the greatest extent allowed by law. Some states or countries do not allow a limitation on how long an implied warranty lasts or the exclusion or limitation of incidental or consequential damages for consumer products. In such states or countries, some exclusions or limitations of this Limited Warranty may not apply to you. This Limited Warranty is subject to change without notification.
Ergotron devices are not intended to cure, treat, mitigate or prevent any disease.
Warranty Transferability
This Limited Warranty is available only to the original end consumer and is non-transferable. For this warranty to be valid, the Ergotron product must have been purchased directly from an authorized distributor, reseller and/or authorized representative of Ergotron.