Humanscale 500 Big Board Keyboard Tray Platform
"Build your own system, base starts as keyboard tray only". Dimensions: 27" W x 10-5/8" D.
5
out of 5 (based on
1
review
)
Highlights
Large keyboard tray platform
Accommodates keyboard as well as mouse
Both keyboard tray, mouse are in the user's neutral zone, providing ergonomic relief 
Palm support moves from left to right providing option for mouse on left or right 
Build your own system with options for arms, slider, track, palm rest etc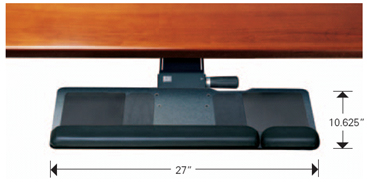 Description
We offer a full line of durable keyboard and mouse platform options created to meet the needs of a wide variety of individuals, workstations and office environments. Each of our platform options is designed to ensure that users type and mouse within their Neutral Reach Zone, thereby encouraging safe, sustainable working postures.
By combining one of these platform options with one of our award-winning mechanisms, you will create the most non-intrusive, intuitively adjustable keyboard support available. All of our keyboard and mouse platforms are made of phenolic, an ultra-strong, remarkably thin (1/4") composite that's non-toxic, durable and easy to clean.
Humanscale Big Board 500: Large enough to accommodate both keyboard and mouse. Palm support easily moves from left to right to allow mousing on either side of the platform. Dimensions: 27" W x 10-5/8" D
Keyboard Systems - In many ways, a keyboard support is the heart of an ergonomic workstation. As reach and vision drive posture, an articulating keyboard system allows the user to sit in a healthy, neutral posture through bringing the keyboard and mouse to the user. A well-designed articulating keyboard system offers protection from carpal tunnel syndrome, neck and back pain and other musculoskeletal issues. Since 1995, Humanscale has been the leading manufacturer of articulating keyboard systems and today sells more than all other manufacturers combined.
Effortless Use - Humanscale patented keyboard systems have effortless height and angle adjustment. Promoting negative tilt keying, the keyboard platforms will not go into a positive tilt.
Durability - Humanscale keyboard trays are solidly anchored to any work surface, and shape to specific user needs. Hypoallergenic Gel palm supports offer height and durability, and are designed to be compatible with human skin.
Customization - Humanscale offers three negative-tilt keyboard systems, from 5G to our latest 6G, which combines easy dial-a-tilt and height adjustability with the strongest, most stable arm on the market. Humanscale keyboard supports come in many different configurations, including left/right customization, to support any user need.
Design Story - An ergonomically designed keyboard is essential for every workstation. Ergonomists agree that the healthiest typing posture is one that allows the wrists to maintain a neutral or slightly pronated posture - straight or bent at a slightly downward angle. For that reason, Humanscale designers created our keyboard systems to allow the keyboard to positioned anywhere from 0 degrees to a -15 degree angle.
A decade of ergonomic research shows that using a negative sloped adjustable keyboard tray maximizes the time spent working in a neutral hand, wrist and upper body postures. These postural benefits can't be achieved by just using a keyboard on a height-adjustable work surface." - Dr. Alan Hedge, Cornell University
The Neutral Reach Zone
The Neutral Reach Zone is the area that can be conveniently reached with a sweep of the forearm while the upper arm hangs in a natural position at the side. (Sanders & McCormick, 1993)
Unlike older generation keyboard/mouse solutions, our platforms are designed to ensure that nearly all users are able to work consistently within their Neutral Reach Zone, and thus maintain a low-risk, sustainable posture.

Option 3 - Track
Refers to the under-desk mounted track that the mechanism slides along. Measure the amount of flat space you have on the under-side (from front to back of your desk) to determine which track length best suits you. The longer the track you are able to fit, the farther underneath the desk you will be able to slide the platform. The track measures 5-1/2" in width and is available in seven lengths:
| | |
| --- | --- |
| 11" Track | For real small Desks at least 11" deep "from front to back" |
| 14" Track | For real small Desks at least 14" deep "from front to back" |
| 16" Track | For real small Desks at least 16" deep "from front to back" |
| 18" Track | For smaller Desks at least 18" deep "measure from front to back" |
| 21 3/4" Track (Standard) | For use with 22" deep Desks "measure from front to back" |
| 25" Track | For deeper Desks with up to 25" depth "from front to back" |
| 27" Track | For real deep Desks with up to 27" depth "from front to back" |
Option 4 - Track Length
Desk has more than 22" clear space under desktop, front to back
Less than 22" & more than 18" clearance under desktop, front to back
Less than 18" & more than 16" clearance under desktop, front to back
Desk has less than 16" & more than 14" clear space under desktop, front to back
Option 5 - Lateral Slider
Option 6 - Palm Rest

Available with either a foam or gel core, our synthetic leather palm supports are comfortable, durable and easy to clean. Our standard palm supports are available in black. However, as with our platforms, other colors can be made available on request.
Frequently Asked Questions
Question: If the DE 400/450 corner sleeve options (provided in Option 5-Corner Solution) for the 500 Big Board Tray Platform are used for a 90 degree desk configuration, is the track end still screwed to the desk? If it is, then it appears that the 500 Tray outermost edge would protrude only about 4 inches beyond the corner sleeve diagonal edge. Is this the expected result, or am I missing something?
Answer: The track will be mounted partly to the desk and partly to the corner sleeve. Per Humanscale the tray will not protrude past the corner sleeve and when you tuck it under the desk it will not show.
| | |
| --- | --- |
| Model | 500 |
| Manufacturer | Humanscale |
| Part Number | 500 |
| | |
| --- | --- |
| Dimensions | 27" W x 10-5/8" D |
Perfect for what I needed
, May 28, 2017
by
Jordan P
, Berkeley, California
Easy to attach to my desk and very sturdy to use.
Was this review helpful to you?