The below item has been discontinued. See above for similar products that we offer instead. We apologize for this inconvenience.
Adesso PCK-308B PS/2 Contoured Ergonomic Keyboard with TouchPad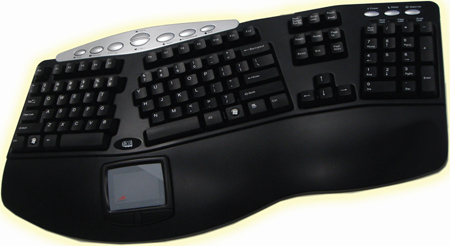 Features of Adesso PCK308B
Ergonomic Design
Split, gently sloped shape encourages a natural hand, wrist, and forearm position for maximum comfort. Additional features include a built-in wrist support and a split spacebar. Split-key and 3D design conforms to your natural arm and hand positions, reducing tension in shoulders, arms and wrists.

Built-In Touchpad
The Tru-Form Pro Keyboard built-in touchpad eliminates the need for a mouse and saves valuable desk space. The Glidepoin Touchpad puts computer control at your fingertips. Navigate, scroll, zoom, access files and enter data all with just a light touch of the finger.

Multimedia and Windows Hot Keys
The built-in hotkeys allow users to connect directly to their media player and popular Windows applications. With a single touch users can surf the Web, navigate music and video clips, and start many frequently used Windows programs.

Description of Adesso PCK 308PB
Introducing the improved Tru-Form Pro by Adesso. The original Tru-From sets the standard for ergonomic computing. It features a contoured, split key design for ergonomic comfort with a built-in Touchpad. The innovative touchpad includes a left and right mouse buttons and built in wrist support. The integrated touchpad eliminates the need for a mouse, which also saves valuable desk space. The Adesso Tru-Form Pro also offers multimedia keys that make this keyboard a comfortable, multi-featured keyboard that combines a host of Windows and multimedia shortcuts and controls in a comfortable, stylish and ergonomic design.
Specifications
| | |
| --- | --- |
| Keyboard Layout | 105 Key extended keyboard layout as well as 8 hotkeys |
| Power Keys | Windows Power Keys included |
| Indicators | Num Lock, Caps Lock and Scroll Lock |
| Touchpad | Built-in Touchpad with left/right buttons |
| Platform | Windows 7/Vista/XP/2000 |
| Connection | PS/2 |
| Keyboard Dimensions (LxWxH) | 19.25" x 10.75" x 2" |
| Weight | 2.25 lbs |
| Cable length | 6 feet |
| Package Dimensions | 18.25" x 7.25" x 1.38" |
| Package Weight | 3.55 lbs |
Frequently Asked Questions
Question: What is the dimension of the built in mouse pad on Adesso PCK-308PB PS/2 Tru-Form Pro-Contoured Ergonomic Keyboard with TouchPad Black?
Answer: The touchpad dimensions are 2.4" x 1.8" (61 x 46 mm).
Question: Is this product Apple compatible?
Answer: The Adesso PCK-308PB PS/2 Contoured Ergonomic Keyboard with TouchPad is not compatible with Apple. But here's a Goldtouch keyboard that is compatible with Apple products.
| | |
| --- | --- |
| Model | PCK-308B |
| Manufacturer | Adesso |
| Part Number | PCK-308B |
| | |
| --- | --- |
| Connection Type | PS/2 |
| Ergonomic Keyboard | Yes |
| Wireless | No |
Be the first to review this product