The below item has been discontinued. See above for similar products that we offer instead. We apologize for this inconvenience.
Comfort USB90BLK Ergonomic Keyboard System USB9-0BLK DISCONTINUED
Comfort Keyboard USB90BLK is DISCONTINUED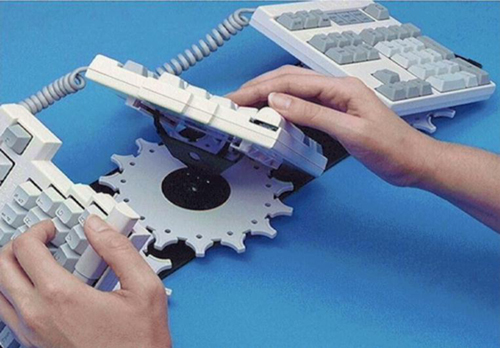 Comfort Keyboard USB9-0BLK Ergonomic Keyboard System black
General Information
 

Comfort Keyboard USB90BLK Ergonomic Keyboard System black

 

 

 

 

 

Description of Comfort Keyboard System:

Three sections, tent design, 105 fully programmable, infinitely mappable keys - this is the one. Keys that spring. Flash memory built right in.

This keyboard is the top ergonomic products in the world, Congratulations, you've found them.

 

The CK Comfort Keyboard is a typist's dream date, it's got infinite articulation and angle support, rugged, American-made gears.

You are on the verge of ordering the world's most comfortable keyboard because it is the most adjustable keyboard - tri-dimensional swivel and yaw allow literally infinite positioning options for each of the three sections: tilt, rotate, bend, flex, twist, flatten, you name it. What's more, the three sections can themselves be moved farther apart or closer together rapidly, allowing for shoulder-width extension and travel as recommended by nearly all ergonomics specialty sites.

 

Infinite adjustment. You can start out with a nice, "normal" flat and flash keyboard. Move it a little. You're going to not only be in a comfortable position,  you can put the numeric keypad in the middle if you want to. Keyboard is using a number pad where lefties think it should have been in the FIRST PLACE.

You can even get a Foot Pedal (or three) to go with your new "board- Did we mention you can get up to three pedals to replace ANY KEY FUNCTION on the Comfort Keyboard Systems Original? See why it deserves the long name? This keyboard ROCKS!

 

 

 

 

Programming, Macros and Key Mapping/Re-Mapping:

Mapping and Key Map Functions:
Remapping (a.k.a. "re-mapping") mode allows you to customize and map your keyboard (i.e. reassign virtual keys to different physical locations). This can be useful for software applications that require the repeated use of one or more specific keys. It is also useful for consumers who simply find it more convenient to have various keys rearranged. And yes, every key on the keyboard is programmable. We'd call it a "key differentiating" feature - but then we'd be "off the map" right?

Individually programmable macro keys:
A macro is multiple keystrokes stored in a single key. Pressing that key plays back those multiple keystrokes. If you find yourself typing a particular series of characters repeatedly, you can program that series into a macro key. You simply select a key to represent the series of characters. You may also program macros to reassign (remap) keys on your keyboard. In addition, you can use a macro to exit a program and enter another program quickly. A series of macros can be stored as a 'macro file' to your computer's hard drive. Each Macro file can hold up to approximately 1378 keystrokes. All 1378 keystrokes can be assigned to one macro or as many as 94 macros, using any keys except those listed below, with varying numbers of keystrokes per macro.

Left or Right Space Bar as Backspace:
For added convenience, the ErgoMagic Keyboard allows you to program either the left or right space bar to backspace. This feature will allow you to program either the left or right space bar to have dual function as a space bar or a backspace. After programming the key, the space bar will function as a space bar if you press the space bar once. The space bar will function as a backspace if you hold the space bar down.

 

 

 

 

OS (Operating Systems) Supported/Requirements:

PS/2 port, Mac ADB, SUN Type 6 or HP-HIL connector
USB supports IBM-PC, Mac and SUN
Supports All MAC OS-X

Supports All MS Windows OS: Microsoft Windows 9x, Windows NT, Windows Me, Windows 2000, Windows XP, Windows Vista

Apple: Macintosh USB port, 9.0, OS X (10.1.5) or later

SUN: Sun Micro Systems w/USB port

 

 

Specifications:

Key Layout:

105 keys, with standard 101 QWERTY layout and special function keys to emulate the Macintosh and other configurations, and activated Special Keyboard Functions

Weight:

Three keyboard sections with base plate, 7lb.

Operating Temperature:

0-50 degrees Celsius

Key Switches:

Conductive elastomer rubber designed for 60 million cycles

Key Caps:

Molded ABS plastic, double shot injection

Supply Voltage:

5V DC

Nominal Voltage:

Less than 150ma

MicroProcessors:

Three, type Z8 (8 bit)

Memory Storage and Type:

32 kb ROM, 8 kb Flash

Three Sections to the Keyboard:

H 2.5" (65mm) x L 18.25" (464mm) x D 6.25" (159mm)

Keyboard Enclosures Details:

Cycolac ABS plastic, grade KJW

 

 

 

 

About the USB Version:

Compatible with PC, APPLE, And SUN Type 6 keyboard.

 

Added Microsoft Window Key(s), all programming features are saved on the keyboard (flash memory) and are not reliant on the computer memory, repeat rate is controlled by the keyboard or the PC, middle section of the keyboard can emulate the "gray keys" in the numeric pad, and best of all, 100% compliance with all USB systems.

 

A user with Windows OS will "get" a default PC keyboard with Windows keys; the same keyboard plugged into an APPLE USB will function exactly like an Apple USB keyboard (with Apple & Option keys in the right places, even a Power Key to cold boot the OS/box); same keyboard plugged into a Sun system, default configuration is set as a Sun Type 6 keyboard - and the user will enjoy all 12 "F" (function) keys as well.

 

NOTE - Due to the popularity of the enhancements listed above, now all CKS (whether serial, PS/2, or USB) keyboards have these same added performance and compatibility upgrades!

 
Literature (Please open the following documents for more technical information)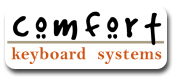 Privacy Notice:

ErgoDirect.com fully respects and protects your privacy. With the exception of arranging for delivery of the products ordered, we do not sell, share or rent any personal information (including your name, address, telephone number or e-mail address) to other parties for any reason; nor do we contact you by telephone or e-mail to solicit additional products or services.

Credit Card Security:

We use SSL security to protect all transactions so your credit card information is completely safe.
| | |
| --- | --- |
| Model | USB90BLK |
| Manufacturer | Comfort Keyboard |
| Part Number | USB90BLK |
Be the first to review this product