The below item has been discontinued. See above for similar products that we offer instead. We apologize for this inconvenience.
Peerless LWB530T SlimlineTM Series Rectangular Wall Arm LWB-530
Peerless Slimline TV Wall Mount LWB530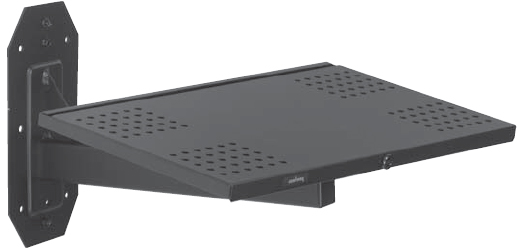 Slimline TV Wall Mount Description
The Slimline Wall Mounts provide an alternative to the Jumbo Mount for installations with limited space. These shelf style wall mounts offer an attractive, low profile design that is unparalleled in strength and safety. Models LWB 375CB and LWB 375TCB are specifically designed for mounting 25" to 27" TVs on concrete block (cinder block) walls. The small Slimline Wall Mounts (SWM models) offer an attractive low profile design that is both functional and affordable for 9" to 17" TV screens.
Features
Two-piece security tray with key lock (Except for WB models) 

Optional Fixed 10° tilt trays 

Attractive low profile design for limited space installations 

360° swivel
Product Information
Model Numbers

SWM310 for 9" - 13" TV screen

SWM314 for 13" - 16" TV screen

SWM334 for 15" - 17" TV screen

LWB530, LWB530T, WB20T for 19" - 20" TV screen (Rectangular Wall Arm)

LWB375, LWB375T, LWB375CB, LWB375TCB, WB27T for 25" - 27" TV screen (Tapered Wall Arm)

Product Specifications

Features

Two-piece security tray with key lock (Except for WB models)

Optional fixed 10° tilt tray

Attractive low profile design for limited space installations

Models LWB375CB and LWB375TCB available for cinder block installations

360° swivel

Includes fasteners for wood stud mounting

Multiple perforated hole pattern for attachment of TV

Tray Depth

WB20T, WB27T  10" (25.4 cm)

SWM310            11.5" (29.2 cm)

SWM334            12" (30.5 cm)

SWM314            12.5" (31.8 cm)

LWB530, LWB 530T   13" (33 cm)

LWB375, LWB 375T, LWB375CB, LWB375TCB   15" (38.1 cm)

Tray Width 

SWM310                 10.5" (26.7 cm)

SWM314                 13" (33 cm)

SWM334                 17" (43.2 cm)

WB20T, WB27T       20" (50.8 cm)

LWB530, LWB530T  22" (55.9 cm)

LWB375, LWB375T, LWB375CB, LWB375TCB   24.25" (61.5 cm)

Overall Reach

SWM310                 14.5" (36.8 cm)

SWM314, SWM334 18.25" (46.5 cm)

WB20T 1                 9.75" (50.2 cm)

LWB530, LWB530T 20.5" (52.1 cm)

WB27T                   23" (58.4 cm)

LWB375, LWB375T, LWB375CB, LWB375TCB 25" (63.5 cm)

Finish

Scratch Resistant Fused Epoxy

Available Colors

Black

Accessories

Metal and Concrete Fasteners, VCR/DVD/DVR Mounts, Safety Belt and Wall Plates

Package Specifications

Package Contents

Mounting Hardware, Tray and Arm

Package Size 

SWM310/314/334: 18.625"(L) x 12.75"(W) x 6.125"(H) (47.31 x 32.39 x 15.56 cm)

LWB375/375T/375CB/375TCB/530/530T: 24.875"(L) x 15.75"(W) x 6.125"(H) (63.18 x 40.01 x 15.56 cm)

WB27T: 36.6"(L) x 15"(W) x 1"(H) (92.96 x 38.1 x 2.54 cm)

Package Ship Weight

SWM310: 9 lbs (4.1 kg) LWB530T:  21 lbs (9.5 kg)

SWM314: 11 lbs (5 kg) LWB530:    22 lbs (10 kg)

SWM334: 13 lbs (5.9 kg) LWB375/375CB: 27 lbs (12.3 kg)

WB20T: 16 lbs (7.3 kg) LWB375T:        28 lbs (12.7 kg)

WB27T: 20.9 lbs (9.5 kg) LWB375TCB: 29 lbs (13.2 kg)

Package UPC Code

SWM310: 735029195870    LWB530T: 735029190240

SWM314: 735029195887    LWB375: 735029193234

SWM334: 735029195894    LWB375T: 735029193241

WB20T: 735029198086      LWB75CB: 735029206026

WB27T: 735029198093      LWB375TCB: 735029206033

LWB530: 735029190233

Warranty

Limited 5-year
Additional Images
Rectangular wall arm

Tapered Wall arm

 

 

SWM314/SWM334

LWB375T

 

WB20T, WB27T

LWB530T

 

 

LWB375CB

DVD/VCR Attachment
| | |
| --- | --- |
| Model | LWB530T |
| Manufacturer | Peerless Mounts |
| Part Number | LWB530T |
| Weight | 22.00 lb(s) |
Be the first to review this product