The below item has been discontinued. See above for similar products that we offer instead. We apologize for this inconvenience.
Ergotron 24-199-053 TeachWell Laptop Mobile Digital Platform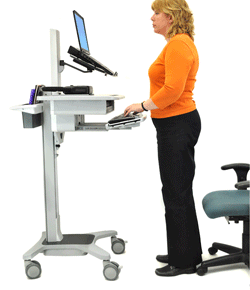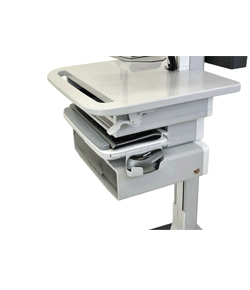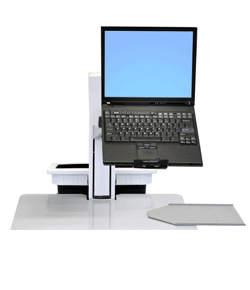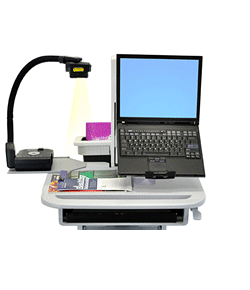 Description
Un-tether from a desk, podium or any single place in the classroom and move wherever needed to deliver collaborative curriculum.
This compact technology hub consolidates laptop or tablet PC, keyboard and mouse, portable document camera, DVD player, projection device, and more on to one, stable platform. TeachWell's small footprint easily rolls through aisles, doors and cramped media areas while the height-adjustment platform moves the keyboard, display and worksurface in one simple motion. Change from a sitting to a standing position whenever you want as you teach or work.
Technical Drawing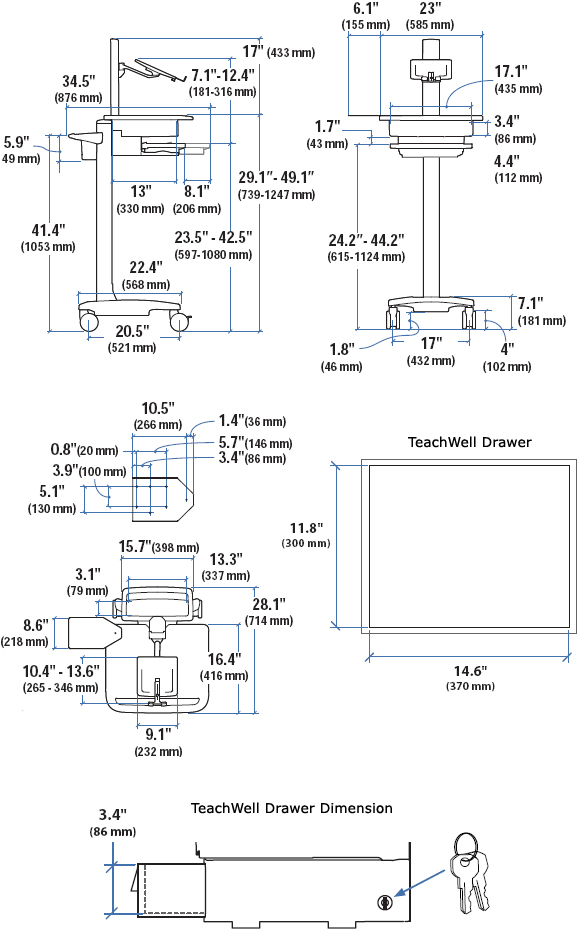 Technical Specifications
LCD Size

Capacity

Lift

Tilt

Pan

Rotation

VESA

Up to 19"
40 lbs

16.8 kg

25"

63 cm

-
180°
-
-
Product Information
Part Number:

24-199-053

Description:

TeachWell Laptop Mobile Digital Platform (white and grey)

Includes:

Cart
Laptop/tablet pivot
Document camera tray and bracket
Integrated worksurface
Wrist rest
Keyboard tray with left/right mouse tray
Mouse holder
Open-front compartment
Rear handle
Document bin
Four dual casters (two locking)

Recommended Accessories:

TeachWell Locking Drawer 97-516-053, Power Strip 83-066 (available in North America only), Power Strip Mounting Kit 60-590, Utility Shelf 97-481-216 (recommended for mounting small projector).

Laptop Tray:

Laptop tray can accommodate almost any size laptop in terms of screen size or chassis dimensions. Weight of laptop is determining factor for compatibility: Laptop tray weight capacity = 3–10 lbs (1.4–4.5 kg).

Weight Capacity:

Maximum load on height-adjustment assembly = 40 lbs (16.78 kg). Includes weight of laptop/keyboard in addition to contents of worksurface, open-front compartment, document bin and camera tray; NOTE: When a Locking Drawer 97-516-053 is added, the total weight capacity of TeachWell decreases to 30 lbs.

Lift Range:

Keyboard/notebook/worksurface adjusts 20" (51 cm) in tandem. Notebook screen adjusts 5" (13 cm) independently; maximum screen height adjustment = 25" (63 cm).

Open Front Compartment:

Interior dimensions = 17.1"W x 3.4"H x 13"D (43 x 8.5 x 33 cm)

Camera Tray:

Swiveling document camera tray is compatible with today's most popular portable document cameras. Tray can attach to one of four locations on the worksurface to accommodate specific camera models. Mountings holes for mechanically securing camera are provided (this feature only applies to certain makes/models). Contact Ergotron for detailed list of compatible models.

Keyboard Tray:

Ergonomic negative-tilt keyboard tray ensures wrists remain in a neutral position during data entry. Includes concealed mouse tray that slides out on left or right.

Casters:

Four dual casters, lockable front casters

Worksurface Dimensions:

23"W x 20"D (58 x 51 cm)

Wheel to wheel base Dimensions:

17"W x 20.5"D (43 x 52 cm)

Shipping Dimensions:

54.75"H x 26"W x 32.1"D (139 x 66 x 81 cm)

Shipping Weight:

105 lbs (48 kg)

Warranty:

Five (5) years
Benefits
Flexible solutions that facilitate collaboration
Take the headache out of integrating new media and technology into the curriculum by consolidating all the technology tools needed on one small platform.
No fumbling with cords, cables and connections - just dock your laptop or tablet PC, plug TeachWell into a power source and start teaching.
Accommodates laptops, tablet PCs, portable document cameras/visualisers, DVD players and wireless extenders of choice.
Works with on-board projectors or remote displays and projection devices.
Allows for one-hand adjustments of the most popular portable document cameras/visualisers.
Open architecture platform allows you to truly manage the intersection of IT and AV; cart is scalable for future computer equipment advancements and upgrades.
Organized technology hub keeps all your teaching materials accessible throughout the class; dual purpose design facilitates the convergence of desk and podium to un-clutter your classroom.
Optimized footprint utilization in the classroom and reduces total infrastructure investment.
Eliminate podium, secondary instructor desk and AV cart by organizing and combining them into one efficient and cost-effective hub.
More collaboration and more engagement in the classroom: Brings your computer up close for one-on-one discussions, or acts as an adjustable podium for student presentations.
Easily moves through aisles, around desks, over thresholds or through small doorways; ideal for collaborative learning and for shared resources across multiple rooms.
Dependable technology
Optional locking drawer - a secure stash spot for teaching tools and personal effects.
Patented Constant Force technology provides fluid adjustments of keyboard and laptop positions for personalized computing or viewing; work standing or sitting.
Safe and neat routing of cables.
Durable, easy-to-clean exterior composed of phenolic, high-grade plastic and powder coated painted steel.
Four gliding dual casters move smoothly across carpet or flooring; lockable front casters hold unit in place as teaching style requires.
Offers sit-stand computing capability with proper computing ergonomics for comfortable instruction throughout the day.
Ships fully assembled for quick integration into classroom settings.
Designed to meet UL standards.
Literature (Please open the following documents for more technical information)


| | |
| --- | --- |
| Model | 24-199-053 |
| Manufacturer | Ergotron |
| Part Number | 24-199-053 |
| UPC | 698833010961 |
| Weight | 105.00 lb(s) |
| | |
| --- | --- |
| Monitor Size | Up to 19". Laptop tray can accommodate almost any size laptop in terms of screen size or chassis dimensions. |
| Weight Capacity | 40 lb (16.78 kg). Includes wt of laptop/keyboard in addition to contents of worksurface, open-front compartment, document bin and camera tray. NOTE: When a Locking Drawer 97-516-053 is added, total wt capacity of TeachWell decreases to 30 lb. |
| Lift | (63 cm) 25 in |
| Color | White and grey |
| Pan | 180 degree |
| Open Front Compartment | Interior dimensions = 17.1"W x 3.4"H x 13"D (43 x 8.5 x 33 cm) |
| Worksurface Dimensions | 23"W x 20"D (58 x 51 cm) |
| Compact Wheel to Wheel Base Dimensions | 17"W x 20.5"D (43 x 52 cm) |
| Shipping Dimensions | 54.75"H x 26"W x 32.1"D (139 x 66 x 81 cm) |
| Shipping Weight | 105 lbs (48 kg) |
| Warranty | Five (5) years |
Be the first to review this product