The below item has been discontinued. See above for similar products that we offer instead. We apologize for this inconvenience.
SIS Xtreme Crank Organic Corner Single Surface Height Adjustable Table / Desk
24.25" - 52.25" sit-to-stand height range corner unit.
SIS Xtreme 8409 or 8411 or 8408 or 8410 Crank Organic Corner Single Surface Height Adjustable Table
General Information
SIS Xtreme 8409 or 8411 or 8408 or 8410 Crank Organic Corner Single Surface Height Adjustable Workcenter

SIS Xtreme Height Adjustable Workstation Description:

Xtreme collection of crank and electric tables is available in all sizes including cornerflex configurations. Conversion from crank to electric of installed models is available through unique "Beam Buyback Program." All tables are life tested to ANSI BIFMA standards utilizing the prescribed weight load. The crank version permits a 5th percentile female worker to adjust the tables from a seated position with a minimum sustained force. Sit to stand collection of crank and electric tables available in all sizes.

Generation IV xtreme workstations are available with single or dual surface tops when fitted with spring adjustable keyboard units. Workstation designs include rectilinear models from 30" to 72", 42" and 48" corners, 72" corner combi's and full oversized cornerflex units.

Generation IV computer support furniture adjusts to serve everyone. They meet or exceed all existing domestic and international standards for safety, durability and ergonomics.

Generation IV xtreme is distinctive in its exceptional range of motion. Adjusting quickly and easily from a sitting to standing position, it is the ideal computer solution for all office applications and especially those demanding advanced ergonomics and extensive flexibility.

Available as full tables or frames that can be integrated with new or existing work surfaces.

High durability and vertical horizontal integrity are assured through the use of steel constructed frames.

Easy-glide casters are available for quick table re-arrangement or casual task groupings.

Perforated privacy and modesty panels can be added for open space office concepts.

Spring adjustable keyboard mechanisms convert single surfaces to a duplex, dual surface workstation. The keyboard platform adjusts ± 6" with a simple squeeze on the paddle and tilts ± 15˚.

Unique support "beam" and leg design can be easily reconfigured to promote extreme flexibility. For example, a 72" workstation can be easily converted to a 42" corner table simply by changing the beam and tabletop. Add an additional leg to the extra beam to create another workstation.

Electric motor smoothly raises and lowers the surface from 24.5" to 51.5" at the rate of 3.5 inches per second.

Generation IV xtreme workstations can accommodate users of varying sizes including petite, medium and tall, and is available in electric or manual crank models. Each xtreme workstation has these features and more:

Perfect balance is maintained even when fully loaded up to 200 lbs. of computer equipment.

Tapered foot reduces obstruction.

Crank handle is conveniently located to minimize interference with adjacent walls or other work surfaces.

Standard sizes fit into common panel environment schemes: 24" and 30" depths and 36", 48", 60" and 72" widths fit most work environments.

Custom sizes available.

Wire grommets available in the back of each workstation - you can choose the location.

Combines well with generation IV basix to create a total office environment for private offices and open spaces.

SIS Xtreme Crank Organic Corner Desk Description:

Corner Xtreme single surface crank table. Adjusts by surface accessed crank handle from sit to stand. Includes horizontal wire management. Must specify 3mm PVC edge detail.

Wire Management:

All Xtreme tables also come standard with integrated wire trough for horizontal wire management.

Standard through

Xtreme Crank Single Surface Table Specification:

Adjustment:

Crank

Height Range:

Single Surface Crank: 24.25" - 52.25"

Maximum Weight Load:

200 lbs load single surfaces

Leg Style:

Cantilevered leg

Upgrades:

Programmable switch, crank to electric beam conversion, custom horizontal wire channel (with/without power distribution), casters

Assembly:

4 & 5mm Allen wrench (supplied)

Phillips screw driver
Option 1:

Choose your

Surface Dimensions (Actual Size):
Model 8409 - 41.5" (A) W x 24.75" (C) W x 24" (B) D x 24.25" - 52.25" H, Weight - 135 lbs
Model 8411 - 47.5" (A) W x 33.25" (C) W x 24" (B) D x 24.25" - 52.25" H, Weight - 144 lbs
Model 8408 - 41.5" (A) W x 16.25" (C) W x 30" (B) D x 24.25" - 52.25" H, Weight - 139 lbs
Model 8410 - 47.5" (A) W x 24.75" (C) W x 30" (B) D x 24.25" - 52.25" H, Weight - 148 lbs
Option 2:

Crank Handle: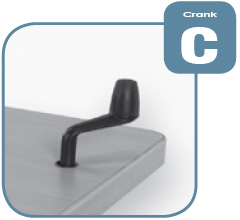 On Top-Right Side
Crank Handle: Crank handle permits smooth easy adjustments at 3.25 revolutions per inch. Crank handle is conveniently located to minimize interference with adjacent walls or other work surfaces.
One crank height control worm gear mechanism (in right leg upright) and 7mm hex head fitting for crank handles. Crank handles are positioned on the right at a location where the rotation of the handle and user's hand are free from obstructions (adjacent surface, panels or walls). Four turns per inch adjustment ratio.
Option 3:

Choose your

Base Frame Color:
| | |
| --- | --- |
| 12 Charcoal | 18 Aluminum |
Option 4:

Choose your

Laminate Top Color:
Important Note (Disclaimer): Color representation may vary by individual computer monitor from the actual final laminate product or edge treatment color. For maximum fidelity, please order a sample to ensure proper color match. Custom laminate finishes from other manufacturers available. Additional charges may apply. Please contact [email protected] for price quotation.
SL10

Kensington Maple

SL11

Wild Cherry

SL12

River Cherry

SL13

New Age Oak

SL14

White Nebula

SL15

Fashion Gray

SL16

White Tigris

SL17

Silicon EV

SL18

Nickel EV

SL19

Tungsten EV

SL20

Natural Tigris

SL21

Shadow

SL22

Desert Zephyr

SL23

Canyon Zephyr

SL24

North Sea

SL25

Carbon ev

SL26

Twilight Zephyr

SL27

Morro Zephyr
Option 5:

Edge Treatments:
ED11

Charcoal

ED12

Light Gray

ED13

Birch

ED14

Graphite

ED15

North Sea

ED16

Fusion Maple

ED17

Storm
Option 6:

Casters:
The following caster is available:
8027: Xtreme 3" Locking Casters (set of four) two tone grey.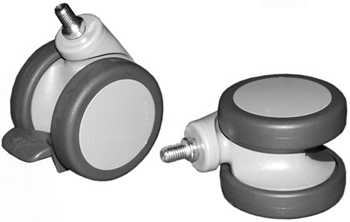 Literature (Please open the following documents for more technical information)
| | |
| --- | --- |
| Description | File Type |
| | - pdf |

| | |
| --- | --- |
| Model | 8409 or 8411 or 8408 or 8410 |
| Manufacturer | SIS |
| Part Number | 8409 or 8411 or 8408 or 8410 |
| | |
| --- | --- |
| Desk Type | Crank |
| Desktop Shape | Corner |
Be the first to review this product