The below item has been discontinued. See above for similar products that we offer instead. We apologize for this inconvenience.
AnchorPad 34296-1315 Double Theft Resistant Lockdown Plate
AnchorPad 34296-1315 Low Profile Double Plate Locking Security System
General Information
AnchorPad 34296-1315 Double Plate Locking Security System 34296 1315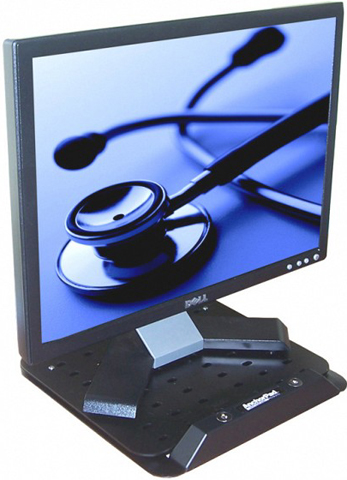 Features of AnchorPad 34296 1315:
    1.  Offers more area to secure a machine larger than a laptop.
    2.  Comes with an adapter plate to expand mounting options for machines with difficult bottom
       configurations - those that have multiple access doors.
    3.  Very high security solution at modest cost.
    4.  Adapts to a wide variety of office equipment.
    5.  Simple to install with no tools required.
    6.  Delivers up to 20,000 lbs anchoring strength.
    7.  Computer easily snaps in and out for authorized user.
    8.  Provides bottom air circulation/cooling for extended machine life.
    9.  Built in self removal feature allows an authorized user to easily remove the entire installation
       with no damage to the surface.
  10.  Double plate lockdown system includes all components to secure one device to a flat surface.
  11.  Once removed, the adhesive base plate cannot be re-used.
  12.  Requires permanent adhesive bonding of attaching hardware to the computer/machine foot-
       print.
Description of AnchorPad 34296-1315:
The 34296 1315 Double Plate System comes with an adapter plate which expands mounting options. This product is used when the bottom configuration of a computer/machine has limited area for attachment of rubber foot hardware due to multiple access doors. This Plate System works well with peripherals such as scanners, printers and other office machines that are too big for the 34196 1110 Double Plate System.
AnchorPad's Low Profile Double Plate Security System provides a maximum level of security by "locking" equipment to the work surface.  Constructed of 16-guage steel and adhered to the work surface by high-strength adhesive foam, the plate system provides 20,000-lbs of pull force.  The low profile design keeps its visibility to a minimum while ensuring the security of your device.  All plate systems include our Self-Removal System, which allows for the removal of the plate from the work surface without causing any damage to the furniture.
 

Components:

A

1 - 13 in x15 in base plate with high strength adhesive foam

B

1 adapter plate

C

5 adapter feet, round

D

1 glue pack (3 gm tube of glue, clearing pad, sandpaper square)

E

2 keys

F

2 wafer locks

G

1 lock block

H

2 weld nuts

I

5 couplings

J

5 screws

K

1 self removal kit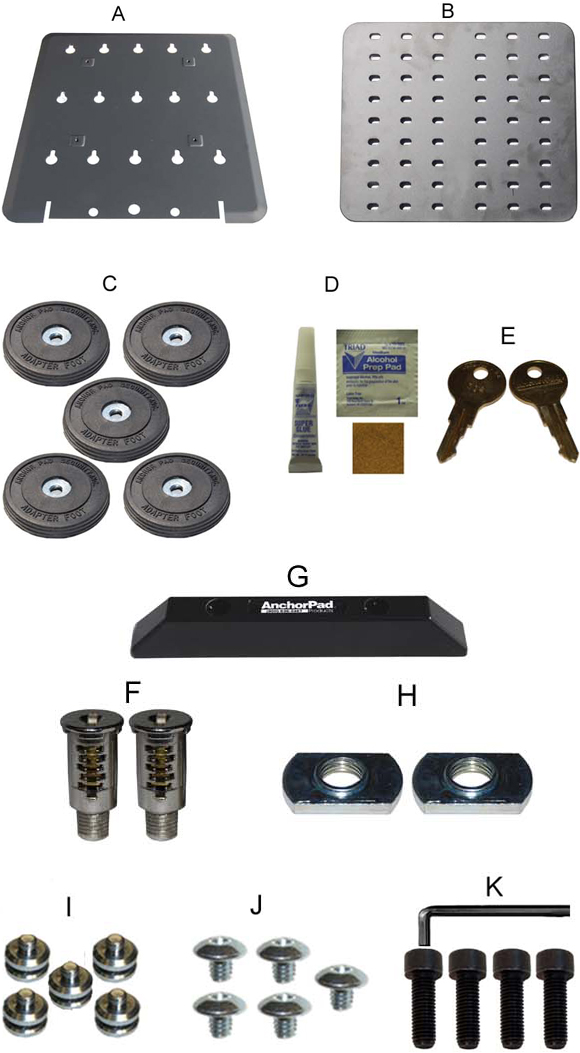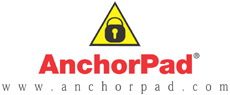 | | |
| --- | --- |
| Model | 34296-1315 |
| Manufacturer | AnchorPad |
| Part Number | 34296-1315 |
Be the first to review this product