Anchorpad Secure Double Lockdown Plate Swivel System Model 34196SWIVEL for Laptop 11 x 10
Highlights
Requires permanent adhesive bonding of attaching hardware to the computer foot-print
Attaches to the work surface by high-strength adhesive foam
The swivel unit is screwed into the work surface with 4 wood screws
The double plate swivel is designed to allow rotation of the laptop
AnchorPad Secure Laptop Lockdown Plate Swivel System 34196SWIVEL
Related Products
| Part Number | Description |
| --- | --- |
| 34196SWIVEL | Secure Double Lockdown Plate Swivel System for Notebook |
| 34196 | Secure Laptop Double Lockdown Plate |
| 34916ARM | Secure Double Lockdown Plate Arm for Laptop |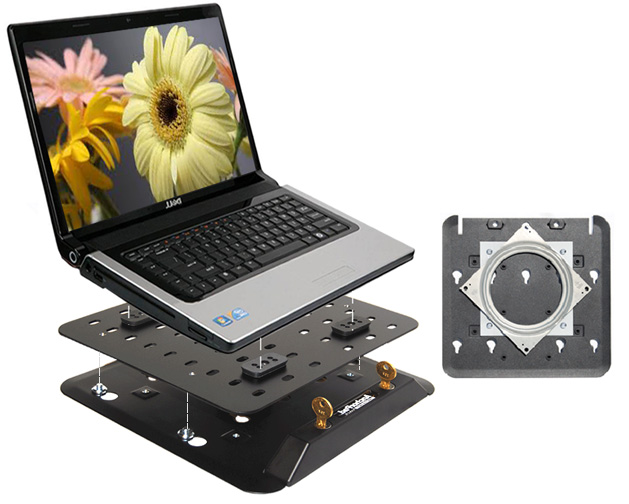 Features
The double plate swivel system is specifically designed to allow rotation of the laptop.
Works very well with wall cabinets.
Very high security solution at modest cost.
Easy to install with provided wood screws.
Computer easily snaps in and out for authorized user.
Provides bottom air circulation/cooling for extended machine life.
Double plate swivel system includes all components to secure one device to a work surface. All hardware to install on a wood surface is included.
Requires permanent adhesive bonding of attaching hardware to the computer/machine foot-print.
Description
When the application requires that the laptop swivel side-to-side, AnchorPad's 34196SWIVEL Lockdown System is the best solution. This custom design includes a swivel unit that is screwed into the work surface and includes four wood screws. (For installation on material other than wood, optional hardware must be purchased from a hardware store.) Once installed, the laptop easily swivels to the most comfortable position allowing privacy when others may be in the area.
Lockdown Plate Components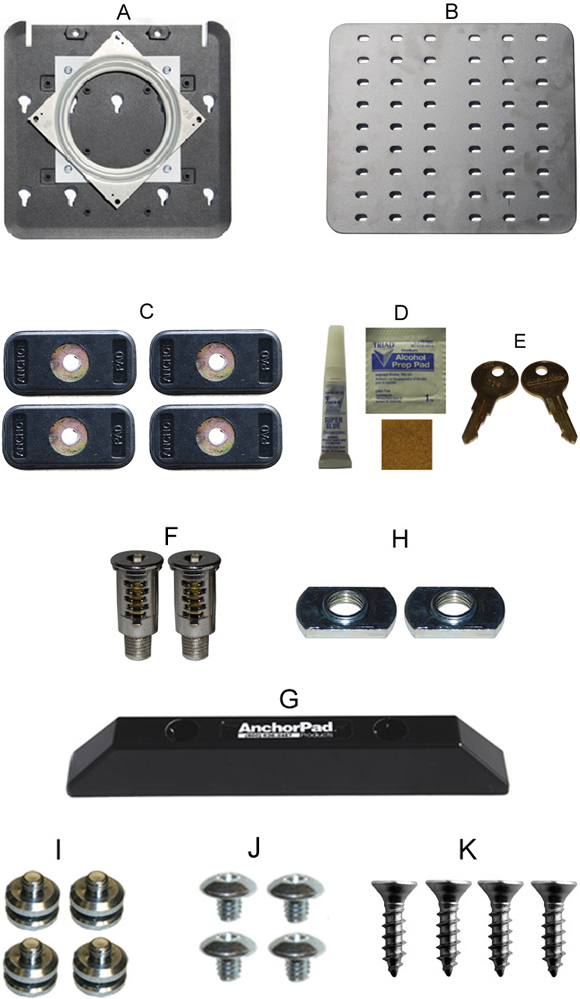 A – 1 11 in x10 in base plate with attached swivel assembly
B – 1 adapter plate
C – 4 adapter feet, rectangular
D – 1 glue pack (3-gm tube of glue, cleaning pad, sandpaper square)
E – 2 keys
F – 2 wafer locks
G – 1 lock block
H – 2 weld nuts
I – 4 couplings
J – 4 screws
K – 4 wood screws to mount the base plate to a wood surface
Disclaimer
Secure Plate Lockdown Arms associated parts are designed only as theft deterrents, not theft-proof. Ergodirect.com in no event will be held liable for any loss or damage including without limitation, indirect or consequential loss or damage, or any loss or damage whatsoever arising from loss of data or profits arising out of or in connection with the use of this product.
Frequently Asked Questions
Question: Does this plate swivel at least 90 degrees or more?
Answer: The AnchorPad Secure Double Lockdown 34196SWIVEL rotates 360 degrees because of the ball bearings that allow it to spin freely.
| | |
| --- | --- |
| Model | 34196SWIVEL |
| Manufacturer | AnchorPad |
| Part Number | 34196SWIVEL |
Be the first to review this product