Goldtouch GTU-0088 V2 Adjustable Comfort Keyboard - PC & Mac Compatible (USB)
5
out of 5 (based on
1
review
)
Highlights
Ergonomic keyboard for PC and Mac
Compatibility: Compatible with Windows 2000, XP, Vista, Windows 7, 8, 10 and Mac OS 10.4, and newer
Adjustability: Adjustments on the horizontal, vertical plane keep the hands, wrists, shoulders, back straight and neutral 
Dimensions: Width 16.25", Depth 6.75", Weight 3.3 lbs
Please see if you want a portable keyboard for travel
A traditional keyboard may cause you to bend your wrists sideways to reach all the keys.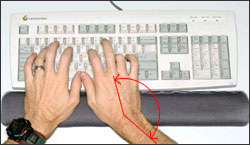 Side bending of the wrist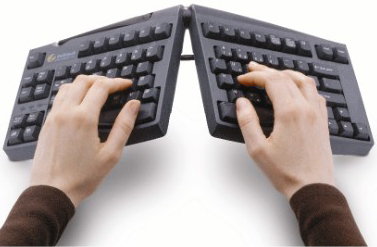 Above image with hands displays "straight wrist position" using older model keyboard
Description
Goldtouch GTU-0088 is designed specifically with individual fit in mind, our Adjustable Comfort Keyboard will find the right comfort position for every member of your office or home. Welcome to Comfort 2.0. Enjoy all of the Goldtouch features you've come to love and more - with the second generation Goldtouch V2 Adjustable Comfort Keyboard. Experience a better way of working with a keyboard that fits to your unique body and typing style. Main bullet points are below:
Adjusts from 0-30° on the horizontal and vertical planes to properly straighten wrists and achieve a more natural and comfortable position.
Positions your wrists in a neutral or downward position rather than tilted upward.
Soft key touch, low activation force, and full key travel distance.
Provides keying comfort and reduces risk of "bottoming out" when typing.
Plug and play, fully compatible with Mac or PC.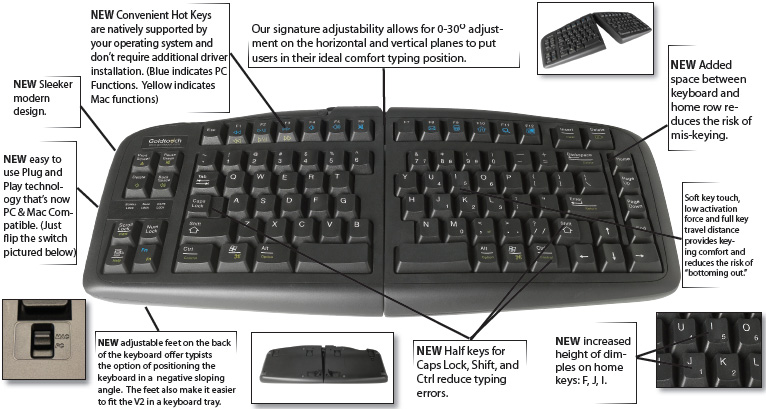 Features
Complete Adjustability - With 0°-30° of adjustments on the horizontal and vertical planes, the Comfort Keyboard will straighten your hands, wrists, shoulders, and back, helping to prevent carpal tunnel syndrome and other RSIs.
A better typing experience - With soft keys, a low activation force and full key travel distance, reduce the risk of "bottoming out" while typing.
Space saving - This compact keyboard will fit nicely into limited spaces, reducing shoulder abduction when reaching for mice and other peripherals.
Specifications
System Requirements

The Goldtouch V2 Adjustable Comfort Keyboard - PC & Mac Compatible (USB) is compatible with the following operating systems:

Windows 2000
Windows XP
Windows Vista
Windows 7
Windows 8
Windows 10
Mac OS 10.4, and newer
USB Port

Please note, in order to switch between PC and Mac mode, you will need to move the switch located on the back of the keyboard to your desired operating system. Once you select your operating system, and plug your keyboard into an open USB port, the keyboard will automatically install the necessary driver software.

Dimensions

Width: 16.25 in / 41.275 cm
Depth (front-to-back): 6.75 in / 17.145 cm
Height at home row: 1.25 in / 3.175 cm

Weight
3.3 lbs / 1.5 kg
Cable Length
5 ft 11 inches / 1.8 m
Travel Distance
3.6mm, +/-0.5mm
Activation Key Force
36g - 42g (average)
Disclaimers
Do Not Plug your USB Goldtouch Keyboard into the USB Keypad. Your PC will not recognize the device.
| | |
| --- | --- |
| Model | GTU-0088 |
| Manufacturer | GoldTouch |
| Part Number | GTU-0088 |
| UPC | 183238000728 |
| | |
| --- | --- |
| Connection Type | USB |
| Ergonomic Keyboard | Yes |
| Compatible | Windows 2000, Windows XP, Windows Vista, Windows 7, Windows 8, Windows 10 and Mac OS 10.4, and newer |
| Dimensions | 16.25" W x 6.75" D x 1.25" H |
| Weight | 3.3 lbs (1.5 kg) |
| Cable Length | 5 ft 11 inches (1.8 m) |
| Travel Distance | 3.6mm, +/-0.5mm |
| Activation Key Force | 36g-42g (average) |
| Wireless | No |
| Connection Type | Wireless |
Adjustable Comfort Keyboard
, Mar 29, 2016
by
Lynnette
, Colorado
I recently broke my right arm at the elbow and was in a splint for 4 weeks, this keyboard is awesome, I was able to adjust it so that I was very comfortable typing even with the splint on! Thank you.
Was this review helpful to you?