The below item has been discontinued. See above for similar products that we offer instead. We apologize for this inconvenience.
Ergotron SV42-3111-1 StyleView Laptop Cart, SLA Powered, 1 Drawer
Description
Ergotron SV42-3111-1 stays productive and on the go with our certified power system. This innovative, truly ergonomic and easy-to-maneuver healthcare cart features sit-to-stand height adjustment and an adjustable back-tilt keyboard tray. Its auto-locking drawer system enables simple and efficient management of non-controlled medication.
Technical Drawing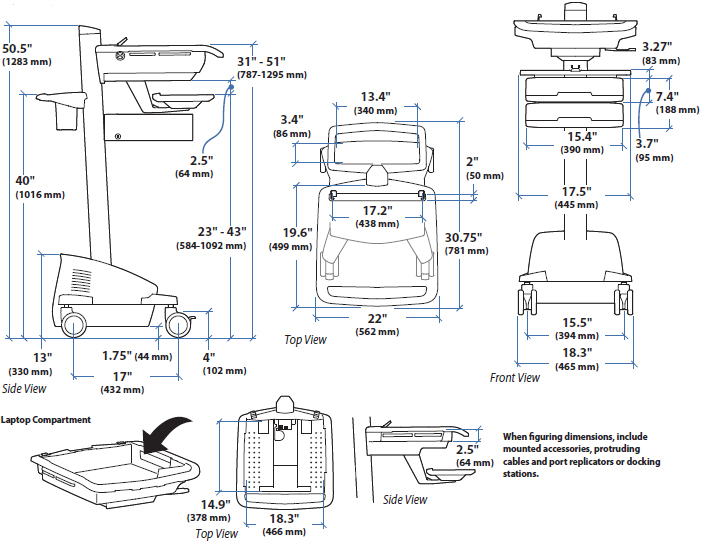 Technical Specifications
LCD Size

Capacity

Lift

Tilt

Pan

Rotation

VESA

Up to 17.3"
Up to 20 lbs

9.1 kg

20"

51 cm

-
-
-
-
Product Information
Part Number

North America = SV42-3111-1
Europe = SV42-3111-2
United Kingdom/Ireland = SV42-3111-3
Hong Kong/Malaysia = SV42-3111-3
Australia/New Zealand = SV42-3111-4
China = SV42-3111-5
Japan = SV42-3111-6
Saudi Arabia (UK standard) = SV42-3111-7
Saudi Arabia (EU standard) = SV42-3111-8

Description

StyleView Laptop Cart, SLA Powered, 1 Drawer (white, grey and polished aluminum)

Includes

Auto-locking drawer system (ADS)
Primary single drawer
Drawer dividers
Worksurface
Secure laptop compartment
Four-port USB hub
Scanner holder bracket
Mouse holder
Wrist rest
Back-tilt keyboard tray
Keyboard lights
Left/right mouse tray
Rear handle
Storage basket
Cable storage
Four casters (lockable)
Two-battery 66 Ah power system
10-foot (3 m) coiled cord
Three AC outlets
Power system user interface
StyleLink software

Maximum Laptop Size

17"W x 14.75"D x 2"H (432 x 375 x 51 mm)

Weight Capacity

Total maximum load on height-adjustment assembly = 20 lbs (9.1 kg). This is the sum of the following components: worksurface ≤ 5 lbs (2.3 kg); keyboard tray ≤ 3 lbs (1.4 kg); and laptop compartment ≤ 10 lbs (4.5 kg); large drawer ≤ 2 lbs (1 kg)

Laptop and Worksurface

Adjust 20" (51 cm) in tandem

True Ergonomics

Ergonomic back-tilt keyboard tray with left or right mouse tray ensures wrists remain in a neutral position during data entry - avoid repetitive-stress injuries while increasing comfort and productivity
Designed for users 5'0" to 6'1" (152 to 185 cm) tall and for prolonged sitting or standing applications. The exceptional height adjustment range means shorter and taller users can work comfortably and productively in a seated as well as standing position
Patented CF lift-and-pivot motion technology minimizes forces required to adjust cart position: Casters and height adjustment require just a touch

Safe

For patient and caregiver safety the entire power system and the FULL cart are certified to UL/EN/IEC 60601-1 and CAN/CSA-C22.2 No. 60601-1:08. Also complies with EMI limits of FCC Part 15 Class A
Power System User Interface integrated conveniently on the worksurface (includes visual and audible battery status indicator)
Surfaces are treated with antimicrobial for product protection; handles are smooth and continuous for improved clean ability
Environmentally clean: RoHS, REACH, WEEE and EU (94/62/EC) packaging compliant
Durable, easy-to-clean exterior composed of aluminum, high-grade plastic and zinc-plated steel promotes infection control
One-piece worksurface with no seams; easy-to-clean design promotes infection control
Lockable, ventilated enclosed storage for open laptop. Keys and locks are heavy-duty
Front-locking casters
CPU lock provided inside the storage compartment for additional security
Designed to meet guidelines established by the American National Standards Institute for computer use

Service

Includes FREE StyleLink with enterprise capabilities - Install, access and manage your StyleView power systems from a remote location across WAN, LAN, or VPN. StyleLink's three-part software package maximizes your IT tech-support time by giving you real-time centralized control over carts across campus, the city, country or the world
Covered by Global Service Program - 24/7 coverage

All the Details Covered

Drawer dividers are included, allowing compartments to be customized to match your workflow requirements
Four amber LEDs provide light over keyboard tray; includes 15-minute auto shut-off
Button for LED lights is located conveniently on worksurface
Easy access to components for field replacement and serviceability: keyboard LEDs, PC boards (including the user interface). Easier, faster upkeep and service means less down time
Notebook screen holders: Prevents the notebook screen from vibration for less damage to hinges over time
Pre-routed cables provide quicker integration with equipment
TAA (Trade Agreements Act) compliant
Universal mounting slot for accessories and equipment
A unique cable management system conceals and organizes cords, making cleaning easy
Ships fully assembled and is easily accessible from container
Three-receptacle power strip located in the CPU storage compartment (North American carts) or in the base (EMEA & APAC carts)
Four-port USB hub
Four (4) ultra-smooth gliding casters for extremely easy push/pull mobility; two locking casters ensure lock-in-place stability
Laptop screen slot cover: Protection from large spills on the worksurface while retaining easy access to the laptop's power button

Compatibility and Dimensions

Internal Dimensions: large drawer = 2.5"H x 12"W x 10.5"D (63.5 x 305 x 267 mm) - includes dividers to configure up to 16 compartments; compartment for laptop = 18.3"W x 14.9"D x 2.5"H (466 x 378 x 64 mm)
Open-architecture design accommodates most laptops - even widescreen with up to 17.3" diagonal size - easing future hardware deployments and upgrades
Compact Wheel-to-Wheel Base Dimensions: 15.5" x 17" (394 x 432 mm)
Worksurface Dimensions: 22"W x 19.6"D (562 x 498 mm)
VAC: SV42-3111-1 = 120V/60Hz; SV42-3111-2, SV42-3111-3, SV42-3111-4 = 230V/50Hz SV42-3111-5 = 220V/50Hz SV42-3111-6 = 100V/50Hz
Grounded Plug: SV42-3111-1 = NEMA 5-15P Hospital Grade; SV42-3111-2 = European CEE 7; SV42-3111-3 = UK BS 1363 SV42-3111-4 = AS/NZS 3112 SV42-3111-5 = GB2009-1, GB1002-1; SV42-3111-6 = JIS 8303 Note: In Switzerland, a customer-supplied adaptor is required
66 Ah Power System with two (2) 33 Ah, 12 V DC, Sealed Lead Acid (SLA), Absorbed Glass Mat (AGM), valve-regulated batteries with supporting electronics

Shipping Dimensions

24.5" x 34" x 56" (62 x 87 x 142 cm)

Shipping Weight

179 lbs (81.1 kg); actual cart weight = 145 lbs (65.8 kg)

Warranty

Five (5) years for cart's mechanical components, two (2) years on power module
Benefits
Effortlessly maneuver the cart to the point of need - StyleView quickly responds to caregivers' touch and enables nurses to focus on their patients
Truly ergonomic design accommodates the largest range of caregivers; designed for sitting or standing with single-motion fluid adjustment - helps promote caregiver wellness and productivity
StyleView's small footprint, with ultra-smooth gliding casters, travels easily across crowded carpet or hard surface floors and is perfect for space constrained areas
Surfaces are treated with antimicrobial for product protection
Open-architecture design accommodates most laptops - even widescreen with up to 17.3" diagonal size - easing future hardware deployments and upgrades
Auto-locking drawer system: Simple and efficient non-controlled medication management at the point-of-care reduces opportunities for errors; security system stores PINs for up to 100 users
Drawers include position able dividers to create multiple compartments
For patient and caregiver safety the entire power system and the FULL cart are certified to UL/EN/IEC 60601-1. Complies with EMI limits of FCC Part 15 Class A
Dependable fifth-generation power system with easy to replace batteries
Passes Ergotron's 10,000-cycle motion test, which ensures a minimum of five years trouble-free sit-to-stand height adjustment
| | |
| --- | --- |
| Model | SV42-3111-1 |
| Manufacturer | Ergotron |
| Part Number | SV42-3111-1 |
| | |
| --- | --- |
| Color | White, grey and polished aluminum |
| Maximum Laptop Size | 17"W x 14.75"D x 2"H (432 x 375 x 51 mm) |
| Weight Capacity | 20 lbs (9.1 kg). This is the sum of the following components: worksurface ≤ 5 lbs (2.3 kg); keyboard tray ≤ 3 lbs (1.4 kg); and laptop compartment ≤ 10 lbs (4.5 kg); large drawer ≤ 2 lbs (1 kg) |
| Lift | (51 cm) 20 in |
| Dimensions | Internal Dimensions: large drawer = 2.5"H x 12"W x 10.5"D (63.5 x 305 x 267 mm) - includes dividers to configure up to 16 compartments; compartment for laptop = 18.3"W x 14.9"D x 2.5"H (466 x 378 x 64 mm) |
| Compact Wheel to Wheel Base Dimensions | 15.5" x 17" (394 x 432 mm) |
| Worksurface Dimensions | 22"W x 19.6"D (562 x 498 mm) |
| Shipping Dimensions | 24.5"W x 34"D x 56"H (62 x 87 x 142 cm) |
| Shipping Weight | 179 lbs (81.1 kg); actual cart weight = 145 lbs (65.8 kg) |
| Warranty | Five (5) years for cart's mechanical components, two (2) years on power module |
| Product Type | Laptop |
Be the first to review this product