Workrite Sierra HXL Crank Equal Corner 2 Legs Workcenter
Standard lead time for our laminated worksurfaces is 20 business days for quantities of 10 or less.
Description
A great alternative for the healthy workforce. The Workrite Sierra HXL Crank is engineered to enable manual adjustability requiring minimal amounts of human force, making them a good alternative for the healthy workforce or for areas where frequent adjustments are not required.

The HXL Crank adjusts from 25.5"-43" and will accommodate the average male or female worker, making it a good solution for companies seeking limited height adjustability. It adjusts at a rate of 5.6 turns per inch even with more than 125 pounds of equipment on the worksurface.

Sierra HXL Crank is available in 3 contemporary finishes with two foot design options that can be selected to build the best workcenter for each specific application.
Dimensions

Features
Frame options: 2-leg frames
24" or 30" depths
Widths from 36" to 72" depending on shape
Finish options: Silver, Charcoal, and White
Height Range: 25.5" to 43"
Payload Capacity: 125 pounds
Travel Speed: 1 inch = 5.6 turns
Option 1: Surface Dimensions
Worksurface 40" x 40" x 23" T404023-B3 and Frame Set SCTHXL42
Worksurface 46" x 46" x 23" T464623-B3 and Frame Set SCTHXL48
Worksurface 46" x 46" x 29" T464629-B3 and Frame Set SCTHXL42
Option 2: Crank Handle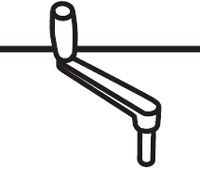 On Top Right Side
Option 3: Base Frame Colors
Option 4: Laminate Top Colors
Colors and patterns are representative only. Actual colors and patterns may vary slightly
Tier 1
Option 5: Edge Treatments
Colors and patterns are representative only. Actual colors and patterns may vary slightly
Option 6: Foot Set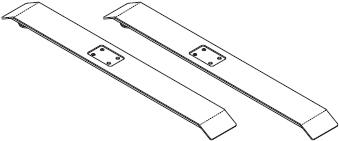 Flat Foot Set

Styled Foot Set
Flat foot or the styled foot for use with any Workrite electric height adjustable workcenter. Both options are available in finishes that coordinate with our frame sets and in 23" or 29" lengths.
Option 7: Casters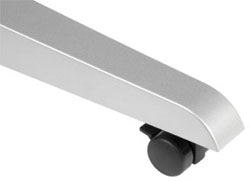 Sierra Locking Casters
Features
Low profile locking casters 2" W x 1.5" H
Casters raise work centers by 1" versus installed adjustable glides
Can be used with all Workrite adjustable work centers, recommended for Sierra workcenters
Four (4) casters required for 2 leg workcenters, five (5) casters required for 3 leg workcenters
The following Casters are available
95234 - 4 casters for 2 leg tables
95235 - 5 casters for 3 leg tables
Workcenter Ordering Information
Determining the correct size and shape of your worksurface is extremely important. Combining a Workrite worksurface with any height adjustable base requires 1" of clearance at each side and in the back of the worksurface to avoid pinching or scraping. All Workrite worksurfaces are manufactured to the dimensions required to provide these clearances.
Worksurfaces are pre-drilled with mounting location for frame sets or bases.
Joining kits are provided with all two piece worksurfaces.
Standard lead time for our laminated worksurfaces is 20 business days for quantities of 10 or less. Lead times for larger product orders will be provided upon receipt of the order.
Important Notes:
Workcenters ship unassembled and require simple hand tools to install.
If using customer's own worksurfaces, pre-drill pilot holes for all screws to ensure the most secure attachment.
If installing a keyboard arm or track, the electric motor control box may need to be repositioned from its pre-drilled location.
All workcenters have adjustable glides providing 0.5" of adjustment.
Mobile pedestals may limit lower height range.
| | |
| --- | --- |
| Model | Equal Corner 2 Legs |
| Manufacturer | Workrite Ergonomics |
| Part Number | Equal Corner 2 Legs |
| | |
| --- | --- |
| Height Range | 25"-42½" at 5.2 turns/inch |
| Lifting Capacity | 225 lbs |
| Desk Type | Crank |
| Desktop Shape | Corner |
Be the first to review this product
Warranty
Workrite warrants to the original purchaser that the products it manufactures are free from defects in design, material and workmanship. Subject to the limitations below, Workrite warrants each product in this catalog to be free from defects in materials and workmanship for the life of the product in its original installation. With prompt written notice, Workrite will repair or replace, free of charge, any product, part or component which fails under normal use as a result of such defect.
Sierra HX Height Adjustable Workcenter components - Limited Lifetime
Electric components, motors, frames, brackets and feet.
All of the following exceptions to the limited lifetime warranty apply:
Fundamentals Electric Height Adjustable Workcenter components - 10 years
Electric components, motors, frames, brackets and feet

Essentia Height Adjustable Workcenter components - 5 years
Electric components, motors, frames, brackets and feet

Laminated worksurfaces and modesty panels - 5 years

Sierra HXL Crank Height Adjustable Workcenter components - 5 years
Including crank mechanisms

Cascade Height Adjustable Workcenter components - 5 years
Including counter-balance mechanisms

Line of Sight electrical components and manual lifts - 5 years

Line of Sight frames and metal desk parts - 5 years

Monitor supports and mounts - 10 years

Solace Clamp-on sit-stand products - 5 years

Solace Desktop sit-stand products - 2 years

LED and florescent lighting fixtures - 5 years

Lighting transformers and fluorescent ballasts - 1 year

Tranquility Wool & PET Felt panels and mounts - 5 years

Tranquility Poly Panels - 2 years

Fabrics, modesty panels, custom products and special order items - 2 years

Mousing surfaces and Slide Guide - 1 year