Ergotron 97-783 Dual Monitor and Handle Kit
Highlights
A dual monitor and handle kit to convert a single monitor workstation to a dual monitor workstation
For screen sizes 17" to 24"
Outside width of monitors: 14" to 24.5"
Total weight capacity: Holds monitor/monitors weighing up to 36 lbs
Weight Capacity: this dual monitor kit weighs 6 lbs. Please note that it reduces the total weight capacity of the workstation by 6 lbs.
Description
Ergotron 97-783 converts a single-monitor mount so it holds two displays, or increase the size of compatible displays for your current dual-monitor solution. A handle is included to make repositioning of the screens easy.
Technical Drawing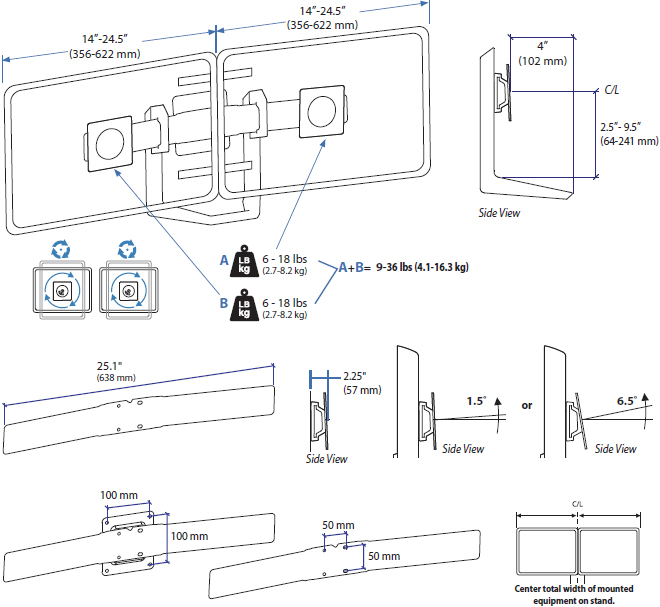 Technical Specifications
Screen
Capacity
Lift
Tilt
Pan
Rotation
VESA
17"-26"

Up to 36 lbs

16.4 kg

-
-
-
360°
MIS-D
Product Information
Part Number
97-783
Description
Dual Monitor & Handle Kit (black)
Includes

Bow
Two mounting brackets
Handle
Mounting hardware

Display Size
Outside width of monitor should be 14" to 24.5" (35 to 62 cm). This range accommodates most 17" to 24" displays as well as some displays as large as 26". If the outside width is less than 14" (35 cm), a small gap will be present between the two displays. Displays with an outside width greater than 24.5" (62 cm) are not compatible.
Weight Capacity
Combined weight of displays can be no more than 36 lbs (16.4 kg). This kit adds an additional 6 lbs (2.7 kg) to your mounting solution. Your mounting solution's weight capacity must be reduced by 6 lbs (2.7 kg) when using standard monitors less than or equal to 2.5" (64 mm) thick. Additional reduction may be required if monitors are greater than 2.5" (64 mm) thick. Exception: When used as a replacement bow on WorkFit Dual products, there is no reduction in capacity
Attaches
To mounts with four-hole interface of 50 x 50 mm or 100 x 100 mm
Mounting Standards
VESA FDMI MIS-D, 100/75, C (hole pattern: 100 x 100 mm & 75 x 75 mm)
Installed & Used
This kit can be installed and used without the included handle
Product Dimensions
4"H x 29.1"W x 1.5"D (10 x 74 x 38 cm)
Shipping Dimensions
31" x 13.5" x 7" (79 x 34 x 17.5 cm)
Shipping Weight
8.4 lbs (3.8 kg)
Warranty
Five (5) years
Benefits
Perfect dual-mounting solution for monitors with screen sizes of 17" to 24"
Attaches to wide variety of mounts using a 50 x 50 mm or 100 x 100 mm hole pattern
Robust design ensures many years of service
Conceal and organize cables: Display cables can be neatly routed behind displays
| | |
| --- | --- |
| Model | 97-783 |
| Manufacturer | Ergotron |
| Part Number | 97-783 |
| UPC | 698833039566 |
| | |
| --- | --- |
| Color | Black |
| Monitor Size | 17"–26" |
| Weight Capacity | Up to 36 lbs (16.4 kg) |
| Rotation | 360 degree |
| Mounting Pattern | VESA FDMI MIS-D, 100/75, C (hole pattern: 100 x 100 mm & 75 x 75 mm) |
| Dimensions | 4"H x 29.1"W x 1.5"D (10 x 74 x 38 cm) |
| Shipping Dimensions | 31" x 13.5" x 7" (79 x 34 x 17.5 cm) |
| Shipping Weight | 8.4 lbs (3.8 kg) |
| Warranty | Five (5) years |
Dual Monitor and Handle Kit
, Mar 7, 2017
by
Dan F
, Turlock, California
It was welcome news to find this product would accommodate the installation of my second monitor. The fact that the second monitor is slightly larger (26") did produce enough added weight and size to inhibit the support mechanism, and not allow the installation of the handle. The added weight is too much for "tilt" control, and must rest on the shelf below to ensure a proper angle, and to raise them a few inches will require a support device. Overall, I am satisfied with the needed mount.
Was this review helpful to you?
Trouble with weight
, May 5, 2016
by
wayne s
, Connecticut
kit was fairly easy to install. But weight of two 22" monitors caused problems with existing Ergo adjustable height stand. Had to tighten the up/down adjustment all the way to hold the monitors at the stand position. Ended up breaking the tilt adjustment to accommodate the weight of the two monitors. Now I have a block of aluminum wedged under tilt mechanism to hold the monitors at correct angle.
Was this review helpful to you?
Hard to install and adjust
, Sep 21, 2015
by
Paul M
, California
The instructions are in "IKEA" style, pictures primarily. Some are confusing as to which side of a part is up or down, etc. Took longer to do than I anticipated. The adjusting mechanism broke during adjustment. I did like how it looked and the handle, but certainly not user friendly.
Comment from ErgoDirect.com
Thank you for your review. We forwarded your comments to the manufacturer and hope they will improve the manual for this product
1 of 1 voted this review as helpful
Was this review helpful to you?