The below item has been discontinued. See above for similar products that we offer instead. We apologize for this inconvenience.
Workrite Sequoia (1-6) Monitor Stand Desk Mount
Bottom pole for Triple: 5-7⁄8" (min) to 14-1⁄8" (max). Top pole for Triple: 21-3⁄8" (min) to 28-¾" (max). Bottom pole for Double: 4-7⁄8" (min) to 12" (max). Top pole for Double: 19-1⁄8" (min) to 27-1⁄8" (max). Bottom pole for Single: 4-½" (min) to 13-½" (max). Top pole for Single: 18-5⁄8" (min) to 27-7⁄8" (max).
Description
Array critical information, safety and securely. The Workrite Sequoia addresses the growing trend of multiple flat panel display use and provides the flexibility and strong support required by today's information workers. Sequoia supports from 1 to 6 monitors, each of which can weigh up to 16 pounds. The wide arms accommodate displays up to 23" wide and 15" high. Place multiple Sequoias in a row and the number of monitors you can support is endless.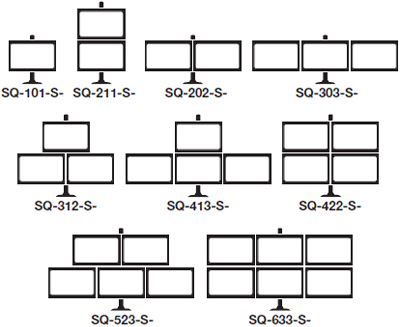 Configurations
Users will enjoy the ability to arrange their displays in a parabolic arc for a comfortable viewing angle. Monitors can also be tilted for glare-free viewing angles and rotated from portrait to landscape orientation as needed.
Technical Drawing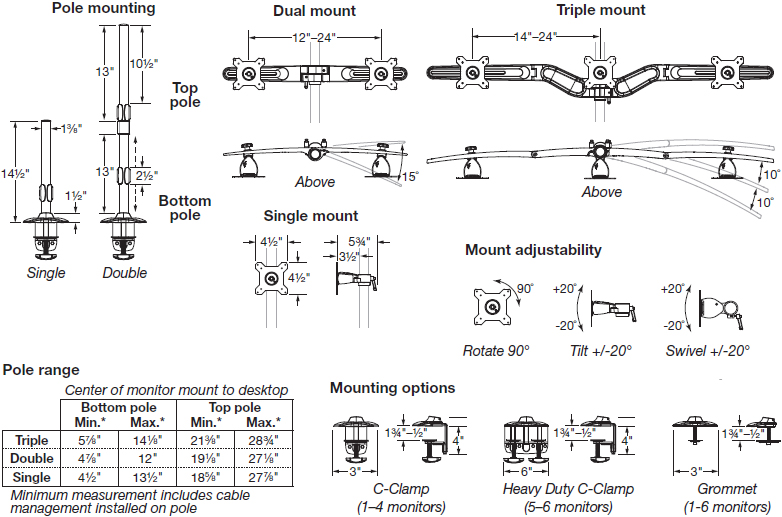 Features
Specify single, dual or triple mounts, mounted to short or tall pole for monitor arrays of one or two rows respectively.
Nine preconfigured models for most common monitor arrays of 1 to 6 monitors
Specify two-piece C-Clamp or Grommet Mount. Heavy duty two piece C-Clamp provided for arrays with 5 or 6 monitors
Dual and triple mount have independently adjustable right and left segments designed to move in tandem with each other or if needed, the angle and vertical position of the right and left segment can be independently adjusted
For parabolic viewing, dual mount segments pivot up to 15° and triple mount segments pivot up to 20°
Mounts and poles can be ordered separately for arrays with different sized monitors and for arrays with monitors mounted in both landscape and portrait orientation
Dual mount accommodates monitors up to 23" wide
Triple mount accommodates monitors up to 16" wide
For monitor height compatibility, see "Pole Height" chart below in Technical Drawing
All mounts tilt +/- 20° and rotate 90° to change from landscape to portrait orientation
All mounts accommodate monitors weighing up to 16 lbs. each
Environmental Considerations
92% recyclable at end of life
VOC free powder coat
LEED credit eligibility - Innovation in design, credit 1.1-1.4 (1-4 points)
Implementation of comprehensive ergonomic program
Materials & Resources, MR Credit 4.1–4.2 (1-2 points)
Recycled content: 20% (post-consumer + ½ pre-consumer)
Literature (Please open the following documents for more technical information)
| | |
| --- | --- |
| Model | SQ-101-S-SC, SQ-101-S-SG, SQ-202-S-SC, SQ-202-S-SG, SQ-303-S-SC, SQ-303-S-SG, SQ-422-S-SC, SQ-422-S-SG, SQ-523-S-HC, SQ-523-S-HG, SQ-633-S-HC, SQ-633-S-HG |
| Manufacturer | Workrite Ergonomics |
| Part Number | SQ-101-S-SC, SQ-101-S-SG, SQ-202-S-SC, SQ-202-S-SG, SQ-303-S-SC, SQ-303-S-SG, SQ-422-S-SC, SQ-422-S-SG, SQ-523-S-HC, SQ-523-S-HG, SQ-633-S-HC, SQ-633-S-HG |
| | |
| --- | --- |
| Pivot | Up to 15° for dual and up to 20° for triple |
| Monitor Size | Up to 23" wide for dual and up to 16" for triple |
| Tilt | +/- 20 degree |
| Rotation | 90 degree |
| Monitor Weight | Up to 16 lbs each |
| Mounting Options | Desk |
| Monitor Arm Types | 1 Monitor |
| Monitor Arm Types | 2 Monitors |
| Monitor Arm Types | 3 Monitors |
| Monitor Arm Types | 4 Monitors |
| Monitor Arm Types | 5 Monitors |
| Monitor Arm Types | 6+ Monitors |
| Number of Monitors | 6+ Monitors |
| Number of Monitors | 5 Monitors |
| Number of Monitors | 4 Monitors |
| Number of Monitors | 3 Monitors |
| Number of Monitors | 2 Monitors |
| Number of Monitors | 1 Monitor |
Be the first to review this product