Ergotron DM40-1009-1 Zip40 Charging Cart
Up to 40 devices with 1.1"-wide (28 mm) slot; up to 30 devices with 1.9"-wide (48 mm) slot.
Description
Ergotron DM40-1009-1 Zip40 is a truly universal cart for transporting, securing, protecting and charging all your mobile computing devices: Use it with tablets, Chromebook, Ultrabook, MacBook and laptops - almost any device with a display size up to 15.6". Integrated PowerShuttle Technology optimizes total charge time while safely preventing electrical circuit overload. The one cart that gets it all done.
Technical Drawing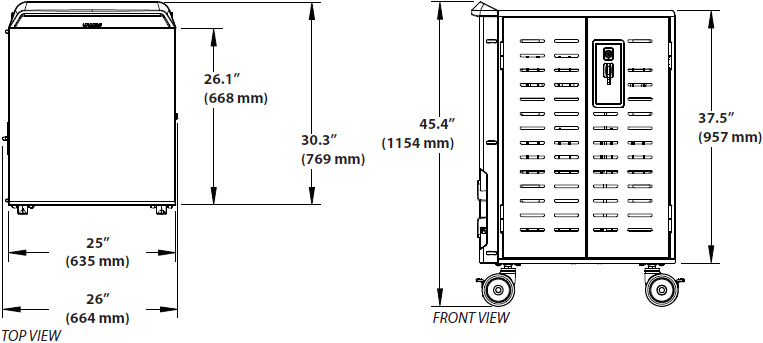 Technical Specifications
Screen
Capacity
Lift
Tilt
Pan
Rotation
VESA
Up to 15.6"

Up to 7.6 lbs

3.4 kg

-
-
-
-
-
Product Information
Part Numbers

North America = DM40-1009-1

Europe = DM40-1009-2

United Kindom/Ireland = DM40-1009-3

Hong Kong/Malaysia/Singapore = DM40-1009-3

Australia/New Zealand = DM40-1009-4

China = DM40-1009-5

Japan = DM40-1009-6

Description
Zip40 Charging Cart (black/silver)
Includes

40 dividers

9 small device divider stoppers

12.5' (3.8 m) country-specific power cord

4 country-specific 10-outlet power strips

Two 20-unit brick storage trays

Four 5ʺ dual-wheel locking casters

External auxiliary outlet (2 receptacles in US, JP or 1 receptacle in EU, UK, AU, CN)

2 mounting brackets for Ethernet switch

2 internal auxiliary outlets for Ethernet switch and WAP installation

Power on/off switch

4 keys

Ships
Fully assembled
Total Capacity
Up to 40 devices with 1.1"-wide (28 mm) slot; up to 30 devices with 1.9"-wide (48 mm) slot
Maximum Device Dimensions
17.1" W x 11.2" H (43.4 x 28.4 cm) including case and cord
Divider Bumpers
Divider bumpers shorten the slot size to provide easy plug-in access for smaller tablet devices
Maximum Adapter Dimensions
Brick-style AC adapter = 7" H x 3" W x 2.2" D (17.8 x 7.6 x 5.6 cm). Wall-plug-style AC adapter = 2.2" W x 4.7" L x 3.9" D (5.5 x 12 x 10 cm) including cable strain relief. Cable diameter = 2.6–4.6 mm
Weight Capacity
Total = 255 lbs (116 kg); 76.5 lbs (34.7 kg) per shelf (3 shelves total in cart); 25 lbs (11.3 kg) top worksurface. Per device maximum weight of 7.6 lbs (3.4 kg) assumes 10 devices per shelf in a cart configured to hold 30 devices in total
Outlet Strip
Country-specific 10-receptacle outlet strip is designed to work with oversized wall-style and brick-style AC adapters
Uses
Uses the AC adapters that come with each device. AC adapters are not included
Cooling/Ventilation
Four 12V DC continuous operation fans and ventilated doors keep equipment cool
External Auxiliary Outlets
External Auxiliary Outlet(s) give you an always-on outlet to plug in extra peripherals like printers or document cameras. No need to choose between using the auxiliary outlets and charging devices - do both at the same time!
Maximum Dimensions of WAP
Location included for installation of a Wireless Access Point (WAP not included). Maximum dimensions of the WAP = 10ʺW x 10ʺD x 2.2ʺH (25.4 x 25.4 x 5.6 cm)
Cart
Cart can be upgraded to add Ethernet management capability in the future
Power Cord
Country-specific power cord =12.5ʹ (3.8 m) long; stored on a recessed cord wrap
Environmentally Clean
RoHS, REACH, WEEE and EU (94/620EC) packaging compliant
Power System
input/output = 100-240V~, 12-10A, 50/60 Hz
Temperature Range
Operating 0° to 30°C (32° to 86°F); storage -40°C to -60°C (-40° to 140°F)
Relative Humidity (maximum)
Operating 10 to 90% (non-condensing); storage 5% to 95% (non-condensing)
Altitude (maximum)
2000 m (6,562')
Certification

UL 60950 Safety of Information Technology Equipment, CAN/CSA C22 2 No. 60950; UL 1678 Household, Commercial, and Institutional-Use Carts, Stands, and Entertainment Centers for Use with Audio and/or Video Equipment

ICES-003 Issue 4, Class A

FCC Part 15 Class

RoHS and Reach compliant material used

Product Dimensions
30.3" W x 26.1" D x 45.4" H (77 x 66 x 115 cm)
Product Weight
175 lbs (79 kg)
Shipping Dimensions
37" W x 30" D x 52" H (94 x 75 x 132 cm)
Shipping Weight
221 lbs (100 kg)
Warranty
Lifetime for mechanical components; three (3) years for electrical system; one (1) year for cables
Benefits
More Flexibility
Adjustable dividers gives you flexibility to create the capacity option that works for you:

40-unit capacity with 1.1ʺ-wide (28 mm) slots and partial shelf for extra storage - ideal for tablets, Chromebooks and Ultrabooks

30-unit capacity with 1.9ʺ-wide (48 mm) slots - great for full-size laptops or other devices with large cases

Move/remove dividers as needed to create your own custom-size spaces. Mix and match devices: most all devices with screens up 15.6" are compatible

Separate rear access to AC adapter storage for easy one-time setup and clean cable management. Custom country-specific outlet strips include plenty of space to fit oversized wall-plug or brick-style AC adapters

Includes external auxiliary outlet to power peripherals, location for WAP installation, and storage space for keyboards or other accessories. Also upgradeable for Ethernet management capability
More Agility
Compact 30" W x 26" D (77 x 66 cm) footprint saves valuable classroom space and makes the cart easy to maneuver in small spaces

Easily zip from one classroom to another - 5" dual-wheel locking casters make for a smooth ride, requiring 33% less push/pull force than carts with single-wheel casters
More Efficiency
Ergotron's innovative, reliable PowerShuttle power management system charges up to 30% faster than a standard round-robin charging system so devices are ready when you need them

Using just one power cord plugged into a standard wall outlet, it safely prevents overloading of electrical circuits by efficiently grouping the number of devices that are charged at one time. Never waste time charging empty slots

Includes a convenient ON/OFF power button
More Security
Tough, secure storage: Rugged steel construction withstands classroom abuse

Durable steel doors include a solid three-point mechanism with key lock. Option to add your own padlock for additional security

Optional security bracket kit locks mobile cart to a fixed location on the floor or wall to secure it in place
Super Safe
Well-designed ventilation and continuous operating fans keep devices cool

For user and equipment safety, the entire cart is tested and certified to UL 60950 standard
| | |
| --- | --- |
| Model | DM40-1009-1 |
| Manufacturer | Ergotron |
| Part Number | DM40-1009-1 |
| UPC | 698833049619 |
| | |
| --- | --- |
| Color | Black/silver |
| Monitor Size | Up to 15.6" |
| Weight Capacity | Total = 255 lbs (116 kg); 76.5 lbs (34.7 kg) per shelf (3 shelves total in cart); 25 lbs (11.3 kg) top worksurface. Per device maximum weight of 7.6 lbs (3.4 kg) assumes 10 devices per shelf in a cart configured to hold 30 devices in total |
| Maximum Device Size | 17.1ʺW x 11.2ʺH (43.4 x 28.4 cm) including case and cord |
| Power | Input/output = 100-240V~, 12-10A, 50/60 Hz |
| Temperature | Operating 0° to 30°C (32° to 86°F); storage -40°C to -60°C (-40° to 140°F) |
| Humidity | Maximum: operating 10 to 90% (non-condensing); storage 5% to 95% (non-condensing) |
| Altitude | Maximum: 2000 m (6,562') |
| Dimensions | 30.3ʺW x 26.1ʺD x 45.4ʺH (77 x 66 x 115 cm) |
| Weight | 175 lbs (79 kg) |
| Shipping Dimensions | 37ʺW x 30ʺD x 52ʺH (94 x 75 x 132 cm) |
| Shipping Weight | 221 lbs (100 kg) |
| Warranty | Lifetime for mechanical components; three (3) years for electrical system; one (1) year for cables |
| Display Type | Tablet |
Be the first to review this product