Ergotron YESTABGMPW4 Anthro YES Charging Cart for Tablets and iPads
This product is TAA compliant.
Description
Wouldn't it be great if you could keep the same charging cart for years, long after your first generation of tablets? You can with Ergotron YESTABGMPW4 YES Cart, an adjustable storage cart that supports 1-40 tablets. Its shelves shift up and down; its bay dividers move side to side. You'll be able to fit tablet devices of all shapes and sizes in this innovative cart. You get to decide how it's organized.
Made in the USA and Built with Anthro‑DNA, this cart is fully TAA compliant.
Technical Drawing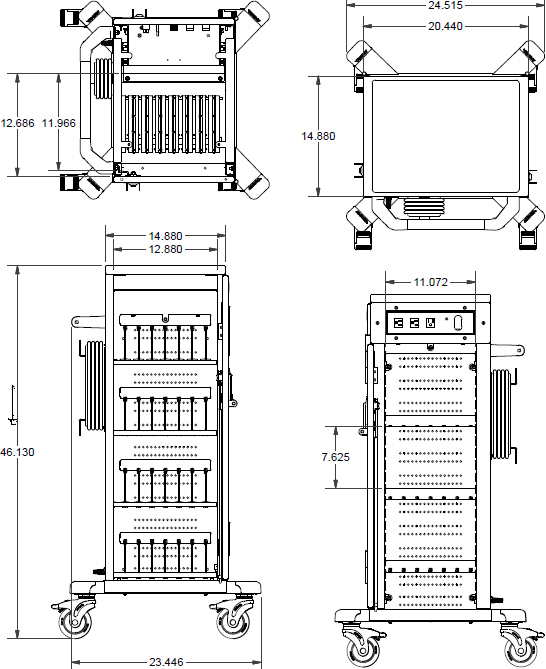 Technical Specifications
Screen
Capacity
Lift
Tilt
Pan
Rotation
VESA
Up to 10"

Up to 3.5 lbs

1.6 kg

-
-
-
-
-
Product Information
Part Numbers
YESTABGMPW4
Description
YES40 Charging Cart for Tablets (white/grey)
TAA
(Trade Agreements Act) compliant
Includes

Top shelf

Handle

Locking door latch w/ padlock bracket and two-point lock mechanism

Cord wrap

12' (3.5 m) power cord

Laptop storage cubby

Removable bay dividers

Cable channels

Removable shelf

4" casters (2 directional-lock and 2 total-lock)

External power receptacles

Locking IT area

Cable management pegboard

Internal power receptacles

Cord pass-through slots

Total Capacity
Up to 40 devices with .87"-wide (2 cm) bays; up to 32 devices with 1.25"-wide (3 cm) bays. Adjustable bay dividers install at any width in 1/3" (.8 cm) increments along each shelf's 12"-long (30 cm) installation track, supporting devices of any thickness
Maximum Device Width/Height
10.5" x 8" (26.6 x 20.3 cm), including case and cord, when cart is configured to hold 32 or 40 devices
Weight Capacity
28 lbs (12.7 kg) per shelf (4 shelves total in cart). Per device maximum weight of 3.5 lbs (1.6 kg) assumes 8 devices per shelf in a cart configured to hold 32 devices in total
Ships
Fully assembled with shelves arranged for landscape storage, configured for 32 devices with 1.25" (3 cm) wide bays; comes with 8 additional bay dividers to configure cart to hold 40 units
Small Footprint
Small footprint, just 24" (61 cm) square, tucks into any corner and rolls down narrow aisles with ease
Adjustable Shelves
Adjustable shelves install at any height in 2/3" (1.7 cm) increments along the 31"-high (79 cm) installation track. Store devices on their long side, in landscape orientation, or on their short side, in portrait orientation, as dictated by device size and the position of the power inlet and on/off button
Keyed Locks
Keyed locks front and back engage a two-point locking system for security. Padlock brackets position your padlock to block access to the front and back latches for extra security
Locking IT Area
Locking IT area in back provides 42 power outlets. Pegboard center panel holds cable clips that organize cord bundles
Interface Panel
Interface panel above the IT area has three external outlets to power your peripherals plus the on/off switch and indicator light
Single Front Door
Single front door opens 270 degrees so door lays flush against the side of the cart when open
Wide Handle
Wide handle with 9.5" (24 cm) grip sits at a comfortable 40" (100 cm) height and makes the cart easy to steer
Top Surface
Top surface is made of contoured wood with strong vinyl thermoplastic laminate for smooth corners and soft edges
Made
Made with 14- and 16-guage steel with durable baked-on powder coat finish
Certified and Listed
To UL 60950 Safety of Information Technology Equipment, CAN/CSA C22 2 No. 60950
Product Dimensions
24.5" x 46" x 23.75" (62 x 117 x 60 cm)
Product Weight
136 lbs (61.8 kg)
Shipping Dimensions
34" x 32" x 53" (86 x 81 x 135 cm)
Shipping Weight
193 lbs (87.5 kg)
Warranty
Lifetime for mechanical components; three (3) years for electrical system; one (1) year for cables
Benefits
Built with Anthro-DNA
The 30-year legacy of Anthro Corporation lives on in its world-class factory, award-winning designs and market-leading personal customer service

This cart is Built with Anthro‑DNA, signifying quality American-made manufacturing and technology leadership
One Size Fits All
The YES Cart for tablets fits tablet devices of ALL shapes and sizes, with or without cases

Mix and match all devices: regular-sized tablets, mini-sized tablets, maybe even a smartphone or e-Reader! It's completely up to you
Small and Nimble
Thanks to a 24" square footprint, the cart is small and nimble. Maneuver effortlessly from room to room, and tuck it easily into a corner or closet

It's also easy to steer, thanks to its wide handle with a 9.5" grip and four 4" locking casters keep the cart in place when not in use
Don't Break the Bank
Because the YES Cart for Tablets comes with a Lifetime Warranty

It adjusts to fit your devices today and in the future, you're truly getting your money's worth
Lift-N-Set Shelves
Position them at any height in 2/3" increments, and store your devices in landscape or portrait orientation, depending on size and the position of the power inlet and on/off button

Adjusting the YES Cart's shelves is simple and intuitive
Pop-N-Go Bays
Bays are so easy to adjust; simply pop them out of place and position them at any width in 1/3" increments

The cart ships configured for 32 units with 1.25" wide bays, and comes with 8 additional dividers to accommodate 40 devices, but set them anywhere you like
IT Friendly
The spacious locking IT area in back keeps cables and power adapters protected and secure

The 40 power outlets are easy to reach so set-up is simple, and the center panel holds cable clips that group cords into tidy bundles
Intuitive Cable Routing
The YES Cart is so easy to wire, you could try it blindfolded

Bay dividers are designed with cable channels along the top, so it's simple to route cables right to the front of the bay
Safe and Secure
The front user area and back IT area have keyed locks for security

For extra peace of mind, you have the option of positioning a padlock to block access to the front and back latches
| | |
| --- | --- |
| Model | YESTABGMPW4 |
| Manufacturer | Ergotron |
| Part Number | YESTABGMPW4 |
| UPC | 766212213934 |
| | |
| --- | --- |
| Color | White/grey |
| Maximum Device Size | Width/Height: 10.5" x 8" (26.6 x 20.3 cm), including case and cord, when cart is configured to hold 32 or 40 devices |
| Weight Capacity | 28 lbs (12.7 kg) per shelf (4 shelves total in cart). Per device maximum weight of 3.5 lbs (1.6 kg) assumes 8 devices per shelf in a cart configured to hold 32 devices in total |
| Dimensions | 24.5" x 46" x 23.75" (62 x 117 x 60 cm) |
| Weight | 136 lbs (61.8 kg) |
| Shipping Dimensions | 34" x 32" x 53" (86 x 81 x 135 cm) |
| Shipping Weight | 193 lbs (87.5 kg) |
| Warranty | Lifetime for mechanical components; three (3) years for electrical system; one (1) year for cables |
| Display Type | Tablet |
Be the first to review this product