The below item has been discontinued. See above for similar products that we offer instead. We apologize for this inconvenience.
i4u Reading Lenses Credit Card Size Glasses
5
out of 5 (based on
1
review
)
I4U: Unbreakable lenses so thin they can be stored like a credit card
I4U: Contemporary rimless, emergency i4u Lenses fit comfortably and securely on your nose bridge.
Note: Don`t wear it high like regular glasses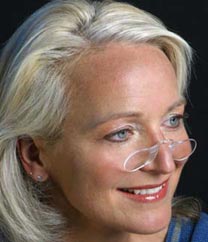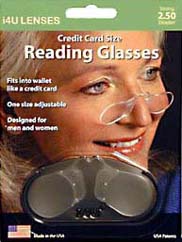 I4U: The tiny, unbreakable lenses are as slim as credit cards.
I4U: They won`t scratch or fall out of their pouch!
I4U: It is frustrating when you get caught without your reading glasses in a restaurant, your bank or post office.
I4U: This emergency, unbreakable reading lenses that tuck in money clips, books or wallets will come to your rescue.
These ultralight reading glasses are adjustable to fit virtually anybody that can use nose-pinch lenses and are break and shatter proof.
Frustrated by losing reading glasses
Inventor Creates emergency, unbreakable Reading Lenses that tuck in Money Clips, Books or Wallets. I4U measures 3.4" x 1.6" and 0.10" thick and come in a patented protective soft lined pouch to protect against loss or scratching.
Designed for emergency convenience for those who misplace, forget or lose their reading glasses.
Contemporary rimless pinch-nose styled emergency glasses fit comfortably and securely on a nose bridge
Precision crafted for accurate magnification in diopter strengths 1.25, 1.50, 2.00 and 2.50, lenses in 3.00 and 3.50 correction lenses are coming by the end of 2002.
70 million Americans who wear reading glasses never need to be without their glasses again, now that emergency i4u Lenses are always available.
Herman, the inventor and a veteran of General Tire, General Motors and IBM is credited with many patents as a mathematician, mechanical engineer and programmer.
I`m not alone in misplacing or forgetting my reading glasses. No one needs to be frustrated over lost, forgotten or misplaced glasses again. Everyone can be like me with emergency i4u lenses always in my wallet on hand to read menus, maps, telephone directories, sign documents, or dial numbers. I even keep a pair inside the book I`m currently reading and use them as a bookmark.
| | |
| --- | --- |
| Model | Reading Lenses |
| Manufacturer | i4u |
| Part Number | Reading Lenses |
Brilliant product.......
, Sep 07, 2016
by
Robert S
, Georgia
These little reading glasses are not only unique, they are the perfect solution for reading the tiny print on food items when I go grocery shopping every week. They fit perfectly in my wallet and I would recommend these to anyone who is needing to read ingredients of food items such as carbs , sodium, etc. The quality is remarkable with no distortion whatsoever. I bought 2 pair and gave my second pair to my girlfriend and we both love them; they are very comfortable and handy. I couldn't be happier with my purchase. Kindest regards, Robert David Strong
1 of 1 voted this review as helpful
Was this review helpful to you?