Similar Products:
---
The below item has been discontinued. See above for similar products that we offer instead. We apologize for this inconvenience.
Goldtouch GTU-0077 Adjustable USB Split Ergonomic Keyboard GTU0077
Related Products:
| | |
| --- | --- |
| Part Number | Description |
| GTU-0077 | Black USB Ergonomic Adjustable Spilt Keyboard |
| GTU-0033 | Putty USB Ergonomic Adjustable Spilt Keyboard |
| GTN-0077 | Black USB with PS2 Ergonomic Adjustable Spilt Keyboard |
| GTN-0033 | Putty USB with PS2 Ergonomic Adjustable Spilt Keyboard |

Accessories for Goldtouch GTU0077 Adjustable Keyboard
General Information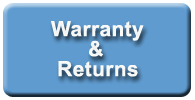 Goldtouch GTU-0077 Adjustable Split Ergonomic Keyboard

15" wide in closed position (Not Split) and 7" Length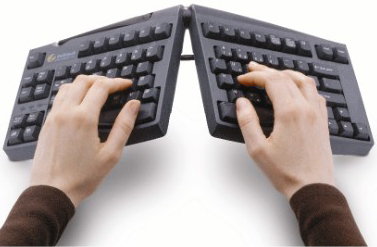 Above image with hands displays "straight wrist position" using older model keyboard
Features and Benefits of Goldtouch GTU 0077:
1. USB or USB w/PS2 Adapter
2. Adjustment for wrist splay in the horizontal plan: 0 - 30 degree, continuously variable
3. Adjustment for wrist pronation - vertical tenting 0 - 30 degree, continuously variable
4. Easily adjusted, locking ball and socket latch mechanism.
5. Small, space saving foot-print to bring your mouse inside your ergonomic "comfort zone".
6. Editing key layout for left-right work distribution
7. Large space bars for easy thumb use
8. Full size, full travel, tactile feedback keys with soft end-stop.
9. Low noise key actuation
10. Standard alphanumeric key layout (QWERTY)
11. Compatible with Windows 2000, XP and Vista.
12. Ease of use and intuitive design allow new users to adjust the keyboard to a comfortable typing position without additional accessories or attachments.
13. Soft key touch, low activation force and full key travel distance provides keying comfort and reduces risk from "bottoming out" when keying.
14. Compact size allows for use in limited space environments, and reduces shoulder abduction when reaching for mice and other peripherals.
Description of Goldtouch GTU-0077:
Risk Management: A proven design and years of longevity make the standard Goldtouch Adjustable Keyboard a leading recommendation among Risk Managers, Certified Professional Ergonomists, Physical Therapists and Occupational Therapists.
Because a Goldtouch keyboard is designed to fit the range of body types, not just an average, the standard Goldtouch Adjustable Keyboard is the only keyboard designed to properly straighten the wrists and arms while aligning with the shoulders to achieve a neutral typing posture.
No other keyboard allows for the range of adjustability as a Goldtouch Adjustable keyboard.
Specifications:

Activation Key Force:

40 g - 45 g average

Travel Distance:

4 mm, +/- 0.5 mm

Weight:

3.3 lbs
More Images: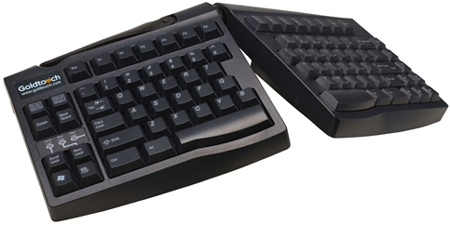 VS1 Goldtouch Study Highlights:
Recent Feedback on GoldTouch Keyboards:
"I think that the Goldtouch is a superior product compared to the Kinesis Maxim board because it promotes good keying technique of not resting the palms, the adjustability and manipulation of the angle of the board is easy to figure out, it follows good human factors design principles due to the "one lever" option therefore facilitating the ease to customize the fit to the user's stature and needs".

"I like the newer Goldtouch design because the keys are soft like a laptop".


"There are no other boards that I like as much as the Goldtouch and I have tried most of them."


The Kinesis Maxim board and the Goldtouch board are the same length but the Goldtouch board is smaller in depth therefore making it more innate to include with a laptop as an external peripheral".


"The interface is intuitive compared to the Kinesis Maxim board" (the adjustment handle for the Goldtouch board).


"The Goldtouch affords greater range of motion for hand and wrist positions encouraging neutral wrist postures with keying tasks".
Recent Study Results:
In a blind study of twenty government employees who began using the Goldtouch board in replacement of the QWERTY keyboard in their office setting, all users, with the exception of one user, innately figured out how to position the Goldtouch board to fit their comfort level without instruction and/or explanation.


Neutral hand postures were obtained with 19 of the 20 users without explanation of how to avoid awkward wrist postures (ulnar and radial deviation) with keying providing support for innate keyboard design.
Literature (Please open the following documents for more technical information)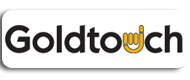 Privacy Notice:
ErgoDirect.com fully respects and protects your privacy. With the exception of arranging for delivery of the products ordered, we do not sell, share or rent any personal information to other parties for any reason; nor do we contact you by telephone or e-mail to solicit additional products or services.
Credit Card Security:
We use SSL security to protect all transactions so your credit card information is completely safe.
| | |
| --- | --- |
| Model | GTU-0077 |
| Manufacturer | GoldTouch |
| Part Number | GTU-0077 |
Be the first to review this product