AnchorPad 34196 Theft Resistant Double Plate for Laptop Security
If you are using 34196 with a monitor arm, then you need ARM version that is 34196ARM
Recommended For laptop computers, microscopes, and other electronic devices with a base that has multiple component doors or a difficult foot print that measures up to 11 W x 10 inch D   (14 inch maximum width and 12 inch maximum depth)
AnchorPad 1110 Anti-Theft Double Plate 34196 for Laptop Security
General Information
Product Information
11x 10 inch Laptop Double Plate Kit 34196 Maximum Security for Your Laptop/Notebook PC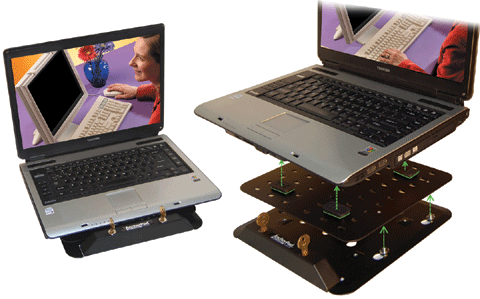 Description of AnchorPad Double Plate System:
When the bottom configuration of the device to be protected prevents using a conventional Single Plate Kit.

The Double Plate Security System increases mounting options for more difficult installations. When the footprint of the laptop or other device has many component doors and other areas that require access, the number of possible adapter foot attachment sites is limited. The numerous holes in an adapter plate (pictured below), increases the likelihood of matching adapter foot attachment sites on the bottom of the device with a security keyhole slot on the base plate.

Like the Single Lockdown Plate System, the Double Plate Security System utilizes an advanced adhesive bonded steel base plate, attachment hardware, and a damage-free removal mechanism.  It provides easy in and out performance. The base plate adheres to the attaching surface with up to 20,00 PSI anchoring strength. The device to be protected then receives attaching hardware (supplied), which screws into the adapter plate. Couplings attached to the underside of the adapter plate snap into the keyhole slots on the adhered base plate.  Sequentially, the base plate adheres to a desktop surface, the adapter plate locks onto the base plate and the device is secured to the adapter plate. A double-keyed Lock Block provides the final element of the security system. A component diagram and hardware are shown below.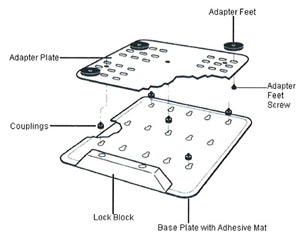 Key features of AnchorPad Plate System:
Maximum Protection Against Theft or Unauthorized Movement

Delivers up to 20,000 lbs Anchoring Strength

Easy to Install and Remove - No Tools Required

Integral Removal System Does Not Damage Attaching Surface

Provides Air Circulation/Cooling for Extended Machine Life 

Moderate Cost 

Sold in Complete Kits for One Installation

Sizes 11"x10", 13"x15", and 16"x18"
Features of 34196 Anti-Theft Double Plate Security:
Very high security solution at a modest cost

Increases mounting options for difficult installations

Adapts to a wide variety of office equipment and devices

Takes only a few minutes for a clean and neat installation

No tools required

Extremely strong, delivers up to 20,000 lbs of anchoring strength

Easily removed by authorized user with no damage to attaching surface

Comes with an adapter plate which expands mounting options

Use when the bottom configuration of a machine has limited attaching points for permanent rubber foot hardware.
AnchorPad 34196 Specifications:
| | | | | | |
| --- | --- | --- | --- | --- | --- |
| 34196 | Anti-Theft Double Plate | 11" W x 10" D | Black | Wafer Locks | Powdercoat |
Components

A – 1 11-in x 10-in base plate with high-strength adhesive foam
B – 1 adapter plate
C – 4 adapter feet, rectangular
D – 1 glue pack (3-gm tube of glue, cleaning pad, sandpaper square)
E – 2 keys
F – 2 wafer locks
G – 1 lockblock
H – 2 weldnuts
I – 4 couplings
J – 4 screws
K – 1 self-removal kit
The AnchorPad Double Plate Kit increases mounting options and simplifies more difficult installations where adapter feet mounting locations on the machine bottom are limited.
More Pictures:
Disclaimer:
Security Plate Lockdown Arms associated parts are designed only as theft deterrents, not theft-proof.  Ergodirect.com in no event will be held liable for any loss or damage including without limitation, indirect or consequential loss or damage, or any loss or damage whatsoever arising from loss of data or profits arising out of or in connection with the use of this product.
| | |
| --- | --- |
| Model | 34196 |
| Manufacturer | AnchorPad |
| Part Number | 34196 |
Be the first to review this product