WorkRite PA1500-DB Poise Extended Flat Panel Monitor Arm
5 weeks lead time for color silver
Highlights
Desk Mounting Single Monitor Arm
Weight Capacity: Carries monitor weighing up to 22 lbs
Vertical Adjustment: Offers 12" height adjustability
Horizontal Extension: Provides 30 1/4" horizontal reach
Flexibility

: Provides

180 degrees rotation

and

160 degrees tilt

to the display

Please see, if you want less horizontal extension
Workrite PA1500-DB Poise Extended Flat Panel Monitor Display Arm PA-1500-DB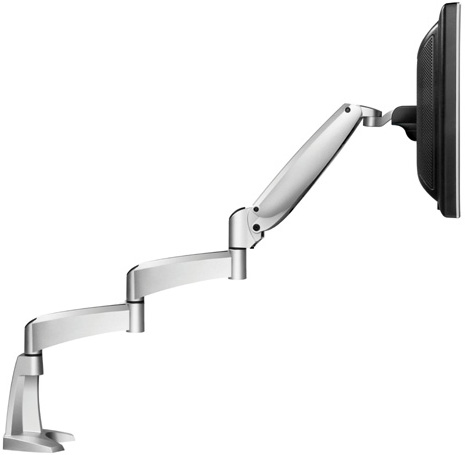 A simple touch with your fingertip will easily change the position of the Workrite Poise while the monitor remains perfectly parallel.
Additional extension arm provides 7" more horizontal reach - 30¼" total reach

160° tilt range (+70°/- 90°), 360° pivot at base and arm connections, 180° pivot at monitor mounting

360° rotation of monitor to quickly change from landscape to portrait orientation

30¼" reach, 17½" height range, 4" stored depth

Supports monitors up to 22 lbs.

Parallel linkage design keeps monitor perfectly parallel

Adjustable pneumatic counter balance

Clamp mount version includes two piece C-clamp and separate grommet clamp (shown) for surfaces of ¾" - 2¹/8" thickness

For customized control, including touch-screen use, tension is adjustable at all pivot points

Integral cable management neatly stores cables

For security, monitor attached with 4 screws

VESA monitor mount for 75mm and 100mm

80% recyclable at end of life
Features of Poise Extended Monitor Arm: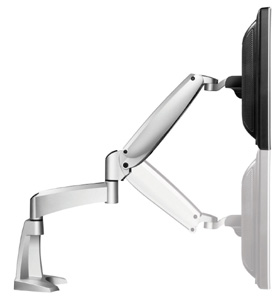 Parallel mechanism keeps screen ergonomically correct
Parallelogram Design - For Ease of Adjustment
The Workrite Poise monitor arm features a parallel linkage design with adjustable pneumatic counter balance that floats the monitor above the work surface.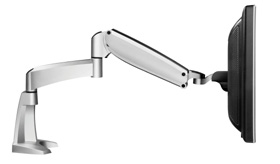 Spans the deepest desk then folds down to just 4"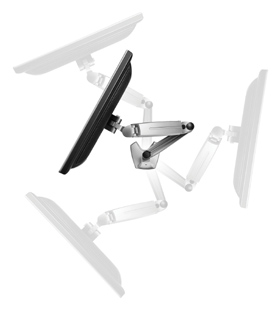 Ergonomic User Flexibility
The Workrite Poise monitor arm adds a range of adjustment to meet users need for visual acuity and individual user preference that is unmatched in the industry.
360° rotation at the mounting base and first extension allows folded storage as shallow as 4"

180° rotation at the monitor connection for positioning and collaboration

12" vertical height range to meet individual users height requirements

Monitor rotates from portrait to landscape with rotary stops to prevent cable damage

Monitor tilt of 180° (70° back and 90° forward) to support touch screen application and special needs for users with disabilities and reclined usage
When adjustability, durability and visual comfort are key
With a 360° rotation, monitor can be changed quickly from landscape to portrait orientation. Poise will support monitor arms from seven to 22 lbs., including most common monitors from 17" to 24".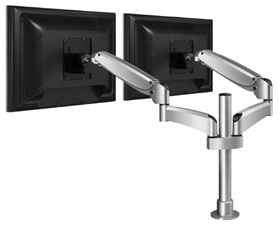 Increase productivity with dual monitor configurations
Dual Screen Support
Dual arms best fit corner worksurfaces where mounting is located forward of the rear of the worksurface using the grommet mount to allow full articulation. The Poise Dual is not recommended for straight work stations where flat to wall storage is required.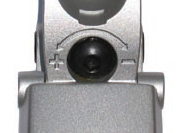 Tension guides are easy to read and adjust
Convenience Features
The Workrite Poise has several thoughtful features built in. Graphic indicators are molded into the arm to assist in adjustment long after the assembly instructions have gone away. The cable management system from the base to the monitor neatly organizes cables out of sight. Optional features include multiple mounting options as well as extension and quick release monitor bracket for installation flexibility.
Dimensional Diagram for WorkritePA1500-DB Poise Extended Single Monitor Arm
| | |
| --- | --- |
| Horizontal and Vertical Reach | Monitor Tilt and Rotation |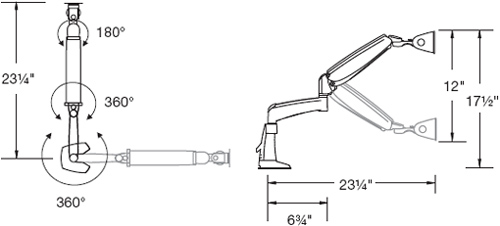 Poise- Dual
Product Information:
| | | | |
| --- | --- | --- | --- |
| Mounting | Color | Model | Weight |
C-Clamp, Grommet Mount
Silver
PA1500-DB-S
13
C-Clamp, Grommet Mount
Graphite
PA1500-DB-B
13
Specification Comparison Chart:
| | | | |
| --- | --- | --- | --- |
| Specifications | Poise PA1000 | Poise-Extended | Poise-Dual |
Reach:
23.25"
30.25"
23.25" (two arms)
Tilt Range:
160 degree tilt range
(+70 degree/- 90 degree)
160 degree tilt range (+70 degree/- 90 degree)
160 degree tilt range (+70 degree/- 90 degree)
Height Range:
12"
12"
12" + 7" on pole
Pivot at Base /Extension/Monitor:
360 degree/360 degree/180
degree
360 degree/360 degree/180 degree
360 degree/360 degree/180 degree
Stored Depth:
4"
4"
4"
75mm / 100mm
VESA Mount:
X
X
X
Accessories:
Quick Release Adaptor, Extension Arm
Quick Release Adaptor
Quick Release Adaptor
Similar Products:

WorkRite PA1000 Poise Flat Panel

Workrite PA2000 Poise Flat Panel
Frequently Asked Questions
Question: Is this arm wall-mountable? I only see the clamp and grommet mount selection.
Answer: Wall mounting this PA1500-DB Monitor arm is not recommended. The reason being, it extends out so far that post mounting a monitor, it can possibly rip out the wall mount. That is why only C-clamp or Grommet mount is recommended. A wall mounting alternative to PA1500-DB is PA1000 Poise, which has a wall mounting as well as slatwall mounting option.
| | |
| --- | --- |
| Model | PA1500-DB |
| Manufacturer | Workrite Ergonomics |
| Part Number | PA1500-DB |
| UPC | 029274408015 |
| | |
| --- | --- |
| Mounting Options | Desk |
| Monitor Arm Types | 1 Monitor |
| Number of Monitors | 1 Monitor |
Great product - modern looking and easy to use!
, Mar 17, 2016
by
Gary
, NY
Highly recommend
Was this review helpful to you?
Love it!
, Mar 21, 2014
by
Reena R.
, California
Love this product! I've only had it about a week so hesitate to give it a full 5 stars because I want to see how it holds up over time. But so far so good!
2 of 2 voted this review as helpful
Was this review helpful to you?