The below item has been discontinued.
Innovative 9198-4 Quadropod LCD Mount, Four Monitors (28" Pole)
Vertical Range of 16" and Horizontal Range of 24" to accommodates 4 monitors from 9-24 lbs each. Pole Height is 28" standard and Outside diameter of the pole is 1-3/16".
Innovative 9198-4 Quadropod LCD Pole Mount for Four Flat Panel Monitors with 28" Pole and 24" Horizontal Reach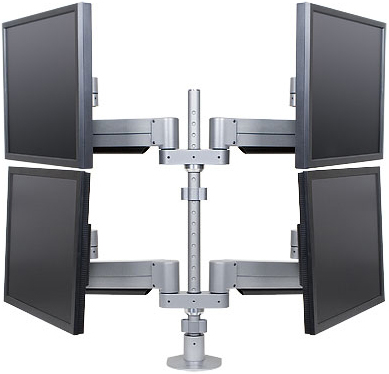 Description of Innovative 9198-4:
Mount 4 flat panel monitors with flexibility to arrange monitors in any position desired. Includes 4 Model 7000 LCD Arms, articulating gas arms which provide complete freedom of motion. The arms suspend the monitors weightlessly above the desk - reposition monitors with your fingertips. Each monitor can be moved independent of the others. Adjust monitor pivot and placement quickly as your needs change.
The Quadropod mount conserves large mounts of your valuable desk space, reducing 4 monitor stands' worth of space to a single pole mount. If you choose to combine the Quadropod with an Innovative slatwall or slatrail mount, it is possible to completely free desk space.
The Quadropod allows you to set arm height at any desired position along the included 28" pole. The Quadropod can be configured to accommodate 1 user (with 4 monitors), 2 users (with 2 monitors each) and even 4 users.
Technical Drawing for Innovative 9198-4 Quadropod LCD Pole Mount with 28" Pole and 24" Horizontal Reach for Four Screens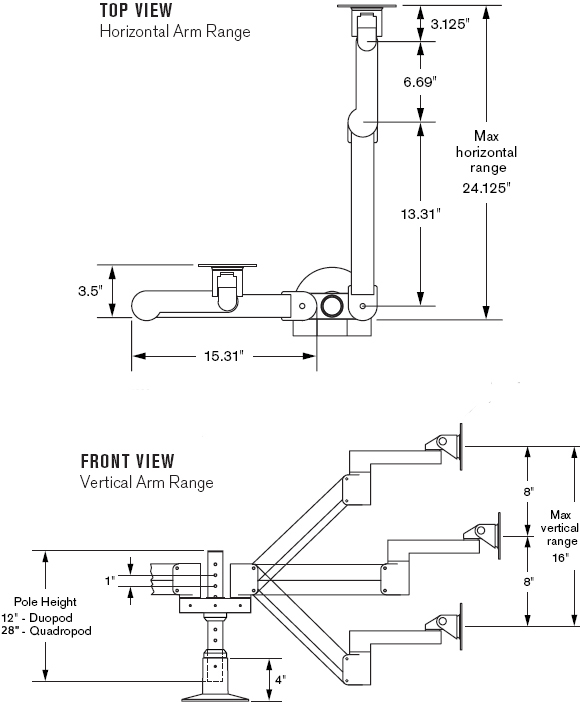 Features of Innovative 9198-4:
Adjust base height of monitors on pole in 1" increments.
Each arm has 24" of horizontal range.
Each arm has 16" of vertical range (8" up and down from horizontal).
Each arm can fold up to occupy just 3'' of space.
Each arm rotates 360 degrees at three joints.
Monitor tilter mechanisms tilt over 200 degrees.
VESA-monitor compatible - 75mm & 100mm VESA adapters included. Please call for non-VESA options.
Optional upgrade to quick install/release monitor bracket. Consult your sales rep for details.
Specifications of Innovative 9198-4:
| | |
| --- | --- |
| Horizontal Range: | 24.125" |
| Rotation: | 360 degrees at three joints |
| Monitor Tilt: | Over 200 degrees |
| Monitor Pivot: | Landscape to portrait |
| Monitor Capability: | VESA 75 mm and 100 mm |
| Cable Management: | Cables are clipped beneath arm |
| Mounting Options: | FLXEmount - Six different mounting options in one kit including desk clamp, through desk and wall |
Innovative Returns Policy:
All returns must be labeled with a valid Return Authorization (R/A) number, which can be obtained by contacting Ergodirect.com, on the outside of packaging. Restocking fee of 20% will be applied on all returns. Products must be in brand new, saleable condition, and never installed. Defective items may be returned within limits of the Warranty. Non-defective Custom-configured Items are not returnable. All return must be made within 30 days of receipt.
| | |
| --- | --- |
| Model | 9198-4 |
| Manufacturer | Innovative LCD Arms |
| Part Number | 9198-4 |
| | |
| --- | --- |
| Mounting Options | Desk |
| Mounting Options | Wall |
| Mounting Options | Slatwall |
| Mounting Options | All-in-one |
| Monitor Arm Types | 4 Monitors |
Be the first to review this product